MSU History Professor, Pero G. Dagbovie, recommended as dean of the Graduate School
March 2, 2022 - Becky Jensen, Andy Jeglic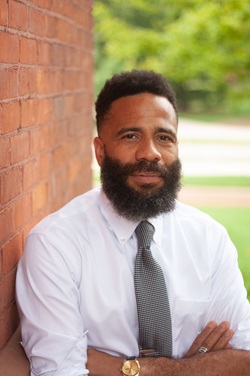 MSU Provost Teresa K. Woodruff, Ph.D. is recommending Pero G. Dagbovie as the associate provost for graduate and postdoctoral studies and dean of the Graduate School. The appointment will be effective April 22, pending approval by the Board of Trustees Prior to Board approval, he will serve as associate provost for graduate and postdoctoral studies and dean of the Graduate School Designate, beginning on April 11.
Dagbovie is a University Distinguished Professor in the Department of History in the College of Social Science and an associate dean in the Graduate School. At MSU, he has taught a range of courses in U.S. history, the philosophy of history, African American history and Africana Studies. He was a Lilly Teaching Fellow (2005-2006) and a core faculty member of the African American and African Studies Ph.D. Program. From 2010 to 2015, he served as the graduate director and associate chair in the Department of History.
In 2015, he became an associate dean in the Graduate School and contributed to a broad range of student success initiatives, including fellowship programs, recruitment and retention programs and learning communities such as the Alliances for Graduate Education and the Professoriate Program.
"Dr. Pero Dagbovie is such an accomplished social scientist who has made a huge impact in the Spartan community and beyond. It is exciting to see him advance in the next part of his journey at MSU and lead the graduate school," said Mary A. Finn, Dean, MSU College of Social Science. 
"Dr. Dagbovie is an outstanding and prolific scholar and author, a brilliant and dedicated teacher and mentor, and an engaged intellectual.  We in the History Department are proud of him but we are not surprised by his advancement to this position. We know he will bring the very best skills and values to this important leadership role. Congratulations, Pero!!!" said Lisa Fine, PhD, chair of the MSU History Department.
"I am honored to have the opportunity to serve the Michigan State University community in this new role. Graduate education is central to the university's culture. Collaborating with others on and off campus, I look forward to helping support graduate students, graduate professionals, and postdoctoral scholars," said Dagbovie.
Dagbovie is a 2018-19 Big Ten Academic Alliance Academic Leadership Program Fellow and served on MSU's Strategic Planning Steering Committee, Diversity, Equity and Inclusion Steering Committee, and Task Force on Racial Equity.
His scholarship centers on African American history and twentieth-century U.S. history. He has authored seven books and numerous articles and essays, and he is currently the editor of The Journal of African American History, the leading scholarly journal in its field, founded in 1916.
Among his many other accomplishments, Dagbovie has delivered keynote presentations throughout the nation and abroad and is on the editorial boards of several scholarly journals, including The Michigan Historical Review, Modern American History, Journal of Black Studies, and Journal for the Study of Radicalism.
The Graduate School offers graduate students assistance in academic matters with the support of University Governance, advice on university-wide degree requirements, information on the availability of financial assistance, fellowships and scholarships, as well as approval for theses and dissertations.
Eric Torng currently serves as responsible administrator of the Graduate School, following the January 2022 departure of former dean Thomas Jeitschko, who assumed the new role of senior associate provost at MSU.
Excerpts of this article first appeared in MSU Today. Read More: https://msutoday.msu.edu/news/2022/pero-dagbovie