Former Michigan Governor Jim Blanchard Reflects on the Life and Legacy of Former U.S. Secretary of State, Madeleine Albright
March 23, 2022 - Becky Jensen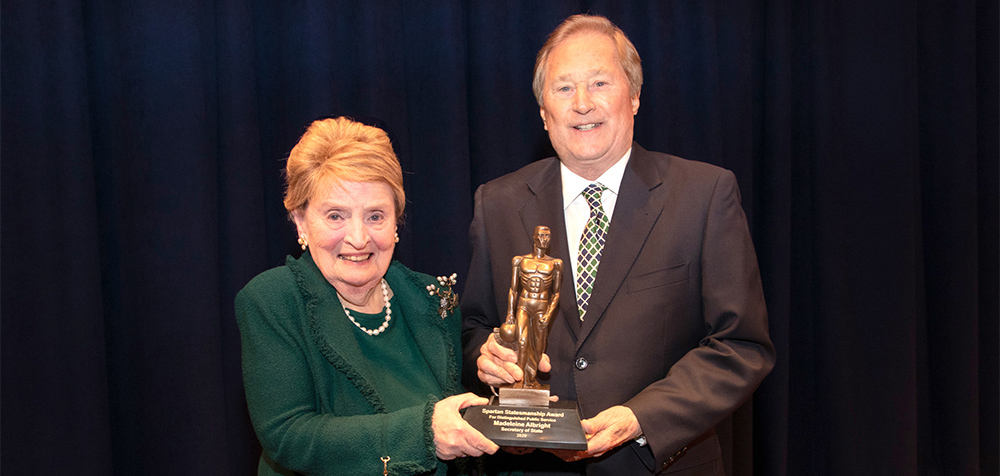 PHOTO: Photo of Former U.S. Secretary of State, Madeleine Albright and Governor Jim Blanchard, (2020) photo courtesy of Gary Shrewsbury.
Former Governor of Michigan James Blanchard has issued the following statement on the passing of long-time colleague and friend Former U.S. Secretary Madeleine Albright:
"In Madeleine Albright, we have lost a fabulous diplomat, a public servant, a gifted author and a great American success story. Born in Czechoslovakia, surviving the World War II bombing in London and coming to America, she rose to the highest diplomatic positions in our country. She was an outstanding scholar and teacher. Madeleine Albright was also a champion of opportunities for young women and inspired a generation of new women leaders. She was my friend and I enjoyed working with her. We're proud she became an honorary Spartan in 2020 at our Public Service forum. It was a wonderful night for a wonderful person."
Secretary Albright was featured as a speaker in 2020 as part of the Jim Blanchard Public Service Forum, housed in the Department of Political Science, within the College of Social Science at Michigan State University. 
Secretary Albright died of cancer on March 23, 2022.  She was 84 years old. Sec. Albright was the first woman to be U.S. Secretary of State.