Meet the College of Social Science student commencement speaker, Lilli Meng
April 27, 2022 - Liz Schondelmayer
"You might not know where you're going, but you're gonna make it when you get there."
For graduating seniors, the end of the Spring semester can bring so many emotions: from excitement, joy and pride to uncertainty and anxiety about the future. This is why Lilli Meng, a Political Science senior at Michigan State University, is focusing the speech she will give at the College of Social Science Undergraduate Commencement Ceremony on the hard work and tenacity that has carried her and her peers this far.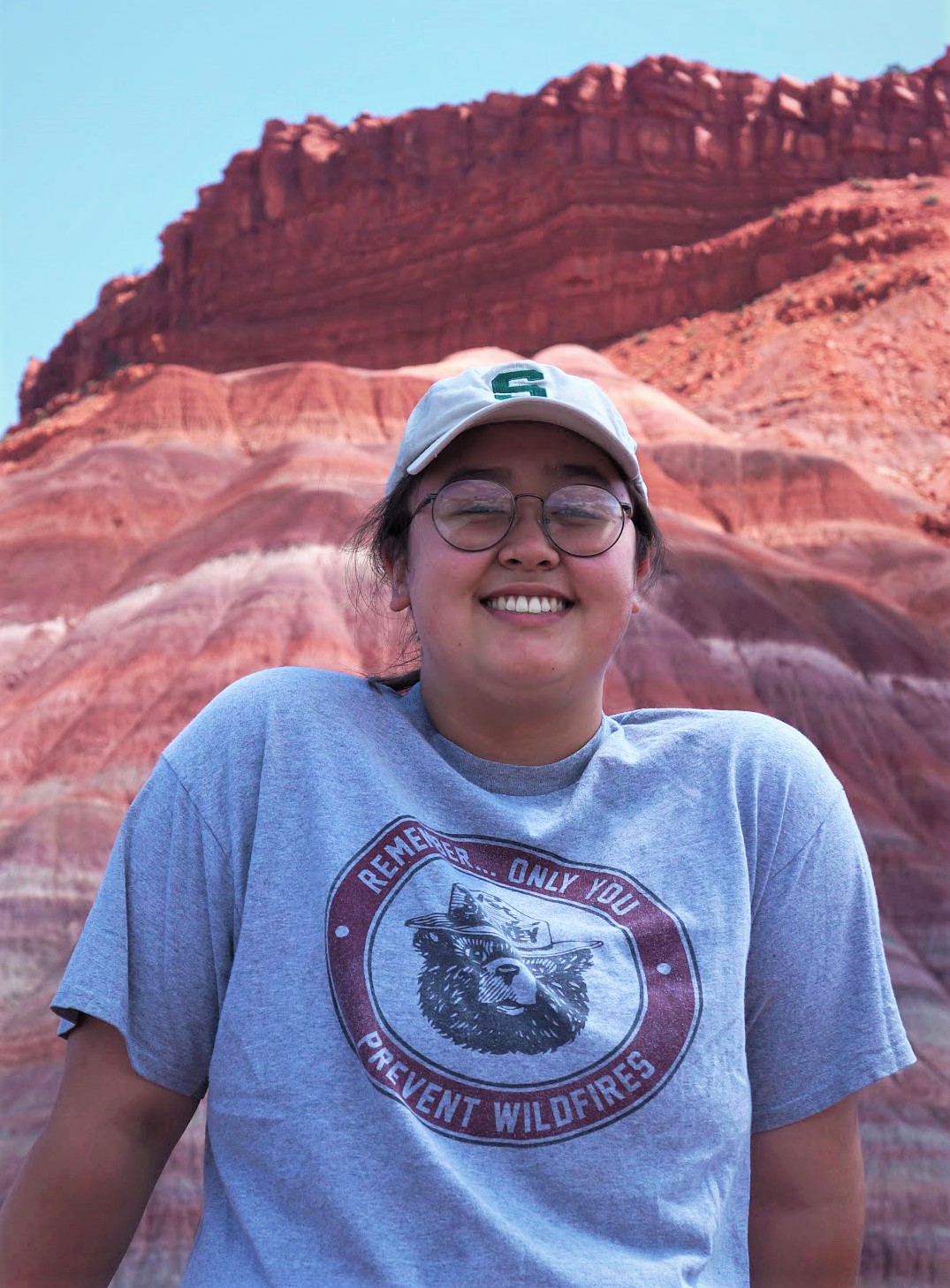 The words above, penned by Meng (pictured left), reflect her admiration for the way her graduating class has overcome so many hardships throughout their time at MSU, and her certainty in their ability to reach their full potential.
"My speech is a celebration of graduates. We went through one of the toughest times to be a student in recent history," reflected Lilli. "So, I want my speech to be a celebration - we just went through something crazy, and we made it to the end! This is why the focus of my speech is on tenacity, because every graduating student has worked so hard, and I'm so proud of each of them."
Lilli was born in Muskegon, Michigan, but moved with her parents to Champaign, Illinois in high school. After graduating, she decided to attend Michigan State University to be closer to her family and back in her beloved home state. "I missed my family, and I also just missed the state of Michigan, like the lakes and the trees - we have some of the most tree cover of any state! I really love this state, and now I'm two hours from my grandparents instead of six or seven," Lilli shared. 
Lilli will be graduating with her degree in Political Science, as well as a minor in Environmental and Sustainability Studies and Law, Justice and Public Policy. She will also take with her a wealth of research and professional experience: throughout her time at MSU, Lilli has served as a research assistant for MSU political scientists Dr. Cristina Bodea, Dr. Andrew Kerner and Dr. Ryan Black; an archivist and record keeper for the City of Lansing; an intern for environmental group the Sierra Club; and a marketer for several Michigan-based congressional campaigns. She was also a senior staffer for MSU's Model UN team. 
Her interest in political science was born from her high school AP US History class, as well as her love for the popular 2000s sitcom, "The West Wing." 
"I watched 'The West Wing' my senior year, and my close friend's dad was my AP US History teacher at the time. He'd draw parallels between the show and what we were learning in class, and I loved watching the day-to-day government work and seeing how far-reaching the consequences of their work was," Lilli recalled. "I fell in love with the idea of helping people, and I realized I wanted to be like President Bartlet."
In the future, Lilli wants to continue her career in politics by gaining more real-world professional experience, going to graduate school and then fulfilling her lifelong goal of running for mayor.  As mayor of a city, Lilli wants to take a bipartisanship approach to issues of sustainability and social justice.
"I want to create a positive space where people across the political spectrum can be heard and work together. I hate when politics get dirty, which is why I want to avoid federal politics," Lilli said. "I don't want to participate in all of the name-calling and conspiracy theories, because all that does is play with people's lives - it doesn't exist in a vacuum! It's not that hard to have your politics be kindness, which is what I want to do as a mayor someday." 
When she isn't taking classes, analyzing data or working with city archives, Lilli can often be found playing video games with her roommates. But while she'll miss hanging out with them at MSU, she definitely won't miss her daily routine of waking up at 5 a.m. to complete her homework for the day!
"I am so tired of homework!" Lilli joked. "I'm the kind of person who wakes up at five in the morning to do my homework so that I'm free after my classes. I'm so excited to sleep in, read a book for fun and really just have some time for myself again!"
As a parting piece of advice for current undergraduates, Lilli has the following wisdom to impart: "Obviously, eat your vegetables and do your homework. But beyond that, remember not to limit yourself. Look at me - I'm not the type of person you'd expect to speak in front of 10,000 people!" Lilli laughed. "But really, for most things, the worst thing someone can say to you is 'no.' So take risks, try out for teams, run for the e-board of your favorite club, get your heart broken, try crazy things - you never know when another COVID-19 situation can happen again."
Lilli will give her full speech at the Breslin Center on Saturday, May 7 at 8:30 a.m. at the College of Social Science's Spring Convocation Ceremony. Find more information about this event here.