Sterling Bentley, intern and MSW student, brings vast wealth of advocacy, experience and energy to the Consortium for Sexual and Gender Minority Health
April 27, 2022 - Karessa Weir
Master of Social Work student Sterling Bentley came to MSU to learn, not to teach.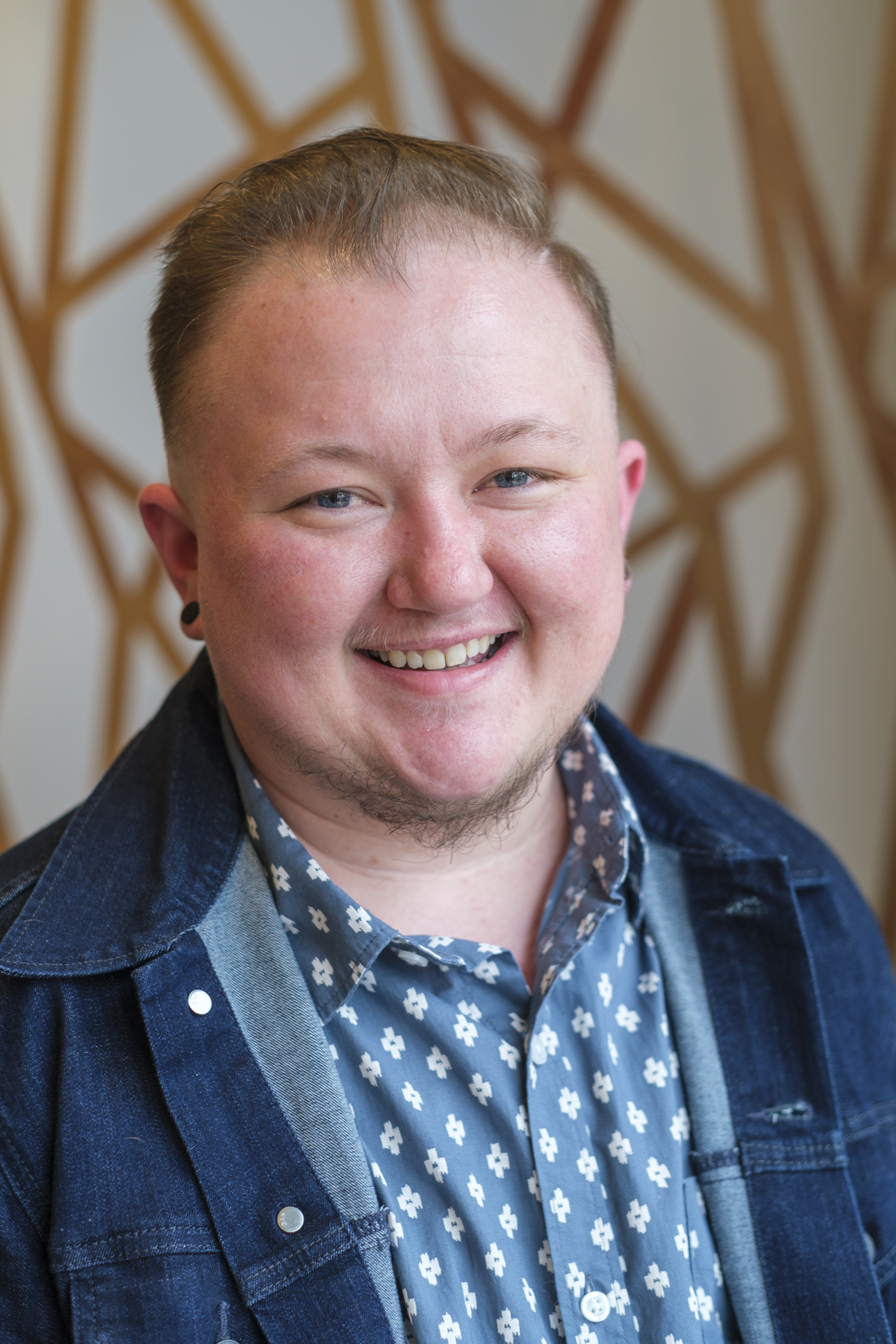 Not an unusual position for most graduate students but for Bentley this was as much about what happens outside the classroom as in it. For most of his adult life, Bentley, a queer trans man, has had to inform everyone around him about his identity, his orientation, and his passion for advocacy. Coming from rural Appalachia, Bentley has often been the only LGBTQ+ person in the room, the first to bring certain topics of queerness and gender to communities, and the first person young people have had to relate to. His advocacy work specifically reached out to LGBTQ+ youth in rural communities who needed help accessing medical and emotional support. 
That kind of work can be intensely emotional and take a large toll. So when Bentley, a sociology graduate from University of North Carolina Asheville, sought out graduate schools, he was looking for a place where he was specifically not "the first" anything. 
"I needed to know MSU was not just a research center doing academic work (on queer and trans issues) but there were people in the department with the same identity. I wanted to learn and not need to teach along the way," he said. 
The fact that there were other queer and trans faculty, staff, and students was a huge plus for Bentley. But it was the existence of the Consortium on Sexual and Gender Minority Health, housed in the School of Social Work but pulling from departments across campus, that sealed it for Bentley. 
"At MSU, leadership has shown there is space in social work for social justice. I applied to a lot of colleges, and it was the presence of the consortium here that solidified my decision to go to MSU," he said. 
Bentley is now the first student to intern with the Consortium and is working on several projects including the creation of a community advisory board that can further the consortium's goal to conduct community informed and culturally relevant research.  
"Sterling has demonstrated leadership in spearheading a number of projects for the Consortium and clearly takes pride and ownership in his work. He has also shown leadership in the classroom and with other students, particularly in championing the needs and perspectives of sexual and gender minority communities," wrote Consortium Director Dr. Carla Pfeffer in her nominating letter for Bentley to be named Social Work Student of the Year. Also signing the letter was Dr. Deirdre Shires, co-founder of the Consortium and Assistant Professor of Social Work. 
"During a year when LGBTQ+ lives, well-being, and rights are under direct attack across the country, we can think of no more deserving student for this award than Sterling Bentley, whose life and life's work stand in direct and active resistance to social injustice and inequities." 
Bentley considers himself a prime example of why societal bans on referring to "gay" and "trans" don't work. Growing up isolated in the mountains of the deep South, without wi-fi or access to support, no one in Bentley's family talked about sexual orientation at all.  
"But that didn't make me any less queer or trans," Bentley said.  
Also a first generation college student, Bentley found a mentor in Dr. Lyndi Hewitt, Professor of Sociology at UNC Asheville who specializes in showing her sociology students how they can address "real-world problems and cultivate ethical, rigorous research collaborations with community partners." Hewitt laid a foundation for Bentley to combine academics, activism and community engagement. 
"I was a rural Appalachian, first generation student with not much parental support and facing structural systemic stuff regarding being queer and trans. She challenged me in ways to set me up for success.," Bentley recalls. "She was very transparent and shared personal experiences in a way that helped me relate to all of what was going on around me." 
Following college graduation, Bentley received a fellowship from the organization Equality NC to create an empowerment project for people either born or residing in rural areas of the state. His focus was access to healthcare. Following informal interviews across North Carolina, Bentley created two sets of information sheets. The first was for a trans person to fill out prior to a medical appointment to help them discuss everything from the correct pronouns to use for them to the specific medical issues they wanted to address. This would relieve the stress of having to answer sensitive questions without preparation. 
The second document was for the medical staff. It informed them of issues relating to trans specific medical concerns as well as the proper way to identify, record, and address people.  
"There was the dual purpose of reducing the burden on the patient as well as providing educational resources to the medical staff. Both need to happen," Bentley said. 
At the end of the fellowship, Bentley visited Washington D.C. to engage in political advocacy which he calls somewhat of a calling.  
"I love crafting a story and telling it in a way that allows people to see the humanity in folks who have had the humanity stripped from them. I want to embody the people who they want to legislate out of existence," he said. "That's what really fuels me – to find every opportunity to do that." 
Bentley then found himself at age 25 as the executive director of an LGBTQ+ youth organization in North Carolina. The group helped young people find their voices in high school gay-straight student alliances (GSAs) and advocacy projects across North Carolina.  
"We had a 100 plus kids leading a Pride march and I can't tell you how healing it is to hear trans and queer kids' joy and laughter," he said.  
At that point, Bentley was considering returning to school but wasn't sure what would be the right place for him. He didn't want to go to law school or study political science. He "naively considered social work as only child welfare or one-on-one counseling" but the discovery of macro social work led him directly to MSU.  
"I found a home for social justice within social work," he said and moved here in August,2021 with his wife, Alex,  and their dog, Georgia. 
Michigan has been a bit of a culture shock and Bentley, 28, is still searching for community outside of MSU, specifically queer sports teams. He continues to write poetry and was published in an anthology "Bible Belt Queers" and hopes to run for office someday. In addition to being named MSU MSW Student of the Year, Bentley was accepted into the Advocacy Scholars Program at MSU which works with students on how to run for office.  
"The reason for coming here is to try to balance the experience and skill set I already have with what I need to learn still," he said.  "A lot of what our society is missing is authenticity and that is how I am trying to live my life." 
Image courtesy of Jacqueline Belden Hawthorne.