College of Social Science students shine at this year's University Undergraduate Research and Arts Forum
April 27, 2022 - Katherine Denzin
On April 13, 2022 in the Union Ballroom, undergraduate researchers, faculty and supporters gathered to celebrate the University Undergraduate Research and Arts Forum (UURAF) first place winners. 
Earlier that week, over 750 students presented their research at UURAF 2022 in the Breslin Student Events Center in a compilation of posters, oral presentations and virtual videos. The research ranged from topics about diseases to ancient artifacts to inequality and the workplace. UURAF 2022 gave the opportunity for undergraduates involved with research to present their hard work, gaining experience and a chance to win.
UURAF is split into topic sections. Researchers in the College of Social Science presented in a wide range of these: anthropology, arts and humanities, communication arts and sciences, global and area studies, psychology, social science general and social work. Each section within the different topics resulted in a first place winner based on faculty judging.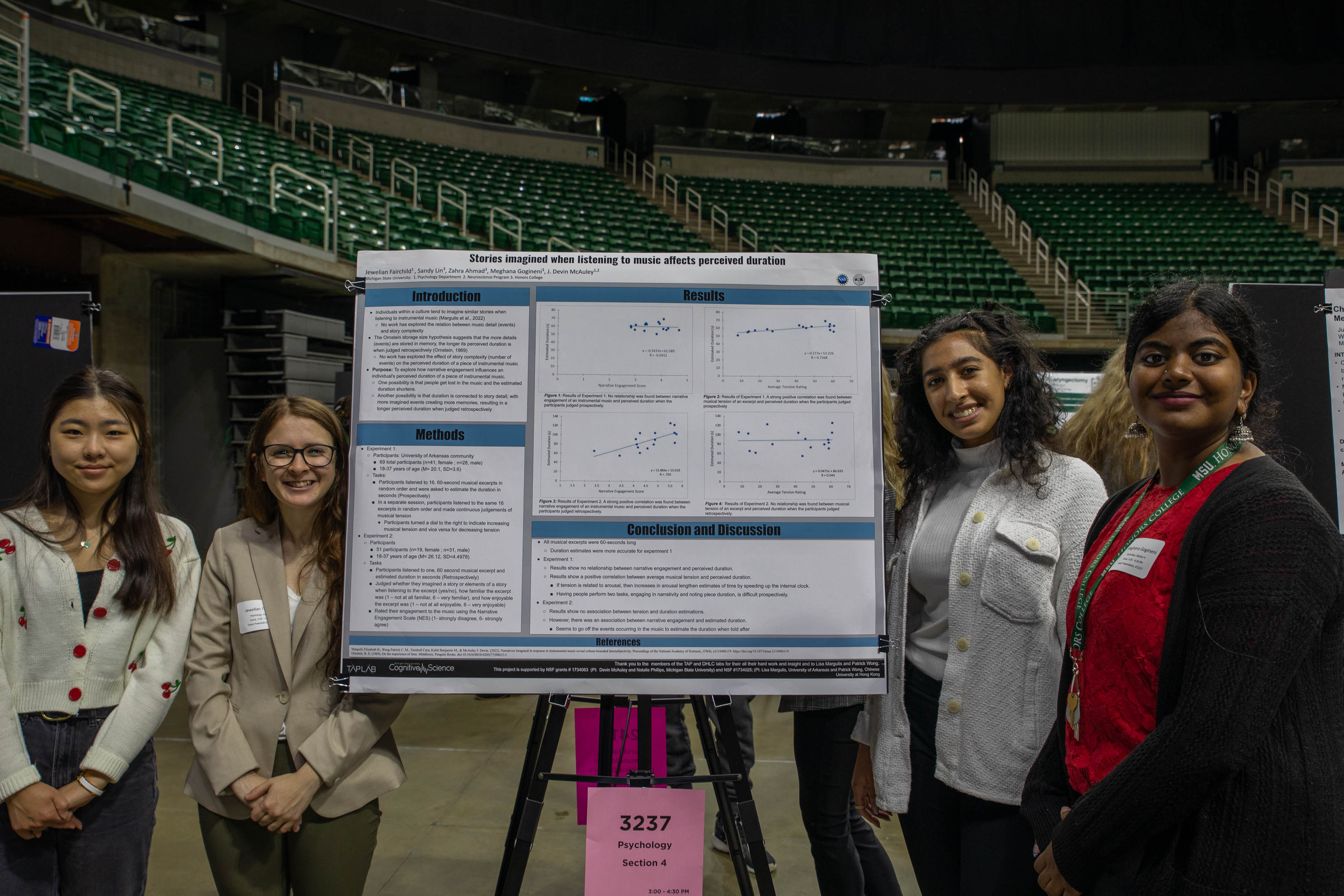 "I enjoyed presenting at UURAF," said Gregory Marchal, a senior economics major. "My research project uses behavioral economics experimental data from rural Wyoming from parents with children under age five to understand how economic risk preferences and ambiguity aversion influence influenza vaccine hesitancy." His oral presentation won the first place prize in the seventh section of psychology after a panel of judges listened to his project.
Participants received feedback from judges assigned to their various presentations. The judges are faculty picked for their familiarity of the area of study; other staff, faculty, research associates and postdoctoral fellows visited posters and provided undergraduates with feedback and scores. From each section, one presentation was selected to receive the first place award at the UURAF awards ceremony. 
The winners of each section were called to the stage in the Union Ballroom by the Dean of Undergraduate Studies, Mark Largent, and the Dean of the College of Arts and Letters and the Honors College, Christopher Long. Each researcher in the College of Social Science received a certificate from Provost Teresa Woodruff and Associate Dean of Academic and Student Affairs, Walter Hawthorne, before taking a large group photo. In total, there were 27 first place presenters in the College of Social Science. 
"As a freshman, I was really excited to win a first place prize," said Nel Robinson, a political science major whose project focused on representation in high school history textbooks, which won the second arts and humanities section. "I was glad that my team members and I had something new to add to our portfolios of honor and achievement. I can't wait to enter more research in the future!"
The researchers now have a chance to compete for the UURAF Grand Prize by honing their presentations and continuing to improve their projects. UURAF gave student researchers in the College of Social Science an opportunity to present to the broader University and celebrate the hard work they have put into their projects. Here is a list of all student first place winners is:
List of Winners:
Jennie Boulus- Psychology
Emily Cohen- Social Work
Kadrianna Cohen- Political Science
Justin Crouch- Psychology
Mariah Larr- Anthropology
Ava Fall- Social Work
Isabelle Fanning- Political Science- Prelaw
Jenna Fisher- Psychology
Anna Forest- Psychology
Jessie Greatorex- Psychology
Madeline Leppek- Human Delopment and Family Studies
Gregory Marchal- Economics
Cameron Martin- Psychology
Max Martus- Global History
Nadiah Mohamed Hasnol- Psychology
Hannah Morse
Erika Mueller- Psychology
Joanna Myatt- Human Capital and Society
Ayushi Patel- Psychology
Noelle Rager- Social Work
Abby Roberts- Psychology
Brandon Roberts- Sociology
Anel Robinson
Celeste Rubino- History
Jessica Skaff- Psychology
Matt Sutton- Human Capital and Society
Apichaya Thaneerat- Geographic Information Science