"Enjoy the journey" is the message of this year's University Convocation student speaker, political science major Danielle McClain
May 5, 2022 - Karessa Weir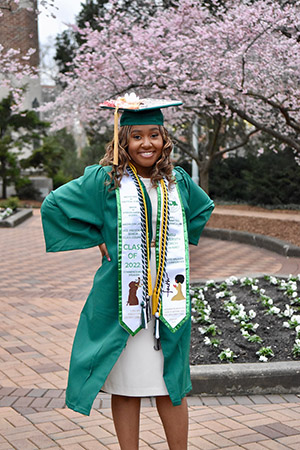 Political Science senior Danielle McClain hopes to encourage and motivate students to celebrate their journey to graduation as the 2022 University Convocation Speaker.
"As a student who is graduating, I know how much work it takes. I'm so proud of everyone graduating," Dani said. "It's an honor to take us on a journey from freshman year all the way until now, appreciating all the things we've been through and encouraging us to look forward to the bright future that we all have."
Dani was selected by the Senior Class Council as the Convocation Student Speaker. Criteria to be chosen included a "personally meaningful, thought-provoking, engaging speech that embodies the unique experience we share as Spartans."
Political Science academic advisor Krista Zeig has worked closely with Dani over the past four years.
"She is a student that I always looked forward to meeting with because she brought so much positivity to our meetings. Her determination and passion for everything she does is inspiring. I look forward to watching her continue to bring that drive and passion into the world," Zeig said.
Dani majored in Political Science – Prelaw with a focus on Political Philosophy and a minor in African American studies. To her, political awareness has never been just an interest or hobby.
"For a woman and person of color, being aware of how to create political change is not just an option for me," she said. "It's a necessity."
As a student, Dani worked hard to build relationships with professors and always sat in the front row. But when the pandemic hit and everything went online, that became much harder. 
"When we were online, I felt all the best elements of learning were gone," Dani said. "I'm so glad we came back for this year. I'll take it."
Dani advises  undergraduates to appreciate the moments that you have in college and surround yourself with people who "pour love into you and support you."
"Be kind to yourself and know that everything is going to be ok," Dani said. "And be ok with it not being ok. I'm working on that myself. I'm appreciating the journey."
Following graduation, Dani plans to attend law school, possibly in the D.C. area, and work in the arena of global human rights and international advocacy work.
"I want to work on behalf of the U.S. government in a global situation, possibly diplomacy," she said.