MSU Economics students travel to London, England to learn about the government's role in the economy and healthcare
September 1, 2022 - Katie Nicpon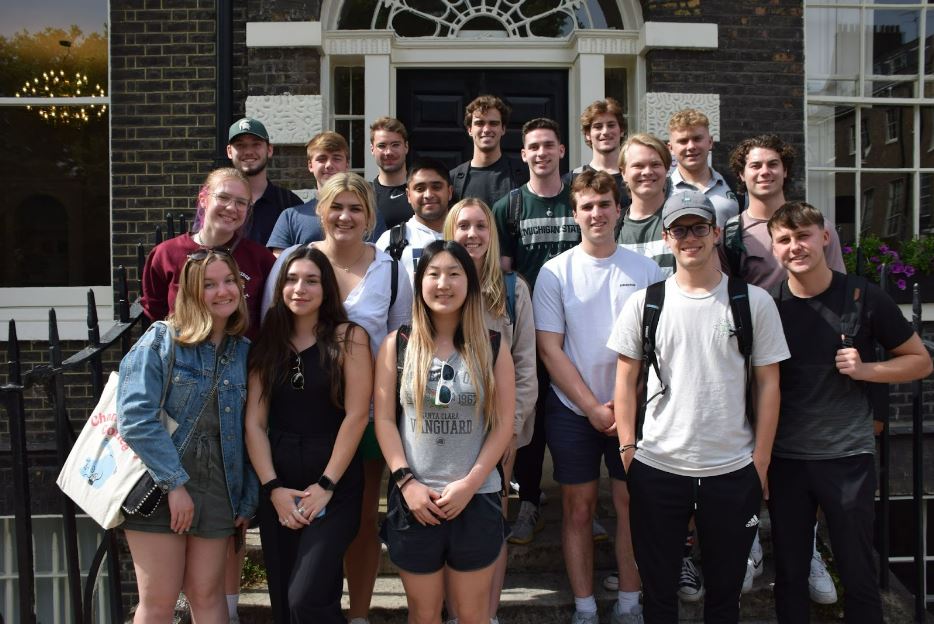 Caption: MSU Economics students in front of their classroom building during their Economics of Public Policy summer study abroad program in May 2022.
"What's special about this study abroad opportunity? Everything! The students stay for a month in London, which is one of the world's greatest cities," Professor Charley Ballard said. He is a professor in the MSU Department of Economics and co-led the Economics of Public Policy summer study abroad program in May 2022 along with Professor John Goddeeris.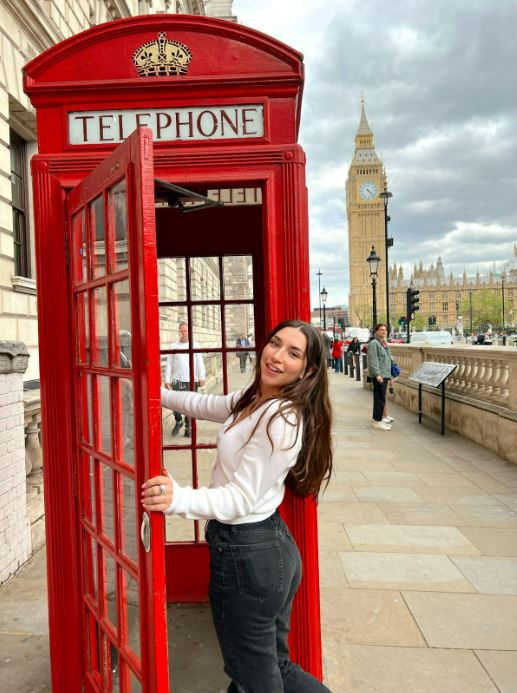 Caption: MSU Economics junior Samantha Levine enjoys the tours of Westminster Abbey, Big Ben and Elizabeth Tower while stopping for a photo with an iconic red telephone booth. Photo credit: Samantha Levine.
"I decided to go apply for this study abroad program first and foremost because it aligned with my academic requirements yet also would be an invaluable opportunity to explore places I had never been before," said Economics junior Samantha Levine. "The chance to meet new friends and create great memories was an added bonus." 
This year, 19 students participated in the study abroad program, the largest class since the program started in 2005. 
"This program stood out to me because it involved taking classes that interested me in arguably the most important financial center in the world," Jake Maly, MSU Economics senior said. "The location was a major factor because it was a city that I dreamed of visiting again due to the vast amount of history and diversity that London has to offer."
During their time in London, students learned about the government's role in the economy and the economics of health care, and they receive credit for EC 335, Taxes, Government Spending and Public Policy; and EC 498, Economics of Health Care. 
Maly enjoyed learning about government expenditures, taxation and the healthcare system, and the comparison between the American and British health care systems. 
"We were able to hear from a guest speaker on how the United States spends so much on healthcare without seeing impressive results, while also learning on how the United Kingdom manages to afford a single-payer public healthcare system with the NHS," he said. 
"In addition to classroom activities, students in this program have been able to visit the Houses of Parliament, the Tower of London, Buckingham Palace, the British Museum, the British Library, and much more," Professor Ballard said.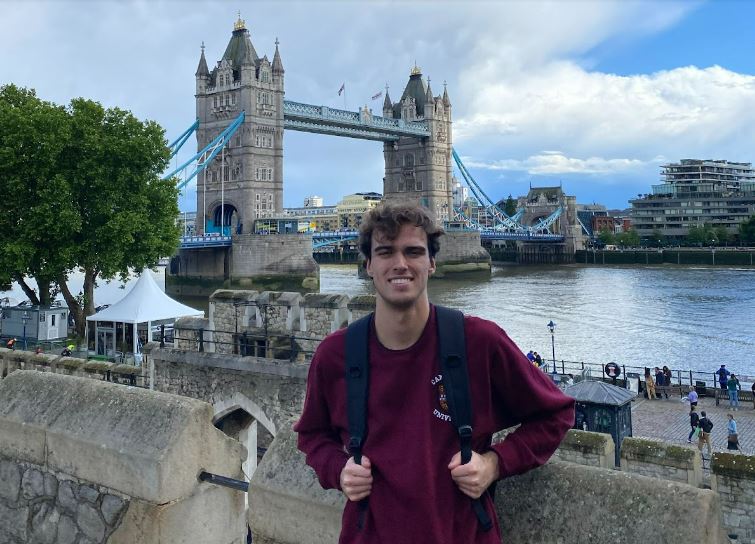 Caption: MSU Economics senior Jake Maly in front of Tower Bridge. Photo credit: Jake Maly.
"Getting to explore the City of Cambridge was one of my favorites along with Westminster Abbey and the House of Parliament," Levine said. "The amount of history and tradition truly mesmerized me." 
Maly enjoyed the weekend trip to Scotland, but found that the overall highlight of the program for him was meeting and forming friendships with the other students on the trip.  
"All of my classmates and the two professors made the whole experience exponentially better," he said.
Levine's advice for students considering this study abroad is to go into the trip with an open mind.
"If you are eager to see new places and cultures and welcome the opportunity to learn, this can be the best trip of your life," she said.
To learn more about the Economics of Public Policy summer study abroad program, contact Professor Mike Conlin who will be leading the summer 2023 trip.