Anthropology Grad Student Spotlight: Kelsey Merreck Wagner - Human-environment relationships and art as activism
September 13, 2022 - Katie Nicpon
Passionate about the intersection of people, animals, environment and activism, Kelsey Merreck Wagner is a Ph.D. candidate in the MSU Anthropology program and is also an artist. Since the pandemic, she has been weaving community trash into tapestries and preparing for her dissertation research trip to Thailand in October.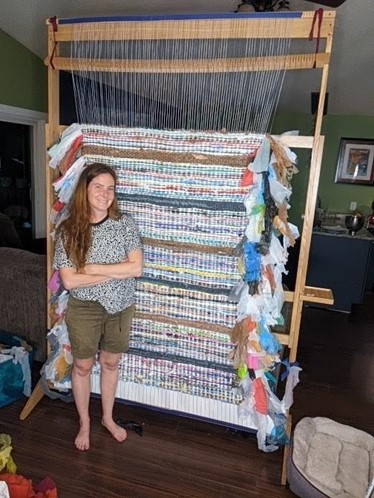 "I was really drawn to the idea that weavings are inherently based in place because people generally use local fibers, whether it's from sheep or local plant fibers, and the dyes from their materials come from their local ecosystems," she said. "I really kind of wanted to do a satirical nod to that by thinking: Okay, what is my place-based weaving as a white woman in America? Plastic. Plastic. Plastic is my local resource that I have so much of. Trash is part of our environment and so plastic really can't be separated from that. Because once it's made, once it's consumed and thrown away, it's always going to be there. I started weaving with these as an experiment and realized I really loved the textures and patterns."
Once she began collecting trash from others, she realized how trash displays intersectional identities in a person or a community such as gender, age, race and class, almost like a portrait. 
"I also see my art as a call out to these different brands and corporations as kind of an eye opener of how much plastic adds up over time," she said. 
Her work will be showcased in the upcoming MSU Museum Science Gallery 1.5 ° Celsius exhibition which begins on September 6, 2022, and will last through February 2023. The exhibition will include contributions of more than one dozen national and international artists, scientists, and researchers to help the public explore the global climate crisis. 
"They also asked me to do a weaving workshop at the STEM building," Wagner said. "I'm going to be bringing a huge, basic, wooden tapestry loom that I'll build for this one project. I'll be bringing in plastic and then workshop participants are also encouraged to bring in any kind of trash that they want to weave with. We're going to all work together to do a collaborative community weaving and see what we can make. We will be able to think of it as a portrait of the community or of the participants thinking about all the different trash that we use."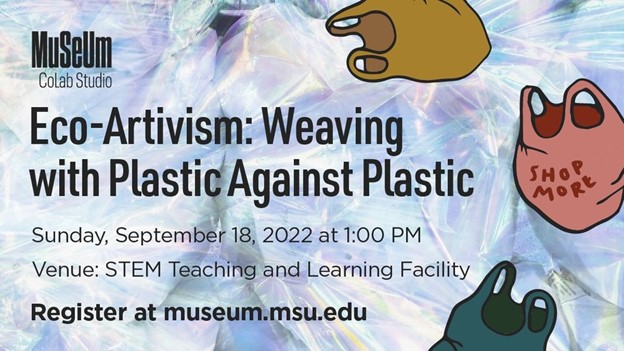 Wagner's undergrad training is in studio art and art history, and she found an interdisciplinary masters' anthropology program where she was able to develop her art in relation to sustainability and the environment. 
"I was passionate about and  wanted to get more involved with environmentalism, but I never saw myself as a  natural scientist," she said. "But during my master's, I started going to work at this elephant organization in Thailand, and it made me realize for the first time that conservation is really about people, and it's about communities."
Once she graduated from her master's program, she worked for a year in Cambodia for an environmental organization as their exhibitions coordinator for their natural history museum. She was applying to MSU at the time and getting in touch with Dr. Beth Drexler, who is now her current graduate advisor. 
 "She was excited about the idea of blending visual anthropology and interdisciplinary research, and environmental activism, which is so exciting, because it was important to me to find an advisor and a program that values interdisciplinary work and activism," she said. "That's really why I ended up at MSU in this program, because I felt like there's so many people that were studying different things and blending different bodies of knowledge, especially in a four field program. And that felt like the right fit for me. It all fell into place that I would be able to use my background in arts, my love of elephants and the environment. And then just also being really interested in how people relate to environments."
Wagner is in her fourth year of her MSU Anthropology PhD program. In October, she will travel to Thailand to start her dissertation research. Her work focuses on human-environment and human-animal relationships, and how people have long-standing traditions of interacting with the environment, interacting with animals in the ecosystems in ways that are part of their culture. In Thailand, she is specifically interested in researching human-elephant relationships.
"I have been obsessed with elephants since I was a little girl, so it's been a life-long passion of mine," Wagner smiled. "In Thailand, elephants are so common in material culture and pop culture. They're the national cultural symbol, and everywhere you go, there are sculptures of elephants outside buildings, in restaurants, t-shirts, and tourism goods – you see elephants everywhere. I'm also an artist, so I like seeing how elephants are portrayed and what a particular culture or community within that culture thinks about these animals and how they treat them."
There's a conservation component of her research where she'll be continuing to work with the elephant organization Elephant Nature Park in Chiang Mai that she's been working with since her master's.
"It's a giant elephant sanctuary where they have over 100 rescued elephants that have been rescued from circuses, street begging, logging – many unethical, unfair labor situations. The sanctuary is run by a local Thai woman who only hires local Thai and nearby ethnic groups to work at this organization caring for the elephants. Then, tourists come in and pay to clean up after the elephants and feed them. It's a huge organization that does a lot for local communities, including funding and building some local schools."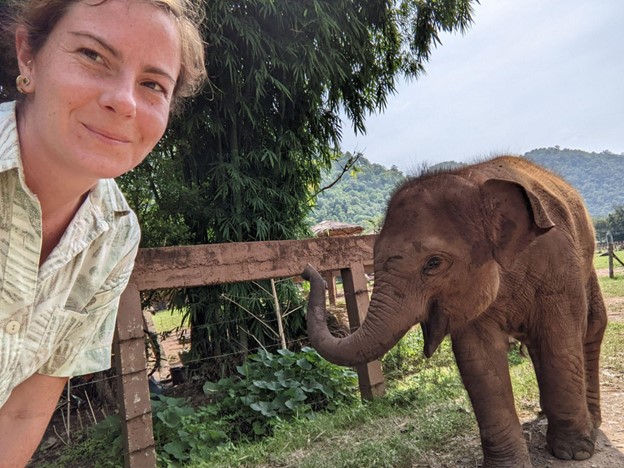 Through the organization, Wagner hopes to do a community engagement art project with the youth. While she envisions giant murals or a large art installation, she's also leaving it open-ended because she wants the youth to express their ideas for the project.
"I'm trying to really just make those connections between activism and expression, both personal expression and community expression by bringing in the idea of talking about the environment through art. Anthropologists are really interested in applied and activist anthropology, and pondering how our research can contribute to issues as broad as climate change and human rights. And so for me, that's why it's really important to be working on these different art projects and activism projects with community members, and especially youth, because I see it as my way to be able to like give back in this very specific art and activism skill set that I've been developing for more than 10 years now." 
View Wagner's work and join in the discussion about climate change at the MSU Museum Science Gallery 1.5 ° Celsius exhibition: https://museum.msu.edu/?exhibition=1-5-celsius. The weaving workshop is on the MSU campus from 1:00-2:00 on Sunday, September 18. You can register here.
To learn more about the MSU Department of Anthropology, visit anthropology.msu.edu.