Flint Community Initiative Interns Celebrate Successful Summer at Scholars Showcase
September 14, 2022 - Emily Jodway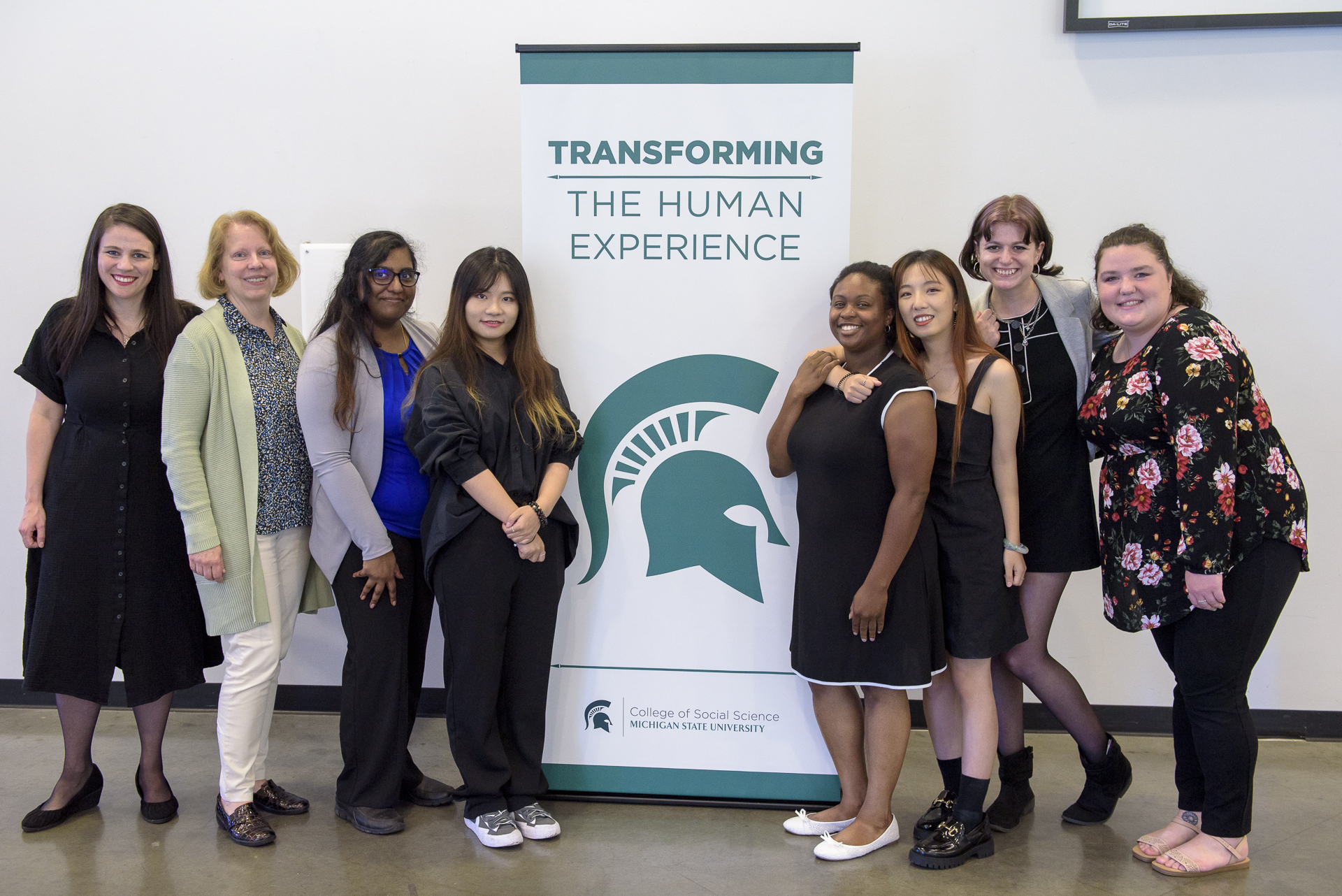 Photo: The 2022 Flint Community Initiative interns. Photo credit: Jacqueline Hawthorne, MSU.
Students from the Colleges of Social Science and Engineering participating in the Flint Community Initiative presented their summer projects at a Scholars Showcase on August 10 at the Flint Farmers Market. The showcase gave students the opportunity to highlight their research, experiences and collaborative efforts from their ten-week internship with the Flint Community Initiative.
Housed in the School of Social Work but available to all MSU students, the Flint Community Initiative (FCI) pairs students and leaders of nonprofit community organizations for a common goal of helping to expand community assets and contribute to a thriving future for Flint residents. 
Combining service learning and internship experiences, students live in the City of Flint and work on their projects, learning more about the nonprofit sector and social, political and economic priorities of urban settings in the process. The program is co-instructed by Senior Associate Dean for Research and Strategic Initiatives, Dr. Anna Maria Santiago and Program Coordinator, community leader and Flint resident Monica Villarreal. 
This summer, eight students completed five different projects throughout the city of Flint. The students ranged from undergraduates to those pursuing a master's degree, and were studying computer science, psychology, urban and regional planning, political science, social work and human development and family studies.
"Alexis" Alex Johnson and Shelsea Hudson partnered for a neighborhood profiles project with the Flint Neighborhood Engagement Hub and also worked with the Neighborhood Associations of four neighborhoods chosen to pilot the project in. The aim was to create web spaces with information and highlights about each neighborhood after surveying those areas and compiling the information they received into a database. 
"These web pages are going to show how Flint's communities are actually very prosperous, very resilient, have a lot of assets and a lot of resources to utilize," Hudson explained. "It will market the City of Flint back to the State of Michigan so people can be encouraged to move to the city, see everything that it has to offer and to enjoy being in the city of Flint as well."
The Flint Community Initiative uses the framework of asset-based community development, which focuses on identifying the assets already present in the area and amplifying their impact, and looking at neighborhoods not for their deficits and needs but for their assets and strengths. 
Johnson, an Urban and Regional Planning major, enjoyed the asset-based community approach to their research. "As urban planners, we usually look at what is lacking in a community or city and then find out how to fill in those gaps ourselves," Johnson said. "So coming at this from an asset-based community development angle, it was very interesting to identify the assets and strength of people and how to get them to care about their community and use their passions to thrive."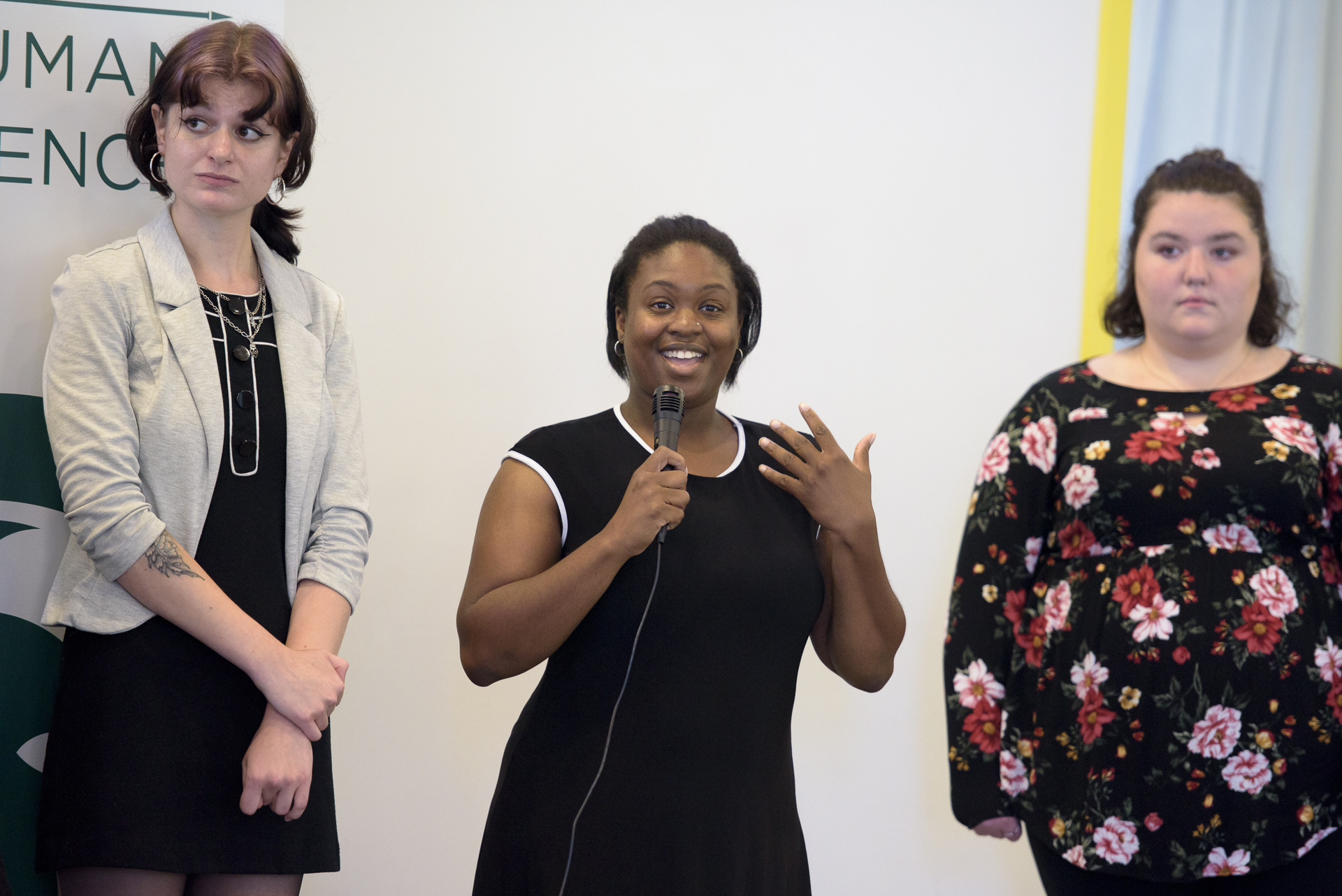 For Hudson, the research had a more personal angle to it. The Human Development and Family Studies graduate student is a Flint native, with family members having lived in the area since the 1960s. Even having grown up in the area, Hudson felt the FCI afforded her new opportunities to explore and be integrated into the community in a way she had not experienced before. One such way was by having meaningful conversations with local residents while doing her neighborhood research project. 
"One of my favorite parts was being able to sit down with residents and talk with them, and not just about the Flint water crisis, not about crime, not about life, but about what they love about their community," Hudson said. "They just love what the city has become, even with aspects of everything else that has happened [here]. I think that's one thing I really love about Flint is that the people still see the beauty of the city here." 
Living in the area they are extensively working in gives students the opportunity to network and collaborate with community leaders representing various backgrounds and work experiences, as well as a chance to connect with the city and its residents on a more personal level. Being able to both perform meaningful research in her hometown and represent Michigan State in the process was a particularly impactful element for Hudson. 
"Representing Michigan State in a positive light, especially in a city like Flint, who places a big emphasis on trust …it feels good," Hudson said. "There's no bad blood between the city and Michigan State. They've done a lot for the city. They continue to do a lot and I'm glad that I am one of the representatives of the university that can still continue that positive impact. 
Grace Perry, an undergraduate Political Science student who spent the summer working with the Development Authority of Flint, also spoke highly of the usage of asset-based community development. "Before this course, I didn't even know the practice existed, but after learning about it, I'm convinced it is the best way to address problems in a community," Perry said. 
Erica Morris is earning her master's degree in Social Work, and worked closely with the community to tackle a major issue, the aftermath of the Flint water crisis. She assisted at the Environmental Transformation Movement [ETM] of Flint, an organization that was created after the water crisis in order to help communities better respond to hazards and potential future disasters. Hearing directly from residents on their feelings and thoughts on where change needs to occur was particularly impactful for Morris. 
"Residents have such a unique insight about their communities, and their voices are needed for local planning and policy making," Morris explained. "I realized how important it is to develop relationships with residents in the community to help identify assets and network together to promote positive changes. 
Working with Morris at ETM-Flint, Urban and Regional Planning graduate student Xinyi Yao was moved by the passion of the community to make change in their city. "The community is very aware that they are suffering from different types of pollution, but when they ask for help, no one takes it seriously. ETM-Flint organizes programs to help give them a voice and apply for grants."
Another Urban and Regional Planning graduate student, Lingxi Chen, worked with Edible Flint to educate the community on farming practices. "I discovered that farming is not as easy as I thought it would be," Chen said. "Most young people today underestimate the knowledge needed and the importance of farming to communities."
Chen appreciated the feedback she received on her work and the feeling of community fostered in Flint. "Everyone made me feel like I really was a part of Edible Flint, not just a visitor that gets along for a while and then leaves after two months. Everyone was accepting me, thanking me for all the work I did, and recognizing my dedication. It all made me feel so valued."
Participating in the FCI gave senior Sonia Moozhayil the opportunity to explore future career paths and integrate her two fields of study in a meaningful way. Dual majoring in Psychology and Computer Science, Moozhayil worked with the Community Foundation of Greater Flint to evaluate the performance of the Neighborhood Small Grants Program (NSGP). 
"We created digital forms that can be easily used to collect data and applications to the NSGP," Moozhayil explained. "One of the main things we wanted to find out was if equity was being achieved in grant-making, in terms of these grants being provided to community foundations."
Moozhayil enjoyed the intersection of using computer science to create a way to compile and analyze data with using Social Science skills to solve social issues surrounding grand-making equity. 
"I reached out to professor Monica [Villarreal] when I was reading about the FCI program, because I felt like it was the perfect match for me," Moozhayil said. "I've done internships in the past, but the main issue was that I was only experiencing one of my majors. I feel as if [with] the Flint Community Initiative, I was able to experience both Computer Science and Psychology. So it's been a great honor for me to combine both of them, and not only that, I am bringing an impact to one of the well-known foundations in Flint."
Moozhayil echoed the sentiments of her fellow students about finding a new appreciation for the city of Flint and its residents. "It seems like we only hear about one thing, the Flint Water Crisis, but I learned from Professor Monica [Villarreal] and Shelsea [Hudson], and people in the community, that Flint is so much more than that. There's more positivity and a positive [outlook] on the people, the community, the small shops and restaurants, and even the actual events. And based on the data I was working on, you can see that community engagement in those projects. I had a new perspective in terms of what the city of Flint really is."
Joining Moozhayil on the project was Laura Ault, a master's student studying Social Work. "I learned so much from the combination of classwork, working with Dr. Santiago, and project experience," Ault added. 
To learn more about the Flint Community Initiative and the 2022 projects, click here.