Social Science Students Work Closely with Flint Development Sector During Experiential Learning Internships
September 21, 2022 - Emily Jodway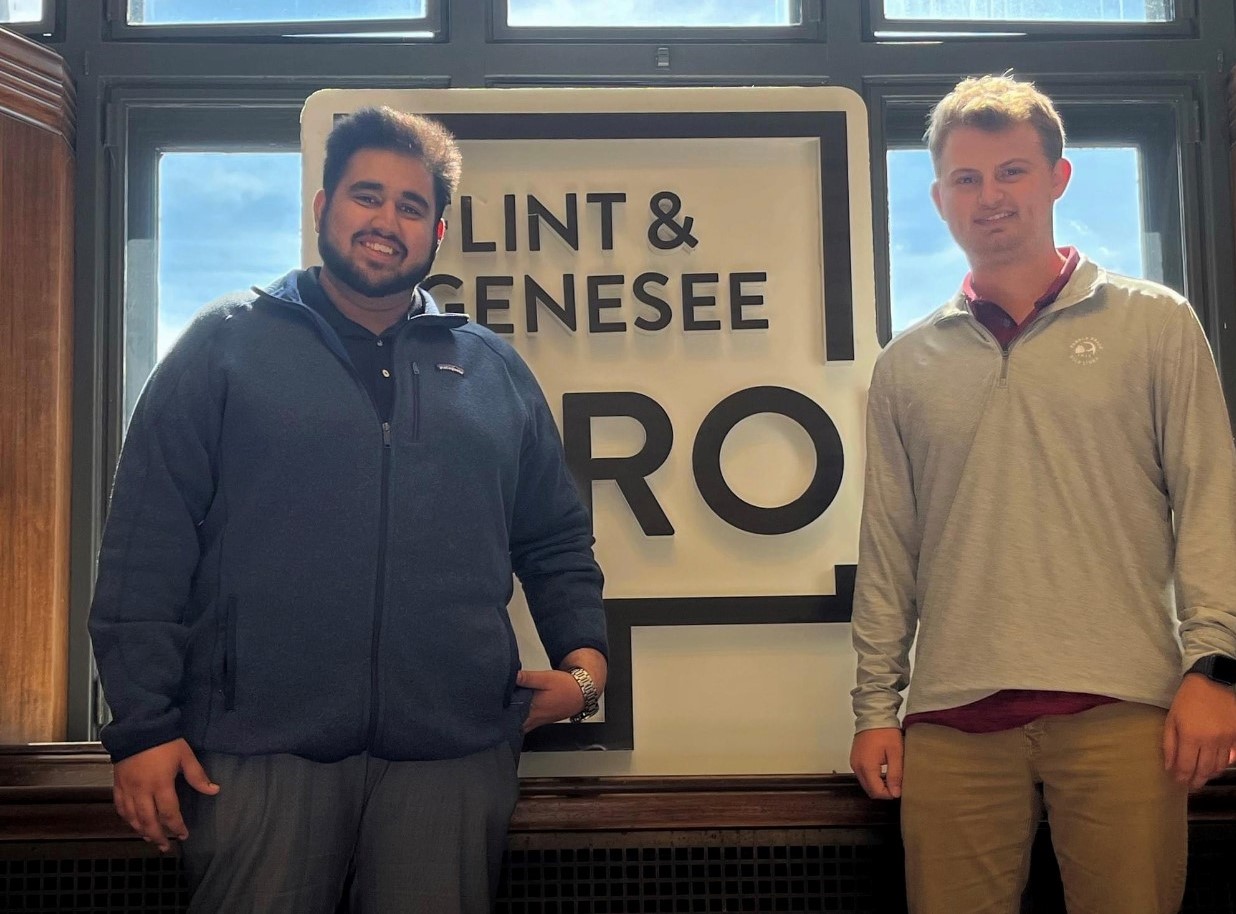 Photo: Economics student Keerat Handa (left) with a fellow intern at the Flint-Genesee Group.
Raf Newaz and Keerat Handa, two economics undergraduates, had the opportunity to intern in Flint over the summer through the Office of Experiential Learning and MSU's Flint Internship Program. The two spent the summer working with the Downtown Development Authority and The Flint & Genesee Group, two organizations deeply involved in the city's economic development. 
With the Flint Internship program, students are able to work and reside in Flint for ten weeks, working hands-on with local organizations while fully immersed in the city's culture and community. Along the way, students have the chance to engage in both personal and professional development while they directly assist in Flint's revitalization efforts. 
Newaz, an Economics major with a minor in Law, Justice and Public Policy, helped local businesses thrive by educating on how to apply for loans, grants, and offering other business advice, and enhanced communication between local government and the city's residents during his internship with the Flint Downtown Development Authority. 
"We helped manage a lot of the city's development downtown, and helped new businesses, especially independent and minority-owned businesses, to start up and get on their feet," Newaz explained. "We helped out restaurants, barbershops and salons, and a studio called Factory Two, which is a community makerspace where anyone can go and learn how to craft different things."
In addition to working to support local business, Newaz and the Flint Downtown Development Authority worked closely with local government and applied for grants to help get several city projects completed, including a homeless shelter and a public bathroom with help from a Mott Foundation grant. Newaz also led the conduction of surveys across several demographics in an effort to bring change and improvement to the community. 
"One survey I did was specifically geared toward those local business owners and how they feel about certain policies within the city, or new ideas they might have that we can support them on," Newaz said. "We also collected surveys from visitors. We wanted to know, especially if it was their first time in Flint, what attractions or improvements they'd like to see that would encourage them to come visit again. Just to give us an idea of what we could do to improve the perception of Flint and to be able to market its features more, get more people to come and visit the city."
Newaz had never spent more than a day in Flint prior to the internship, so experiencing a longer residency in the city was a unique experience. Much like many individuals, he was initially misled by the news media's portrayal of Flint into a negative perception of the city, and didn't know what to expect. But after spending the majority of the summer living downtown, Newaz learned that the City of Flint is so much more than what the popular headlines focus on. 
"Living in Flint, I got to see firsthand how it really was there, and learn from the perspective of the people who actually lived within the city, and it brought my perception of Flint into a much better light," Newaz said. "There were so many things that I didn't know about Flint. Everyone was so friendly, and you learn a lot about the city's history from residents. It was so interesting to me, especially because I'm a history geek."
Similarly, Handa was unfamiliar with the area and felt a complete turnaround after completing his internship in Flint. 
"My experience was definitely eye-opening," Handa said. "The city was beautiful. The people of Flint, they really know how to welcome people. I'll definitely be visiting again."
Handa is a fellow Economics major with a double minor in Business and Quantitative Data Analytics who spent the summer working for the Flint & Genesee Group, specifically with the Flint & Genesee Economic Alliance. Handa helped the organization further their goal of making Genesee county and the City of Flint along with it a top-five county to live in in Michigan. The nonprofit organization supports Flint's economy by helping out existing local businesses and offering incentives for new businesses to put down roots in the city. 
Handa spoke particularly highly of two research projects he was able to lead independently during his time with the Flint & Genesee Economic Alliance. Handa conducted research on the pros and cons of re-opening Flint's Foreign Trade Zone (FTZ), one of many special economic zones in the United States where imported goods can be stored, distributed, processed and used without being subject to customs duty. With the goal of these areas being to create local employment and investment opportunities, and Flint being close to foreign ports with its proximity to Canada, there were many incentives for the city to revamp its FTZ.
"The concept [of FTZs] was brand new to me," Handa explained. "The one in Flint was used ten years ago for major companies like General Motors and McLaren. So my job was to get in contact with the Foreign Trade Zone Board, Customs and Border Protection, and Homeland Security in efforts to re-open the FTZ. The Flint & Genesee Economic Alliance had me weigh the pros and cons of activating the zone again, and the pros definitely outweigh the cons."
In keeping with the efforts of a true Social Scientist, Handa also researched the ways that the Flint & Genesee Economic Alliance has helped minority groups thrive in the area. 
"It was basically an update on BIPOC firms and the ways that the Economic Alliance has helped them in the past few years," Handa said. "These community members have been excluded from many resources in the past, especially during the COVID-19 pandemic. So this report analyzed the ways that the Economic Alliance has helped BIPOC firm owners through loan assistance, opening of bank accounts and other means."
"I felt proud to be able to do this work, especially as a Spartan. It gave me great pride and joy to be representing Michigan State in this way in the City of Flint."