Former Defense Secretary Leon Panetta urges young people to become active in their communities and their government
December 1, 2022 - Karessa Weir
All photographs by Gary Shrewsbury.
Former Defense Secretary Leon Panetta shared stories from his four decades of public service as a soldier, Congressman, budget officer, intelligence head and leader of the armed forces at this year's Gov. Jim Blanchard Public Service Forum hosted by the College of Social Science.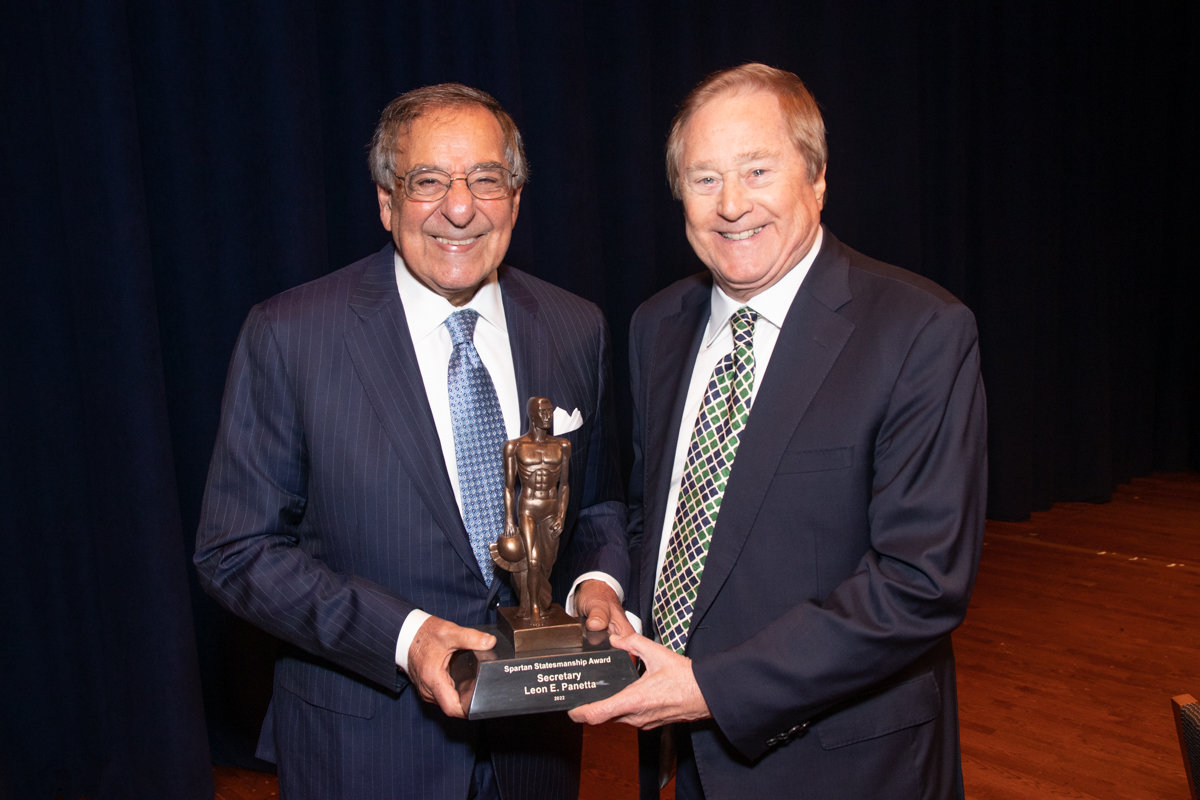 The Pasant Theater was full as Secretary Panetta was introduced by Gov. Blanchard who served in Congress with Panetta. They also worked in the Clinton administration together. 

Secretary Panetta was elected in the U.S. House of Representatives in 1976 where he chaired the House Budget Committee. In 1993, he was appointed director of the Office of Management and Budget and then served as chief of staff to President Clinton. He returned to Washington in the Obama administration to serve as director of the Central Intelligence Agency and finally as Secretary of Defense. 
"No one living has had such a variety of experiences," Blanchard said.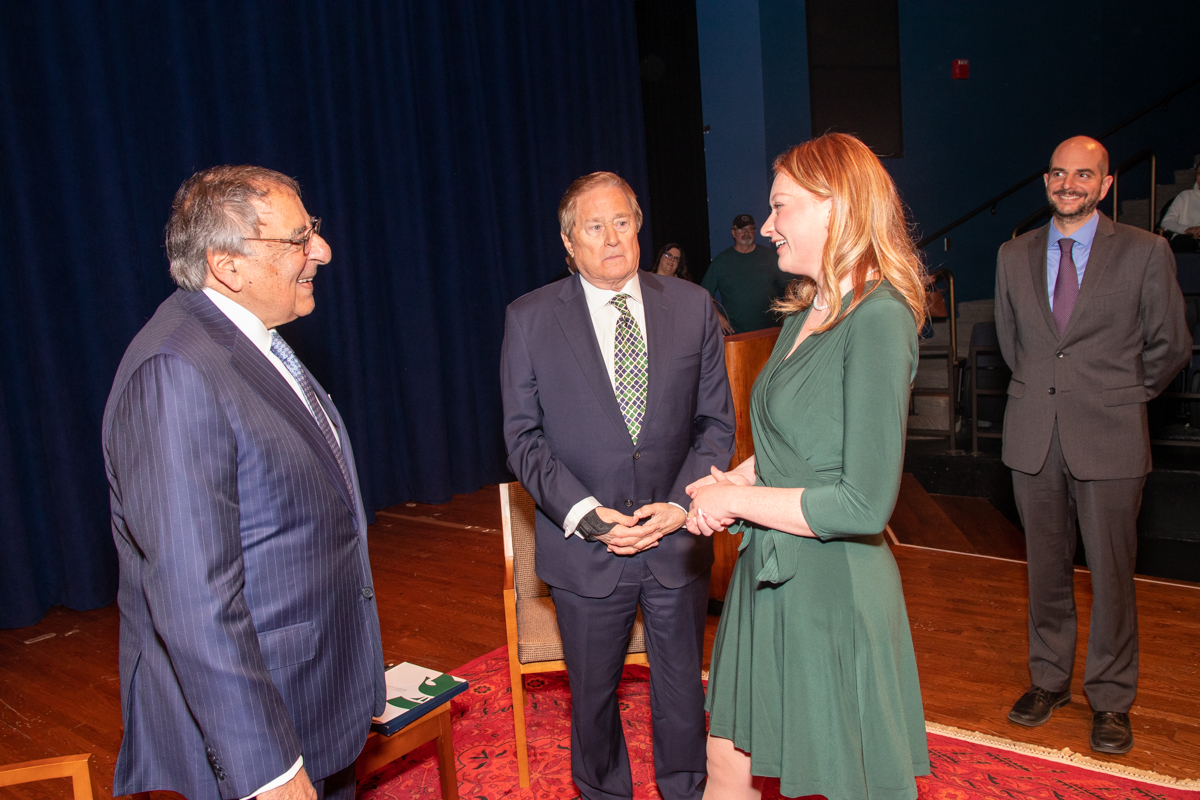 Blanchard was introduced by Social Science Scholar Ryan Weinberg, a joint Political Science and Criminal Justice senior.  Ryan was introduced by Political Science Chair Dr. Jeffrey Conroy-Krutz. 
Secretary Panetta said he was honored to be at MSU, the nation's first land grant university.
"MSU is a tribute to the leadership of Lincoln's  dream in creating land grant universities, of giving an education to our young so they not only better appreciate democracy but so they could provide public service to our country," Panetta said.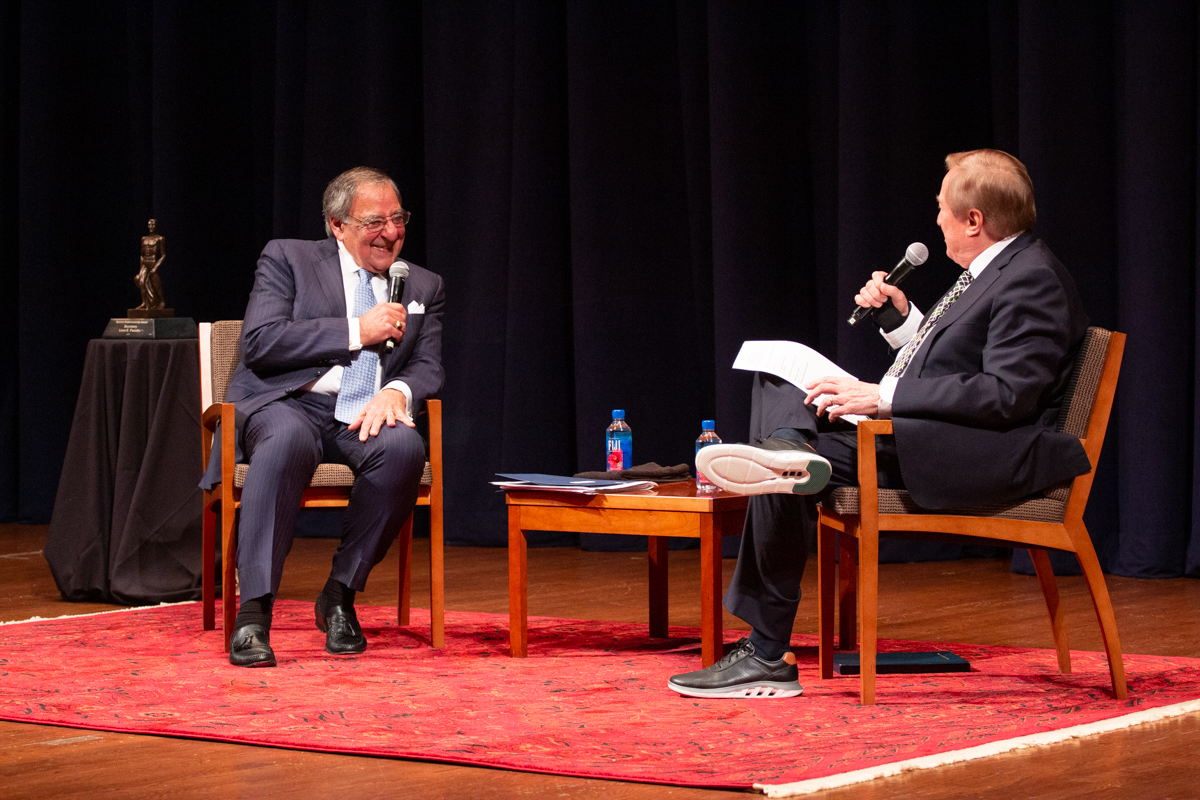 The son of Italian immigrants, Panetta was the first in his family to attend college, receiving undergraduate and law degrees from Santa Clara University. Together with his wife, Sylvia, they founded and lead the Panetta Institute for Public Policy based at California State University in Monterey Bay where he moderates the Leon Panetta Lecture Series.
Each year the institute polls college students and this is the first time in 20 years that the respondents felt they would not have a better life than their parents, Panetta said. 

But by becoming active in politics and public service, young people can improve the situation in this country and preserve democracy for the future, he said. 

"Jan. 6 made clear how fragile our democracy is. If we let our hate and fears rule this country, elect leaders who lie and ignore the law who have no respect for decency and honor, the United States will go the way of past empires. The path we take will be controlled by the leaders we choose. It's that simple," Panetta said. 

"But there are signs of hope. Our democracy is resilient. Midterm elections were encouraging. Over 100 million turned out to vote and largely rejected extremism and election deniers. There was no blue wave, there was no red wave. We have a divided government and it can come together to find compromise." 

Secretary Panetta advocates for all young people to spend two years in public service of some form and believes the federal government should then assist them with education and career preparation, similar to the GI Bill.

He also shared stories of working with Presidents Clinton and Obama and his thoughts on everything from the attack on the U.S. Capitol to gun control to anti-semitism to the conflict in Ukraine. 

Finally he urged the young people in the audience to get involved, and urged politicians of his generation to make way for future leaders. 

"It is the responsibility of people like (Democratic House Speaker Nancy) Pelosi and others that younger members have the opportunity to be in leadership and to be involved. Let a new generation get involved in politics. We are going to need that in the 21st century," Panetta said. 

Previous speakers of the Blanchard Forum included President Clinton, Ambassador Madeleine Albright, journalist Cokie Roberts, and Congressmen John Lewis and James E. Clyburn.