Working to Make a Difference with Brenda Becker
February 22, 2022 - Amanda Guinot Talbot, PhD
All of us have things we wish we could change, whether it be in our day-to-day lives or on a larger societal scale. But what we may not realize is that each of us has an innate power to make a difference - as long as we are willing to put in the work and learn as we go. 
For this month's student cohort presentation, Brenda Becker, the Senior Vice President of Global Government Affairs at Boston Scientific, joined our students and shared wisdom from her decades-long career.
In Brenda's role as a government affairs leader, she uses her interpersonal, organizational and communication skills to inform policymakers on issues that affect Boston Scientific's stakeholders. At the heart of Brenda's work is relationship-building and collaboration: "I hire people smarter than me and let them do their jobs, and give them a toolbox to help them succeed," Brenda noted
Brenda's career path has been shaped by taking risks, working hard, and being receptive to constructive feedback. 
"Learn from your mistakes - it's the only way you learn," Brenda shared. "Feedback is a gift. Ask for it. In my younger days, I used to get defensive when I received feedback - I probably even cried a few times! But now I actively look for it, and I ask the people I work with, how did I do today? When somebody gives you feedback, it's for your development. They're not trying to beat you up."
Additionally, Brenda advised our student cohort to hold onto their values and approach every aspect of their work with integrity by posing a thought-provoking and poignant question: How do you want people to talk about you when you're not in the room? "I hope that people say that I was always kind to others and treated everyone how she wanted to be treated," said Brenda. "But you have to think of what the answer is for you. Who do you want to be? How do you want to be portrayed?"
Outside of her exciting professional career, Brenda is also an avid exerciser with a fervor for fitness. Drawing parallels between her professional and personal passions, she demonstrated to students how building leadership skills is like lifting weights: it takes time, patience, commitment and a solid support system.
"You start slow, and you build skills along the way. You don't start with 20 pound weights, you start with a one pound weight. The same goes for your job. Work on becoming proficient with one skill like Word or PowerPoint, and then move on to something else," Brenda explained.
"Also, in fitness, you have a lot of mentors you can lean on: trainers, class leaders, coaches. In your job, find mentors along the way. And you don't need just one mentor, you're going to need different mentors throughout your life, to help with different things. And you need to be committed, disciplined and accountable to reach your goals."
Finally, Brenda addressed the importance of uplifting and empowering other women whenever she has a chance. 
"One thing we can all do is amplify one another. So, for example, if you're sitting in a meeting with one of your peers, it is extremely important to give them credit and say things like, 'Wow, Amanda, that was a terrific idea. I think we should connect you to someone to take that thought even further.' It's about allowing other people to shine."
The WLI's next student cohort webinar will be held this week on February 25th, and will feature MSU alumna and retired Vice President of McDonald's Corporation, Gloria Santona! Gloria's talk will center on "Building a Case for Yourself: Honing Your Resume, Building Your Network, and Creating an Elevator Pitch."
---
About the Author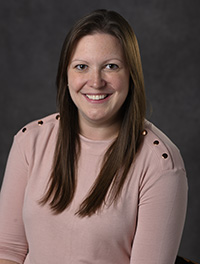 Amanda Guinot Talbot, PhD
Acting Director, Women's Leadership Institute
Mason-Soneral Faculty Fellow, Women's Leadership Institute
Director of Undergraduate Education and Assistant Professor, HDFS
Dr. Amanda Guinot Talbot is the director of undergraduate education and an assistant professor in MSU's Department of Human Development and Family Studies. As the Women's Leadership Institute acting director and Mason Soneral faculty fellow Dr. Guinot Talbot works on institute programming, curricula, and student engagement. Dr. Guinot Talbot also is a co-administrator of the financial literacy educational campaigns at MSU (Go for the Green). She received her master's degree in Family Studies and Ph.D. in Human Development and Family Studies from Michigan State University.