Fully Human: Lessons in Emotional Intelligence with Susan Packard
October 30, 2023 - Emily Jodway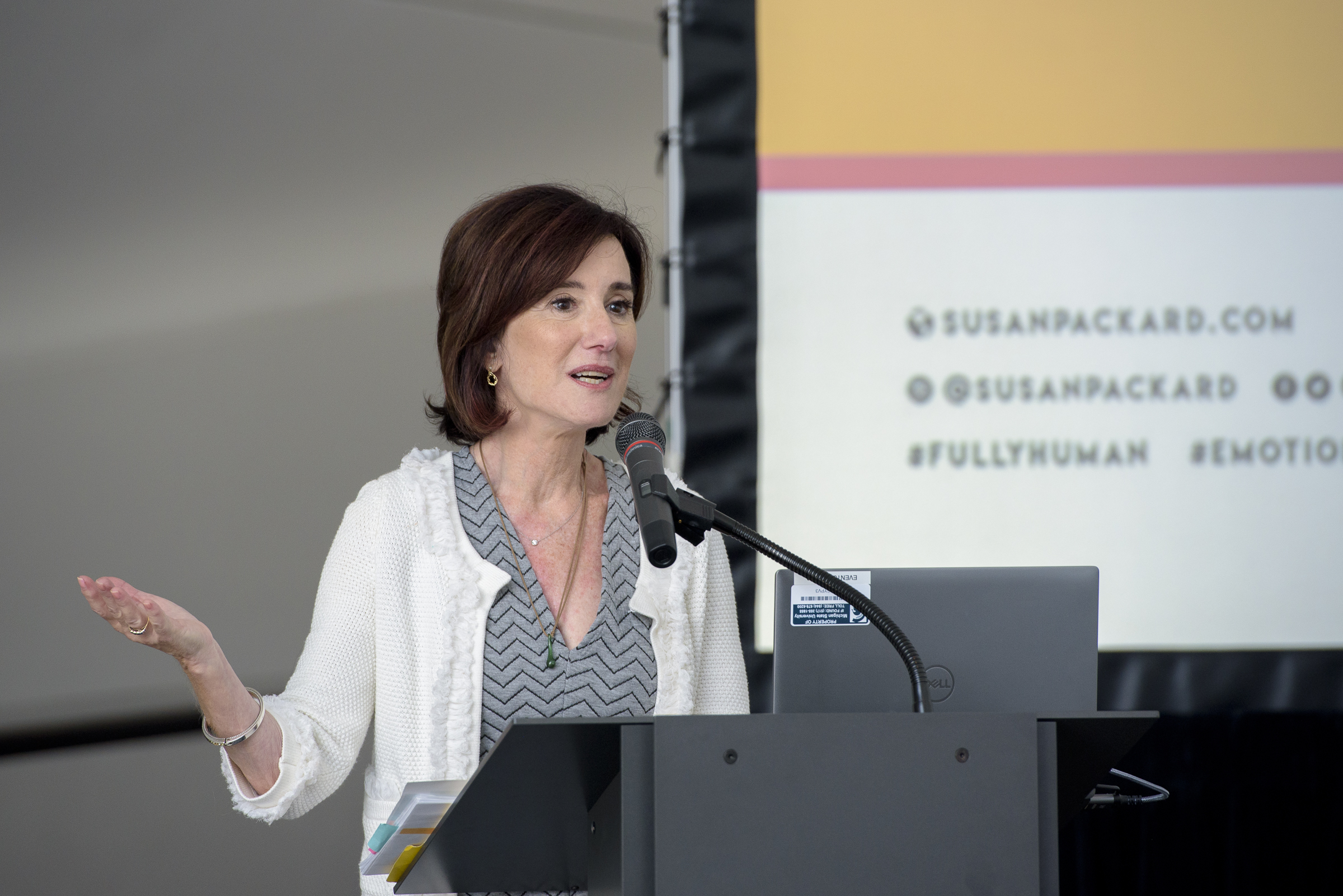 The Women's Leadership Institute held its 2023 Fall Kickoff event last month, gathering at the Eli and Edyth Broad Art Museum for a discussion with alumna Susan Packard, business media executive and author of the new book Fully Human. 
The event was the first of the year that brought together members of the WLI Student Cohort with the Institute's Executive Board members and mentors, as well as several alumnae who traveled from near and far to join in the discussion and offer their wisdom and advice to students. 
Packard is a graduate of Michigan State and has since lived a wealth of experiences and helped paved the way for other women in media and business. She co-founded Scripps Networks Interactive, home of HGTV, and went on to become its chief operating officer. She also spent time working with HBO, CNBC, the Food Network and MSNBC. One of her greatest personal achievements is living a fully sober life, which she credits with transforming her life for the better, and she is an active advocate for adults and college students working toward recovery. She is the author of several books, including her newest, Fully Human: Three Steps to Grow Your Emotional Fitness in Work, Leadership and Life. 
The three steps that Packard mentions as the key to growing your emotional intelligence are willingness, trust, and 'We' principles. She discussed each at length with the group along with ways to implement these steps on the way to becoming a better leader and exercising body, brain and heart; or as she calls it, emotional fitness. 
"Privilege, power, prestige … these all get in the way of healthy leadership, and emotional fitness is a practice to help temper that," Packard explained. "Great leaders are fully formed. They care for their whole selves, and each of those parts [body, brain, heart] require their own means of being cared for."
This practice includes engaging both the left and right sides of the brain. Packard refers to the left brain as the mind and the right brain as the heart, with the left being the side we are most tuned in to as it dictates our daily life. But compassion, connectedness, and emotion are how healthy, sustaining work cultures are built, and it takes a better balance of the right brain with the left in order to attain this. 
"In fact, it's women who have the best balance of right and left brain we've found," Packard added. "When we look at publicly traded companies, those that have women in senior roles are found to have been more profitable than those that don't. So this balance matters."
With the benefits of these practices being clearly shown, Packard dove into the ways we can accomplish this and become more emotionally fit. First comes a willingness to do just that- better understand oneself and where your strengths, weaknesses and limits lie. 
"The first step is a willingness to do some self-discovery," Packard explained. "Ask questions like, 'How am I wired? What brings me joy? Am I living authentically?' … and once you understand yourself better, you can move on to the next step, which is building trust."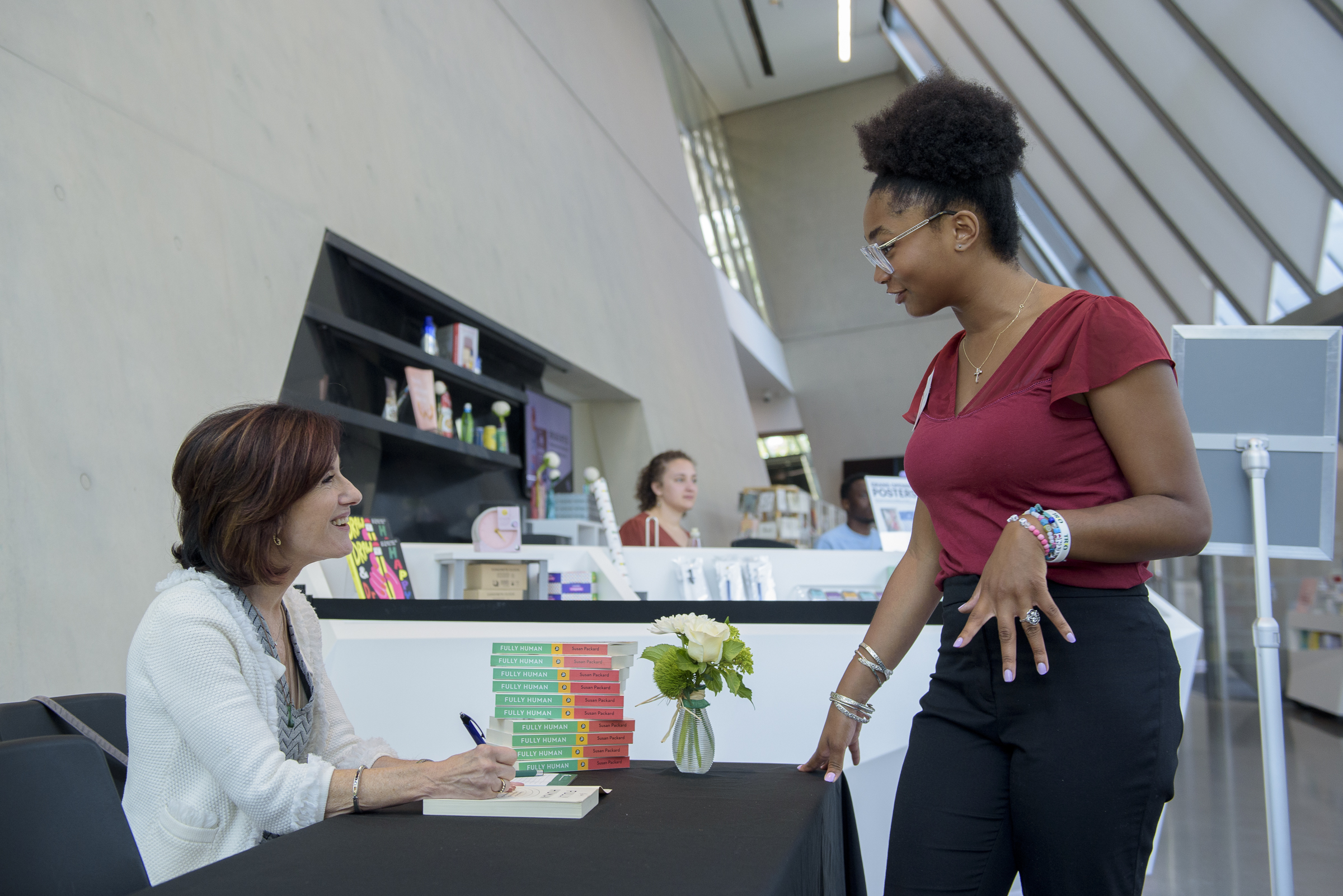 Trust transforms leaders and entire organizations, Packard said, as it opens up pathways to self-love and acceptance in ourselves, which can make working with a team of individuals easier when we have trust in our actions and beliefs and don't get bogged down by work drama that may try and disrupt our peace of mind. One way to put this trust into action is to show support to colleagues by helping with their tasks and offering assistance when they are going through tough times, both things that lead to the creation of an empathetic work environment.  
Once trust in ourselves and our workforce is solidly in place, we can transition from self-actualization, or acting for ourselves, to self-transcendence, acting without selfishness. This completes the path toward emotional fitness, which must then be consistently cultivated and put into action.
"The third step is called 'We' Principles," Packard said. "It's when you go from manager to leader, from 'Me' to 'We'. You are working in service to something greater than yourself, and you embrace and work more closely with the mission, vision and values of your organization."
Packard emphasizes the idea that emotional fitness is not one-and-done. Once we are aligned between our own values and the values of the work that we choose to do, we need to continue to balance the work we do daily in our left brain with the necessary compassion and connectedness that comes with lighting up our right brain. Otherwise, we can become overwhelmed by the emotions we are keeping inside and overflow in unhealthy ways.
"We're in service to something greater than our ego now that we have fully moved toward transformative leadership and emotional fitness. "We're in service to organizations, perhaps causes or people's values. So it's important to continue to engage our right brain and caring for all these parts of you."
Some suggestions she gave that she has learned throughout her career are mindfulness practices and the creation of new habits, such as meditation and taking time to pause and unplug to get through the negative chatter and thoughts fogging up our minds. All of these things can help us to feel more purpose in our work and our lives.
"It's up to the leaders to set the tone to create emotionally healthy cultures. If we are made for community, which we are, then it's everyone's responsibility to be accountable as a leader and make your voice heard. Fully formed leaders are transactional and transformative, mindful, and have fully formed hearts."
For more information on the Women's Leadership Institute, click here.
Photos by Jackie Belden Hawthorne, College of Social Science.