MSU senior taps talents in wildlife management and public policy
December 2, 2019 - Beth Bonsall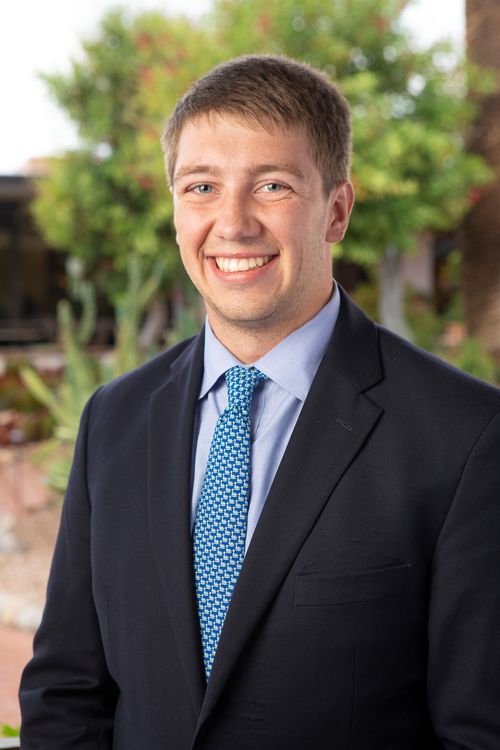 Michigan State University senior Charlie Booher grew up harvesting sap to make maple syrup during spring thaws in Michigan and Wisconsin. It's a memory that fuels his passion and his studies.
"Making maple syrup is a big part of my family's heritage," he said. "My great-grandpa started doing it in southwest Michigan in the 1950s, and it is a tradition that I am very proud to be able to carry on."
Booher, an Honors College student majoring in fisheries and wildlife in the College of Agriculture and Natural Resources and public policy in the College of Social Science, is one of 55 students selected as 2019 Udall Scholars.
The Udall Foundation is a federal agency established by Congress in 1992 that supports educational opportunities related to the environment, public lands, natural resources and tribal public policy. Yearly, the foundation awards undergraduate scholarships to college sophomores and juniors for leadership, public service and commitment to issues related to Native American nations or the environment.
As part of the scholarship, Booher attended the Udall Scholars orientation conference last August, in Tucson, Arizona, where he connected with other scholars in the 2019 cohort, alumni of the program and community environmental leaders.
Part of a diverse group of attendees with expertise and experiences in numerous disciplines, Booher was one of a few with a background in both wildlife management and public policy. He said the conference provided opportunities for discussions on natural resources, water and land rights, and cultural sensitivity in public policy.
"It was interesting to talk with people from different parts of the country about human-environment interactions, especially issues of environmental injustice that impact Native American communities," Booher said. "The experience showed me the importance of collaboration and integrating diverse opinions and perspectives in policy- and decision making."
Learning by doing
Booher, from Middleton, Wisconsin, spent much of his childhood in Mt. Pleasant, Michigan. He was drawn to MSU because of the opportunities it offered to combine his passions. Conservation and policy have been common themes in many of his academic and professional experiences.
In summer 2019, Booher was an executive wildlife policy and research intern at the Texas Parks and Wildlife Department based in Austin, where he contributed to state and federal policy and planning efforts.
His fieldwork included conducting habitat surveys and monitoring bird, reptile and mammal species across Texas' various ecosystems. He surveyed coastal fisheries, tracked alligator snapping turtles in downtown Houston and assessed populations of red-crowned parrots in the Rio Grande River Valley.
In 2018, Booher was part of the MSU Demmer Scholar summer program in Washington, D.C., and interned at Theodore Roosevelt Conservation Partnership, which supports wildlife management and habitat conservation. This non-profit has 60 partners coordinating conservation efforts and access to land for hunting and fishing.
"We actively worked with members of Congress to facilitate wildlife management and habitat protection across North America," he said.
Making connections
Booher has also worked with the Michigan United Conservation Clubs (MUCC) in Lansing as a state policy intern. He helps track state legislative priorities, analyzes state wildlife and fisheries policy, and writes communication materials.
MUCC, an affiliate of the National Wildlife Federation, has more than 200 affiliate clubs across Michigan and more than 70,000 individual members.
"It's interesting to see how Michigan handles conservation and how these policies impact people in their daily lives," Booher said.
He also worked at the intersection of wildlife research and public policy for the MSU Research on the Ecology of Carnivores and their Prey (RECaP) Laboratory on campus. He focuses on the connections among human-carnivore conflict researchers in East Africa and the way Western sentiments regarding nature can influence land tenure and ownership systems in this part of the world. This work assessed how researchers developed their studies and ways to add relevance for policymakers and transitioned into historical research.
"In wildlife conservation research, there's a history of colonialism that still impacts how people manage wildlife today," Booher said. "There's research within history and anthropology that touches on some of those effects, but not so much in the area of conservation research."
Booher was also a CANR Undergraduate Research Program grant recipient in 2017. He received a grant of $4,000 to support research on human-carnivore conflict research under Robert Montgomery, assistant professor of fisheries and wildlife and principal investigator in the RECaP Lab.
Finding the sweet spot
Booher is finding that his background in fisheries and wildlife, and public policy is a rare combination.
"There aren't a lot of people who are trained and knowledgeable in both disciplines," Booher said. "Research and the results are not always directly applicable to public policy. I want to help bridge the gap between the two areas to assist in making policies that are durable and sustainable.
"I'm interested in the ways researchers interact with each other and policymakers," Booher said. "How can I be a liaison between conservation research and public policy?"
Booher will graduate in May 2020 with plans to attend graduate school to further study natural resource research and governance. This spring, he will also finish the process to become a certified wildlife biologist through The Wildlife Society.
"I am especially interested in using historical and political context to inform wildlife and natural resource conservation," he said. "I hope to advocate for conservation-minded policymaking that will benefit the environment and people."
But before that, he'll have one more chance to tap sugar maple trees on campus with the MSU Forestry Club, one of his favorite student experiences.
"For me, making maple syrup is a good reminder of why I pursue what I'm doing," Booher said. "It is really important for me to have a close connection to the land where I live and to share that with others."
Find the original story here.