MSU interdisciplinary team secures $3.2M National Science Foundation convergence grant to empower off-grid communities
October 7, 2020 - Diane Huhn
Michigan State University Researcher Emilio Moran will lead a team in the development of a convergent framework offering non-dam hydropower as a sustainable energy solution for off-grid communities while empowering and engaging residents throughout the process.
For decades, in a quest for wide-ranging and cheaper sources of energy, countries throughout Europe and North America invested in constructing large-scale hydropower dams. More often than not, such projects resulted in extensive social and environmental costs, including the resettlement and displacement of communities, degradation and destruction of fisheries, habitat loss, and negative impacts on biodiversity and agriculture, among other concerns. As countries became aware of these negative consequences beginning in the mid-1970s, the construction of such projects dissipated dramatically in these regions. However, as the rate of these endeavors decreased in developed countries, the rate of hydropower dam construction began a steady increase in developing nations, including those in such biodiversity hotspots as the Amazon, Congo, and Mekong basins.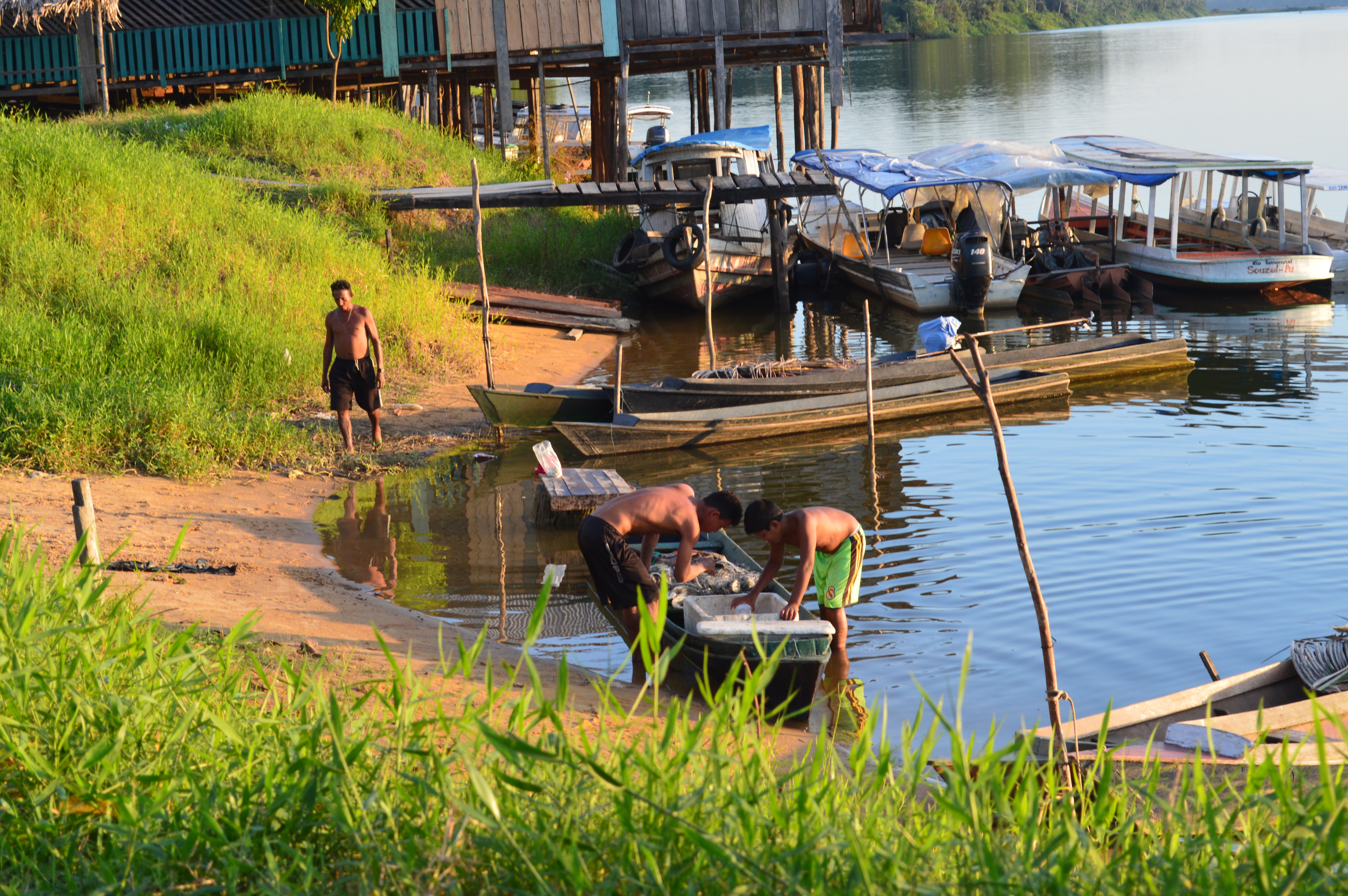 Fishermen inspect their catch in the community of Vila Nova, Brazil. The small town lies downstream from the  Belo Monte Hydroelectric dam on the Xingu River in the Brazilian Amazon. Construction of the dam has brought negative socioeconomic and environmental impacts for local fishers that far outweigh the benefits. Photo Credit: Laura Castro-Diaz
Historically, stakeholders are rarely consulted when large hydropower dams are planned and designed. In most cases, entire communities are permanently displaced, often with little or no assistance from local, state, and national entities. And often, the individuals most negatively impacted by these projects are subsequently forced to migrate to other off-grid communities, and therefore, do not benefit from the very energy produced by their displacement. As a result, many residents from these and surrounding communities are wary when approached about new energy projects, even those that are non-invasive, and will result in reliable, sustainable, and inexpensive electricity.
With this in mind, an interdisciplinary team at Michigan State University (MSU) will embark on a five year $3.2M grant from the National Science Foundation (NSF) to develop a convergent framework that not only combines non-dam hydropower with photovoltaics as a sustainable and affordable solution for off-grid communities but will bring together engineers, social scientists, communication scholars, and community stakeholders to empower local residents with choices about what energy sources could best serve them. "The goal of this work is to develop a convergence model that provides a sustained community-technology dialogue not at the end of the engineering process, but throughout each stage from ideation, design, construction, implementation, and refinement," said Dr. Emilio Moran.
Moran, a John A. Hannah Distinguished Professor with the Department of Geography, Environment, and Spatial Sciences, the Center for Global Change and Earth Observations, the Environmental Science and Policy Program, the Center for Latin American and Caribbean Studies, and the Center for Systems Integration and Sustainability at MSU will serve as the Principal Investigator for the NSF grant entitled "Convergence for Innovative Energy Solutions: Empowering Off-grid Communities with Sustainable Energy Technologies." He will lead a diverse team of co-investigators, including Norbert Mueller, College of Engineering; Rachel Mourao and Judy Walgren, School of Journalism; Maria Claudia Lopez, Department of Community Sustainability; and Aaron McCright, Department of Sociology.
Moran and an interdisciplinary team of engineers, hydrologists, climatologists, and social scientists have also been working under a past NSF grant to understand how dams and hydro-environmental settings have impacted Amazonian communities. This work has helped lay the foundation for some of the work to be completed in the new project. "In that grant, we designed a new kind of technology—an in-stream turbine—that avoids all of the negative consequences associated with large and small hydropower dams," said Moran.  "This is the technology we intend to be at the center of the convergence model we plan to create, which has the potential to transform the lives of over 200,000 households in Brazil and 650 million people across the globe currently saddled with expensive and unsustainable energy options in off-grid communities."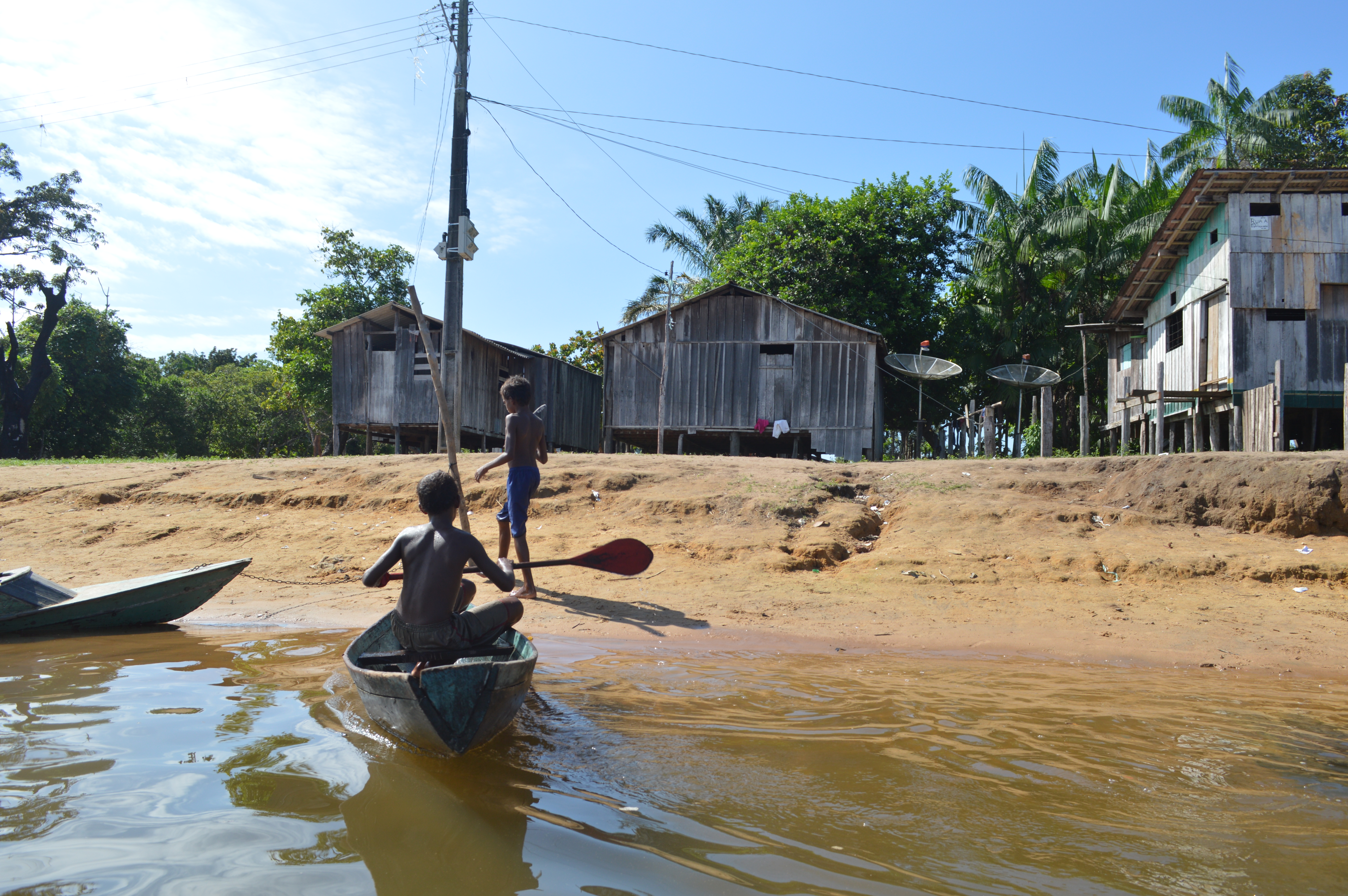 Children in the fishing community of Vila Nova, Brazil. Photo Credit: Laura Castro-Diaz
During this new multi-phased project, the team will work to understand factors that shape a community's willingness to adopt energy solutions, improve these solutions by empowering interactions among stakeholders, and document, analyze, and improve the innovation process to introduce, improve, and implement sustainable energy solutions. Although the initial work will target four communities in the Brazilian Amazon, the proposed convergence model will have broad relevance in the U.S. and globally.  The model will be beneficial for not only those interested in working with communities to implement sustainable energy solutions but for anyone looking to negotiate the social acceptability of innovative technologies and right-sized technological solutions for society.
The team will map the information ecosystem of the communities involved and will produce multimedia news outputs documenting how the team and stakeholders discover and negotiate the social acceptability of innovative technologies. Free online access to these journalistic products will be offered and will serve as a lasting contribution and useful resource in teaching and understanding how convergence is achieved across the engineering, social, and communication sciences, and journalism studies.
This work is at the cutting edge of an area in which NSF is planning future investments. Through the "Growing Convergence Research" initiative, NSF aims to solve complex problems focusing on societal needs by integrating methods and expertise from different disciplines to form novel frameworks that can catalyze scientific discovery and innovation. "This convergence paradigm we are moving toward is very exciting. It will enable us to develop new ways of communicating across disciplines to open innovative and novel research landscapes we have not really explored before," said Moran. "We often refer to this type of work as interdisciplinary, but in actuality, it is all about the convergence of knowledge in the interest of addressing societal needs."
Also, to bring the fruits of research to the classroom, Moran will offer a graduate-level course to teach students convergence-in-practice. This course will be open to dual Ph.D. students in the Environmental Science and Policy Program (ESPP), an umbrella for environmental research and graduate education program housed in the College of Social Science at MSU, working together with other colleges in a collaborative manner to solve environmental problems. The course ESP 802 will be available every Spring semester.