Diversity Torch: Danielle McClain
March 17, 2021 - Liz Schondelmayer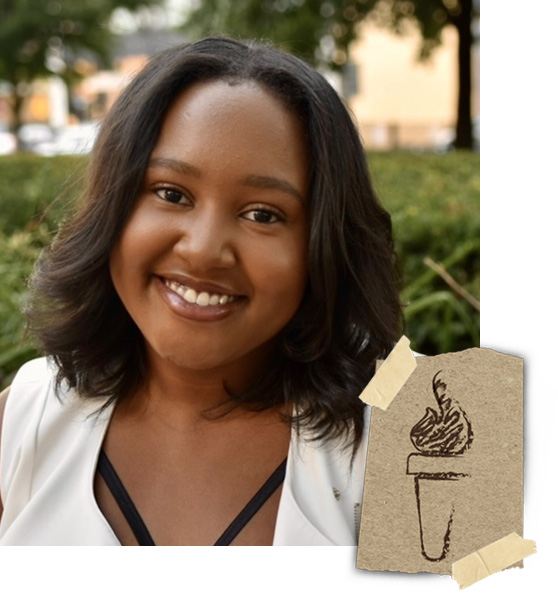 Danielle McClain is a junior majoring in Political Science (Pre-law) with a focus on Political Philosophy and a minor in African American studies. A passionate mentor and advocate for social change, Danielle is always looking for opportunities to celebrate and empower the women around her. This Women's History Month, Danielle shares more about her career aspirations, the women who inspire her, and the importance of women uplifting each other.
For Danielle, it is important that MSU allows her to balance her independence, on-campus community and connection to family back home in Detroit. 
I really liked the distance MSU was from home. I'm from the Detroit area, and I appreciated that campus was far enough away for me to have my independence, but still be close enough to my family to visit them. This is especially important for my grandma, as we are very close and I wanted to be able to spend time with her as she gets older. I also really valued the Political Science program that Michigan State had to offer, as well as the on-campus communities that I knew MSU had. Particularly, I knew the Black community was strong here, and that was something that drew me to this campus. 
Another on-campus community Danielle found was the Women's Leadership Institute, which she has been involved in during her time at MSU.
I've applied to a few different scholarships through the institute, and that was originally how I became familiar with it. However, I started to attend more of their Zoom seminars, and I realized that they were providing incredibly enriching information and resources for women, and the speakers they exposed me to were all phenomenal women who embody qualities and achievements I aspire to attain. The people who work for the WLI were just so inspiring, it was something I continued to involve myself in. 
For example, the last seminar I participated in was about equity in the workplace, and featured three speakers who were black women. One was a professor, and the other two were in business and had worked their way up the ranks in their industries. They gave remarkable advice about how to balance being authentically yourself and being proud of your Blackness, while working in a professional environment. Additionally, they gave good insight into how to keep your peace in difficult situations, and even more importantly, how to thrive and succeed despite the obstacles that might stand in your way. 
Danielle's work to empower others didn't just start at MSU - before coming to campus, Danielle mentored other young women through her church.
I've mentored younger women, some through my church, who were dealing with high school and middle school challenges, and I was able to show them the opportunities available to them. Many were from family or income situations that made it seem like college wasn't a possibility for them, so I wanted to show them which opportunities were out there and encourage them towards greatness. I also wanted to help teach these young girls to love themselves fully and go into the world with confidence and motivation. 
After graduating, Danielle hopes to pursue law school and use her degree to advance social justice. 
I'm sure I would like to go to law school, and I'm pretty sure I would like to practice law in L.A. I do believe that wherever I'm supposed to be, I will be.
I haven't decided on the exact area of law I'd like to practice l yet, as there are so many options. At first, I wanted to go into corporate law, but now I'm starting to feel like the money may not be worth the toil on my mental and emotional health. I'm stepping back and looking at options that have to do with social justice, will help eliminate systematic racism and sexism in our world. Each day I become more drawn to career options which will allow me to dedicate my life's work to using my voice to speak for the silenced and make a real impact on the world.
Danielle's biggest inspirations in her life are her grandmother and mother, and she is determined to carry on their legacy of blazing a trail for others. 
I can't begin to speak about any of my goals or successes without talking about the women who have laid the foundation of excellence for me, and those women are my mother and my grandma. My great-grandmother is the beginning of my family's legacy, as she was a teacher during the early 1900s. Overcoming the obstacles she must've faced to become an educated black woman during that time showed her brilliance, resilience, and tenacity. She instilled these values into my grandmother who began working for the government in the 1960s, and eventually rose to become one of the highest-ranking black women in her time. She was even invited to meetings at the Pentagon to give input on international conflicts, which was a tremendous, trailblazing accomplishment. 
My grandmother instilled the values of faith, integrity, hard work, and high aspirations into the family she raised. Each of her daughters, one of which is my mother, went on to become attorneys. All of the women in my family inspire me, but my mother has undoubtedly had the most substantial impact on my character and aspirations, for which I'm immensely grateful. Growing up, my mom and grandma taught me a lot about being a kind and strong person, and having the desire, dedication, and determination to take my drive, personality, and values into a thriving career. They remain role models for me because I've seen them balance having it all - successful careers and happy families. I've never seen a time when my mother wasn't willing to put in all of the necessary work to accomplish her goals, I know she gets that from my grandmother, and I'm so thankful they've both passed so many wonderful things on to me. 
Finally, Danielle shares some small ways that women can have a big impact on one another, and the importance of empowering other women whenever there is an opportunity.
A lot of the support you give others may seem small, but the way that you speak to people and treat others can have more of an impact on lives than you may know. There are a lot of small situations where, as a woman, I've felt targeted or overlooked, and the women who were there to offer words of encouragement and validation have made a monumental impact on both my self-confidence and my success. 
That small bit of positive support can go a long way for someone, especially if they're struggling with finding themselves or their worth. So, if you see a woman who is empowered and you admire her for it, or if you see a woman who seems underappreciated and invalidated, I think, as a woman, you should go out of your way to speak encouragement into her life. Let her know that you see her, and that she is extraordinary. Additionally, I believe women should confidently encourage themselves. When someone puts you down, channel that energy into motivating yourself to be exceptional and being supportive and kind to others.
If we all do our part to try and support other women we can establish a heartening cycle of female empowerment.
---
Read more: