Dr. Najib Hourani Receives Dean's Diversity, Equity and Inclusion Faculty Award
May 3, 2021 - Liz Schondelmayer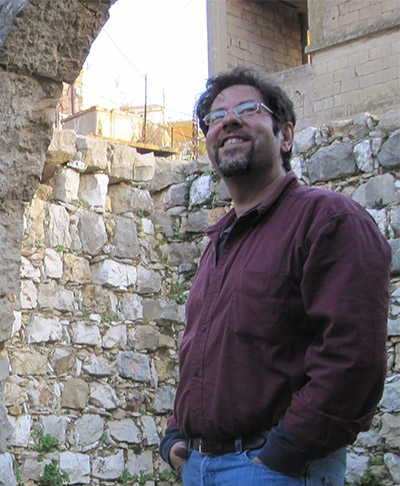 Dr. Najib Hourani, an associate professor in the Department of Anthropology and the Global Urban Studies Program and core faculty in the Muslim Studies Program, is the winner of the inaugural 2021 College of Social Science Dean's Diversity, Equity, and Inclusion Excellence Faculty Award. The award recognizes social science faculty who have made comprehensive, impressive and sustained efforts surrounding diversity, equity and inclusion.
Continuing a tradition of transformative research
Dr. Hourani joined MSU's faculty in the fall of 2006, and quickly established himself as a campus expert on the political anthropology of the Middle East, civil conflict, and cities of the Arab world. His past research focused on the Lebanese civil war and post-conflict urban reconstruction, and his current research builds upon the lessons learned in Beirut to address the rebirth of Syrian cities as that country's decade-long civil war comes to an end. 
Unable to visit Syria due to U.S. travel restrictions, Dr. Hourani was recently awarded a Fulbright Fellowship to work with Syrian refugees in the neighboring country of Jordan to better understand their needs, hopes and aspirations for returning to their home villages, towns and cities.
Though his work in Jordan ended prematurely due to the COVID-19 pandemic, Dr. Hourani is still finding ways to transform the human experience through his scholarship closer to home. Teaming up with faculty from Global Studies in Arts and Humanities in the College of Arts and Letters, Dr. Hourani is exploring new research on the relationship between African American and Arab American communities in the United States. 
"The relationship between these two communities has historically been complicated, as there have been periods of both conflict and allyship between these groups in the past," Dr. Hourani explained. 
Creating space for DEI conversations in the classroom 
On top of his research, Dr. Hourani teaches several undergraduate and graduate-level Anthropology courses. Upon his arrival at MSU, he developed the Anthropology of the Middle East course, which, in addition to exploring the peoples and cultures of the region, begins with discussions of race and representation. "There are a lot of stereotypes and misconceptions about what it means to be Arab that many people carry with them that they may not even realize," explained Dr. Hourani.
In his classes, Dr. Hourani believes in fostering conversations about race and identity rather than shying away from them. For example, Dr. Hourani helps students to recognize harmful portrayals that normalize bigotry against Arab people in US popular culture, and encourages them to engage with such portrayals critically. One example he uses is Disney's 1991 animated film Aladdin. In the original version of the film, the opening song tells the children watching that the Arab world is a place, "Where they cut off your ear / If they don't like your face / It's barbaric, but hey, it's home." 
Dr. Hourani emphasizes the incredible opportunity that Spartan students have to learn about Arab culture, heritage and history at MSU - especially from Arab American faculty. 
"Many people may not realize that, outside of the Middle East, Michigan has the largest Arab population in the world," Dr. Hourani explained. "Arabs and Arab Americans have made tremendous contributions to the state and to the country, and they face challenges that would be familiar to other ethnic groups in the US."
"In an increasingly diverse country, it is important for students to learn about Arab peoples and cultures. At the same time, it is important for Arab and Arab American students to learn about and understand the experiences of other groups as well," said Dr. Hourani. "Unlearning biases and stereotypes is hard work. I am gratified to see so many students willing to take it on at MSU."
Dr. Hourani reflects that throughout his teaching career, he has been impressed by the sincerity and the eagerness to learn that MSU students possess. "I love teaching MSU students. They are smart, engaged and sincere, and they want to learn. Even those that may come in with biases. They are willing and able to recognize and overcome them."
"Dr. Hourani is richly deserving of the inaugural DEI Faculty award because he has a demonstrated and sustained record of making our campus a safe, inclusive, and welcoming environment for all," said Dr. Nwando Achebe, the Associate Dean of Diversity, Equity, and Inclusion for the College of Social Science.
"After the presidential election of 2016 and the ensuing Muslim travel ban, for instance, he imagined and launched an "#EraseTheHate" session for Arab American and Muslim students on campus who were made to feel like they did not belong and were harassed and/or threatened," noted Dr. Achebe.
The College of Social Science is extremely proud to recognize and celebrate Dr. Hourani and his accomplishments. Read more about the DEI student award winner Jasmine Jordan here, and the College of Social Science College Award winners here.