Diversity Torch: Zach Sneathen
August 20, 2021 - Liz Schondelmayer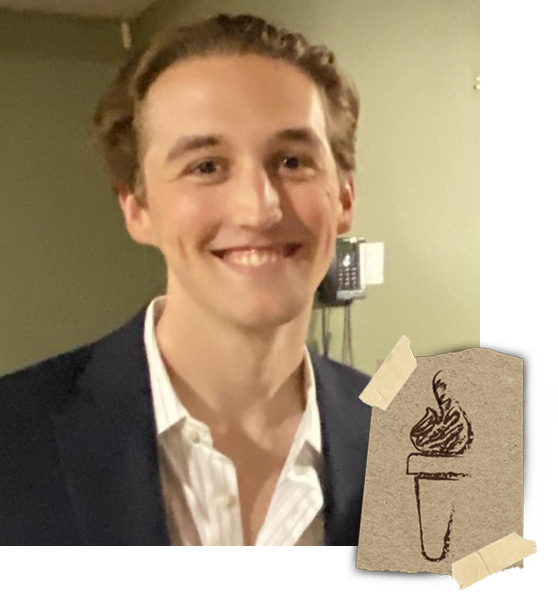 Zach Sneathen is a senior in the Michigan State University College of Social Science majoring in Interdisciplinary Studies. An East Lansing native, Zach is hoping to work in the nonprofit sector after graduating in May 2022.
At the end of last Spring semester, Zach was tasked to write a final paper for his African American History to 1876. Instead, he proposed a different idea: create a podcast exploring the nuances in the language used to describe those involved in the Atlantic slave trade. Below, he discusses the ideas and inspiration that drove him to create the final product.
I've always been interested in learning about topics like African American history, and despite taking place online, I absolutely fell in love with this class and I adore the professor, Dr. Nakia Parker. We had class only over Zoom, but it was consistently the highlight of my week.
At the end of the class, we were asked to write an essay exploring themes of the class, but there was an option for an alternative assignment, and given that I had written many papers during my time at MSU, I wanted to try something different. I decided that a podcast would be a good way to connect with the professor, who I had never met in person before, as well as with other listeners who may hear it. Dr. Parker was really supportive, and helped me work through and streamline my ideas.
Using this creative approach, Zach used the assignment to discuss the importance of language when referring to victims and perpetrators of the slave trade.
The goal of the assignment was to think about the descriptions of the people we discussed during our class, and something that I noticed was that terms like "slave" and "enslaved person" were being used interchangeably - both in academic texts and casual conversation. However, these terms are actually very different, and focus on different aspects of these people's identities. I also looked at comparing the terms "master" to "enslaver" or "slave owner," which puts emphasis on the fact that these were the people perpetrating this system of oppression.
The main goal of this podcast wasn't necessarily to tell people that they should or shouldn't use a certain term or that they're referring to people incorrectly, but instead, to present the discussion around these different terms and explain the weight that they carry. It can be difficult to know what to say sometimes, but the hope is that by providing some historical context with the themes of the class, I could help others find the language that refers to these groups of people with dignity, and ultimately communicate that Black history is American history.
Zach's podcast, "Weighted Words," can be accessed here. 
---
Read more: