Diversity Champion: Dr. René Rosenbaum
September 21, 2021 - Liz Schondelmayer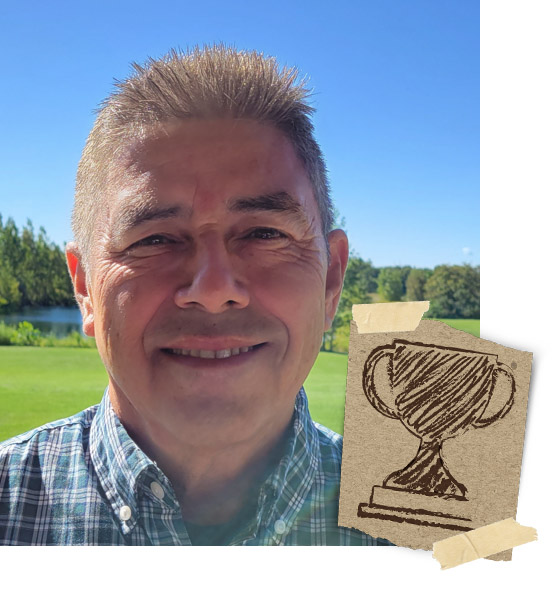 Dr. René Rosenbaum has been a member of Michigan State University's faculty for over 30 years. He is currently an associate professor in the School of Planning, Designing and Construction, and his research often focuses on issues of poverty and urban and rural economic development.
A major focus of Dr. Rosenbaum's work has been at the intersection of Chicano studies and labor economics, seeking to inform migrant and seasonal farm labor issues in this country. Below, Dr. Rosenbaum highlights several ways he has made this issue central to his work here at MSU.
The xenophobic sentiments in society during the 1990s prompted me to examine the benefits to Michigan from the presence of Hispanic hired farm workers in the state.  As chair of the 2002 Michigan Farmworker Appreciation Month (MFAM) Steering Committee, I led a state-wide effort to recognize the contributions of migrant and seasonal farm labor to agriculture and rural communities across the state. Michigan Farmworker Appreciation Month events were held in at least 12 cities during the month of July that year, and some continue to this day. The month-long celebration culminated with a march to the state capital on July 27th. Governor John Engler, Lansing Mayor David Holliste[1] r, and the Lansing City Council all issued proclamations making July 2002 Michigan Farmworker Appreciation Month. Hence for many of us, Governor Whitmer's recent proclamation making July 2021 Michigan Farmworker Appreciation Month is a pleasant reminder of those activities from nearly 20 years ago.
In another line of farm worker research, I argue that the low wages of farm workers are less a product of the inability to organize the farm labor work force and more a product of the contractual agreements their agricultural employers sign with the commercial buyers of the harvested products. These agreements inhibit employers' ability to pay their workers higher wages and better benefits, a situation that makes collective bargaining with employers ineffective. Importantly, my research gives credence to the strategies used by farm labor leaders in Wisconsin, Ohio, and Florida in their pursuit of farmworker justice.
During the 2000s, I worked with nonprofit organizations on issues of migrant health and the early childhood education of migrant children. In 1998, the reauthorization of the Head Start Act mandated that at least 50% of all Head Start teachers nationwide have a college degree in early childhood education. In partnership with Telamon's Michigan Migrant Head Start and MSU's Institute for Children, Youth and Families, I conducted a needs assessment and used the findings to secure funds from Head Start to start Proyecto Empuje . The 10-year long project made impressive gains in the number of Migrant Head Start teachers in Michigan with degrees in early childhood education.
Dr. Rosenbaum's recent research explores how Hispanic-Serving Institutions impact Latinx communities, as well as how COVID-19 has impacted the world economy.
The Midwest is home to over 30 Hispanic-Serving Institutions (HSIs). These institutions of higher education, whose student body is at least 25% Hispanic, are largely unrecognized in the academic literature for their role in Latinx higher education, much less for their role in Latinx community development. Prior to Covid-19, I received a grant to investigate the community development impact of HSIs on Hispanics communities where these institutions are located. My research compared selected indicators of Latinx community development and found a statistically significant difference in HSI host communities compared to communities without HSIs. We also partnered with Wilbur Wright Community College, an HSI in Chicago, to sponsor the first ever summit on HSIs in the Midwest. Over 130 participants from states across the region attended the event.
Since Covid-19, I have been writing a book on COVID-19 and global capitalism wherein I argue that our unpreparedness and inadequate response to the crisis is a product of the dominant economic paradigm. I develop a conceptual framework to gauge the health and economic stability risks from infectious disease outbreaks based on different models of the national economy, which are differentiated on the basis of the geographical scale within which capital is granted mobility. I use the framework to assess the national economy as a guard against the threat of infectious disease events.  I conclude that neoliberal globalization makes a poor guard against future threats of infectious disease outbreaks.  More than being a poor guard, it invites these events and exacerbate their consequences.
As a teacher, Dr. Rosenbaum strives to encourage his students to think critically about the economic and racial disparities in American society today. To do so, he designed a class called Critical Examination of Economic and Racial Inequality and Poverty in America.
I enjoyed teaching all my classes at MSU, but my favorite is 'Critical Examination of Economic and Racial Inequality and Poverty in America', a course which I developed and taught as part of the Integrative Social Science curriculum. The course material takes a critical in-depth look at economic and racial inequality and poverty in contemporary America using a broad range of evidence and social science disciplinary concepts, theories, methods, and policy prescriptions.
Students are asked to reflect on and write about economic and racial inequality in America as a social problem. They are challenged to use concepts, methods, and theories from economics, sociology, and the other social sciences to better understand the factors causing today's social disparities and to think about what we as a society should do, if anything, to rectify the situation. This course draws a large number of students from across the university and teaching it is a lot of work but working with such a varied group of students has allowed me to appreciate the great diversity and potential our student body has to offer.
Lastly, in honor of Hispanic Heritage Month, Dr. Rosenbaum shares what he wishes more people understood about Hispanic heritage, culture, and communities.
First of all, it is important to recognize that labels like Hispanic, Latino, or Latinx are a convenient and inclusive way to describe Americans with roots in Spanish speaking countries. However, these terms also mask the vast diversity that characterizes this group of Americans. When celebrating Hispanic Heritage Month, remember to celebrate the diversity within the Hispanic population as well.
Second, with over 60 million people, Hispanics make up over 18 percent of the total national population and represents the largest minority in the U.S. 67% of Hispanics are U.S. born, and about 79% are U.S. citizens.
Finally, Hispanic people in this country take pride in their culture and everyday find creative ways to celebrate their rich history and achievements. The Hispanic community newspapers and digital magazines that emerge in communities across the country are a great source of information on local leaders and community events. Here in Michigan, you can check out The Community Voice/La Voz bilingual magazine or the Lazo Cultural magazine to learn about Michigan's vibrant Hispanic community.
---
Read more: