Diversity Spotlight: Dr. David Córdova
September 21, 2021 - Liz Schondelmayer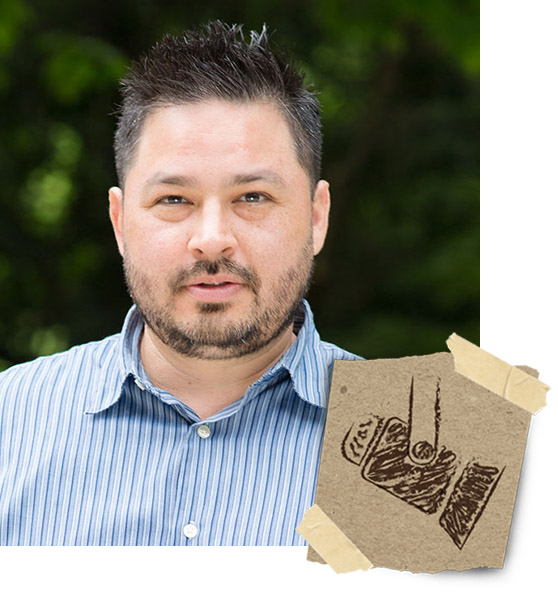 Dr. David Córdova is an associate professor in the University of Michigan School of Social Work, but is a Spartan at heart, graduating from Michigan State University with his PhD in Human Development and Family Studies in 2010. A first-generation student from California, Dr. Córdova's research centers on health disparities and social inequities among Latinx and other racial minority communities. 
Dr. Córdova came to MSU in 2005 to complete his PhD in human ecology, and completed his dissertation in 2010 about substance use among Latinx communities in Los Angeles. Below, he reflects on how his experience at MSU helped to shape his career in academia.
As a first-generation student, I wasn't totally aware of everything that a PhD consisted of, especially how research intensive it was. However, the faculty at MSU - including Dr. Adrian Blow and Dr. Deborah Johnson - as well as my peers and colleagues played such an important and invaluable role in my development and were extremely supportive of me and my research. 
Currently, Dr. Córdova serves as a researcher, teacher, and mentor in the University of Michigan School of Social Work. In each of his roles, Dr. Córdova is committed to uplifting disadvantaged and underrepresented communities. 
A lot of my work is grounded in a social justice perspective and works towards building equity in our communities. My research mainly focuses on health inequities among vulnerable populations, and I particularly focus on youth from socioeconomically disadvantaged backgrounds and racial and ethnic minority communities. I want to understand some of the factors that shape risky behaviors such as substance use and sexual behaviors so that we can develop and test better interventions. As a professor, a lot of my teaching is focused around similar topics. I teach courses that are focused on substance use behaviors among racial and ethnic minority youth, as well as courses that focus on working with Latinx families and adolescents. 
I'm also involved in a lot of community and university-based activities. For example, I'm on the Faculty Allies for Diversity Committee, which focuses on supporting and empowering doctoral students from underrepresented groups. Another big part of my role here is focused on mentoring. For example, I work with a lot of undergraduate and graduate students, many of whom are from underrepresented groups, including first-gen college students, sexual and gender minorities, and racial and ethnic minorities. I've also served as a mentor for junior colleagues across the country. 
In both his personal and professional everyday life, Dr. Córdova is inspired by the unbreakable work ethic and perseverance of his family, who worked tirelessly to make his dreams and ambitions possible.
I truly stand on the shoulders of giants. My parents and my grandparents sacrificed so much in a myriad of ways just to enhance my opportunities, particularly surrounding higher education. They worked in the fields in extremely harsh conditions, were grossly underpaid, but they had a tireless work ethic. I get a lot of my grit from them, in terms of perseverance, particularly in the face of adversity. When I find myself in times that may be a bit challenging, I remind myself that it pales in comparison to what some of the experiences that they had to overcome. I'm extremely fortunate to have the opportunities that I have had, and I hope to carry that legacy forward, not only for myself but for my children, so that they can advance even further than I did.
Finally, as a third-generation Mexican American, Dr. Córdova shares the parts of his Hispanic heritage that he is most proud of: the importance of family, respect, and collective values. 
From a cultural perspective, I think it's important for others to understand how central and salient a role that family plays in many Hispanic cultures. It's important for others to be mindful of this, especially when discussing policies or structural barriers that work to break down the family system. Additionally, we are an extremely collectivistic culture, which can sometimes cause a mismatch between some of the values and cultural norms of America, which places a lot of emphasis on individualistic goals. 
Respect is also really important in my culture as well. For example, even though I'm a tenured professor, I always tend to show my older non-traditional students a lot of respect, because I know that they have so many more experiences than me, even though I'm the teacher. I always say that the more gray hair and wrinkles a person has, the more respect I have for them. In terms of these values, I think it is extremely important for us to understand how these cultural values shape the well-being of Hispanic families, especially from a scientific perspective. 

Learn more about Dr. Córdova and his research here.
---
Read more: