Diversity Torch: John Steudle
October 13, 2021 - Liz Schondelmayer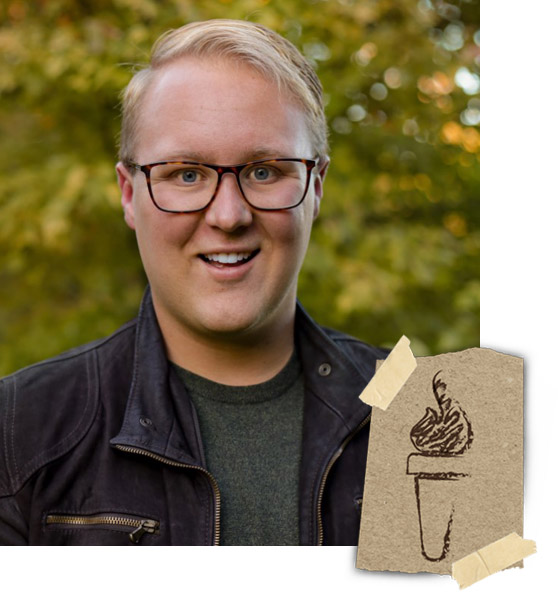 John Steudle is a graduate student at Michigan State University earning his Master's degree in Human Resources and Labor Relations. Set to graduate in December, John is planning to work in an HR role with Cummins after leaving MSU. 
During his time at MSU, John has been committed to fostering community among LGBTQ+ people, whether it be through his social media-based athletic club, Rise (@riselgbt on Instagram), or through his efforts to bring the first Pride celebration to his hometown of South Lyon, Michigan. Below, he discusses his time at MSU, the importance of community and the significance of LGBTQ+ History Month. 
After earning his undergraduate degree from Grand Valley State University, John decided to pursue his Master's at MSU. One of the highlights of his experience was the meaningful relationships he established with his peers, professors and advisors. 
I chose MSU because I've always wanted to be a Spartan. I absolutely loved my experience at Grand Valley, but there's just something about being a part of the Spartan family! Additionally, the HR graduate program is top-notch, and I knew it would be a great transformation in my career. I took a little bit of a different route than most students and started the winter semester of 2020, and even though we were learning remotely until this semester, me and my cohort are like a very tight-knit family! It was amazing to be able to meet everyone in person for the first time in September. Additionally, the level of support I've gotten from faculty has been immense.
When John isn't spending time working towards his degree, he is often busy managing the social media accounts for his virtual LGBTQ+ athletic club, RISE. After noticing a lack of LGBTQ+ visibility in endurance sports such as triathlons and marathons, John started the club so that LGBTQ+ athletes around the world could encourage and uplift one another. 
Around 2015, I started getting into triathlons. After signing up for a half-Ironman, I started looking for an LGBTQ+ triathlon club to train with. While they exist in many big cities like Chicago and Miami, I struggled to find one in mid-Michigan - so I decided to start my own. Even though I absolutely love the triathletes I train with in person, there is still a bit of a social barrier that exists when you're the only LGBTQ+ athlete in your group, which is why I wanted to connect with fellow athletes from my own community. 
RISE is all about creating connections and community with other athletes around the globe. One way I've done this recently is posted a story asking followers to share the big upcoming races that they're training for, and then created a database of the responses, their big event, and the date so that I can give them a shout-out leading up to their race day. That way, people can feel like they're getting a little extra love and luck from their fellow athletes on race day. 
I hope that RISE creates more visibility for LGBTQ+ people in sports. I want to show that, yes, we're here, we race, and we do crazy athletic things (such as triathlons) just like straight people - and we have fun doing it! Even if you don't live in a big city like San Francisco or New York City, I want RISE to make you feel seen and supported. No matter where you're from, if your identity is the same as mine and you share my love for endurance sports, we can meet on a mutual ground. I hope to build a camaraderie among the queer community, as sometimes the community can be extremely divisive, and I want to counter that because we're still a minority group and we need to build each other up within our own community. 
John's commitment to community-building isn't just virtual: this year, John and his partner worked tirelessly to put on South Lyon's first official Pride celebration. The in-person event was a huge victory for John, as growing up, he never imagined seeing this kind of community event in his suburban hometown. 
In 2019, my partner and I volunteered to help put on the first Pride celebration, but we ended up on the board to plan the event. We originally hoped to hold our first event in the summer of 2020, but due to COVID, we had to push it back a year. In early 2021, we started the planning process, and I got a message from a regional Free Mom Hugs volunteer, and we decided to plan Pride together as a kick-off event for their organization. 
For our Pride event, we chose to hold a family-friendly picnic in a historical park in South Lyon. We wanted to avoid having anything too risque, so that parents would feel comfortable bringing their kids. We ended up having two drag queen story hours, books for story time were provided by both of South Lyon's two libraries, artisan booths, face painting areas, and even a mini color run for the kids. 
The best part about the day was that it was a busy day in the park, but we didn't have any issues with the city, and the community seemed really supportive. I've lived in this city for 20 years, and I would have never imagined that this kind of event could happen here - but it did. Most people who attended were parents with little kids, either because the kids identified with the community or they wanted to expose their kids to all walks of life. It was so amazing to have the chance to demonstrate to those kids what kind of life they can have as a teenager or as an adult, and show them that there are people who support them outside of their parents and teachers and want them to succeed.
Finally, in honor of LGBTQ+ History Month, John shares the way that little changes in smaller communities are changing the course of history by creating more accepting spaces for queer people across rural and suburban America - not just in big cities. 
Of course, big, metropolitan cities are going to be much more accepting of LGBTQ+ people. But what people don't realize is that major changes are happening in small towns due to things like better media representation and more family and friends feeling comfortable coming out, which is slowly shifting the culture of American society as a whole. For example, there are Prides being held across the state of Michigan now, not just in Detroit! Small towns like Lowell, Jackson and Howell are even hosting them. So as important as the big changes that are happening in larger cities are, it's also important for people to realize that there is change happening in their own backyards within their own communities as well. Pride and awareness is constantly growing, and that's something we should be really proud of and excited about.
---
Read more: