Diversity Torch: Jen Fry
February 22, 2022 - Liz Schondelmayer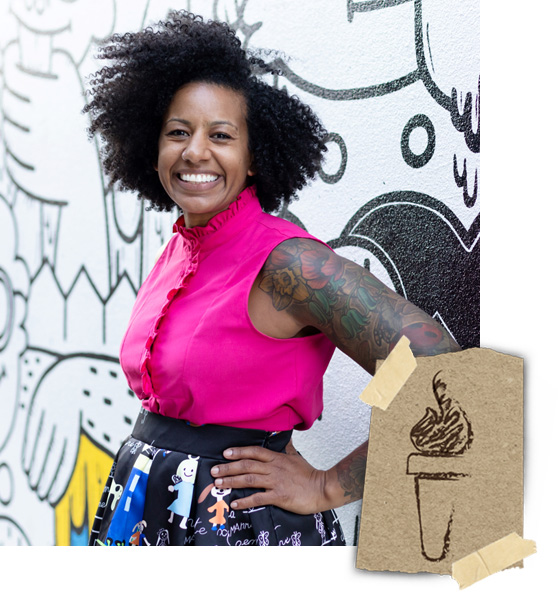 Jen Fry is a PhD student studying sports geography in the Michigan State University Department of Geography, Environment and Spatial Science. But when she's not studying or surveying, you may catch Jen giving a keynote speech or even a TedTalk around the United States with her social justice education firm, JenFryTalks .
As a researcher, Jen's work focuses on documenting and analyzing the experiences of professional Black female volleyball players on professional volleyball teams in Europe. At the heart of this work is intentional inclusivity: by working with friends, peers, and colleagues, Jen developed an entirely new intersectional framework for her dissertation called the Critical Black Feminist Sports Geographies Framework. 
"When I created this framework, I wanted to make sure that it can also be used for trans women athletes. I was very intentional about the language I used, and I kept asking myself, 'Who will this exclude, to use this term versus a different one?'" Jen explained. 
"I was really inspired by Nikole Hannah Jones and how she created her style guide for the 1619 Project , and her ideas about how to use language. In the work I do, I'm very interested in the flexibility of language, and so I decided to write a language guide for my dissertation with input from people I worked with and friends of mine who could offer insights." said Jen. "This guide essentially explains the necessity for flexibility within language, and gives different definitions (sometimes several) for different words." 
On top of being a student researcher, Jen has a flourishing career in education consulting through her own firm, JenFryTalks . Informed by her experiences coaching college-level volleyball for almost 15 years, Jen gives keynote speeches, facilitates discussions and curates e-courses on creating inclusive, anti-racist athletic communities for everyone in sports.
"Back in 2015, even before Kaepernick took a knee in 2016, I knew that the role of race in sports wasn't talked about the way I wanted it to be, and a way that was meaningful for me. I loved coaching and working with the athletes, but I was starting to feel burnt out and resentful because it was so demanding of my time," Jen reflected. "This was before DEI conversations had really taken off in collegiate athletics, and so I decided to quit coaching and pursue DEI work full-time. I had some tentative plans and the fortitude to make it happen."
The change didn't happen for Jen overnight: it took determination, resilience and a fail-forward attitude for Jen to create what is now a leading DEI education firm in the athletic industry. "For anyone reading this article, I want to remind you that when you try something new, you're going to be really bad at it at the beginning," explained Jen. 
"People will think if they try something once and it doesn' work for them, that's it, and that's not true! When I think back to my first time facilitating, it was brutal - but I got the experience, learned about it and moved up. You have to start from somewhere."
To create such memorable and meaningful content, Jen focuses on curating speeches, courses and activities that bridge the gap between people and find common holes in knowledge that she can help to fill. "I try to pay attention to what's missing from most people's skill set or prior learning experiences to shape the content my firm creates," said Jen. "I look for gaps in training and resources and try to fill that hole."
In this role, Jen works with groups ranging from individual teams to entire school athletic administrations - and everyone in between. Her goal is that through an intersectional and antiracist lens, athletes, staff and leaders alike can be empowered to create equitable environments for everyone to engage in sports. 
From her content, Jen hopes that people will learn how to make DEI work central to their lives - not just something they do for work. "I like to help people realize that you can't do this work without it being very proximal to you - this isn't just an issue for you to handle for your division or your office, this is something that needs to be a part of your life," Jen explained. 
Additionally, Jen wants those who engage with her material to understand the importance of accountability - and how the language we use shapes what that accountability looks like. 
"How we define things affects how we hold people accountable. For example, if I define racism as someone hating me for the color of my skin, I've completely left out the aspect of power, capitalism and institutional privilege," Jen noted. "It becomes too easy to say that a person can't be racist, because they may have friends that look like me. But if we understand how these aspects play off each other, we can update our definitions to reflect these intersectionality and hold people more accountable." 
Jen also stressed the importance for institutions - whether corporate, athletic or non-profit in nature - to properly support their DEI efforts and the people leading them with the funds, resources and staff necessary to create and sustain meaningful change. 
"It is incredibly important for organizations to give the DEI leaders the resources they need - both financial and personnel - so that they can do the work. They also need unparalleled support, as many DEI leaders often get flooded with personal attacks for doing this work, and they need to know their organization has their back," Jen advised. 
And in a society that tends to undervalue the lived experiences, cultural knowledge and emotional labor of Black people and other people of color, Jen offers a simple yet poignant solution: "Pay Black people for their knowledge. Don't expect it for free."
---
Read more: