Diversity Spotlight: Faron K. Paramore
February 22, 2022 - Becky Jensen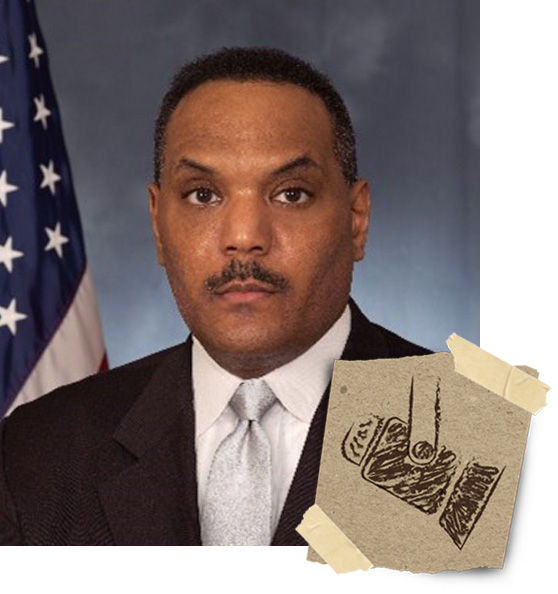 He has witnessed many of the most profound moments of recent U.S history. From traveling around the globe, protecting the President, Vice President and many other high profile U.S. leaders, to coordinating large scale criminal investigations, MSU alumnus Faron Paramore has been making a huge impact with the United States Secret Service for more than three decades.
Paramore, the Deputy Director of the Secret Service, coordinates numerous operations at any given time and is juggling thousands of details, people and situations at once.
"For instance, Vice President Harris is going to be in  Munich, Germany. She's going to be there for about four days. So one of the things over the last couple of days we've been looking at is what is our posture going to be, what  assets we have in Germany, what's the intelligence that we're receiving," said Paramore, recounting just one of the major events happening this week.
"When you're there, you're working. You're in protection mode.  You're constantly scanning the audience for potential threats. You're listening to the radio traffic. And you're always thinking ahead, okay, when we leave this location is our motorcade route clear to our next stop? What's going on at the next stop? Do we have a protest going on? So you're constantly thinking, but it's a huge team effort."
Balancing details, people and places are just some of the skills Paramore, a Detroit native and Cass Technical High School graduate, said he began to fine-tune while studying on MSU's campus for his Criminal Justice degree in the 90s.
"Just learning to get around campus taught me so much. When I first got to State, I never thought I was ever going to figure out my way around campus, " said Paramore jokingly. "The course instruction was great, the professors were always amenable to meeting with me after office hours for extra help." 
At one time, Paramore was a custodian at the Student Union and a legislative intern at the state capitol building in Lansing. He added that there were many employment and internship opportunities on campus to help foster one's passions, which leads to his biggest advice for students.
"My number one advice is swing for the fences. So whatever it is you want to do, even if it's criminal justice, or not, whatever it is, you feel in your heart, truly follow your passion. You have to be tenacious. People are going to tell you no, that's fine. You have to get back up. You have got to keep trying. You've got to put in the work and hustle. You have got to stay in that fight and keep fighting."
That tenacious spirit is one Paramore says he gleaned from his late parents. His mother was a teacher and his father a U.S. Marshal in Detroit. He reflected on the times growing up he would watch them do homework at their kitchen table, as they pursued multiple masters degrees.
"So my dad is definitely one of my role models and my mom is definitely one of my heroes…watching that work ethic, there was never any question about IF I would go to college, but WHERE I would go to college," said Paramore.
Paramore says one of his other inspirations is the late General Colin Powell, former U.S. Secretary of State. "I tell young people, I often enjoy reading autobiographies of people. I have been reading some of his autobiography and leadership books. He wrote openly about being a solid C- student. But it goes to show you that you can overcome things like that."
Paramore encourages students to find opportunities that suit them. "You make your own luck, when you're well prepared. When an opportunity presents itself, then you'll be able to take advantage of the opportunity."
He said the Secret Service is currently offering many opportunities and looking to fill all sorts of roles that encompass many skills. In fiscal year 2022 the Secret Service plans to hire 455 special agents, 280 Uniformed Division Officers and 250 Mission Support positions. To learn more about these positions, visit www.secretservice.gov . 
---
Read more: