Social Science Scholars Program Director John Waller wins 2021 President's Distinguished Teaching Award
March 1, 2022 - Liz Schondelmayer
On Thursday, February 24 at 3 p.m., Dr. John Waller (pictured below) was seated in Berkey Hall room 307, listening intently to a group of Social Science Scholars as they presented their latest research - until class was interrupted by a surprise visit from Michigan State University President Samuel L. Stanley.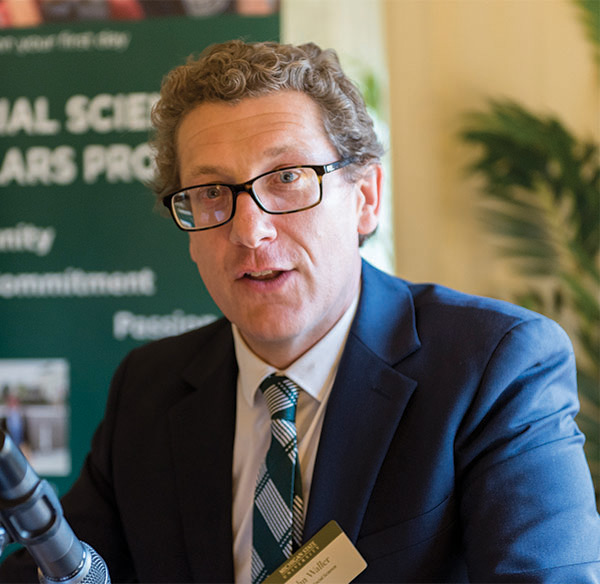 Despite Dr. Waller's first joking reaction to seeing university leadership in his classroom - "I'm fired" - he was actually awarded the 2021 President's Distinguished Teaching Award. According to the selection criteria, the award is given to an MSU faculty member who has "created innovative teaching environments that enable student learning within and across disciplinary, cultural and ethnic boundaries."
Also present for this memorable moment was College of Social Science Dean Mary Finn, as well as Associate Dean for Academic and Student Affairs Walter Hawthorne, who originally nominated Dr. Waller for the award due to his commitment to students both in and outside of the classroom.
"Directing the Social Science Scholars Program has been my greatest professional joy," said Dr. Waller. "There is ample reward in connecting with students, in helping them to seize opportunities and go on to fine careers, and in providing support to enable them to better confront personal challenges. It is equally satisfying to see this excellent university of ours broadcast the depth of its commitment to undergraduate education."
Since 2014, Dr. Waller has been the director of the Michigan State University Social Science Scholars Program, which provides admitted students with incredible research, internship and study away opportunities, as well as one-on-one faculty membership. In his role, he not only teaches seminars and oversees research projects, but helps students apply for prestigious international scholarships and graduate student programs.
As a teacher, Dr. Waller's philosophy is to give students the resources and support they need to succeed, while challenging them to reach past their own perspective of their potential. Despite being a world-renowned historian of science and medicine, he takes an interdisciplinary approach to creating courses that will help students understand the world around them while empowering them to change it. 
"I hope that I am able to teach students to prioritize connection over competition and to see college and life after graduating as a series of opportunities to get to know others on a non-superficial level," explained Dr. Waller. "Above all else, this means practicing kindness and generosity of spirit."
"I also want to emphasize the importance of consulting the latest, high-quality research before forming an opinion on any topic of importance; although we humans have an impressive level of intelligence, our brains take crude shortcuts or opt for self-serving justifications."
During his acceptance of the award, Dr. Waller used much of his time to speak to give credit to the program's academic specialist, Jenn Arbogast, who has served as a mentor, advisor and friend to every single student who has gone through the program.
"There is not a single student in the program who hasn't gone into Jenn's office without leaving a half an hour later feeling better about themselves and their situation," Dr. Waller said. "The program is deeply indebted to her, and her dedication to our students cannot be overstated."
The College of Social Science is extremely proud of Dr. Waller and all that he has accomplished through the Social Science Scholars Program, and is thrilled to see him receive the University-wide recognition he so deserves.
See the video of the moment that President Stanley stopped by Berkey 307 here:
View this post on Instagram
Learn more about Dr. Waller and the Social Science Scholars Program here.