Diversity Torch: Lexie Hampton
March 22, 2022 - Liz Schondelmayer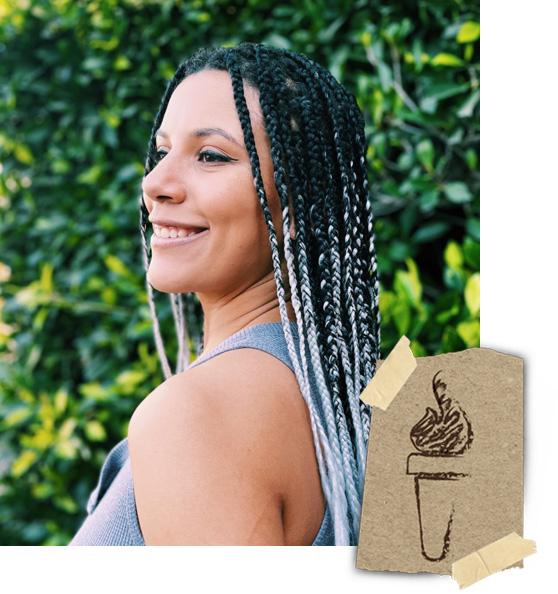 At the heart of Michigan State University's diversity, equity and inclusion efforts are the students who create community and connections across campus to champion meaningful change. One of those students is social scientist Lexie Hampton, who exemplifies what it means to be a student-activist by dedicating herself to courses and campus organizations that advance equity for women across the Spartan community and beyond. 
While her ultimate goal is to become a doctor, Lexie is taking a unique path to get there - one that is forged by a passion for bringing social justice into the medical field. While she entered MSU as a Human Biology major, she is currently earning her degree in Public Policy with a minor in Environment, Design, and Society. 
She decided to shift her academic track after taking a sociology class at the beginning of her sophomore year that was centered on race and ethnicity. "I grew up in a nearly all-white community and spent my younger years learning history through a very white-washed lens," Lexie explained. "Taking this class really opened my eyes to the various systemic injustices that are plaguing our society." 
"It was a transformative experience for me to realize that I wanted to spend my undergraduate degree learning about these injustices while also understanding the institutions and policies that have sustained them. I intend to apply this knowledge to my future career as a doctor by increasing representation and diversity in the medical field. I also want to be an advocate for policy change, especially in the realm of public health, and serve disadvantaged communities."
Lexie's passion for social justice expands far beyond the classroom. As a determined student- activist, Lexie has dedicated much of her time at MSU to making the campus community safer and more equitable for women. During her four years, Lexie has served as the Vice President of the MSU Women's Council; co-chair of the Women's Initiative for Leadership Development (WILD); an organizer for the annual "Take Back the Night" event; and a volunteer for the MSU Center for Survivors. 
Through her involvement with WILD, Lexie has also been instrumental in bringing inspirational and empowering speakers such as Dr. Mona Hanna-Attisha, Governor Gretchen Whitmer, Senator Debbie Stabenow, U.S Representative Elissa Slotkin and award-winning author of "Hood Feminism," Mikki Kendall, to campus. "We also provided numerous educational workshops led by social justice leaders in our community who have shown attendees the importance of ally-ship, feminist leadership, and advocacy," Lexie noted. 
Through her numerous roles with these organizations, Lexie has built communities based on trust, mutual support and a shared passion for breaking down barriers. "I have been able to create a space centered around building connections, validating each other's experiences, and challenging society's stigmatizations," said Lexie. 
Lexie was recognized for her commitment to women's empowerment on campus this year, winning both the 2022 Inspirational Student Leader of the Year Award and the Tracy Dobson Award for Undergraduate Student Feminist Activism from the Center for Gender in Global Context.
After graduating, Lexie plans on applying to medical school to fulfill her goal of becoming either a pediatrician or OB/GYN and serving marginalized communities. "My dream is to lessen the fear of childcare and/or childbirth for as many people as I can by becoming a healthcare provider who listens, cares and advocates for my patients above all else," Lexie said. 
"This is especially true for patients who are members of the Black community, as their health and safety are often disregarded or treated inadequately within the medical field, which is evident by the extremely high maternal death rate in our country."
Finally, in honor of Women's History Month, Lexie acknowledges the women who have inspired, encouraged and empowered her to rise to create meaningful change within her community - from rapper Megan Thee Stallion to former first lady and activist Michelle Obama to her family and friends.
"All of these women, and many more, have contributed to helping me grow into the best version of myself. They have taught me strength, resilience, compassion, and kindness," Lexie reflected. "By showing up as their most authentic selves, they inspire me and give me the courage to do so as well. I am very grateful for the long lasting impacts each of these women have had on my life."
---
Read more: