Diversity Champion: Dr. Deborah Johnson
March 22, 2022 - Liz Schondelmayer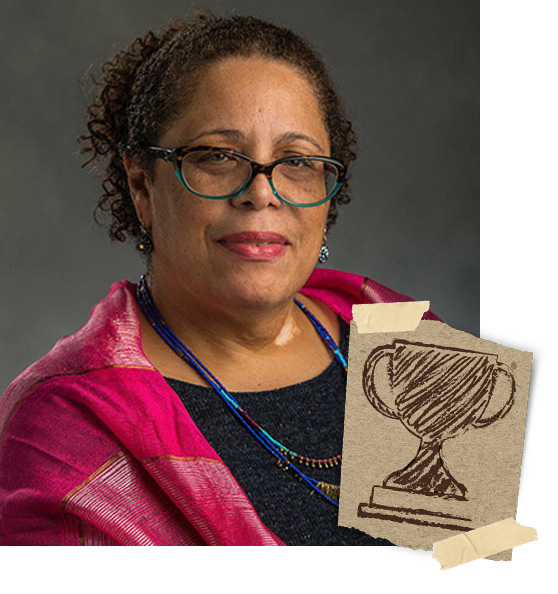 As a researcher, scholar, mentor and activist, Dr. Deborah J. Johnson has transformed the student and faculty experience both on campus and numerous places around the world during her career at MSU - one which has spanned over two decades and is still going strong. Throughout her almost 23-year career at Michigan State University, Dr. Johnson has established herself as a leader of diversity, equity and inclusion, both through her research in the Department of Human Development and Family Studies as well as her work with as the inaugural Director of the Diversity Research Network within the Office for Institutional Diversity and Inclusion.
In this role, Dr. Johnson helps connect faculty of color and diversity scholars across the university into collaborative interdisciplinary research communities, promote visibility of their scholarship and to support the production of said research with resources where possible. "My work in this role has been personally rewarding, as well as professionally rewarding," Dr. Johnson reflected. "I am so pleased with the impact that we have been able to have at MSU. I love working closely with faculty and being a part of their positive experiences here."
Also a researcher herself, much of Dr. Johnson's work centers around understanding racial identity and racial socialization and how those identities develop and evolve  as protective mechanisms throughout the lives of children and their families. In one avenue, this research explores these themes through the lense of immigration. For example, Dr. Johnson has worked with fellow faculty and student members within HDFS on a longstanding project to understand how Sudanese refugee youth develop their identities as first-generation Americans of color. 
"They use a lot of different terms to describe themselves - Sudanese, American, most often Sudanese-American - but rarely African, as this is a term that does not convey nationality and is only used in the US context to distinguish themselves from other Black American identities," explained Dr. Johnson. "They understand that this identity may change in future generations, but they retain the Sudanese aspect of their identity with a determination that is always fascinating to me." (Yoon, Johnson, Qin & Bates, 2022).
Dr. Johnson also collaborates with scholars in Perth, Western Australia to study how youth participation in sports can help young people develop their identity and life skills (PI, Dr. Cheryl Kickett Tucker). Working with Indigenous Aboriginal and non-Indigenous scholars for over 20 years to develop and maintain these connections over a range of community centered projects. She is currently and has been an affiliated faculty member with several universities and research centers in Western Australia over that time. 
Though no longer in the classroom in her current position, Dr. Johnson still works with students regularly as a faculty mentor and committee member helping students shape their dissertations, academic, research and career interests. As a mentor, Dr. Johnson hopes to empower her students, especially students of color, to believe in themselves and the value of their work. 
"I work with many students of color, and I want them to know that wherever they are or wherever they end up professionally, that they belong, that they have a right to be there, that they should not have any doubts about their value in the face of counter messages," said Dr. Johnson. "I want them to have a strong sense of self, purpose, prowess and strength, so that everyone can benefit from their excellence in their field." 
Currently, Dr. Johnson is at the stage in her career in which she is able to use her research and expertise to push the field forward in terms of the topics, themes and frameworks that current and future scholars explore. Within the past two years, she has co-edited two published handbooks - "Handbook of Children and Prejudice: Integrating Research, Practice, and Policy" and "Identity Re/Formation: The Intersectionality of Development, Culture, and Immigration" -  the first explores cutting edge research on the impact of race and prejudice among developing youth in context and the second volume explores identity re/formation among immigrant youth elevating new theoretical perspectives and the importance of assimilation resistance. 
"Instead of encouraging people to give up their values and cultures, we want to advance the notion that those differences are strengths and can develop individuals, families and communities even further," explained Dr. Johnson. "These messages need to be elevated throughout research within the field, as these sentiments are shifting for this generation of youth and families."
As an expert on identity and intersectionality, Dr. Johnson reminds us of the importance of centering inclusion in the mission of empowering women during this Women's History Month.
Among those of privilege" they have to constantly be willing to ask tough questions, such as, 'Did I do everything I could to think about the communities I'm not a part of?' 'Have I represented the range of women's experiences in my space?' 'Am I willing to elevate examples of excellence, even if they don't match my definition or expectations of excellence?" challenged Dr. Johnson.
"Being intersectional means that we have to open the door for opportunities for other and that may not be comfortable. I've been witness to examples of spaces where inclusiveness is talked about but traded out for comfort, collectively we really, truly, have to challenge our privileged selves to lean into the discomfort of doing something new and inviting those outside of your networks to join your circle."
---
Read more: