Social scientist Wisdom Henry wins prestigious Featherstone award
May 6, 2022 - Liz Schondelmayer
Social science student and soon-to-be graduate Wisdom Henry has won the 2022 Richard Lee Featherstone Endowed Prize. The prize is awarded to MSU's most outstanding graduate based on criteria such as openness, curiosity, creativity, intellectualism, character and leadership - all of which Wisdom exemplifies through her work as a student, researcher and activist.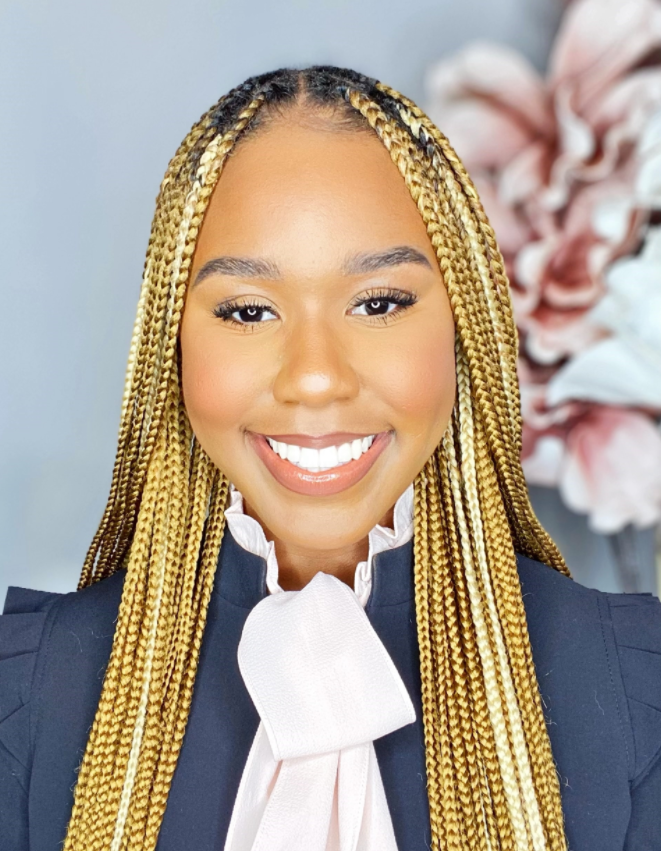 Wisdom (pictured left) is a fourth-year student majoring in Urban and Regional Planning and History with a minor in Cities: Environment, Design, and Society, and is also dual-enrolled in the Master of Urban and Regional Planning Program. She is also a member of the Social Science Scholars Program and MSU Honors College. 
A student-activist with a strong commitment to social justice, Wisdom has served on the Diversity, Equity and Inclusion committee for both the Social Science Scholars Program and the School of Planning, Design, and Construction. As a researcher, Wisdom's focus is on the harmful effects that gentrification and gerrymandering have on communities of color. 
It is a great honor to be placed in such distinguished ranks of the past honorees. This award symbolizes my insatiable thirst for knowledge. Receiving the Featherstone has allowed me to explore my curiosities through research and hands-on experiences," Wisdom said.
"I am grateful for the continued support I have received from both Dr. John Waller and Dr. Noah Durst, for without their guidance, I would not be able to accomplish as much as I have here at MSU."
Wisdom was nominated by faculty research mentor Dr. Noah Durst, an assistant professor in the MSU School of Planning, Design and Construction. "As Wisdom's primary academic advisor and mentor over the past three years, I have come to know her as an exceedingly talented, curious and hardworking student who is deeply committed to promoting racial equity through both research and service in myriad forms," said Dr. Durst in his nomination letter.
"Wisdom's intellectual interests are impressively broad: she has excelled in chemistry and political science as well as history and urban planning," said Dr. John Waller, a professor of History as well as the Director of the Social Science Scholars Program. "She is quick to grasp difficult concepts, and is an effective communicator and a fine writer. She also has the questioning mind and the appetite for systematic data collection she will need as an academic."
The grant can be used for future development, such as travel or graduate studies, and Wisdom plans to use the funds to cover the costs of travels and data collection to continue her research. 
"After graduation I will be working with the city of East Lansing for the summer. In the fall I will continue working on finishing my Masters in Urban and Regional Planning," Wisdom explained.  "After I complete my Master's thesis in the spring I will either go to law school or seek to obtain a PhD in U.S. History."