Diversity Torch: Chloe Majzel
May 26, 2022 - Anna Lionas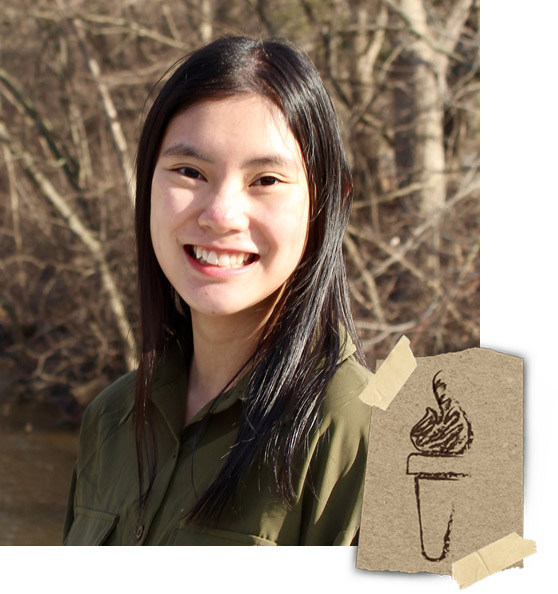 May is Asian American and Pacific Islander Heritage Month, and Michigan State University College of Social Science is honoring students who excel in their efforts to bring awareness of the AAPI community to MSU.
Chloe Majzel graduated this spring with bachelor's degrees in Economics from the College of Social Science, and International Relations in the James Madison College with minors in Asian Pacific studies and Chinese.
A Chinese American adoptee, Majzel didn't grow up in an Asian household. Her first experience with a large asian community was when she arrived at MSU and attended a Chinese Student Coalition Event. Being surrounded by people her age who looked like her struck a chord. "I didn't realize how impactful that was at the time, but looking back it definitely sparked a passion in me." 
This was the beginning of her journey into learning about her history as an Asian adoptee, and becoming more involved with her identity as an Asian American. "I've spent my college career combining my passion for advocacy and learning through internships and research projects."
Majzel was an interim at the Association of Chinese Americans as a social advocacy intern and was selected as an International Leadership Foundation Civic Fellow. She also wrote her international relations senior seminar paper about race relations among American military and Korean civilians, which won an honorary mention for the SC Lee Best Undergraduate Paper competition through the Asian Studies Center. 
At MSU, Majzel was very involved with the Asian Pacific American Student Organization (APASO) where she served in many positions, including president. Working alongside other student organizations, ASMSU, and administrators she created paid student executive board positions for the Council of Racial and Ethnic Students and the Council of Progressive Students. 
In March of 2021, along with the APASO, Majzel helped with the hosting of a town hall on anti-Asian hate. The town hall centered APIDA student voices, while also presenting demands to the university to improve the APIDA student experience. Conversations at the town hall directly resulted in removing Larry Gaynor's name from the Broad College of Business, more resources for undocumented students, and increased funding for Asian Pacific American Studies and student success initiative targeting APIDA students. 
"With the rise in anti-Asian hate in the past couple of years, it's more important than ever to stand up and advocate for my community." 
Majzel is the former vice president of Women and Minorities in Economics, where she made efforts to increase awareness of the lack of diversity within the department. She acknowledges the importance of students being able to see people of similar backgrounds in their field of study. "In the future, I hope to see more DEI centered events in the economics department and the college."
Dr. Meaghan Kozar is the interim project manager for the Inclusive Campus Initiative. She is also an adoptee and Majzel's role model. Dr. Kozar's encouragement and guidance taught Majzel how to share her experiences with others and help with their journeys.
"She was the first person to tell me to be proud of my identity as an Asian American and an adoptee. Meaghan constantly inspired me to grow as a person and a leader."
After graduation, Majzel is interning in Washington, D.C. before starting graduate school in the fall.She is pursuing a dual Master's of international affairs from the London School of Economics and Peking University in China. Chloe hopes to continue expanding her knowledge of Asian diaspora populations.
---
Read more: