Diversity Champion: Dr. Andrea Louie
May 26, 2022 - Liz Schondelmayer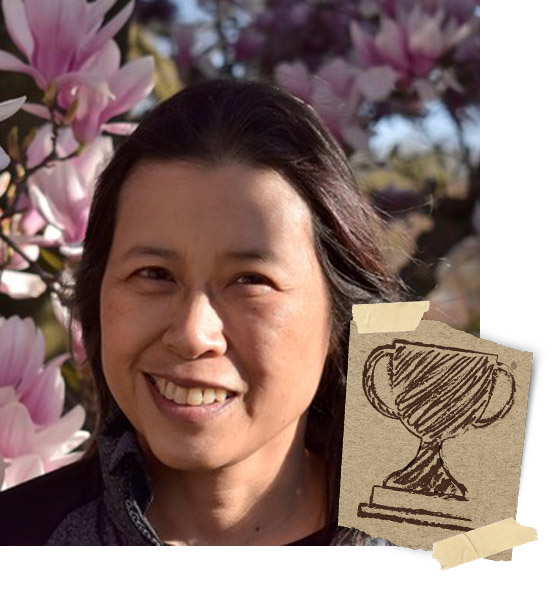 This Asian American and Pacific Islander Heritage Month, the Michigan State University College of Social Science is celebrating the students, alumni and faculty working to elevate the AAPI community. For Dr. Andrea Louie, a Michigan State University anthropologist, understanding the racial identity of Chinese communities both abroad and in the United States is the focal area of her renowned scholarship. 
Dr. Louie joined MSU's faculty in 1998, and has since established herself as an expert on Chinese migration, transnational adoption from China and identities of people racialized as Chinese or Asian in the U.S. In addition to serving as a professor of anthropology, she is the founding director and an executive board member of the Asian Pacific American Studies Program on campus. 
"One highlight of my MSU career was getting the Asian Pacific American Studies Program on the books in 2004. Students and faculty had been trying for many years before that to establish a program like this at MSU," Louie reflected. "Though I am no longer director, I remain involved as a member of the Executive Board and have loved seeing the program grow in recent years with increased support from the College of Social Science."
As a sociocultural anthropologist, Dr. Louie studies migration, race and identity centered on Chinese migrant experiences. "My research addresses global issues of social inequality and constructions of racial and cultural difference through the experiences of various types of Chinese migrants and their relationships to both the Chinese homeland and the U.S.," explained Dr. Louie. 
Dr. Louie studies the impact of both Chinese and American racial and cultural politics and policies affecting Chinese immigrants, adoptees and students traveling between the two countries. Dr. Louie has authored two books on the topic of Chineseness and Chinese identity. The first, "Chineseness Across Borders: Renegotiating Chinese Identities in China and the U.S," published in 2004, delves into the experiences of Chinese Americans who visited their ancestral villages through a P.R.C. government-sponsored programs. The second, "How Chinese Are You?: Adopted Youth and Their Families Negotiate Identity and Culture," was published in 2015 and explores how White families teach their adopted Chinese children about their identity, and how the adoptees' identities develop over time. 
Currently, Dr. Louie is writing her third book about her maternal grandmother, Toy Len Goon, who was celebrated as the United States' "Mother of the Year" in 1952, at the beginning of the Cold War. Toy Len Goon was nominated by a family friend for this award for the state of Maine, and then was selected in a national competition by the American Mothers Committee of the Golden Rule Foundation. 
"Drawing on archival materials, interviews and analyses of media coverage and historical framings of the event, this project traces the historical contexts that frame Toy Len Goon's migration to the U.S. and her selection as Mother of the Year, and the role that her story has had in bolstering the model minority myth," Dr. Louie explained. 
"This is not a traditional biography or history. Rather, I trace the social repercussions of the event through an anthropological lens that includes multiple narratives surrounding her story and its insertion into the public imagination. I focus on how that narrative is incorporated into family lore, as its members continue to engage with the model minority idea, but also with shifting ideas regarding the racial positioning of Asian Americans and cultural citizenship in the 21st century."
The harmful yet often-perpetuated "model minority" myth is one that Dr. Louie tries to dispel through her research, teaching and service. In her words, "It is essential to remember that the model minority myth - the idea that all Asian Americans are good students and exemplary members of the community, and don't experience challenges - only serves to obscure problems that do exist in the APIDA community. This myth positions Asian Americans to be used as a racial wedge when their supposed success due to hard work and good behavior is used against other communities of color."
As a professor, Dr. Louie has several key messages she wants students, especially those in the Asian Pacific American Studies Program, to take with them after leaving MSU. The first: "Understanding the history of the U.S. and the world is incomplete without considering APA/APIDA perspectives," explained Dr. Louie. "Though APIDA stories are often left out of or misrepresented in history books, they are an important part of U.S. history and essential for understanding current racial dynamics in the U.S. beyond a Black/White binary."
Additionally, Dr Louie emphasized the importance of understanding and fighting against harmful stereotypes. "Anti-Asian hate is not new and is often obscured by the model minority myth which purports that Asian Americans are all successful, closer to whiteness, and do not experience discrimination," she said. "Additionally, Asian Americans should be seen as more than people with an interesting (and 'exotic') culture and food."
---
Read more: