An Equal and Enabled World: Igniting Women Leaders on International Women's Day
March 5, 2020 - Amy Bonomi, PhD and Amanda Guinot Talbot, PhD

March 8, 2020 is International Women's Day!  This year's theme is #Each for Equal -- meaning an equal world is an enabled world.
This focus on equity for women continues to be a pressing concern, globally.  Despite decades of progress in gender equity, a new report from the United Nations Development Programme indicates that close to 90 percent of men and women, worldwide, hold some sort of bias against women.  Over 40 percent feel that men make better business executives and that men have more right to a job when jobs are scarce.  The report includes data from 75 countries, covering approximately 80 percent of the world's population. 
The Women's Leadership Institute (WLI) at Michigan State University -- a constituency of committed MSU alumni, friends, faculty and staff -- works to achieve equity for women by igniting students and their allies.  This is achieved by challenging stereotypes and fighting bias -- like that reported in the United Nation's report -- and celebrating women's achievements.
Coinciding with International Women's Day, we asked MSU alumni and board members of the Women's Leadership Institute to share their thoughts about equity for women.
For Christine Mason Soneral, MSU Political Science Alumnus and Senior Vice President and Chief General Counsel at ITC Holdings, Inc., equity for women involves an ongoing commitment.  In stride with the United Nation's report, Soneral's commitment in 2020 involves educating others about gender bias: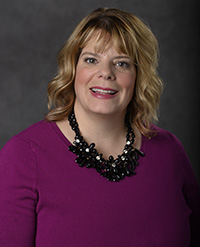 Christine
Mason Soneral
"One of the primary ways I will support MSU's Women's Leadership Institute vision in 2020 is to actively educate others about bias—what it is, how it can play out, and techniques to actively manage and mitigate bias.  Once people achieve a deeper understanding of bias they are typically willing to reflect on their own actions and make behavioral changes. Understanding bias is key to accelerating equality for women."
WLI board members also say that in their ongoing commitment towards equity for women, public figures who are fearless trailblazers serve as an inspiration.
For Gloria Santona -- a MSU Natural Science alumnus, counsel at Baker McKenzie, and previous Executive Vice President and General Counsel of McDonald's Corporation -- inspiration comes from Supreme Court Justice Ruth Bader Ginsberg: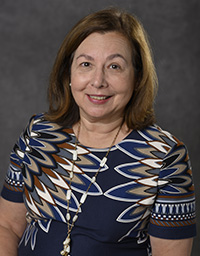 Gloria
Santona
"Supreme Court Justice Ruth Bader Ginsburg used her extraordinary talents to pursue equal treatment for women at a time when the topic was seldom discussed, much less advanced.  Growing up in a world full of stereotypes, she refused to fulfill one, instead blazing her own trail. In so doing, she used her considerable skills to pursue equity for the women of her generation and has been an inspiration to those of us who have followed.   She said: "Fight for the things that you care about, but do it in a way that will lead others to join you." My generation has continued to carry the torch for gender equity, but the torch will soon be passed on. At MSU's Women's Leadership Institute, we hope to ignite a passion for Ruth Bader Ginsberg's sort of leadership in the generations that follow us.  There's still work to be done."
Alejandra Delgado, MSU graduate in Finance and Economics and Director at Ankura says her inspiration is Whitney Wolfe, who is challenging stereotypes about women in a highly public space: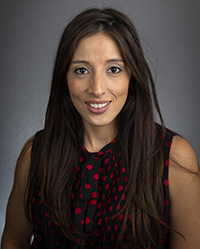 Alejandra
Delgado
"My inspiration is Whitney Wolfe; she is the creator of the app "Bumble" – a social and dating app. Prior to creating Bumble, she was the co-founder of Tinder (another dating app). She left Tinder and filed a lawsuit against the company. Whitney Wolfe alleges that Tinder executives discriminated against her based on her gender by revoking her co-founder status because having a 24-year old "girl" co-founder "makes the company seem like a joke." Going through a difficult situation was her inspiration for "Bumble," a place where women can feel safe, and the conversation can only be started by a woman.  The idea behind is to challenge the stereotypes and give more control and power to women. Through her app, she explicitly makes women in charge of the situation. Bumble became the number one competitor of Tinder and is the second-largest dating app in the world. Whitney went against all the odds and challenged the status quo. Her story inspires me not only to go out of my comfort zone, empower women, and, most importantly, also empower men to respect women. She channeled difficult circumstances into a tool not only for her but for every woman on the planet."
As we celebrate International Women's Day and reflect upon data from the United Nations, we come together to gain inspiration from the work of past and present leaders and make commitments for the work yet to be done.
It is because of these stories, because of the change agents, and committed leaders like Christine, Alejandra, and Gloria that on this International Women's Day we will operationalize an equal and enabled world.
---
About the authors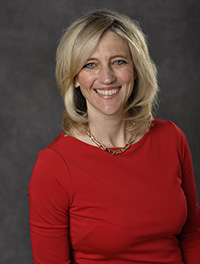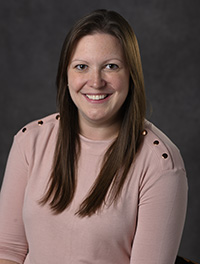 Dr. Amanda Guinot Talbot
Dr. Amanda Guinot Talbot is the director of undergraduate education and an assistant professor in MSU's Department of Human Development and Family Studies. As the Women's Leadership Institute faculty fellow Dr. Guinot Talbot works on institute programming and student engagement. Dr. Guinot Talbot also is a co-administrator of the financial literacy educational campaigns at MSU (Go for the Green: New Student Orientation and Money Smart U.).