Remembering CJ
August 30, 2023 - Amanda Guinot Talbot, PhD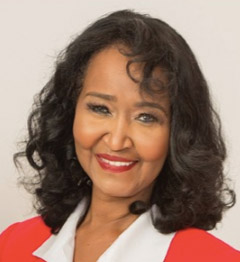 It was with great sadness that we say goodbye to the Women's Leadership Institute (WLI) Emeritus Board Member Carolyn Jackson, and with great joy that we say we knew "CJ" and were touched by her life. Carolyn was a committed and passionate leader, mentor and coach to many, and an incredible Spartan. She had a great professional impact as the Senior VP of HR for Coca-Cola North America. However, it is Carolyn's personal commitment to Michigan State University, the Women's Leadership Institute, and the student leaders that will leave a legacy in the hearts of the leaders she supported and on the campus she loved.
Originally from Detroit, CJ earned two degrees at Michigan State, a Bachelor's from James Madison College and a Master's from the School of Human Resources and Labor Relations. With over 30 years of experience in executive leadership, CJ most recently served as Senior Vice President, Human Resources, North America for the Coca-Cola Company. She will be remembered fondly for her personal commitment and drive, both in life and in her career, as well as her dedication to helping others reach their own leadership potential through executive coaching. 
CJ was also a valuable member of the WLI Executive Board, serving as a mentor for future women leaders. Several current and former board members shared fond memories of CJ and their time spent together on the board.
Stacy Sollenberger recalls that "CJ was a force. She was well known in Atlanta and very revered for her smarts, kindness, and philanthropy. She was a mentor to many and gave back to her community with both her treasures and talents. A rare gem of a woman and a very proud Spartan. She will be sorely missed."
Celia Ebert remarked on CJ's influence and assistance from the very beginning with the Institute: "She was an integral part of the initial efforts for WLI."
Another pioneer leader and friend of CJ, Margaret Dimond said: "This is a huge loss for MSU, and the community."
Ann Tomlanovich had several fond memories‌ to look back on and remembers being in awe of CJ's presence: "CJ was, for me, the quintessential leader. I remember she spoke about 'your brand' at one of our early Girls' Night events. I was pretty mesmerized by her wisdom, openness, outstanding speaking skills, and her excellent advice for our students…and me. I remember thinking how I wished she had been one of my leaders during my career. Just so inspiring."

CJ will be dearly missed by her friends and colleagues in the College of Social Science and the WLI. 
About the Author
Amanda Guinot Talbot, PhD
Director, Women's Leadership Institute
Mason-Soneral Faculty Fellow, Women's Leadership Institute
Director of Undergraduate Education and Assistant Professor, HDFS
Dr. Amanda Guinot Talbot is the director of undergraduate education and an assistant professor in MSU's Department of Human Development and Family Studies. As the Women's Leadership Institute director Dr. Guinot Talbot works on institute programming, curricula, and student engagement. Dr. Guinot Talbot also is a co-administrator of the financial literacy educational campaigns at MSU (Go for the Green). She received her master's degree in Family Studies and Ph.D. in Human Development and Family Studies from Michigan State University.