Diversity Torch: Alisha Phan
May 10, 2021 - Liz Schondelmayer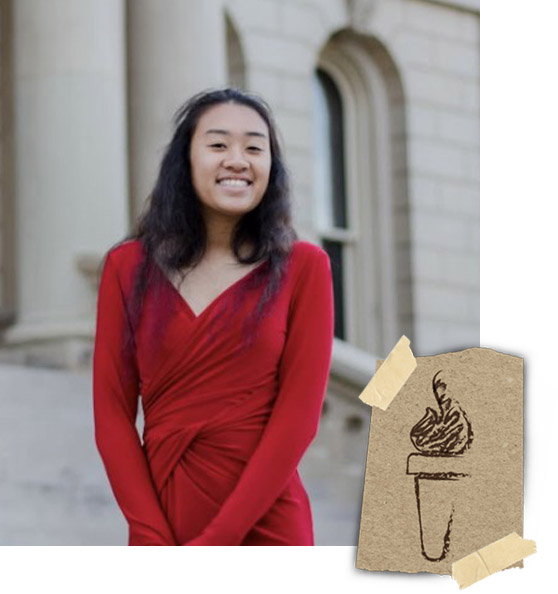 Alisha Phan is a junior in the College of Social Science, majoring in Human Biology and Psychology and minoring in Asian Pacific American Studies. As the President of the Vietnamese Student Association, Alisha has proven herself to be a dedicated DEI activist, creating safe spaces for students like herself within the MSU community. 
Alisha joined MSU's campus community in 2018 and is working to become a medical physician.
One of the reasons I chose MSU out of the universities I decided was because of the diversity and inclusion initiatives that Michigan State incorporates into their programming, academics, and student life. With the variety of clubs, courses, and people that I've met in East Lansing, it makes MSU an extremely special and unique place to be.
My favorite highlight would have to be attending events all around campus. As someone who wasn't sure of trying new things or exploring new places, I was happy to finally have a home at MSU where I could attend events and talk to people with different backgrounds and identities.
After graduation, I plan on taking a gap year, and then I hope to go to medical school to be an emergency medicine physician. I've always thought about going into the medical field, and attending MSU took me one step closer to achieving that goal.
Alisha is currently the President of the Vietnamese Student Association (VSA), an organization dedicated to promoting awareness of the Vietnamese-American culture, heritage, and issues throughout the MSU community and beyond. Alisha joined the association her freshman year as an intern, and has been involved with the organization ever since. 
Before I even applied to Michigan State, I went to church with many MSU alums, and they told me many stories of their adventures in their chapters of the Vietnamese Student Association. I graduated high school and was determined to join the VSA, because my high school didn't have any groups or clubs dedicated to Asian culture. As a freshman at MSU, I interned for VSA my very first fall semester, and ended up joining the executive board the following spring semester. This upcoming year will be my fourth year on the VSA E-Board. 
As President, my main responsibility is to foster a space for individuals within the community, along with the help of my Executive Board. Since VSA is an affiliate member organization under the Asian Pacific American Student Organization (APASO), we often collaborate with other affiliate organizations under APASO. During my third year, the VSA collaborated with APASO to address the Larry Gaynor incident , which began my trip with activism. 
The  current VSA Executive Board is extremely passionate about advocating for others, and the direct attacks on the Vietnamese community is something we could not tolerate. Personally, I felt I did not have a voice until this happened, as I was extremely shy and reluctant to share what I thought out loud. However, with the spikes in COVID-19-related hate crimes and other incidents targeted at minorities, I feel it is important to exercise my voice, to say what needs to be said, and to advocate for what is right.
This year, the President of APASO reached out to me to speak at the Community Town Hall hosted by APASO, the Office of Cultural and Academic Transitions (OCAT) and other organizations. I got the opportunity to speak what was on my mind and echo the truth of other individuals. It was a touching event that gave me confidence to speak out more, and gave others an opportunity to be seen, heard and appreciated.
It is incredibly rewarding for me to help create spaces for individuals to feel safe. As an Executive Board member of VSA, our job is to work collectively to establish places for individuals to find friends, become mentors and grow into leaders. Creating these spaces and promoting awareness and advocacy is one step towards making these goals easier to attain. 
In honor of Asian Pacific Islander Heritage Month, Alisha shares how each of us can be better allies to the Asian community - especially during a time of heightened racism and violence against Asian and Pacific Islander Americans.
With times like this, it is important to support each other, and power each other up instead of tearing each other down. Making spaces for AAPI individuals to speak their truth is especially important in amplifying our voices and making ourselves heard. 
For AAPI identifying individuals, definitely use these spaces to advocate for us. Find ways to educate and inform others. Stand in solidarity with other groups, and keep your eyes on a goal! Most importantly, remember to take time for yourself to rest and rejuvenate. The fight is all but over. 
For non-AAPI identifying individuals, let AAPI individuals speak. Make places and spaces for them, and validate how they feel. Find ways to constantly educate yourself and others on the incidents going on not just in the AAPI community, but in other communities as well.
---
Read more: