Diversity Champion: Thuy-Tram Nguyen Butler
May 10, 2021 - Liz Schondelmayer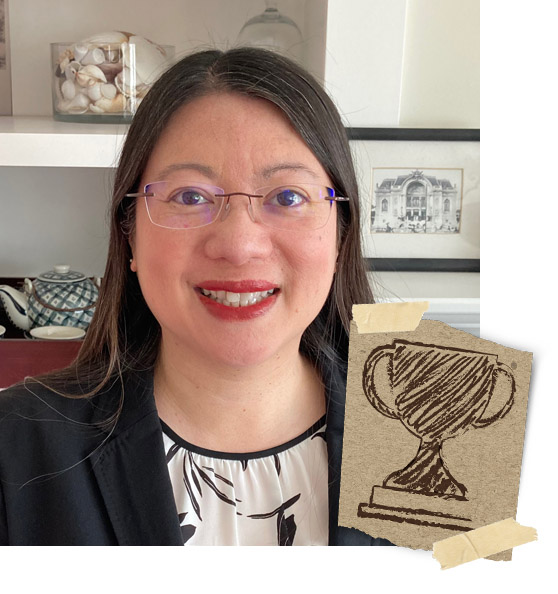 Thuy-Tram Nguyen Butler is an Academic Specialist and Director of Career Development and Placement with the School of Human Resources & Labor Relations (SHRLR) in the College of Social Science.  
As a student, alumna, and current employee of Michigan State University, Thuy-Tram has epitomized what it means to be a Spartan, even before setting foot on MSU's campus. 
I am a double Spartan, with a Bachelor's degree in Marketing and a Master's in Human Resources & Labor Relations. My family and I are immigrants, refugees, and boat people who escaped from Vietnam after the Vietnam War. I was five years old when my parents and I arrived in the US. I vividly remember the harrowing journey at sea, the challenging time at the refugee camp in Thailand, and then the anticipation of starting a new life in a new country.  
Our family experienced early financial insecurities, cultural and identity confusion, and sometimes intentional or unintentional anti-Asian, anti-Vietnamese or anti-Immigrant negativity. My family was sponsored by Dr. George Leroi, Dean Emeritus of Natural Science at MSU and Dr. Ellen Leroi, a retired family therapist. They helped me understand US culture and provided many new American experiences, such as my first sleepover, first hotdog, and first-time decorating cookies with their sons, who are close to my age. 
As the Director of Career Development and Placement of SHRLR, I work with organizations that recruit our students for both internships and full-time jobs and prepare master's and undergraduate students for interviews. I have streamlined our recruiting process, built strong relationships with our recruiting organizations, tripled the number of organizations that recruit here, and increased student attendance at recruitment events.  
Among the highlights of my experience are the development of a comprehensive career development program that emphasizes student preparedness, and the creation of our student peer coaching team, called the Career Team Leaders. The Career Team Leaders are second-year students who work with fellow students directly to provide mentoring, coaching, and assistance for new students regarding interview preparation, career planning, offer decisions, and onboarding. With my emphasis on recruiting relationship management and student career support programs, the placement rate has been sustained for the past ten years at over 98% for students seeking internships and full-time positions. 
DEI initiatives are extremely important to Thuy-Tram, who makes sure that the MSU SHRLR is an equitable place for all faculty, staff, students and alumni. 
In my early career at MSU, I was the advisor for the Vietnamese Student Association. In this role, and in my position at SHRLR, I have worked with many first-generation college students from diverse backgrounds. I realized that these students do not always have the expertise or resources at home to lean on. I have coached these students on integrating their personal stories, and how to weave in their backgrounds and the issues they have overcome. In overseeing our recruitment operations, I ensure that the organizations who recruit adhere to our policies regarding DEI, and that our students have equitable access to interviews and offers and are treated fairly during their interviews.  
Our school's DEI Committee, strongly supported by our director, Dr. Peter Berg, and chaired by Dr. Maite Tapia, has grown to over 20 members including faculty, staff, PhD, masters, and undergraduate students, as well as alumni. We are focused on examining DEI topics, increasing education, surveying students, fostering conversations, and improving our advising and recruiting operations. We invited students and alumni to speak about gender, race, disability, social economic disparities, sexual orientation, and cultural and self-identity concerns at two DEI-focused panels in Spring 2021. This spring, our committee also created a DEI survey for students, which has already yielded valuable data and feedback. The committee's students also hosted MRULES to further student discussions. I am incredibly proud of our work and recognize that there is more that needs to be done. 
As a Vietnamese immigrant, Thuy-Tram shares what she wants others to understand about Vietnamese culture, as well as Asian American heritage in general. 
Vietnamese Americans, like other cultures, are very family-oriented, willing to go to extreme lengths and make enormous sacrifices to keep their families safe or provide for a better future. Typically, they are also remarkably close to their extended families: aunts, uncles, cousins, close friends, and community members are all in the family support network.  
As adults, Vietnamese Americans believe in celebrating the journey, not just the destination, acknowledging the sacrifices and showing gratitude for the people who provided support along the way. In the Vietnamese American culture, it is commonplace for individuals to become quite animated when we are together to celebrate personal, academic, or professional accomplishments! There is a lot of hugging, singing, shared stories, and of course, ample Vietnamese food to share. Vietnamese food is always at the center of our celebrations, a way to share our culture, heritage, and history. 
Anti-Asian hate and its rise related to the pandemic is currently in the news. However, anti-Asian comments, as well as violent actions, have been occurring for many years, even centuries. Many Asian Americans have not felt comfortable speaking about it outside of the community, other than with family and friends.  
There is the "model minority myth" that Asian Americans are especially successful. This places Asians at odds with other diverse groups, and disadvantages lower income Asian Americans, who may need supportive programs. When I was younger, I had a manager tell me that my personality, voice, and demeanor were too "sweet" to be a leader. I have worked hard over the years to be more assertive and to overcome the myth that Asian Americans, and especially Asian American women, are not meant to be leaders. 
Finally, Thuy-Tram shares what each of us can do to be better allies to the Asian American Pacific Islander community. 
As Asian Americans or friends and colleagues of Asian Americans we should stand up for anyone, including any MSU student, who is experiencing micro or overt aggressions. One such example is culturally different names, which are often mispronounced, such as my name. Sometimes people choose not to try and pronounce my name, choosing to address me as "You there" or "Hey you." I had a middle school teacher who chose to not use my name for an entire year, and I remember feeling nameless and insignificant. I didn't think anything could be done because I was so used to it. A way to be an ally is to ask, "How do I pronounce your name?" or "Can you tell me about the cultural significance of your name?" A name is not just what you call someone, it is the recognition of that person's culture and identity. 
Another way to be an ally is to provide safety for students and employees to share concerns that may be indirectly associated with their academic programs or jobs. Sometimes people are not comfortable sharing their opinions for improvements, in fear of the possibility of retaliation or unintended consequences in their academic programs, jobs, reputations or status. Many underrepresented or historically marginalized groups are uncomfortable discussing such issues because they may not want to be seen as complaining.  
It is important that at MSU and in our society, we are starting to talk about anti-Asian hate, communicating safe opportunities to share opinions, encouraging those who are willing to report discrimination, and finding ways to stop it. We need to continue these discussions and find ways to solve this critical issue together. Younger Asian Americans have become more comfortable speaking up and standing up for their rights. We need to encourage and celebrate our diverse cultures, rather than allowing the differences to divide us. As Spartans we say, "Together We Will," and together we will have the courage to lead the way. 
Acknowledgments from Thuy-Tram: 
As an Asian American woman, I have learned to step out of my comfort zone and be outspoken. This process has not always been easy since my Vietnamese culture emphasizes respect and harmony, which many people have interpreted as getting along and not speaking up. I wish to recognize several individuals who have mentored and encouraged me to internalize my values and step up to lead. Ironically, they are three non-Asian men, and SHRLR alumni: Dave Lilak, retired HR executive for General Mills, Darryl Robinson, SEVP, Chief Human Resources Officer for CommonSpirit Health, and Scott Trezise, Chief Human Resources Officer for Lumen. They saw a potential in me even when I didn't recognize it, and they have provided valuable guidance for more than a decade. I also wish to recognize two women and SHRLR faculty (also not Asian) and two Asian American Alumni who have stood beside, supported and encouraged me, and who feel like family to me: Professor Stacy Hickox, Dr. Angela Hall, Erica Lee and Anh Bui. Thank you to my family: my husband Rhett and our young daughters; parents, Phuong and Thuy-Lien Nguyen; sisters Kim and Julie, cousin Christine, and their partners, Chris, Miguel, and Jake, for your love and support. I have appreciated the valuable advice and guidance that our faculty, staff, alumni, students, and friends have provided through the years. I am unable to name them all; please know that you are all appreciated.
---
Read more: