Diversity Spotlight: Ernest Wong
May 10, 2021 - Liz Schondelmayer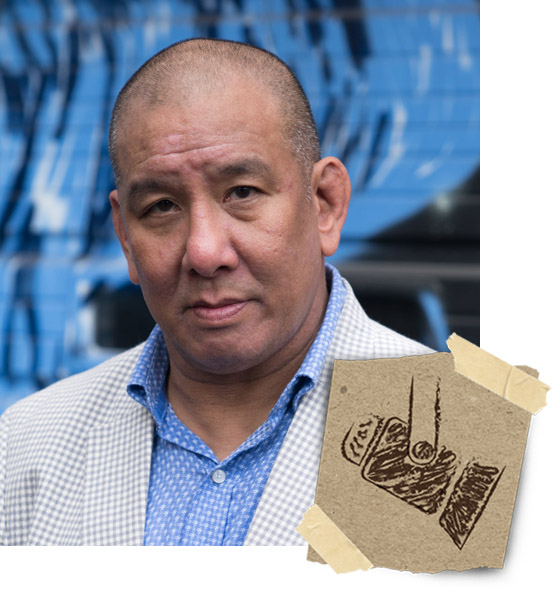 Ernest Wong graduated from Michigan State University in 1985 with a degree in Landscape Architecture. In 1990, Ernest and his business partner started a firm called site design group, ltd. ( site ), which is one of the leading landscape architecture and urban design firms in the United States. With team members from around the globe working on projects from Atlanta to East Lansing to Los Angeles, Ernest and his firm have centralized DEI initiatives to transform spaces and the communities that live in them. 
During his time at MSU, Ernest took time to discover his professional calling. After discovering MSU's landscape architecture program, however, Ernest realized he could forge his passions for nature, design, and helping others into a single career path. 
It took me a long time to finish my program. I actually dropped out after my sophomore year to work in Lansing before coming back to State as an in-state student. I started in the same class as Magic Johnson, but finished with Scott Skiles. When MSU won the 1979 NCAA basketball championship in a game for the ages, that was a huge highlight.
I originally attended Michigan State to go into the Fisheries and Wildlife program because I wanted to be Smokey the Bear. I grew up on the Southside of Chicago, and halfway through high school, a curiosity for trouble led me to the Student Conservation Association (SCA), a national organization that provides wilderness conservation corp work in the National Parks. It was the first time I had ever really been in the wilderness and was a life-changing experience for me.
When I entered MSU, I was excited to start taking classes, but when I took a required statistics course I panicked. Why was I taking a course that had nothing to do with the outdoors? I was told I might be counting fish for the remainder of my life. The realization that I needed a new major quickly dawned on me. My father was an architect, and growing up in his office taught me drafting skills. Landscape architecture became a bridge between a love for nature and a skill set that I had acquired. 
After graduating in 1985, Ernest worked for his father's company before founding his own firm, site design group, ltd. ( site ) in 1990. site began as a Chicago-based firm, and now takes on projects across the United States and globally.
After early years of struggling, we eventually got involved with projects for the City of Chicago. We pioneered a median program for the Department of Transportation that grew throughout the city. We went on to design parks for the Chicago Park District and the firm began to evolve into designing an array of public spaces. In the past decade, the firm has grown and the work has diversified, with a healthy balance of public, private, institutional and development work. Working nationwide as well as a few projects internationally, provides a perspective of the world that defines commonality and kindness amongst people. Our team recognizes that and the ideas that flourish with the diversity of backgrounds provides a creative and innovative approach to problem solving. 
After spending years in the profession, Ernest shares some of his favorite projects, which showcase the positive impact that landscape architecture can have on community quality of life. 
One of my favorite projects is Palmisano Park (Stearns Quarry) in the Bridgeport neighborhood in Chicago. Formerly a limestone quarry, this 27 acre hole in the ground was about three hundred feet deep that the city used as a landfill for years. We turned that into an environmental park with a native prairie, wetland terraces, and even a fishing pond at the lowest point of the site. When visitors enter this park, they have no idea they are in the city of Chicago. It's really an amazing place.
Another project that I'm really excited about is one that we did last summer during the pandemic called the 75th Street Boardwalk. After George Floyd's murder and the civil unrest that followed, we developed the idea to use plywood that businesses had used to board up their stores and repurpose it to build a boardwalk on the southside of Chicago. The surrounding businesses, which were previously struggling to stay open, saw a 30% increase in revenue because of the outdoor dining opportunity. It changed the livelihood of this particular community in a way that most people would never expect. 
Since founding site , Ernest has made diversity, equity, and inclusion central to the work that the firm does every day - and helps other organizations do the same.
My parents were immigrants to this country, and our firm has thirty two people from all over the world, including South Africa, Australia, Asia, Poland, Greece, et cetera. This gives us a really solid mixture of ideas, personalities and experiences, and that diversity of ideas lends itself to a very rigorous and robust practice of landscape architecture. 
In addition to my role at site , I currently serve on seven nonprofit leadership boards and two city commissions. It's pretty crazy. From major corporations to the nonprofit world, every organization is struggling to become more inclusive. So I've been thinking about how we can get people to talk about difficult discussions about race and culture. From a sociological point of view, how do we get over this fear of other people who are different than we are? This is a huge obstacle that people have got to overcome. If we can get over the fear, we will be able to be more honest about our differences. The tough part about DEI is understanding that these are difficult conversations. In the past fifty years no one has wanted to have honest conversation about race. But with these recent events, I think it's an opportune time to have these conversations - even if it means being a little uncomfortable. Those conversations will benefit us all. 
Finally, Ernest discusses how we can all be better allies to the Asian American and Pacific Islander community.
I was at Michigan State University when Vincent Chin was murdered in Detroit in 1982. Chin was a Chinese American who was mistaken for being Japanese. He was beaten to death due the anti-Japanese rhetoric revolving around the changes in Detroit's auto industry at that time. The individuals who perpetrated this crime were acquitted. This incident is a microcosm of Asian-American history. A history that includes the building of America's railroads, the Japanese-American internment camps during WWII, and the current events that are being white-washed from America's history books. Last month, however, the State of Illinois passed a legislative bill that ensures that Asian American history is added to their public school curriculums.
Since the Atlanta shootings, I've reached out to many of the BIPOC (Black, Indigenous, People of Color) organizations that I engage with in my not-for-profit service. Organizations such as Operation PUSH, the Obama Foundation, and the Urban League - and have asked them to stand in solidarity with #StopAsianHate. It is important to gain support WITH other affinity groups to diminish the myth of Asians as "model minorities". The myth that we're all over-achieving, subservient, hypersexualized people who eat weird food. The "model minority" term is simply a LIE to pit other minorities against us, and it's infuriating. I've been advocating for Asian communities to raise our voices a little bit more. Culturally, it goes against our customs which is to stay to ourselves and don't make waves. Apparently that behavior is getting us killed here in America. We need to make our voices heard, and our allies need to amplify them. 
May is Asian American Heritage Month. It's a time to celebrate the different nationalities, customs, traditions and histories of a diverse group of people from Asia who embrace America as their home. Home of the free and the brave. Home of generous and kind people and people who are different then one another. Home at Michigan State University.
---
Read more: