Amanda Guinot Talbot officially named director of the MSU Women's Leadership Institute
January 5, 2022 - Becky Jensen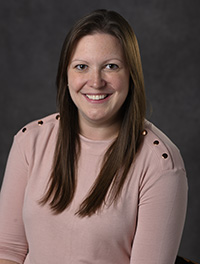 MSU College of Social Science Dean, Mary A. Finn, has appointed Amanda Guinot Talbot, PhD, as Director of the MSU Women's Leadership Institute (WLI). Talbot has been serving as acting director since April 2021.
"Amanda's commitment to equity is outstanding, as made evident by her previous work with undergraduate students engaged with the WLI. We are looking forward to making great strides to foster the next generation of women leaders," said Mary A. Finn, MSU College of Social Science Dean.
"It is an absolute honor to continue to work with the Women's Leadership Institute and the inspirational executive board that supports it. The WLI is a visionary institute with a proven track record of providing applied leadership principles and support to MSU students, connecting students and the campus community with our alumni base, and promoting cutting-edge research. The WLI will continue to provide world-class programming that brings top women leaders in connection with MSU students and deliver meaningful support through student scholarships. At the same time, the WLI looks forward to growth in research generation via our Tomlanovich Equity Research Fund and in-depth leadership training via our undergraduate student cohort program. The mission for the future is clear, continue to ignite women leaders," said Talbot.
In 2019, Talbot was the first recipient of the Mason Soneral Women's Leadership Institute Faculty Fellowship. She also serves as the Director of Undergraduate Education and as an Assistant Professor in Human Development & Family Studies within the College of Social Science at Michigan State University. 
The WLI is a collaborative effort between Michigan State University, alumni, professional women, and current students. WLI has been designed to support and empower women students with leadership aspirations. We ignite women leaders with a vision of advancing leadership equity for women globally through thought leadership, creating a sustainable community, and providing high-quality events and resources for our students, faculty and MSU community.