Diversity Torch: A'Lexus Hunt
June 14, 2022 - Liz Schondelmayer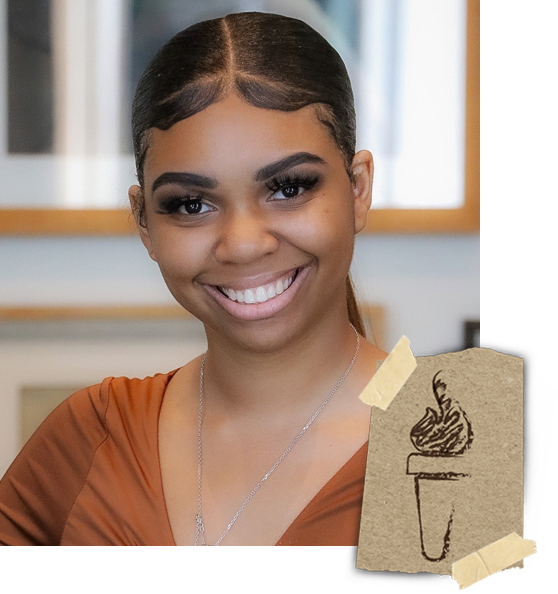 In honor of Juneteenth, the Michigan State University College of Social Science is celebrating our students who are advancing racial equity both in the classroom and across campus. No student exemplifies this work quite like A'Lexus Hunt, a recent social science graduate who is leaving behind a legacy of empowerment and community for Black students at MSU.  
A'Lexus's journey as a student did not exactly follow a "typical" route: after coming to MSU as a freshman in 2016 and then taking a break from school, she returned in 2019 ready to dive deep into her courses, extracurriculars and campus connections. 
"When I arrived on campus in 2016, I really felt like a fish out of water, and so I had a hard time breaking out of my comfort zone and meeting new people besides my two or three friends from high school," A'Lexus explained. "But all of that changed when I came back to MSU two years later. It was a drastic, 180 degree difference. I met new people, started getting involved with different organizations, and was just overall a better student and a better person when I came back."
On campus, A'Lexus served on the executive board of three highly involved student clubs. She served as the treasurer for the Successful Black Women of MSU , an organization committed to uplifting Black women in their academic and professional pursuits through resume workshops, career networking sessions and social events like game nights. A'Lexus was also the treasurer for the MSU Women of Distinction organization, which is another club focused on empowering Black women to pursue their goals both in the class and in their careers. Additionally, A'Lexus also served as the RHA Representative for MSU Black Students' Alliance (Her Favorite) which helped bridge a gap between the Residence Halls Association and BSA. 
Juggling the responsibilities of all her roles wasn't easy, and created a bit of a crash course in time management for A'Lexus. However, with the help of her trusty planner and her personal commitment to the organizations' causes, A'lexus found a way to balance her obligations and excel in each of her pursuits. 
"When I ran for positions on all of the executive boards, I thought I could juggle it all - but I realized quickly that I couldn't. But it was a good challenge, and I was able to develop my time management and leadership skills," A'Lexus reflected. "I learned that balance is key, and that's what I try to tell younger students, especially those coming in from remote learning due to COVID. I also encourage others to get a planner. Mine has been my best friend, I use it every single day to write down everything!" 
"Also don't be afraid to reach out for assistance because closed mouths don't get fed! I have always been the type of person to try to do everything on my own even when it became impossible, but I had to realize asking for help is beneficial and can make you go further in your endeavors."
For A'Lexus, her involvement on campus is not just a way for her to advance equity efforts at MSU - it is also a way for her to continue the inspirational legacy of her trailblazing mother and grandmothers while also serving as a role model to her two younger brothers and younger sister. 
"My mother is the reason I do the things I do - she is such a strong woman in my life and a vessel for support. And even though my grandmothers have both passed away, they are also huge inspirations to me. My siblings also keep me going, because I want to be a role model for them - I want them to see that their sister can go to college, graduate and go to nursing school, and that they achieve their goals as well," said A'Lexus.
Now that A'Lexus has earned her bachelor's degree in Interdisciplinary Studies with a minor in Environmental Health, as well as Health and Society. With that major, A'Lexus was able to take a wide range of courses on a variety of subjects to give her a well-rounded academic experience. For the next step of A'Lexus's journey, she is hoping to pursue a degree in nursing and enter the healthcare field as a registered nurse. 
Juneteenth is a special holiday for A'Lexus, as for her, it highlights not only the liberation of Black Americans, but also the need to acknowledge and uplift Black culture on a much larger national platform. 
"I hate to say it out loud, but a couple of years ago, I didn't know what Juneteenth was. We all know about the emancipation, the civil rights movement and the Civil Rights Act - but Juneteenth never got the same kind of attention," A'Lexus noted. "But to me, it's extremely important because it's a holiday that strictly recognizes the adversity, trials and tribulations that Black people have had to overcome to live their lives the way they wanted to. I hope that, this year, it gets more federal recognition, because its history and meaning is crucial and important."
---
Read more: