Diversity Champion: Dr. Kaston Anderson-Carpenter
June 14, 2022 - Liz Schondelmayer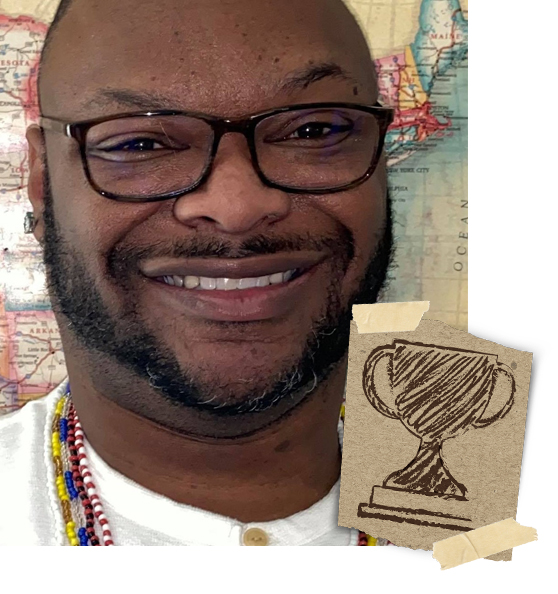 Dr. Kaston Anderson-Carpenter is an assistant professor of psychology at Michigan State University and a member of the Sexual and Gender Minority Health Consortium within the MSU College of Social Science. Joining MSU's faculty in 2016, Anderson-Carpenter has already established himself as an expert on health disparities among marginalized communities. 
Anderson-Carpenter's research focuses on health disparities among marginalized communities, including the LGBTQ+ community and communities of color. As a Black queer man in academia, he knows firsthand how his different identities have shaped his relationships and lived experiences. 
This knowledge informs his research, for which he takes an intentionally intersectional approach when working with members of the communities he's learning about. "One thing I do in my work is connect with community members, leaders and advisory boards as partners–and not merely research participants. From a personal and professional perspective, I want to make sure my work is responsive and sensitive to the needs of the communities I serve . I try my best to ensure their lived experiences are reflected in the work I do–whether research, teaching, or community advocacy. I feel that if I don't take the extra steps to establish trust, it can cause long lasting harm to communities. And to me, that's an ethical violation," said Anderson-Carpenter. 
In 2020, Anderson-Carpenter published a public health framework based on the principles of freedom and justice upheld by the Black Lives Matter movement in the Journal of Racial and Ethnic Health Disparities. "The goal of this project was to provide a framework for developing culturally responsive and relevant interventions to improve health equity for Black Americans," he explained. "It's important to remember that, from an epigenetic perspective, Black people are carrying trauma from generations of racism in our DNA. That has to be addressed in our solutions."
Unfortunately for Anderson-Carpenter, racism has been a part of his reality since childhood. "The first time I was called the 'n' word, I was six years old and in the first grade," he recalled. "I scored better than another kid on a math quiz, and that was his response."
Anderson-Carpenter was born in New Orleans and raised in Norco, Louisiana, less than 5 miles from St. Charles Borromeo Church, where his great great grandmother was sold into slavery to the nearby Destrehan Plantation. Throughout his childhood and K-12 experience, Anderson-Carpenter thrived in advanced classes for gifted students - but experienced racism every step of the way from peers and teachers alike. 
Now in higher education, Anderson-Carpenter still navigates bigotry and bias towards himself and his work due to his race, both from colleagues and community leaders. "I've experienced so much racism as a scholar, I'm used to it," Anderson-Carpenter reflected. "I'm actually surprised when I don't experience micro or macro aggressions."
Despite the obstacles Anderson-Carpenter has had to overcome in his personal and professional life, he has embraced his strength and developed a philosophy of self-love and self-worth - and is empowering others to do the same. 
"The pandemic was a blessing to me because it gave me space to reflect and reassess myself. I spent most of my life diminishing myself to make other people feel comfortable with me, a Black man, being in these academic and community spaces," Anderson-Carpenter said. "It made me realize that nobody can tell me I'm not brilliant and fabulous in every way. I know that I am, and if other people have a problem with that, that's their issue, not mine."
One way Anderson-Carpenter empowers others is through sharing important life lessons with his students, such as: "Choosing yourself is always an option. Protect your peace at all costs. Asking for forgiveness without atonement is manipulation. Not everybody deserves access to you. Lastly, move in silence - not everyone needs to know what you're doing."
For Anderson-Carpenter, the upcoming holiday of Juneteenth is an extremely meaningful holiday centered around observation, contemplation and restoration. "For me, Juneteenth is liberation. I don't celebrate the Fourth of July because my people were not liberated on July 4, 1776. I acknowledge Juneteenth," he explained.
"I'm not one to throw a big party or anything, but it's still a celebration and a day of reflection. I like to spend time with my ancestors and the muertos. But it's really a day of rest. Not just physical rest, but psychological and spiritual rest. It's one that, especially in the past two years, I've taken very seriously. And it's definitely one of my favorite holidays." 
Learn more about Dr. Anderson-Carpenter and his research here.
---
Read more: