Diversity Spotlight: Larry Thompson
June 14, 2022 - Jalen Smith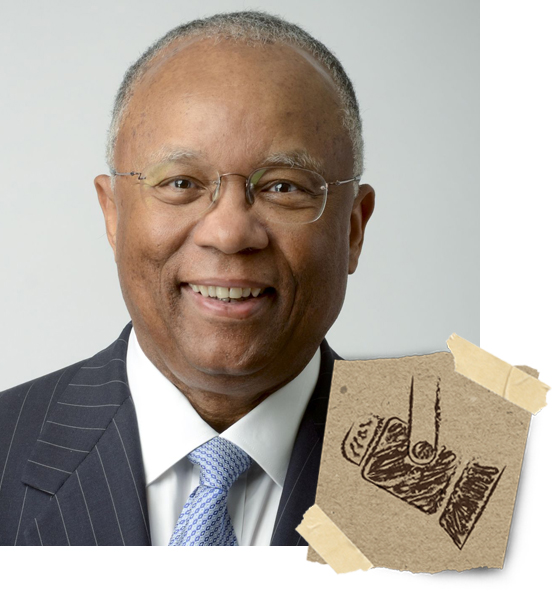 June 19th is Juneteenth, a day commemorating the end of slavery in the United States, on this day in 1865, when federal troops took control of Texas ensuring that all enslaved people were freed. It is also called, Black Independence Day, a day for celebrating African-American culture. 
In recognition of this important day of black liberation and black independence, the Michigan State University College of Social Science recognizes Larry Thompson, an alumnus of our sociology department master's program (1969). Thompson has dedicated a good portion of his career to the advancement of diversity and inclusion initiatives within various sectors of law, government and business. 
Larry Thompson was the former U.S. Deputy Attorney General during part of the George W. Bush administration (2001-2003), the second highest ranking position in the U.S. Department of Justice. In addition, Mr. Thompson also served as U.S. Attorney for the Northern District of Georgia, conducted internal investigations and defended individuals and businesses in government investigations as a partner in a major law firm, and served as General Counsel and Executive Vice President of PepsiCo, Inc. 
As a child of the 1960s, Larry's time at MSU came during the rise of the civil rights movement in the United States. While at MSU, Larry was involved with the Black Student Union where he served as a contributing writer to the State News. 
After his time at MSU, Larry would go on to practice law, a career that has spanned more than four decades and continues to this day. Thompson's career in law and his commitment to Diversity, Equity and Inclusion led PepsiCo to name a fellowship in his honor, the Larry D. Thompson Legacy of Leadership Fellowship . The fellowship was designed to promote diversity in the legal profession and advance PepsiCo's commitment to supporting the development of professionals from diverse backgrounds.  
"Some of the work I have done in my career that I am most proud of is the work that I did in diversity and inclusion at PepsiCo, these Fellows being brought into the law department and government affairs departments are providing a new perspective to the way company officials think about many areas. I believe investing in diversity is not only the right thing to do, it is the smart thing to do." Thompson said. 
While serving as Deputy Attorney General, Thompson led the Justice Department's National Security Corporation Counsel and the Bush Administration's Corporate Fraud Task Force. During his time as Deputy Attorney General, Thompson also actively pushed for diversity and inclusion in the Department of Justice. "[Whether serving as defense counsel or prosecutor] I often did not see many people that looked like me across the table. One of the things I've tried to work on during my career was changing that to ensure all perspectives were heard. That's why when I became Deputy Attorney General, we launched the attorney outreach effort at the Department of Justice, a program which is still in place to this day." said Thompson.  
Thompson's career of service to law certainly has not gone unnoticed. He is a decorated lawyer whose accolades include being named the recipient of the Edmund Jennings Randolph Award for outstanding contributions to the accomplishment of the Department of Justice's mission, Outstanding Litigator Award by the Federal Bar Association, and the A.T. Walden Award for outstanding accomplishments to the legal profession by the Gate City Bar Association, Atlanta, Georgia. In 2017, Mr. Thompson was honored with the first-ever William T. Coleman, Jr. Lifetime Achievement Award by the African-American Managing Partners Network. Mr. Thompson has served on the University of Georgia School of Law's faculty as the holder of the John A. Sibley Chair of Corporate and Business Law. Thompson was also named a Lifetime Achievement Award winner in The National Law Journal Awards 2021.
But despite all of his awards, Thompson says his greatest accomplishment is his service to the people.
"I like being a lawyer. I've now practiced for 49 years and I'm still going. I like solving legal problems. Going back to my days at Michigan State, I appreciate the social sciences. I like helping people. And you can do that as a lawyer. I've had pro bono cases almost every year of my 49-year career practicing law." Thompson said. 
In 2016, Mr. Thompson was named Chairman of the Board of Directors of the Ethics Research Center (ERC), the research arm of the Ethics & Compliance Initiative (ECI).  In 2014, Ethisphere magazine recognized Mr. Thompson by noting that as "the outgoing General Counsel of one of the world's most well-recognized corporations [Thompson] has set the bar high for GC's everywhere. [His] background in both public and private sectors earned him the trust and respect of his peers worldwide as he demonstrated how ethics and integrity are essential components of business success."
Mr. Thompson is a Trustee of the Chautauqua Institution. Chautauqua Institution is a not-for-profit, 750-acre community on Chautauqua Lake in southwestern New York State, where approximately 7,500 persons are in residence on any day during a nine-week season, and a total of more than 100,000 attend scheduled public events. Chautauqua is dedicated to the exploration of the best in human values and the enrichment of life through a program that explores the important religious, social and political issues of our times; stimulates provocative, thoughtful involvement of individuals and families in creative response to such issues; and promotes excellence and creativity in the appreciation, performance and teaching of the arts. Read more about the Chautauqua Institution here.
Thompson also currently sits on the Georgia Historical Society (GHS) Board of Curators. The Society is the premier independent statewide institution responsible for collecting, examining, and teaching Georgia history. GHS houses the oldest and most distinguished collection of materials related exclusively to Georgia history in the nation. Chartered by the Georgia General Assembly in 1839, the Georgia Historical Society is the oldest continuously operated historical society in the South and is an important relic in the history of African Americans in this country as we celebrate Juneteenth. Read more about Larry Thompson and the Georgia Historical Society at: https://georgiahistory.com/about-ghs/board-of-curators/larry-d-thompson/
---
Read more: