Looking Back in Time
College Establishment
From 1906 to 1924, sociology classes were taught in the economics department. In 1924, sociology became its own department. In 1944, the department changed its name to sociology and anthropology. In 1964, the name changed to the sociology department when anthropology separated from it. The sociology department is currently administered by the College of Social Science. 
The Department of Social Science was formed as part of the creation of the Basic College in September 1944. The Basic College became the University College in 1961. In 1980, the University College was ended. Parallel to this Department, the Division of Social Science exited within the College of Science and Arts (1944). This division later became the College of Social Science in 1962.
---
Life in 1962
Life in 1962 was surely a different place to live, both on the MSU campus and nationally. At the time, President John Hannah, one of MSU's most momentous presidents, oversaw the expansion of MSU into the campus it is today. Academically, the Fall semester of 1962 saw the break of the College of Science and Art into three separate colleges: the College of Social Science, Natural Science, and Arts and Letters.
---
---
Enrollment
In 1962, 25,040 people were enrolled in the fall semester.
In the first academic semester that the College of Social Science was established, there were 3,083 undergraduates and graduates enrolled in the department. College of Social Science students made up 10.6% of college enrollment at the time in 1962 and was the third largest college at MSU. In comparison, in the Spring of 2021, there were 6,757 students that comprised 14.2% of enrollment.
---
Student Handbook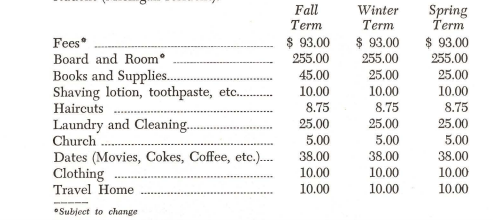 The 1962 student handbook given to students provided directions around campus and what to expect as a MSU student, as this was a time before the internet and social media after all! In the breakdown of costs for students, a budget for 'dates,' including movies, cokes and coffee, encouraged students to save $38 for such events. Tuition and room and board at the time for an in-state freshman, according to the State News, was $371.25, about $3,511.05 in today's dollars!
---
History of Social Science Buildings
Learn about the history of some of the buildings our social scientists occupy.