Outstanding Student Achievement Awards
The College of Social Science Outstanding Student Achievement Awards debuted in 2015, founded by Micaela Procopio and Leigh Rauk, to honor students who would not otherwise be acknowledged for their contributions to the College of Social Science. Awards winners are formally recognized each year.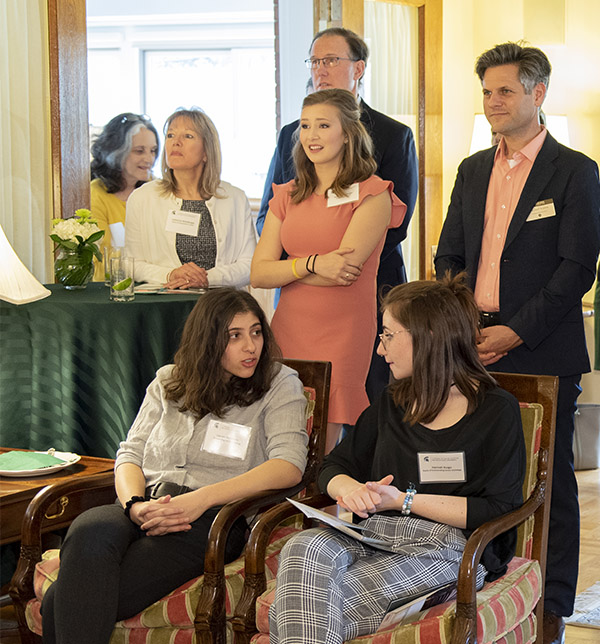 ---
The Awards

Each of the following awards are presented to one student exemplifying the award. A description of each award and the specific application link are below. Students are encouraged to nominate themselves and to share a link to this page with people they feel are good candidates for one of the awards.
All awards have the following common requirements:
Must be pursuing a primary major within the College of Social Science
Maintain a Cumulative GPA at or above 3.25
Must be of junior (56-87 credits) or senior (88 or more credits) standing
Submission of the online application containing a Letter of Motivation, current resume, and contact information for one reference
Award applications are open!! 
IMPORTANT
Deadline for entry is April 5, 2023 by 5:00 pm. Students may only apply for one of the awards per year.
---
Humanitarian Award
Students providing support, aid and action designed to save lives, alleviate suffering and maintain and protect human dignity during and in the aftermath of crises. This impact could be global, regional, or local in nature.
---
Outstanding Leadership Award
Students who demonstrate initiative and leadership towards their peers or within the community. This leadership position should make a positive impact on either the student's personal, professional, or academic environment, or the community as a whole.
---
Undergraduate Research Award
Students demonstrating a drive and passion for furthering research in the fields with the College of Social Science. This research can either be independent research or a continuation of ongoing research. The research must be original and enhance the academic and/or professional future of the student.
---
Get Involved
We invite any interested Social Science student to join a committee. It is a great leadership opportunity and fosters friendships with other students in the College of Social Science - which was our intention for the Outstanding Student Achievement Awards from the start!
If you are interested in joining, you must have a Major in the College of Social Science. Please email the College of Social Science Student Affairs - SSC.AcademicAffairs@msu.edu