Class of 2020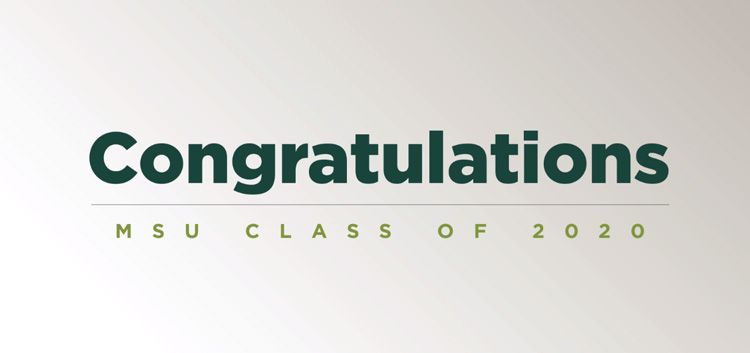 All of us at the College of Social Science want to congratulate the Class of 2020. We are so proud of your accomplishments as your go forth to transform the human experience and inspire leaders. Here you will find inspirational messages from our Interim Dean, students, faculty and alumni.
Leave your own message for the Class of 2020
Mary Finn
Interim Dean Designee, College of Social Science
Harold Henderson
Retired, Executive VP, National Football League, Distinguished Alumni Commencement Speaker
Sarise Hammad
Student Commencement Speaker, Center for Integrative Studies
---
Outstanding Seniors
Clara Devota
Anthropology
Abi Jurrens
Criminal Justice
Sarah Sopocy
Human Resources & Labor Relations
Jonbrielle Gill
Sociology
Mackenzie Sprecher
Social Work
Aman Pannu
Urban & Regional Planning
---
READ MORE ABOUT OUR TOP STUDENTS
---
Social Science Faculty
Erica Frantz
Outstanding Faculty Award, MSU Political Science
Christina DeJong
Teaching Innovation Award (Tenure), MSU Criminal Justice
Hui Liu
Research Award, MSU Sociology 
Cory Smidt
Chair, MSU Political Science
Alan Arbogast
Chair, MSU Geography, Environment and Spacial Science Programs
---
Social Science Alumni
Anthony Ianni
Motivational speaker & former MSU basketball player
Gov. Jim Blanchard
Former MI Governor, Congressman, Ambassador
Spencer Abraham
Chairman & CEO of The Abraham Group
Alejandra Delgado
Director, Ankura, Distinguished Young Alumni
Hon. Wanda Stokes
30th Circuit Court Judge, Ingham County
Paul Pradel
President/Owner of Pradel Financial Group
Christian Schultz
Assistant Chief Litigation Counsel at US Securities and Exchange Commission
Kirstin Minor
Financial Advisor, Merrill Lynch Wealth Management
Mary Tavarozzi
Managing Director, Willis Towers Watson US LLC
Jay Thaker
Master's Student, Distinguished Young Alumni
---
Class of 2020
We want to hear from you!
Have you accepted a job, internship, or graduate school offer? Are you seeking employment, weighing your options, or looking for opportunities to stay connected with the College of Social Science? Take our quick 2-minute survey to let us know about your post-grad plans!