Social Science Scholars Program
The Social Science Scholars Program provides a high investment model of education to the College of Social Science's most able and ambitious students. This genuinely unique initiative is designed for students who are deeply interested in current issues, have a thirst for knowledge, embrace difference, and are concerned for and helpful to others. Our Scholars study in a small cohort, work closely with the program's faculty and staff, carry out exceptional research, receive considerable assistance in finding internships and applying for jobs, graduate schools and competitive scholarships, and engage in meaningful civic activities. Members of the Scholars Program graduate with the skills, education, professional experience, and maturity that set them apart from the overwhelming majority of their peers.
The Scholars have exclusive access to many benefits here at MSU, including:
Small group engagement. Scholars learn with alongside a small group of students with diverse perspectives but a similar drive to learn.

Mentors. Highly successful faculty and alumni serve as mentors to the Scholars. Upperclassmen Scholars also have the opportunity to act as peer mentors for younger cohorts.

Internships. Scholars are set up to secure prestigious internships across the country. 

Student community. Scholars are a highly select and close-knit student community that shares a passion for social and political issues.

Study Abroad. Scholars spend a month learning and researching in the U.K after their first year in the program. 

Research publication. Scholars have a unique opportunity to co-author a book chapter.

Service Learning. Scholars engage in service-focused, community-based learning opportunities.

Scholarships. Scholars can receive scholarships assigned based on ability and financial need, courtesy of generous MSU alumni. 

Professional network. Scholars build strong professional connections through off-campus study, networking opportunities and internship programs.
---
Why do Students, Faculty and Alumni Love the Scholars Program?
Watch the videos below to hear it in their own words. 
Opportunity
Passion
Seminars
Internships
Mentoring
Research
Study Abroad
Service
Commitment
---
placeholder space
---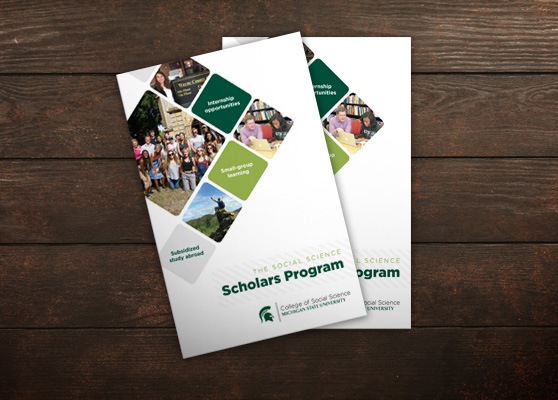 Social Science Scholars Brochure
The Social Science Scholars Program offers select groups of students a world-class education and ideal preparation for rewarding careers. As a member of the Scholars community, you will enjoy close faculty mentorship, the collegiality of small-group learning, the chance to publish your research, and the experience of a prestigious internship and a subsidized study abroad.
---
For more information, contact:
John Waller
Director
Social Science Scholars Program
Berkey Hall
wallerj1@msu.edu
Jenn Arbogast
Academic Specialist
Social Science Scholars Program
Berkey Hall
jennarbo@msu.edu