August 2016
Three Cohorts and Counting
Internships, research and our newest Scholars 
by John Waller, Director
It's my great pleasure to present the summer 2016 newsletter of the Social Science Scholars Program. We had a wonderful study abroad in the UK this summer – more about that in the next newsletter.
Later this month, when we welcome our third cohort to campus, we'll have just fewer than 60 Scholars in the program! Below you'll be able to read about some of the Scholars' internships and research projects as well as a tremendously generous gift from the Gerson family. But first I'd like to highlight a couple of exciting developments. In September we'll be publishing the first of an annual series of Scholars Books comprising the best research of our Scholars, every chapter having passed through rigorous peer review and multiple stages of revision. Available online, the book will showcase the exceptional abilities of our Scholars and the commitment of the university faculty who have mentored them. In September we'll also set up a YouTube site containing the very fine documentaries made by last year's sophomores, 5 to 10 minute programs on topics ranging from MSU's campaign to disinvest in Apartheid South Africa to the problem of student debt, debates about the modern housewife, the history of the war on drugs, and the Christian population of Israel. We'll include a link to this site in the fall semester newsletter.
We're tremendously proud of what our Scholars have achieved so far. Many of them would struggle to afford college, and certainly would not be able to participate in study abroad, were it not for the generosity of our alumni supporters. So I do encourage you to consider helping us to provide the scholarships that make this program affordable to our students. I have no doubt that they will build on their experiences at MSU to become very fine citizens and highly effective in whatever careers they pursue.
posted 7/29/16
---
Inagural Cohort Internships

Calla Michalak
Psychology (minors: Health Promotions and Bioethics, Humanities & Society)
Riobamba, Ecuador
I am working as an intern with the Omar Mosquera Foundation in Riobamba, Ecuador. For the first half of my internship, I have been shadowing various doctors in the Hospital Andino within the city. Most days, I attend patient appointments with some of the medical students from one of the nearby universities. On other days, I am able to observe as the doctors perform various types of procedures and surgeries.
On some weekends, I have gotten the opportunity to volunteer at neighborhood clinics in various parts of Riobamba. At the last clinic, the Foundation provided free basic care to residents of the neighborhood who brought a donation for the victims of the recent earthquakes on the coast. While at these clinics, I am mostly responsible for guiding patients from station to station and running lab results, although one of the medical students did teach me how to prick fingers for glucose testing.
I am spending the last half of my internship working with la Fundacion Hermano Miguel, an organization that provides physical, occupational, and language therapy to underserved populations through Ecuador's Office of Social Inclusion. I work with several physical and occupational therapists who travel into rural mountainous communities to provide care for patients who are unable to travel to the city. While visiting patients, we provide educational tools to help improve hygiene and dietary habits as well as discussing any other issues that have arisen since the last visit.
This internship has provided me with a great opportunity to both enhance my medical knowledge and improve my Spanish skills.
(Photo: Therapists I am shadowing through la Fundacion Hermano Miguel.)
Posted 7/29/16
---
Grace Hough
Economics and Economic Geography (minor: Turkish)
East Lansing Research and Internship
This summer I am focused on three separate projects. Each of which came about indirectly or directly from the Social Science Scholars Program. The first project, with Dr. Elizabeth Mack, I've been working on for approximately 10 months. The second project, with Karen Phillippi, my mentor in the program, I just started. The third, working with Nurten Ural for the Turkish Resource Center of North America, I've been working on off and on for almost two years.
I am part of a team of several undergraduate and graduate students working with Dr. Mack this summer. I began working for Dr. Mack after Jenn Arbogast and her husband, Dr. Alan Arbogast, put me in contact with her. We have been studying the effect of macro, micro, and local trends on spinoff activity and the ways in which entrepreneurial ecosystems may be impacted by various kinds of supports. We hope to publish several white papers before publishing our paper in (hopefully!) Entrepreneurship Theory and Practice. I just returned from Burlington, VT and got the chance to go to Albuquerque, NM about a month ago. While we were there I scheduled interviews with entrepreneurs, economic development officers, and did archival research. I am so grateful to be working with Dr. Mack and will be continuing to work with her during my time at MSU. We hope to travel to Detroit and to Nashville to continue our study.
The second project is one I am very excited to begin under my mentor Karen. We've grown very close and I am ecstatic at the opportunity to continue working with her. The Office for New Americans at the State of Michigan is attempting to identify best practices for adult ESL education nationwide. I will be participating in online research to document programs for the state.
Nurten Ural is the Honorary Secretary General for the Republic of Turkey. I've been honored to work with her these past two years. Although we conduct all of our meetings in English, I have been able to keep up my Turkish in meetings between Turkish and American companies. The goal of the center is to promote business, educational, and cultural collaboration between the two countries. Working with Nurten has given me the ability to develop professional and business skills to supplement the research I have been working on.
I am extremely grateful for the connections the Scholars program has given me and look forward to keeping in touch with the program in the future.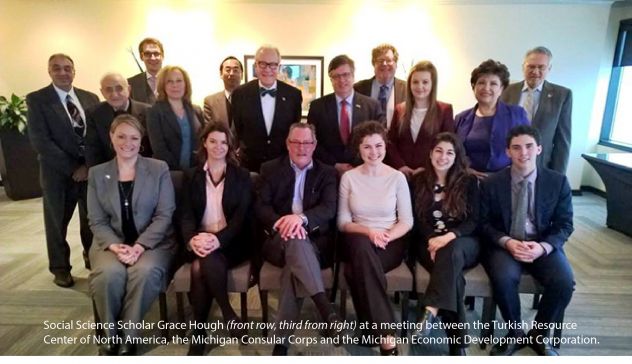 Posted 7/29/16
---
Manny Alalouf
Political Science (Minor: Bioethics, Humanities & Society)
State Capitol, Lansing, MI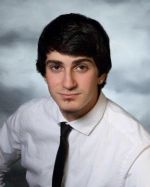 House of Representatives - Throughout the course of the 2015-2016 academic year, I worked as a legislative intern under Michigan State Representative Sheldon Neeley, representing the City of Flint. The experience I gained while working with Representative Neeley has been invaluable. Due to recent events concerning Flint's water source, it was a very hectic time at the capitol. Lead corrosion from the pipes that transport the city's water has contributed to serious health effects for Flint's children. In the last year alone, the proportion of children in the district with dangerously high blood-lead levels has increased by nearly 91%; a number indicative of the potential for a direct increase in brain damage among Flint's youth. I am proud to say that I have been intimately involved not only with evaluating accountability for this disaster, but also in addressing the most practical methods of restoration. Under the guidance of Representative Neeley, I wrote op-eds which cite explicit resolutions enacted by the city-manager in reference to the decisions which led to the use of a highly corrosive water source. Through our efforts and the efforts of other active city officials, the city of Flint has been granted tens of millions in state and Federal aid to help mend consequences of the water-crisis. In addition, I played a role in influencing the representative's health-policy decisions, as a research assistant in health outcomes related to environmental lead exposure, including but not limited to suggested screening, testing, and filtering procedures promoted by the office of the Representative.
Senate Policy Intern - Throughout the course of the 2016 spring semester I worked in the Senate's Democratic Research & Policy Division for Senate Minority Leader Jim Ananich. With this position I was responsible for conducting research on current legislation and drafting comprehensive legislative analysis in order to adequately inform the senators of the democratic caucus. My research was localized within health policy. I produced analysis on legislation relating to a broad range of state-level healthcare legislation. One bill included policy that would increase the availability of opioid antagonists (such as Naloxone) to those prone to drug abuse, without the requirement of a prescription. Additionally, I conducted research on the ability of pharmacists to dispense interchangeable biologics to those who are unable to afford brand name pharmaceuticals which are legally mandated to be prescribed at present. Furthermore, I assisted in presenting research opposing current legislation banning all funding to advertise for Health Michigan Medicaid Program. These are just some of the many projects I was involved with during my position in the Central Democratic Staff for the State of Michigan, and they helped contribute to an altogether immensely worthwhile experience.
Posted 7/29/16 
---
Mark Zuccaro
Political Science (pre-law), Criminal Justice and Spanish
Macomb County Prosecutor's Office, Macomb County, MI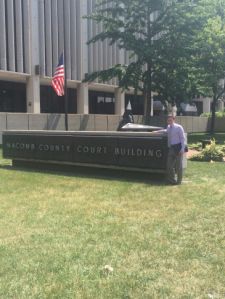 My internship at the Macomb County Prosecutor's Office has been incredibly helpful to my education as a Criminal Justice and Pre-Law undergraduate student. Learning about the steps of the criminal justice system in the classroom is one thing, but to watch how they work in the real world is a truly essential part of the curriculum. I have been lucky to do more than just shadowing prosecutors and judges. I have been given various tasks such as preparing files and logging them on to the system's database. 

While this routine has helped me gain great practical experience, the internship as a whole has taught me a lot about myself and how I want to serve my community in the future. After being there for months, I have realized that drug rehabilitation and offender reintegration programs are absolutely critical for the success of a criminal justice system. I am grateful that the office allowed me to observe and work there because it has truly been a learning experience, both academically and personally.
Most of my days were split between actual work and simply observing different people while they performed their daily routine. My main job was to help with the creation, preparation, and logging of files. My task was to label new files with the names of the defendants, their charges, and the court in which their case was being handled. Even though this task seems menial, the records at this government institution need to be perfectly ordered, and I was a bit nervous at first. My next duty was to input important information of the case into the files-- the police report, the witnesses, the warrants, etc. I learned a lot from skimming through these files and binding them together. Finally, I logged the information onto their database, and then stored the physical file in its proper place. I helped with filing in many different departments; the busiest one was paternity court. I was surprised at all of the paperwork in that department. I was also lucky to help Chief of Homicides, Bill Cataldo, with a small project in which another intern and I organized a vast amount of paperwork for a high profile murder case in Macomb County. 

I was lucky to be given the opportunity to shadow anyone or attend any court that I wanted. For example, I was able to sit in the plea rooms where the general public is not able to observe. I learned a lot from the prosecutors and defense attorneys, and they were more than happy to answer all of my questions. My favorite person to shadow was Judge Stone and assistant prosecutor Marion Briske. These two would handle juvenile cases -- Judge Stone being the referee. I value the work they do and hope to follow in their footsteps.

Posted 7/29/16

---
Tristyn Walton
Interdisciplinary Studies and Political Science (Minors: Peace & Justice and Bioethics, Humanities & Society)
Bedrock Real Estate
Detroit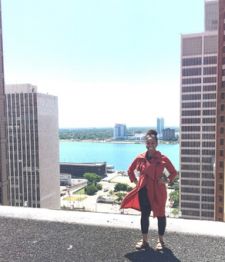 This summer I am interning for Bedrock Real Estate's property management team. Bedrock Detroit is a full service commercial real estate firm based in downtown Detroit specializing in the strategic redevelopment of mid-west urban cores. Bedrock is the largest real estate partner in downtown Detroit with a portfolio of more than 90 properties totaling over 15 million square feet. Bedrock is also a part of Dan Gilbert's Quicken Loans family of companies. This summer I've been assigned at the Chase Building working closely with the buildings Property Manager to make sure the building is running smoothly at all times and further contributing to the positive redevelopment going on in Detroit's downtown.
Usually as soon as I clock in I jump right into my intern project which consists of putting together 14 separate books for the TOBY Awards. Every Year the BOMA association awards one building in Detroit with the TOBY (or the Building of the Year) Award. The binders must include building specific information like the electrical systems, the engineering guide, the equipment life cycles, OHSA procedures, programs contributing to the development of the community and more. This is a detailed, elaborate and time-consuming project that should last until the internship is complete, so I work on it throughout the day. Around 10 or 11am I walk around all 14 floors on both the South and North side of the Chase Tower to make sure that everything is running smoothly. I usually take lunch from one to two, and once I come back I do a thorough walk through again. On a busy day, I'm usually running around with my boss meeting with tenants and vendors and walking from building to building around the Downtown Detroit area throughout the day. I generally work until 5pm, or 6 if I want overtime. Whenever it is a slow day in the office I have my project to work on and keep me busy.

Posted 7/29/16
---
Jennifer O'Connor
Psychology (Minors: Health Promotions and Bioethics, Humanities & Society)
Honolulu, Hawaii
The MSU Study Away Internship Program has been a wonderful experience. The program began with a "cultural integration" week on the Big Island of Hawai'i. During our time on the Big Island, we were taken in by a Halau (or a Hula school), and became a part of their family. They showed us around every coast of the island, taught us about the Hawaiian rituals and culture, and even let us participate in spiritual activities. We learned to hula and danced in front of a couple hundred people with the rest of the Halau. The most incredible experience was hiking up to the top of an active volcano at night.
As for my internship, I am working and living in Honolulu, which embodies an entirely different side of Hawaiian life. It is often compared to the "Hong Kong" of the islands because of its urbanization and fast pace lifestyle. A typical day as an intern at the Kaimuki- Wai'alae YMCA begins with traveling to a different day camp site to assist with summer programs. After I check into the branch, I walk to Kahala Elementary school to work as a group leader for a first grade group. They often take field trips such as visiting the USS Arizona Memorial, the Polynesian Cultural Center, Waikiki Aquarium, and the Honolulu Museum of Art. For my actual project, I am planning a week of 12 hour days for the YMCA's summer extension weeks. This program exists for the students who go to private school and do not begin school on August 1st like the rest of the public schools. I am in charge of coordinating field trips, calculating the budget for the weeks, communicating with group leaders and entertaining 50+ kids a day.
Everyone that we have encountered on the islands has been so incredibly genuine and will go out of their way to help us (giving us rides, showing us around the island, making sure we don't get lost, treating us to dinner). The more I learn about the Hawaiian culture, the more I want to be a part of it. I will forever remember the monumental impact that the Hawaiian culture has left upon me. This experience has been such a gift, and I couldn't be more grateful to have been a part of it.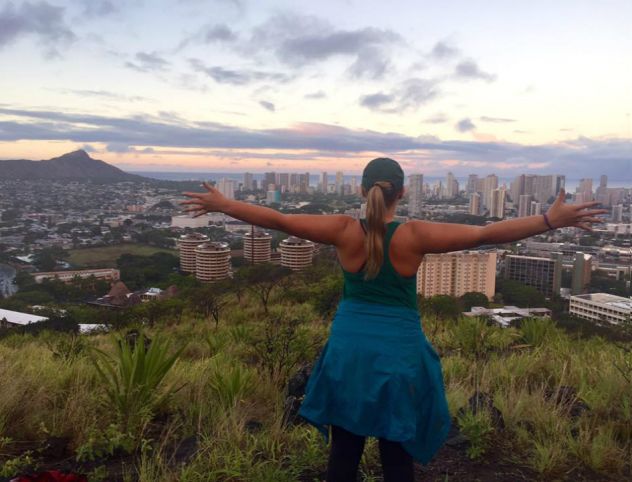 Posted 7/29/16


---
Elias Kokaly
Political Science/World Politics (Minor: Bioethics,Humanities & Society)
Carol O' Cleireacain, PhD, Deputy Mayor
Detroit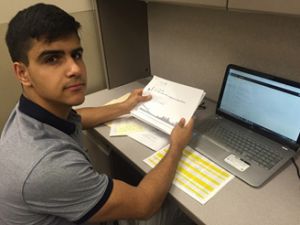 This summer, I'm interning under Carol O' Cleireacain, PhD, Deputy Mayor for Economic Policy, Planning & Strategy in the City of Detroit. I gather and analyze data related to the city's finances, demographics, and economic trends. Moreover, I will produce research and draft memoranda related to best practices in infrastructure planning as well as evaluating economic incentive and a number of areas of City Services. Finally, I am working to support the OCFO and the city's departments to create a Ten Year Capital Plan for investing in Detroit's Infrastructure. So far, we have done a lot of the skeletal work for this project as we wait on the agencies throughout the city to send in their capital assets information. As a part of the Technical Review team, we have to analyze the information and help make sure the agencies provide all the information that is needed from them.
Posted 7/29/16
---
Julie Vernon
Sociology and Chemistry
State Capitol, Lansing, MI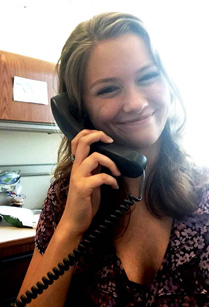 Working in Michigan's Capitol is surreal. As a legislative intern for the office of Senator Patrick Colbeck, I am able to experience first-hand the fast-paced environment of Senate sessions and the intense contemplation in committee meetings. Much of my job is assisting in organizing events--we held a Veteran's Day Memorial Service during session on May 26, and I worked on a project with the in-district constituent relations director for the Fourth of July parades. I compose portions of the Senator's weekly updates, monitor his schedule, and write tributes for in-district accomplishments, as well as work with the Constituent Director on constituent concerns. I have the opportunity to network with State of Michigan officials every day, and have been given an inside look on the issues confronting Michigan and the differing ways to approach their solution. This was a rowdy end of session for the summer, involving LGBTQ regulations in elementary schools, DPS school funding, and the Flint water crisis management, and it is a privilege to serve Senator Colbeck and my home, the Seventh District, during this tumultuous time.
Posted 7/29/16
---
Rylee Brower
Psychology (Minors: Cognitive Science and Educational Studies)
East Lansing, MI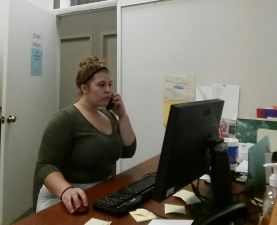 This summer, I have been interning at a local psychologist's office and therapy center. The office also performs and scores psychological tests which includes carrying out ADHD testing and completing personality inventories and depression scales. As an intern, I manage the front office, taking phone calls, performing intakes for new clients, scheduling appointments, and filing insurance information. I will also be learning more about the psychological testing alongside the center's testing analyst. My aspiration is to become a licensed clinical psychologist myself, so it's been incredibly helpful to get an inside look at the business end of things: insurance, client management, billing, and payments. It has also been a pleasure speaking with practicing therapists every day. They've given me advice about how to proceed in my education, stories about their own time in school, and encouragement to continue on with my career path. Although it will be awhile before I'm qualified enough to be in a room with clients discussing their problems, I'm learning so much about the entirety of what it takes to be a therapist and the positive impact a person can have on the lives of others.
Posted 7/29/16
---
Erik Rose
History
H-Net
East Lansing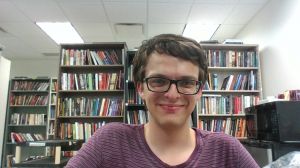 I am currently working as an intern for H-Net: Humanities and Social Sciences Online, headquartered at MSU. As the digital humanities intern, I help maintain the website and manage the different networks we host. I am also in charge of creating a new undergraduate network for H-Net, which will be up and running by the fall. At H-Net, I am able to combine my love of the social sciences and humanities along with my interest in the ever expanding digital world. 
Posted 7/29/16
---
Emily Scheitz
Psychology
Angel House, Lansing, MI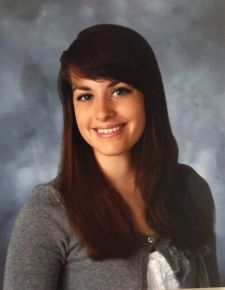 Angel House is a residential home for at-risk teen mothers and their children, under child and family charities. I work as an intern under the co-director. In general, I assist her in advocating for residents and direct care as well as shadowing her in order to learn what her job entails. My duties include adding up resident's allowances, filling out paperwork, transporting residents to various places, and working one on one with the residents and their children. Some days are out "on the floor" watching children and interacting with the residents, and on others I am "in the back" or in an office doing paperwork and other tasks. I also attend court hearings with the residents, as well as meeting with their social workers, as all residents are somehow involved in the court system.
Posted 7/29/16
---
Gerson gift helps Scholars with an important issue
by Crystal King, Social Science Scholar, 2015 Cohort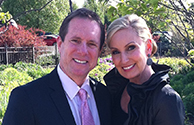 This spring, Barb and Mark Gerson made a tremendously generous gift to MSU in support of the Social Science Scholars Program in the form of funding for the MSU Psychological Clinic. As a result, the Clinic, which is operated by the Department of Psychology within the College of Social Science, will now be able to enhance services so that each member of the Scholars program can receive therapeutic and counseling services when needed. The Gersons – Barb is an MSU alumna and Mark a loyal Spartan as well – have already supported the Social Science Scholars Program with gifts in the past, but this latest contribution will address a very important issue.
Given how many students experience short- or long-term emotional difficulties at college, having trained professionals willing to assist us in tackling personal issues as well as helping us to access other supports will be an invaluable addition to the Scholars Program. As university students, we face many challenges that can impair our wellbeing and our capacity to perform to a high standard in our classes. Being able to speak with a qualified professional at an early stage is obviously important but not always possible given the pressure on the counseling center. The Gerson gift provides Scholars with the right kind of support if and when they need it. This donation is also significant because it recognizes the need for greater funding of mental health services on university campuses.
In this respect the Gerson gift complements the research that I have been conducting with four other Scholars, Iris Robare, Annie Brandicourt, Michael Marchiori, and Amber Anderson. Our research is about the mental health services currently available to MSU students – and other students across the nation – and the kinds of change that would most benefit those facing mental health issues. We want mental health resources to be accessible to all in need at each university and for those resources to be adequate and beneficial. To this end, we hope that our research sparks interest that leads to action in bettering mental health services for university students. The topic of mental illness is not spoken of enough on our campus and this can leave students with these issues feeling ashamed and reluctant to address the problems they face. Students often do not know where to go to make use of university services and so they go without needed assistance. We believe that research into where the gaps lie is important and overdue.
The Gerson gift will make a substantial difference to the members of our program and to the research we are carrying out, and it will serve the important function of drawing attention to a pervasive shortfall in mental health services. We are extremely grateful to the Gerson family for their humanity and generosity.
posted 7/29/16
---
2015 Cohort Research, Internships, Presentations and Conferences
Teresa Azzam
 


World Politics (Minors: Spanish, Sociology, Latin & Caribbean Studies, and Global Studies)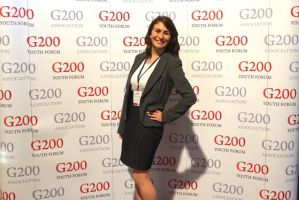 I am a junior member of the Social Science Scholars Program majoring in Political Science – World Politics. This year, I was fortunate to be chosen by the Honors College to represent not only MSU, but the USA in the G200 Youth Forum. This forum (formally known as G8 and G20) had more than 500 participating students representing 200 countries. The topics of the forum consisted of issues including global health, labor markets, technological challenges, environmental issues, and global economics. I participated in the New Approaches to the Financial Sector and Global Economy topic. Student representatives from about 10 countries were in my committee. Together, we debated on what we felt were the most important items to address and came up with a communique of policy suggestions. This experience really broadened my perspective on world politics. It is one thing to sit in class and be lectured on the politics of another country, but hearing about it from people who live, work and study in those countries is a completely different experience. I learned just how difficult it is to come up with policies that satisfy all countries, and although not everyone will be happy, there must be compromise. Aside from the debate work that was done, I was able to interact with students from other countries on a more social level which helped me see just how similar people really are. It was amazing how many things people agree on regardless of what type of political or government background they come from and on the flip side, it was interesting to see what types of things people disagree on. Overall, this was one of the best experiences of my undergraduate education at MSU thus far. I am so thankful to have been given this opportunity and I hope more MSU students will be able to partake in this amazing event.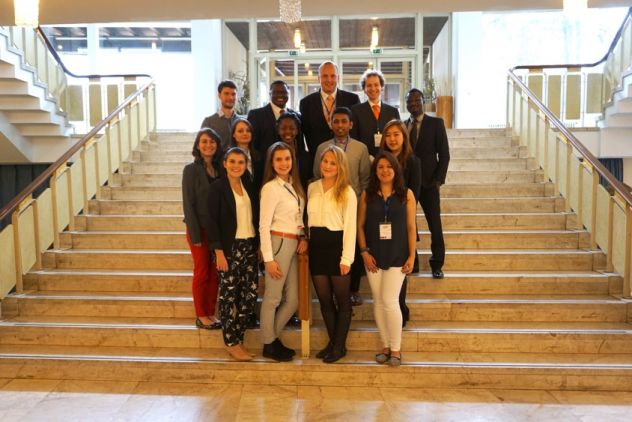 posted 7/29/16 
---
Iris Robare
Political Science – Public Policy
Research and Internship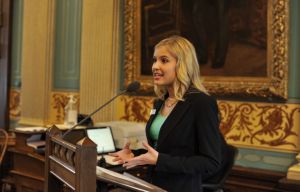 This semester, I have been working as a research assistant at the Institute for Public Policy and Social Research (IPPSR). I have been focusing on mental health policy. I am currently examining Medicaid and the ways in which states adopt and implement Medicaid policies. I am excited to have the chance to utilize my research as a stakeholder in the behavioral health section 298 workgroup.
The behavioral health section 298 workgroup is a workgroup launched by Lieutenant Governor Calley that will focus on ways to achieve a coordinated system of supports and services for persons with developmental disabilities, substance use disorders, mental illness, and physical health needs. The workgroup is examining ways to maximize the percent of invested resources reaching direct services in addition to providing the highest quality of care and positive outcomes for each individual in need of services.
So far as a member, I established a concentration on higher education and campus community as a core value in this workgroup. As the youngest member of this workgroup, I hope to remind stakeholders to consider demographics such as age and the needs of the younger population. The workgroup has also spent a bit of time discussing the stigma of mental health. I made a recommendation that information distribution become a key focus of the workgroup. Ensuring that individuals have easy-to-access information listing all available services to them will ensure that Michigan citizens get the help that they need. Also, I am researching and comparing mental health service utilization. It is my goal that by examining where individuals seek and receive services in Medicaid and non-Medicaid states, I will be able to discover the approaches that are working and those that are not. Locating this information will help Michigan assess which policies to avoid and which improvements to consider.
I am also continuing to intern at Senator Casperson's office.  As an intern, I have been able to research and compare policy, assist with constituent cases, and work on the campaign.  I am pleased with the knowledge I have received with this position and plan to continue this internship into my fall 2016 semester.
I will be ending my term as a 2015-2016 member of the Michigan AAUW Student Advisory council this spring.  As a Student Advisor, I have been able to recruit young women to join the AAUW organization and I have been able to present at the Annual State Leadership Conference.  I was invited to continue my position into next year, but due to my work load, I will have to leave my post for a year and will return for the 2017 year as a Student Advisor.  When I return to this role in Fall 2017, it is my goal to start an AAUW chapter at MSU.
posted 7/29/16 
---
Crystal King
Economic Geography and Actuarial Science
UURAF Presentation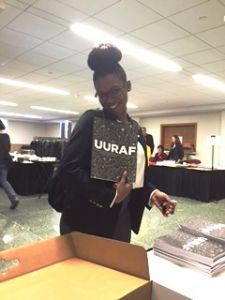 My undergraduate research focused on my personal experiences as an African American student, and the only African American student travelling to South Africa and Cuba through Michigan State University's Freshman Seminar Abroad Programs. My intentions were to provide insight into the ways that race affected my life daily on these study abroad excursions, as well as to suggest ways that MSU can improve its programs to better serve African American and other minority students in the future.
While abroad, I experienced onlyness and microaggressions, faced the trauma of slavery, and witnessed cultural appropriation by my peers. I had to balance the emotional burden of navigating racially politicized spaces (South Africa and Cuba) without the company of other African American peers, while dealing with daily insults to those of African descent by my peers and the societies around us. I was affected every day and this made me feel as if I could not connect to my peers because they did not understand. For example, our discussions about Apartheid in South Africa constantly reminded me of the struggles of the civil rights era. Having an emotional connection to the struggles of minorities due to racism made it hard for me to connect with my peers who have never faced this challenge. While in Cuba, I noticed things I considered to be racism, like fewer darker skinned Cubans working in tourist restaurants or as tour guides. This was another thing shrugged-off by my peers, yet uncomfortable for me.
This was a result of non-positive group dynamics, incomplete preparation to enter culturally diverse and historically different countries, and being the only African American student traveling to countries with histories of slavery and racism. To address some of these issues, the University could implement programs where ethnically diverse students who have travelled abroad serve as mentors for those planning to do so. The University could also publish and distribute resources to minority students on problems they may face as well as establish cultural sensitivity training for all students travelling.
Overall, although I faced challenges during my travels, I was able to still enjoy these opportunities the best I could. However, experiences like mine are real and could very easily be detrimental to a student's study abroad experience. A student may not want to participate in any more study abroad programs, or travel again at all, after being affected by racism outside of the US, where they may be affected by it every day already. A student may also become more anti-social after feeling like other students do not care about them or things that affect them.
 posted 7/29/16
---
Harris Bunker
Economics
Hannah Jones
Political Science
Ryan Panczak
Economics (Minor: Mathematics)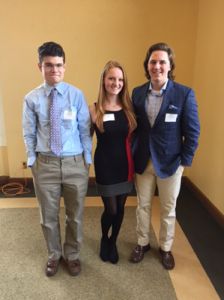 Our group's research is focused on capital taxation, specifically whether capital income taxes are as progressive as taxes on labor income. Our research suggests that capital taxes are not as progressive. We offer reasons why this could be true, in addition to policy recommendations to increase progressivity. We also offer some policy recommendations and offer counterexamples to claims that taxes are too high or distortionary.
In addition, we are researching public opinions on capital taxation, specifically if people express policy preferences that are within their best financial interests. To do this we compared responses to tax surveys at different income percentiles. Our research suggests that people often to do not show preferences in their best interests and offers reasons why this could be true.
The UURAF was a wonderful opportunity to present our project. During the competition, we gave a ten-minute oral presentation explaining our research process and our findings. We spent the week prior preparing for UURAF by combining our separate aspects of our research into one cohesive PowerPoint and script. Although we did not win our section of the competition, presenting in UURAF was vital in organizing our research for our upcoming book chapter. We look forward to presenting our final research at next year's UURAF.
posted 7/29/16
---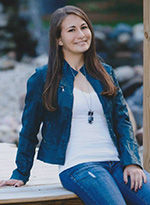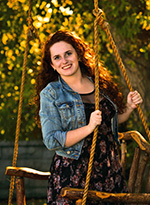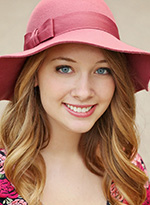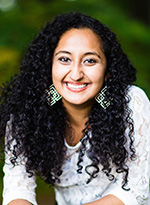 Teresa Azzam
 


World Politics (Minors: Spanish, Sociology, Latin & Caribbean Studies, and Global Studies)
Kristen Gennety
Social Work (Minor: Peace & Justice)
Megan Jursch
Psychology and Women & Gender Studies
Suhana Posani
Anthropology and Neuroscience (Minors: Health Promotions & Bioethics and Peace & Justice)

The topic for our group's research project is attitudes and views towards refugees. The idea for this project was sparked by the recent Syrian crisis and the attitudes toward it found over the internet and throughout the nation. There are extremely negative views towards people simply in need of help, which has been a problem throughout history. People seem to be misinformed about various things related to refugees whether it be the vetting process or where most refugees go. Others tend to demonize the group and forget they are people facing a terrible crisis. What we want to try to find out is the best way to change perceptions toward migrant groups, focusing on Syrian refugees. If we can find the best way to change people's negative views toward this group of people, through fact or by humanization via storytelling, we can apply this to real life situations. By determining the best was to change negative perceptions, we can hopefully apply this to altering the negative stigma against refugees and other migrant groups.
The main method we will use to test these negative views towards refugees is a survey given to a large group students. This survey will include questions that assess people's stance on refugees and how they believe the refugee crisis will affect them. This survey will test a few different things. First, it will test how different types of information about refugees contribute to changes in people's attitudes about refugees. One group will be the control group, which will not have any exposure to information about refugees, and will instead just take a pre and post-test. The second group will only be exposed to strictly data based information, such as graphs and statistics about refugees. The third group will be given emotion based information, such as refugee stories and pictures from Humans of New York, which were stories created to help humanize refugees. All of these groups will be given a pre and post-test.
Based on our findings we will research and write about how different ways information is presented can affect the way people perceive that information and if that changes their views. If we find that there are meaningful and long-term ways to effectively change people's views towards different social issues, specifically views towards refugees.