May 2023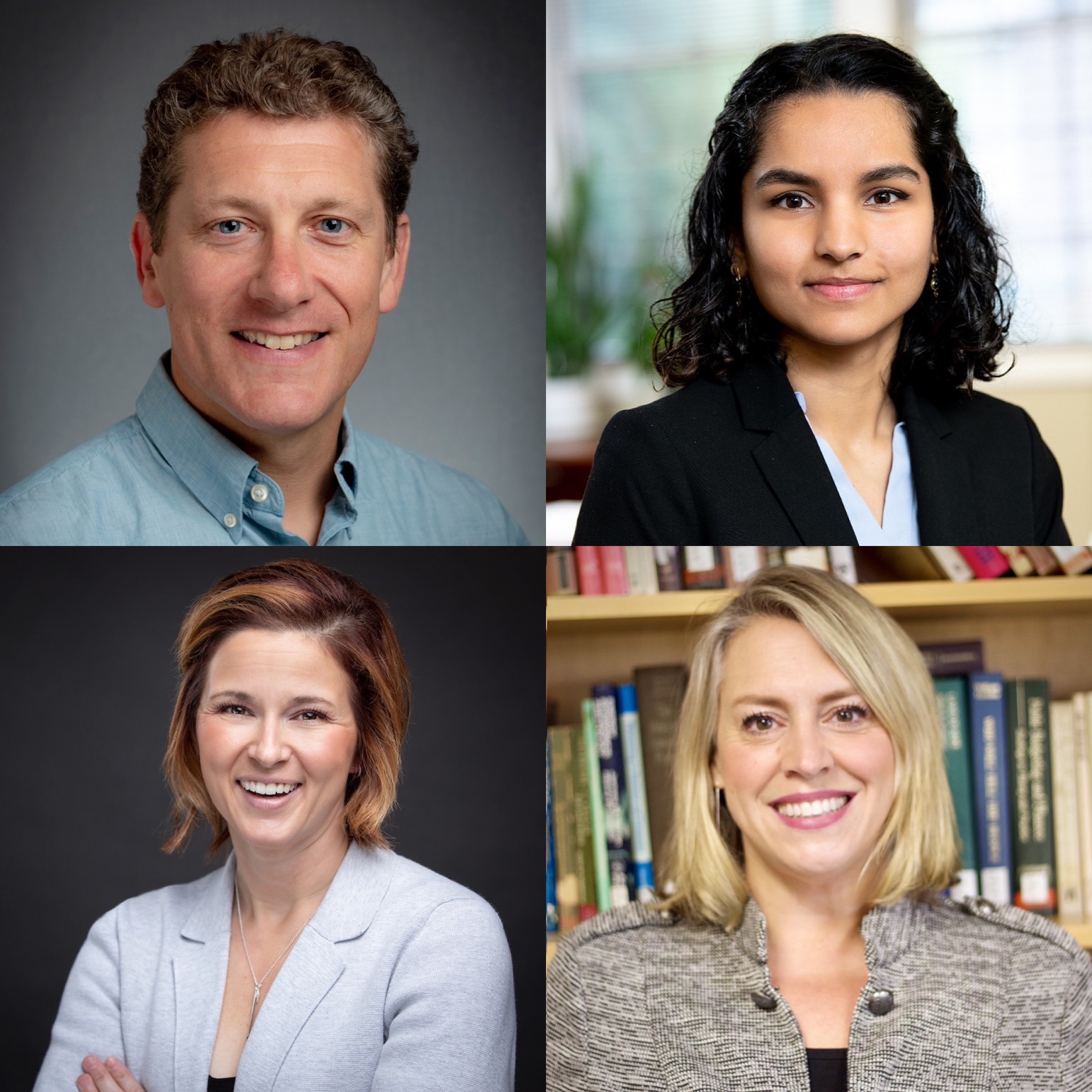 One event has naturally overshadowed this spring semester. On February 13, several Scholars had to barricade themselves into 307 Berkey Hall for several hours while more hid in closets in nearby dorms, having pressed beds and cabinets against their doors. Our most enduring memory of the days that followed is of the speed and compassion with which people stepped in to help. Tim Mason and Christine Mason Soneral, the father and aunt of one of our current students, scooped up those most directly affected and took care of them for several days. Christine, and her work colleagues, then arranged a dinner at Coral Gables for all the Scholars to relax and reconnect. Emily Scheitz, an alumna of the Scholars Program trained in trauma intervention, also Zoomed in to provide support and guidance to those who were most at risk during the shootings. And dozens of Scholar alumni came together to raise about $1,500 for gift cards for current members of the program. We are profoundly grateful to everyone for their kindness. Looking to the future, for those students who wish to have ongoing support, we're able to refer them to the Gerson Mental Health Initiative, a special program created by Barbara and Mark Gerson in collaboration with the Department of Psychology, which provides access to therapy to Scholars, referrals to other services, and more general education in stress management. Thank you all!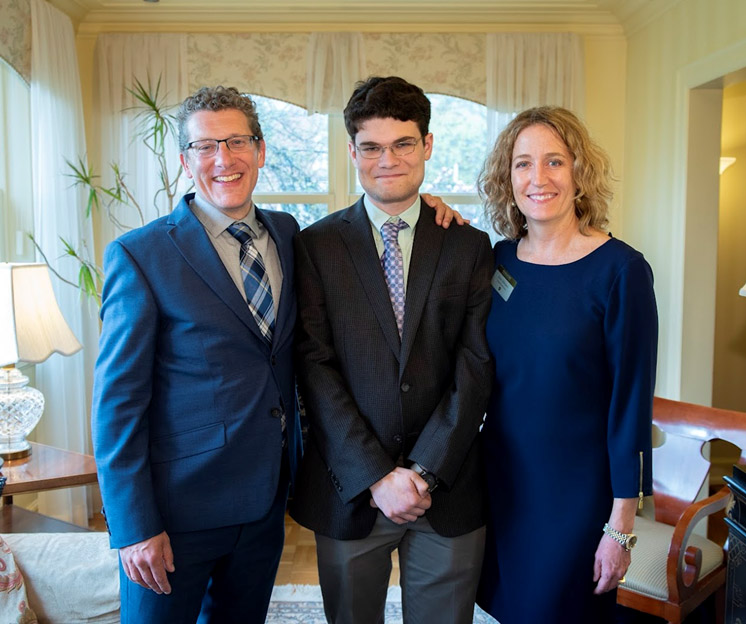 Before providing some updates on the Scholars Program, I'd like to remind everyone of a very special scholarship for which we're fundraising. It has been created in recognition of a deeply-cherished Scholar, Harris Bunker (pictured), who passed away in October 2021 from a rare illness. When we reach the funding target of $50,000, we will be able to continue his legacy and honor his memory by awarding a Scholarship to students who exemplify what is unforgettable about Harris: his passion for Economics and his generosity in helping others. You can read more about Harris here. If you would like to donate to the Harris Bunker memorial scholarship, please click on this link or contact Alexandra Tripp (actripp@msu.edu). We are grateful for any amount, large or small. Thank you so much. 
---
Notwithstanding the tragedy of February, the last year has brought many positive achievements. Here are a few of the most exceptional: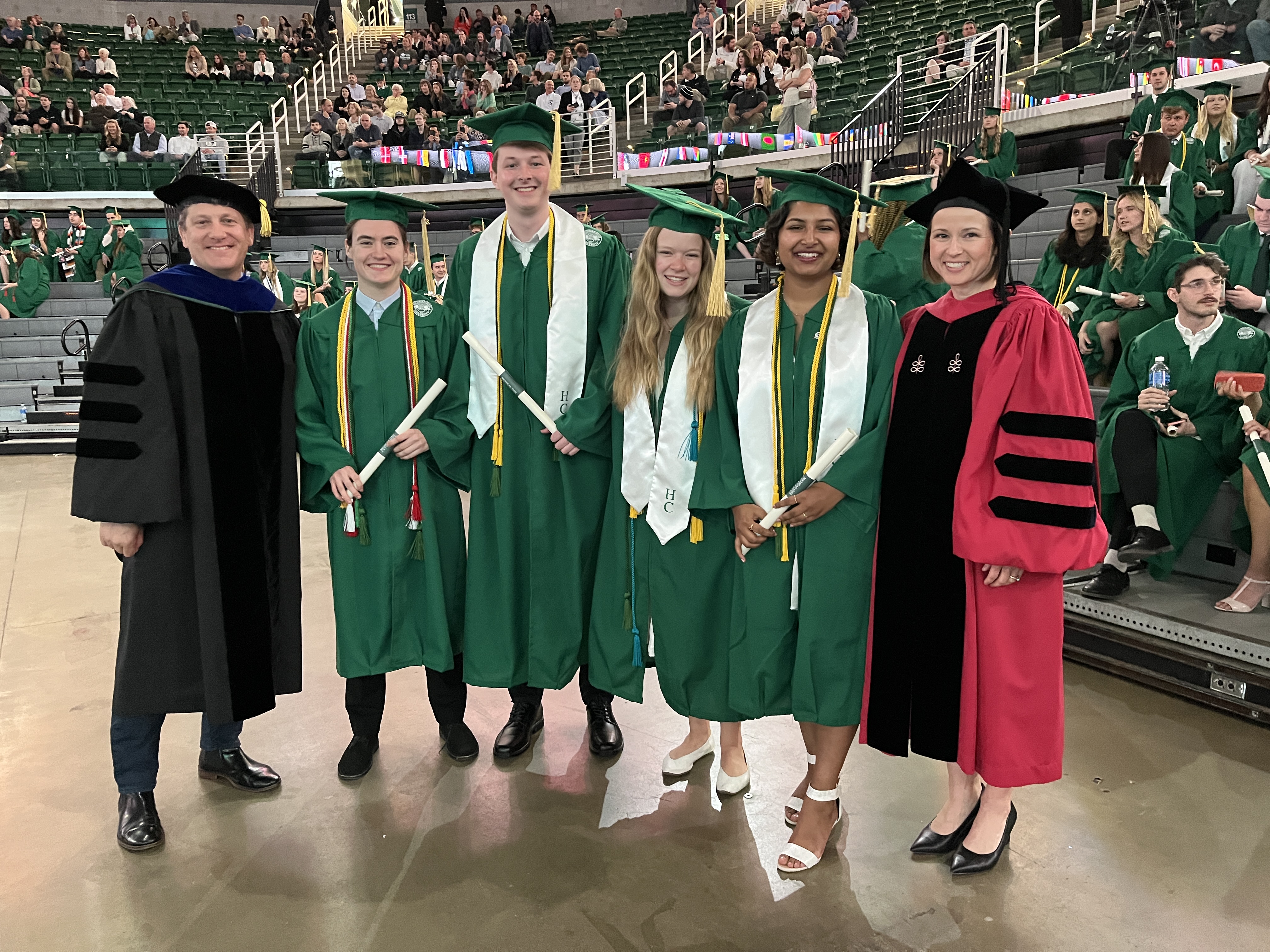 Dr. Heather McCauley at the College of Social Science graduation ceremony at the Breslin Center, May 2023. She is standing alongside (right to left) Ovya Venkat, Carrie Nielsen, Thomas Crain, Sophie Alegi, and John Waller. 
Many congratulations to Dr. Heather McCauley, recipient of this year's Outstanding Faculty Award from the College of Social Science. Dr. McCauley, Associate Professor in the School of Social Work, teaches one of our Scholars classes and advises on multiple student research projects. A dedicated teacher, she is also a fine researcher whose work focuses on finding ways to reduce violence. The best kind of activist academic, she is engaged in the development of violence prevention initiatives among the inmates of Rikers Island in New York City and, as a founding member of Spark 4 Change, in Michigan schools.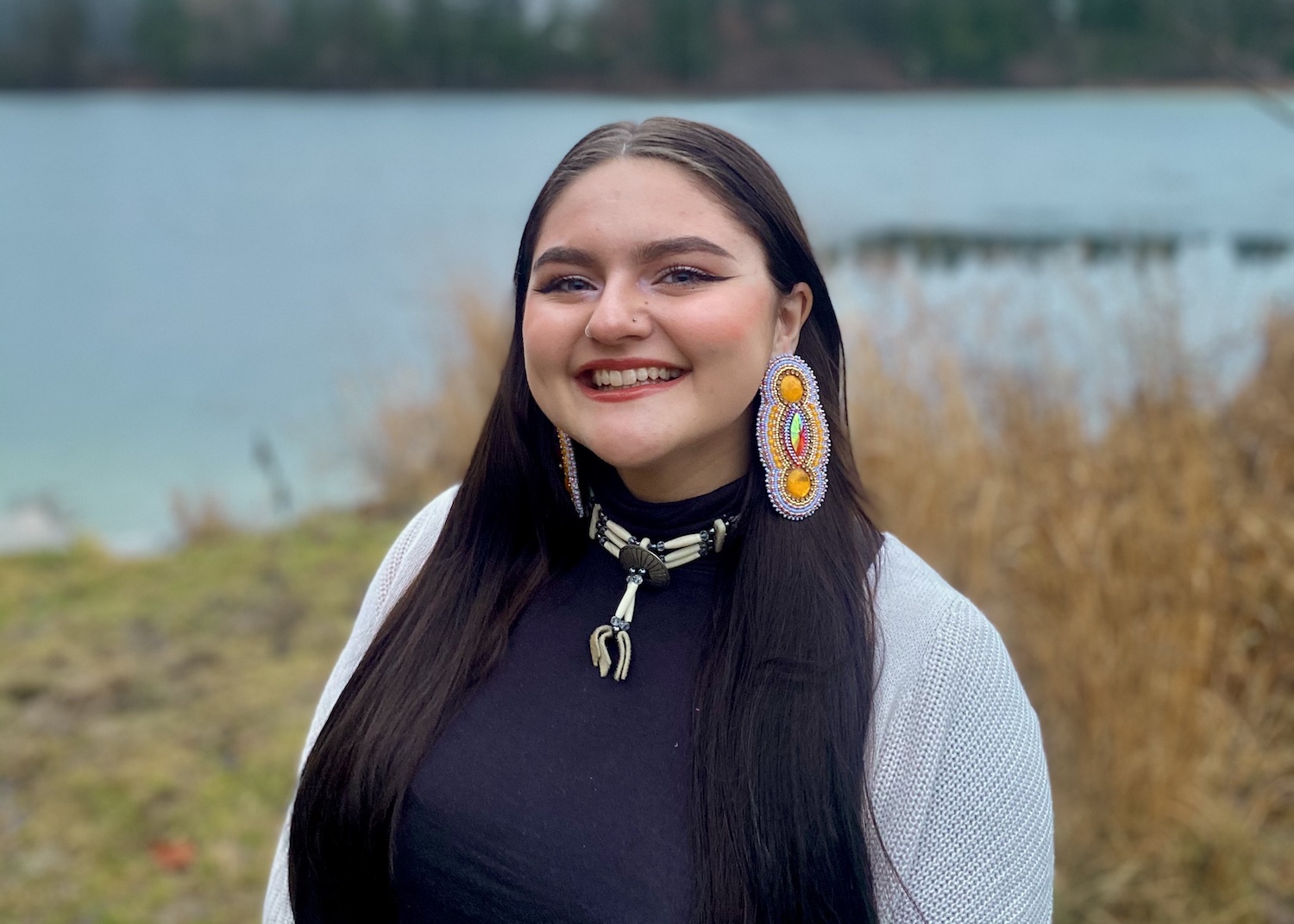 Roxy Sprowl, a Social Work major from Marquette and an Ojibwe from the Red Cliff Band of Lake Superior Chippewa Indians, was awarded a Udall scholarship. Just 55 Udalls are awarded each year across the country, for 'leadership, public service, and commitment to issues related to Native American nations or to the environment.'
Bailey Griffin and Nel Robinson both presented at 'The Hip Hop Literacies Conference', a professional academic conference held at Ohio State University in May 2023.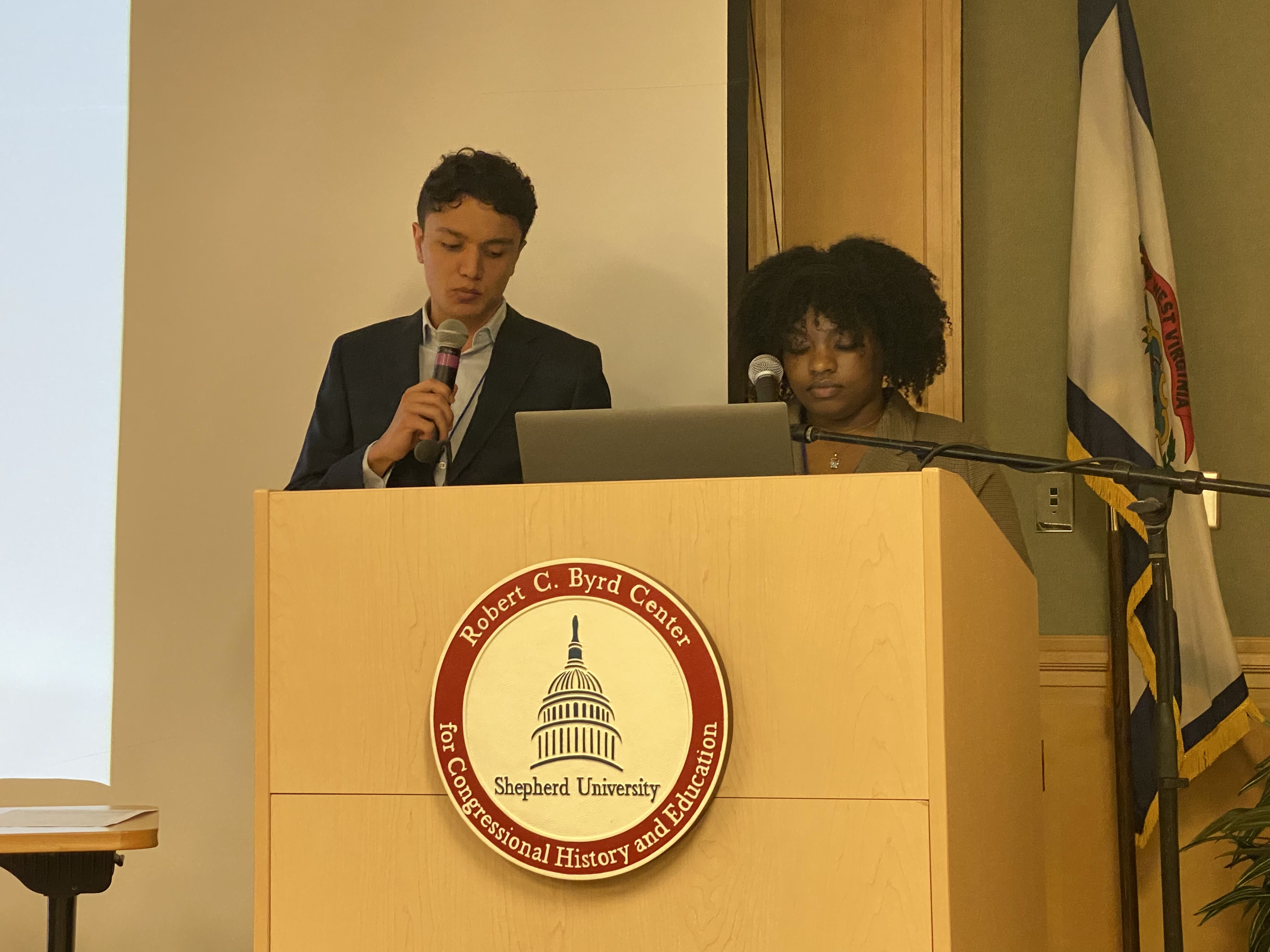 Bailey Griffin and Lorenzo Duran (pictured) gave a professional academic presentation based on their work for Enslaved.org in March 2023. At the annual 'Virginia Forum', they spoke on an important set of probate documents related to the enslaved peoples of Virginia in the eighteenth century.
Justin Crouch, also an intern with the Enslaved.org project, co-published an article in The Journal of Slavery and Data Preservation on records relating to enslaved people in eighteenth-century Fairfax County, Virginia.
Sophie Alegi was awarded the Department of History's LoRomer Prize for the most outstanding essay written this year by a History undergraduate.
Sam Barans co-wrote a paper entitled 'Trauma Exposure and Disclosure in Hispanic Youth at Clinical High-Risk for Psychosis: A Retrospective Review Study' to be published in Early Intervention in Psychiatry.
Zach Sebree was awarded the Outstanding Student in French and the Dorothy Carr Houvener Memorial Scholarship.
Jerome Hamilton, Sharmila Suresh, Jonah Cummings, Nel Robinson, and Josie Danielkiewicz took first and second prizes at the 2023 Honors College's Diversity in Research Awards.
Mikayla Stokes was just recognized at the Outstanding Graduating student of the Department of Political Science and was a finalist for The Hillary Rodham Clinton Award for Peace and Reconciliation scholarship competition.
Carrie Nielsen was recently recognized at the Outstanding Graduating student of the Department of Sociology. 
David Koster, majoring in Political Science-Prelaw and Economics, was one of this year's university nominees for the Truman Scholarship.
Stella Weinberg just achieved the accolade of being awarded the Ruth Hamilton prize by the Department of Sociology.
Ovya Venkat and Sam Barans both gave papers in Puerto Rico at the annual National Diversity in STEM Conference. 
Jade Elder was a member of this year's Homecoming Court.
Denis Selyuzhitsky won the Department of Mathematics' R.E. Phillips Memorial Scholarship for academic excellence.
Ryan Weinberg was invited to introduce former governor, Jim Blanchard, at the Pasant Theater for the 2022 Public Service Forum, before Blanchard in turn welcomed former Secretary of Defense and CIA Director, Leon Panetta. (She spoke brilliantly.)
David Koster was a member of the MSU Debate Team which reached 'Nationals' for the 27th consecutive year.
Well done all!!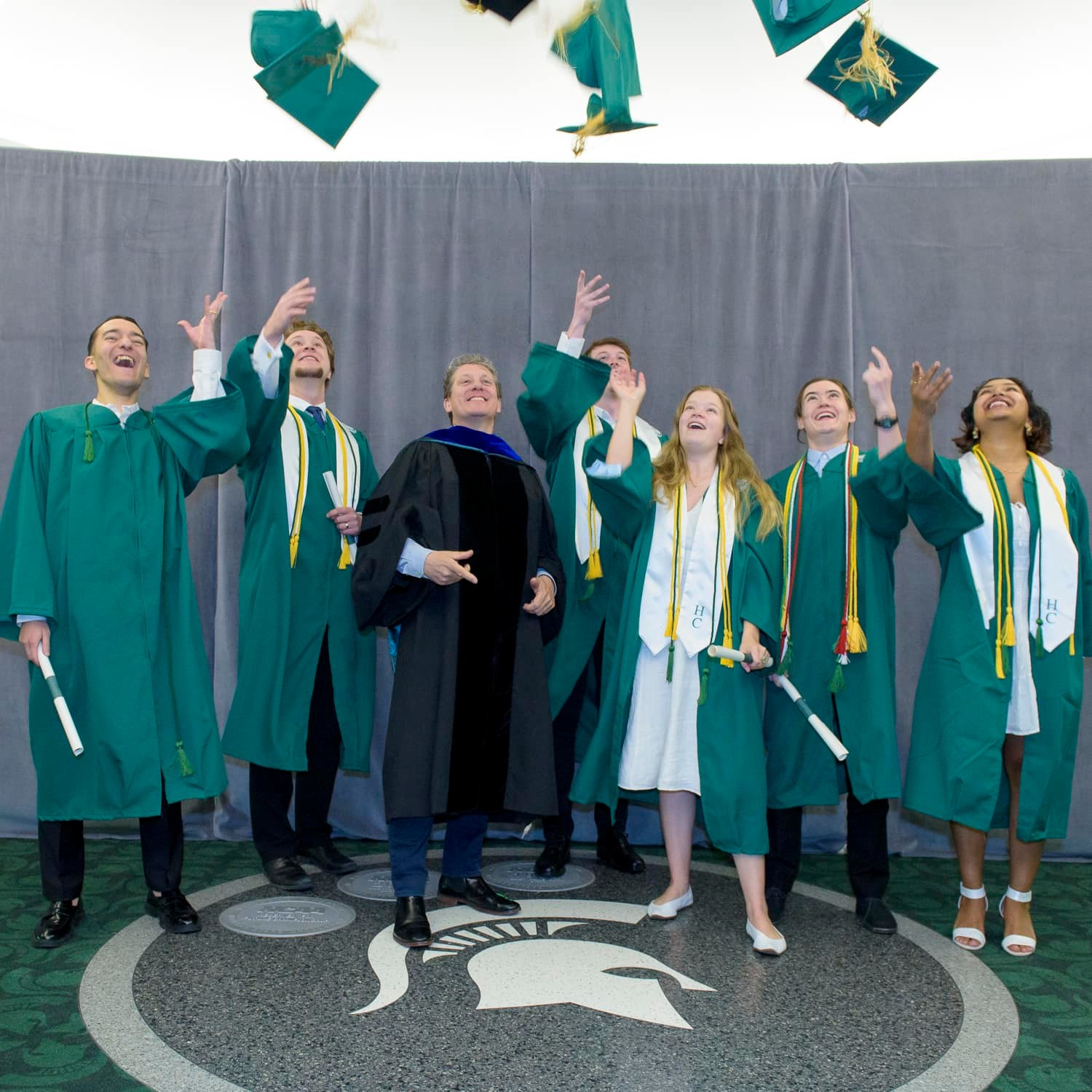 Now we'd like to turn to our graduating seniors and tell you a little about each of their accomplishments on campus and their future plans.
Ovya Venkat is graduating with a Bachelor of Science in Environmental Studies and Sustainability, a Bachelor of Arts in Anthropology, and a Minor in Environment and Health. A core member of two plant biology labs, Ovya has also worked in the Center for Systems Integration and Sustainability as a student of how local, or Indigenous, ecological knowledge can inform how we go about protecting biodiversity. Next up, Ovya will continue working as an MSU Research Technician, before heading for graduate school.
Mikayla Stokes is graduating with BAs in Political Science Pre-Law and Global and International Studies with a Minor in Law, Justice, and Public Policy. She has taken part in research with Dr. Waller, Dr. Mullen, Dr. Erika Frantzm and Dr. Eric Juenke! She even presented a mock bill at the Capitol which a House Representative plans to propose to the actual legislature. What's next? An MA in Politics at Queen's University in Belfast.
Carrie Nielsen is graduating with Bachelors in Sociology & Economics and a Minor in Social Science Quantitative. Carrie has carried out research on climate change denialism and was part of a team of academics focused on creating renewable energy projects in Brazil. He also spent a semester studying at Lund University in Sweden. Next, she's heading for Washington DC for a position as Assistant Analyst at the Congressional Budget Office.
CJ Sivak is graduating with a Bachelor of Science in Urban and Regional Planning, a Bachelor of Arts in Linguistics and minors in Quantitative Data Analysis and German Language. In their third semester at MSU, CJ was the first-author on a paper in a prestigious planning journal about the effects of urban green spaces on a mental health. That was only the start of an exceptional research career. Next year, CJ will continue working with their fabulous mentor in MSU's Department of Geography before embarking on either a career in urban planning or graduate school.
Ryan Weinberg is graduating with Bachelors of Arts in Criminal Justice and in Political Science with a minor in Law, Justice, & Public Policy. Ryan has researched illicit markets on the dark reports of cyberterrorists, and social medial and political misinformation. More recently, Ryan has been interning with a firm called Kroll carrying out social media investigations. For the immediate future, Ryan will continue working for Kroll while planning a move to DC and a career with a federal agency.
Macken Keefe is graduating with majors in Political Science (Pre-Law) and Global and International Studies in Social Science as well as minors in Law, Justice and Public Policy and Peace and Justice Studies. Macken is one of only 10 Americans to be awarded a George Mitchell scholarship which pays for him to do an MPhil in Conflict Resolution and Reconciliation at Trinity College in Belfast.
Stella Weinberg is graduating with majors in Sociology and Psychology with a minor in Peace and Justice Studies Minor. Superb academically, Stella has also gained amazing experiences off-campus: volunteering in a Syrian refugee camp on the island of Lesvos in Greece; interning for the City of Flint; spending a day a week working for the Adolescent Diversion Program to advocate for boys and girls at risk of falling into the school-to-prison pipeline, and interning for our Town & Gown initiative. Next year she'll be serving as an Advisor with the MSU College Advising Corps.
Ata Algan is graduating with a Bachelor of Science in Economics and a Bachelor of Arts in Psychology. Coming to MSU from Turkey, Ata has researched with Dr. Amber Pearson in the Department of Geography, Dr. Shahryar Minhas in Political Science, and Dr. Joe Cesario of the Department of Psychology. Ata will shortly be heading in the fall for the University of Chicago to do a Master's in Social Science before a PhD a behavioral psychology.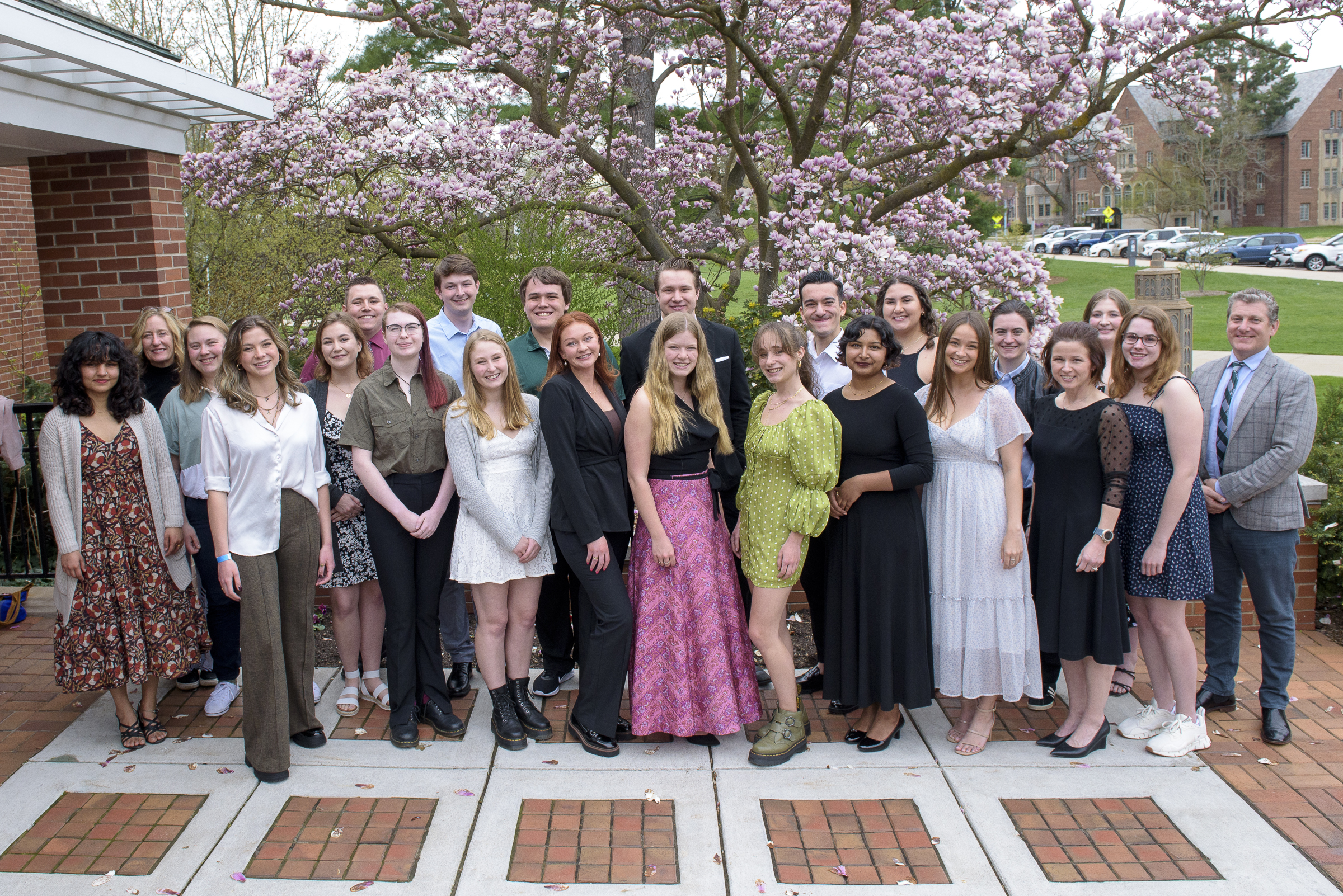 Most of the graduating Scholars at Cowles House. Photo courtesy of Jackie Hawthorne.  
Caitlin Patton is graduating with a BSc in Psychology and minors in Youth & Society and Health Promotion. Caitlin has shown admirable dedication to a career in healthcare. To this end, her next steps are to continue working as a nurse's aide while taking the prerequisite classes for graduate-level nursing school.
Emma LaBarre is graduating with BAs in Psychology and Social Relations & Policy. Emmas has worked closely with Dr. Emily Durbin and Dr. Kelly Klump (Psychology) and has been a stand-out intern for the Michigan Health Council. Next, Emma will be heading for Ann Arbor to complete an MSW at the University of Michigan.
Joe Kieta is graduating with a Bachelor of Science in Electrical Engineering, a Bachelor of Science in Interdisciplinary Studies in Social Science, and a minor in German. A person of tremendous all-round ability, Joe will shortly begin working for The Christman Company, where he will put his engineering skills to good use in building design and construction.
Britton Gustafson is graduating – in three years! - with a Bachelor of Arts in Anthropology, a Bachelor of Arts in History, and a minor in African Studies. He earned a competitive Foreign Language and Area Studies Fellowship to spend several months in Kenya learning Swahili and completed multiple research projects, including a study with Economics professor Siddharth Chandra on the impact of the 1918 Spanish Flu in the island of Samoa. In the fall, Britton will be heading for UCLA as a History PhD student.
Jade Elder is graduating with a BA in Interdisciplinary Studies of Social Science with minors in Migration Studies, Youth & Society, and Sociology, plus a Bachelor of Arts in Intercultural Communication. Jade has been a core member of Dr. Caitlin Cavanagh's Juvenile Risk Assessment Team (JRAT) and she has co-managed the Alternative Spartan Break program here at MSU, organizing eight spring break trips, seven weekend trips, and a day of service. Next up? Jade will pursue a Masters Degree in Intercultural Communication here at MSU. 
Thomas Crain is graduating with a Major in History with minors in Museum Studies, German, and Leadership of Organizations. From long before he arrived on campus, Thomas has always known what he wants to do: serve as a curator and director of a history-focused museum. He has won competitive awards in both public history and Human Resources & Labor Relations, and – in the immediate future – will continue his current role working in the Collections section of MSU's Museum.
Tess Bond is graduating with a Bachelor of Arts in Social Work. She has worked for the MSU WorkLife Office and served as a leader for New Student Orientation and as a Hotline Volunteer for MSU's Sexual Assault Crisis Intervention team, researched with Dr. Riebschleger (Social Work) on increasing mental health literacy in rural areas. What next? Tess will be joining Emma in the University of Michigan Social Work program.
Sophie Alegi is graduating with a BA in History and minors in Italian and in African American and African Studies. A gifted writer and researcher, Sophie has won awards for her ability in both History and Romance Language Studies. Sophie is also an avid motorcyclist and vice president and co-founder of MSU's only Registered Student Organization for motorcyclists.  When asked what she wishes to do next, Sophie replied 'maybe trade school'. Sophie recognizes, I think, what our culture tends to forget, that jobs that combine head and hands are often the most satisfying, useful, and lucrative.
The Scholars Program has always encouraged students to gain community experience but now that Dr. Melissa Fore has joined as a community outreach specialist, we can become excitingly ambitious. Our main venture now is the creation of a community garden in South Lansing. We're partnering with a visionary anti-poverty initiative, The Fledge, to turn an empty of plot of land into a thriving garden able to provide fresh fruit and vegetables to the nearby women's and children's refuge and those who rely on The Fledge for sustenance. A number of students will have the chance to learn about the problem of food insecurity and about how to create urban farms, nonprofits, and community partnerships. The community garden will also provide a place where Scholars can get to know one another while working collaboratively and giving back to the community. For the last three weekends, ten or more of us have headed to the lot to plant fruit trees, build raised beds, mow the lawn, and start getting to know the neighbors. It's been enormous fun spending time together in a less formal setting and to see the garden taking shape. In the fall, Dr. Fore and Samyuktha (who is already knowledgeable on gardening) will be co-running a brand new class for Scholars and other students who wish to learn from experts on community gardens - and get their hands dirty in the process. 
Several Scholars, on a bracing late winter day, clearing away weeds for placing raised beds at our community garden.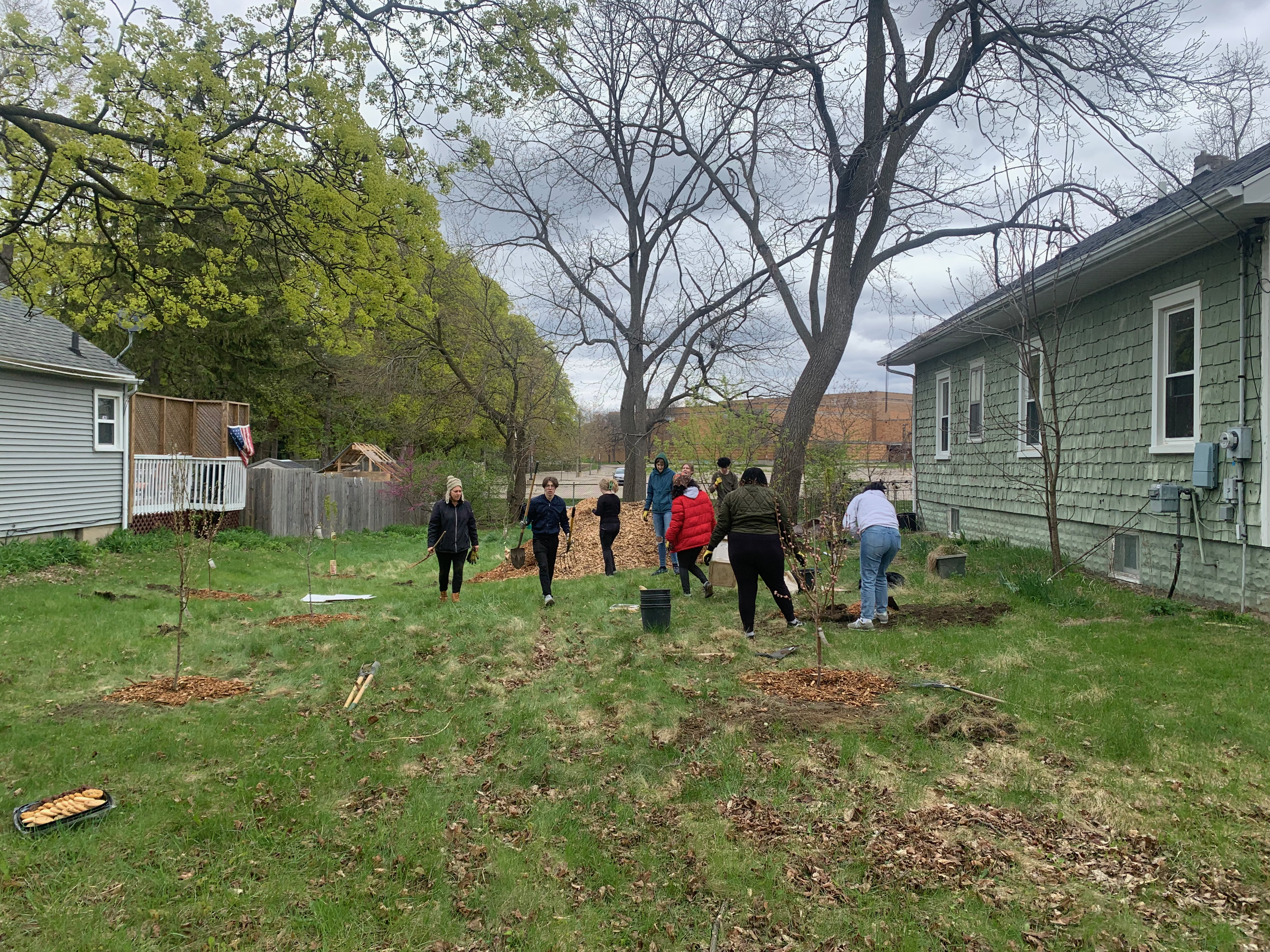 As you can see from the photos, there is plenty of work to do. This lot, the location of a house that burned down, has been neglected for nearly half a century. But it's already looking much better and the neighbors are delighted by what we're doing. Incidentally, we've called it 'Danielle and Charlie's Sunshine Garden' in memory of Danielle, the daughter The Fledge founders, Jerry and Shannon Norris, and Charlie Waller, both of whom left us too soon. 'Sunshine' seems fitting for the act of regeneration in which we're engaged; it was also Jerry's nickname for Danielle.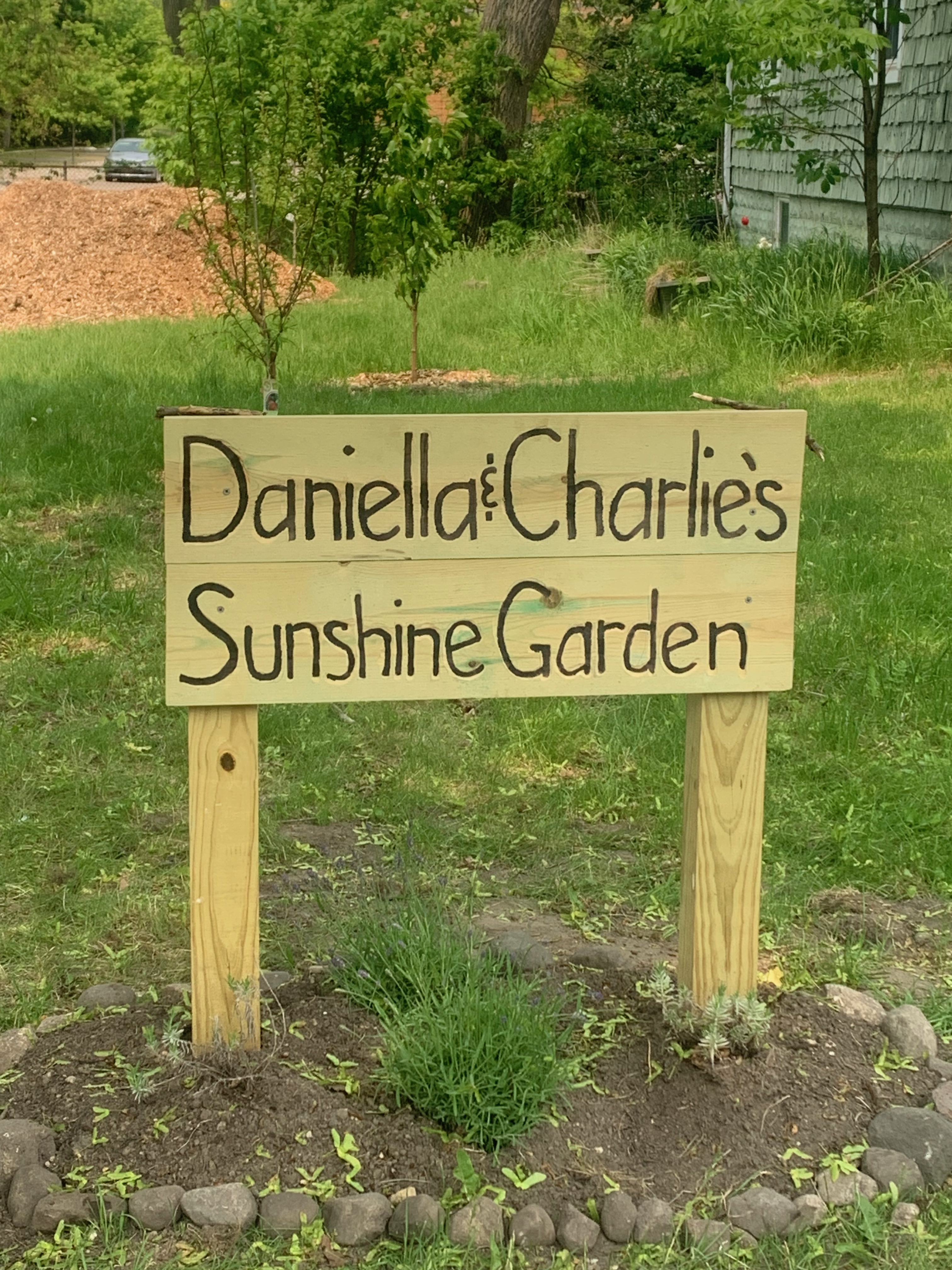 The community garden is named after Danielle 'Sunshine' Norris and Charlie Waller, both of whom died young and are sorely missed.
We'll keep you updated on our progress!
Alumna spotlight: Emily Scheitz
Popular definitions of 'courage' and 'heroism' can be clichéd and narrow. My own mind conjures up stock images of military derring-do or classic episodes of self-sacrifice for a lofty cause. But true valor need not involve the kind of behavior that is lauded by memorials, memoirs, statuary, and verse. Courage is, I think, better defined as doing the right thing, at a personal cost, with little prospect of receiving the acclamation of the crowd. To me, on reflection, the 'heroic' are more often the people who compassionately serve those who have been undone by hardship, abuse, and neglect and who are stigmatized by their vulnerability. Such heroism cannot expect media plaudits, generous salaries, or an easy ride. But people take on such roles anyway because they have a rare level of empathy, dedication, and grit.
I say this as prelude to telling you about one of dozens of Scholars who practice quiet courage every day of their working lives. Emily Scheitz, a native of Wyandot, studied Psychology at MSU, driven by a fascination with the brain and behavior. As an undergraduate she participated in research on both the causes of anorexia nervosa and the history of gender stereotyping in psychiatry. She also served as a research assistant for the Michigan State Twin Registry, studying the relationships between hormones and behavior. And, Emily interned in Angel House, working with teen mothers and their children, and in Willowbrook Rehabilitation Center in Brighton, assisting adult clients with traumatic brain injuries. At the same time, in order to pay for college, Emily worked punishing hours in the MSU Bakery, demonstrating the capacity for arduous schedules which continues to define her. 
These experiences prepared Emily for a Master's in Social Work at the University of Michigan. In this exemplary program, she interned on the inpatient psychiatric unit at University of Michigan Hospital, where she was subsequently hired full-time. This is a very demanding environment in which to work. The US, like much of the world, is in the midst of a mental health disaster which is largely of its own making and which most people ignore. The mass closure of psychiatric hospitals from the 1970s, even if it was sometimes carried out in good faith, has led to tragic levels of unmet need and the consigning of many thousands of the chronically mentally ill to prisons and the streets. Emily was on the front line of trying to manage the resultant crisis. 
With Covid-19 came job cuts and a new opportunity for Emily as a therapist at a maximum security psychiatric prison in the Crisis Services unit. In this role, Emily discovered a passion for helping people with mental illness who risked being swept into the criminal justice system. She then switched to working for Community Mental Health in Washtenaw County on its crisis team. Whenever a report is received of a mentally ill person at risk, be it day or night, people from Emily's team head for wherever they are in order to assess the situation and get them the help they need. These are people facing extreme fear, isolation, poverty, stigma, and suicidal ideation. Some are experiencing psychosis for the very first time. Emily, and her colleagues, are very often the only safety net that can prevent them sinking into outright despair. And, in Emily, they find a highly intelligent, committed advocate who never fails to see their humanity. 
More recently, Emily has become involved in a closely related program which underscores the importance of people like her in a system that is essentially broken. It is estimated that while 1 in 50 US adults has a severe and untreated mental illness, they constitute between a quarter and a half of all people shot dead by the police. In an attempt to lower these numbers, mental health experts like Emily have teaming up with the law enforcement officers of Washtenaw County Sheriff's office. They drive around in a police vehicle, without lights, ready to de-escalate situations when people with mental illness are alarming family, friends, or passers-by. The program has already been a superb success, with thousands of interventions which have ended peacefully and, in many cases, people starting to receive proper care.
There is much to be done to correct the failures of current mental health provision. Emily hopes to see a continued decline in the public's urge to stigmatize severe mental illness and the expansion in such treatment options as crisis residential centers. What's clear is that she will be at the forefront of any reforms that do come to pass. In doing so, Emily will go on making us proud of her courage and her other-centeredness.
Barely had Brennan Haugen set foot on campus than he was launching an entirely new community project. 'All Together' has so far served nearly 80 local families, organized multiple events, raised $25,000 in donations, and achieved news coverage from Washtenaw County to Grand Rapids. As kind a person as you could ever hope to meet, Brennan is devoted to enhancing the lives of children with developmental disabilities and their families.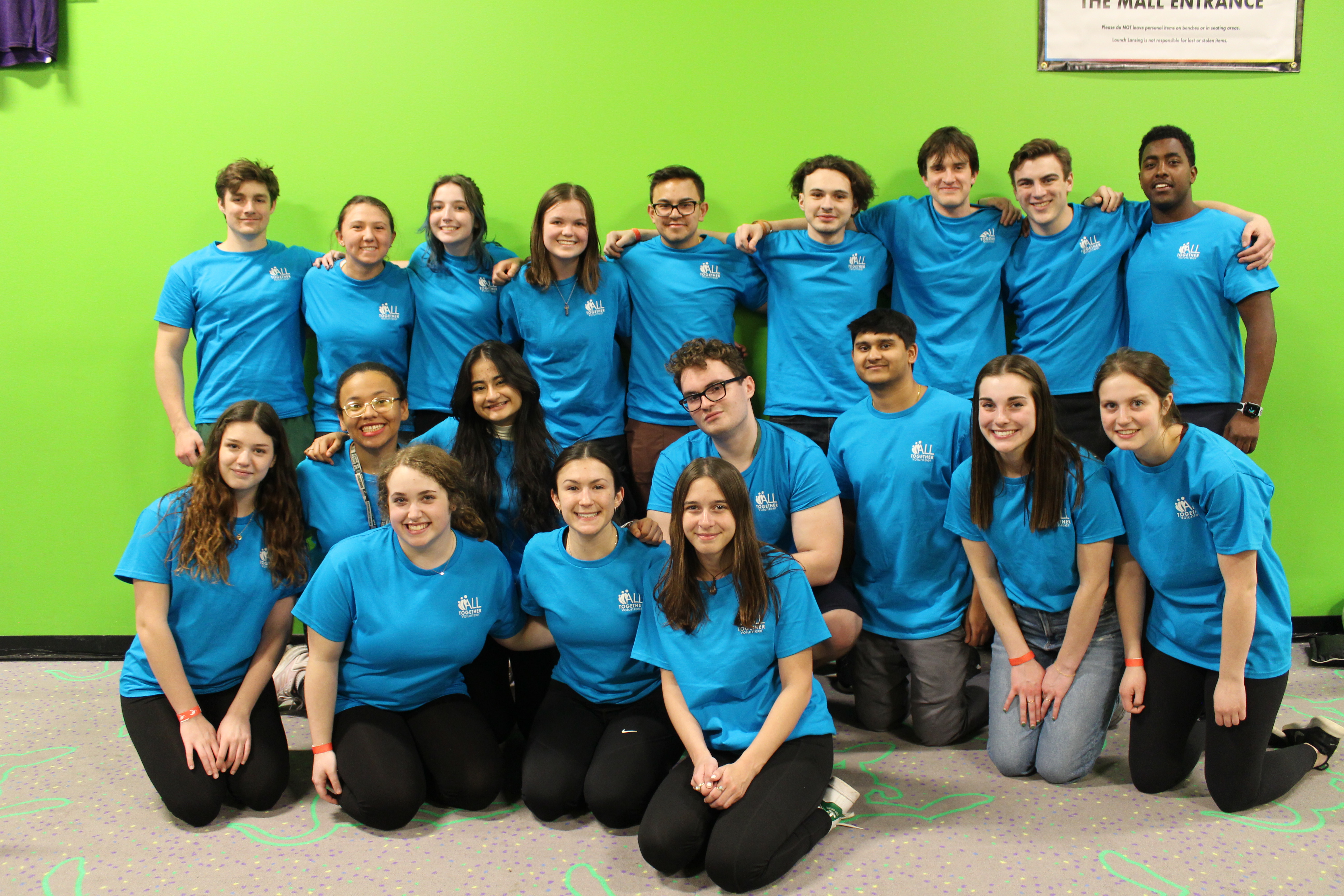 The All Together team with project leader Brennan (middle, back row).
Working with several other MSU students, including Scholars Jonah Cummings (the vice-president) and Taz Amin, Brennan's 'All Together' arranges a variety of events and outings for children and their families. In the last few weeks, they've rented out lanes for a bowling night at Spare Time, a bowling alley in the East Lansing area, and they've held a 'Launch Trampoline' event, where the organizers and children 'jumped on the trampolines, played dodgeball, basketball, and did obstacle courses'. The aims of these activities are several. As Brennan explains, they want the children to have plenty of fun – which they clearly do. But they also seek to combat the stigma and isolation felt by many parents by 'connecting families and building a community amongst parents'.  'Bringing them together to have 'shared experiences' is 'very important', notes Brennan.
Brennan and his team are formidable organizers. He and his colleagues have assembled 'a diverse team, some of whom are very strong in advertising, some of whom love to go door-to-door and fundraise, and some who think outside the box and come up with new ideas to help enhance the well-being of those we serve'. The only essential common denominator is that everyone be 'passionate about improving the lives of those underserved.' The 'All Together' crew is also meticulous in its organizing. For the trampoline event, they carefully informed the employees what they planned and the needs for the kids, and they arrange to have a child psychologist on hand to help with any difficult situations. The results, says Brennan, was a 'genuinely fun experience' for all. 
Further, 'All Together' has partnered with other campus and community initiatives. For example, they have helped establish a program called 'Levi's Link', at McLaren Health's new hospital in Lansing, which prepares children with disabilities for upcoming surgeries. And they work with STRIDE, a new MSU initiative, which helps people with disabilities in their career and life transitions to develop workplace-appropriate social skills and to navigate public transportation. Dynamically led and fleet of foot, Brennan's organization is also prepared to reorient at short notice. After the shootings of February 13th, 'All Together' was quick to appreciate that hundreds of students were confined to their dorm rooms, nervous to go out and so unable to procure food. So Brennan, Jonah, and others swept into action, raising about $10,000 in a few days for food donations, and then spending days making door-to-door deliveries. 'All Together' volunteers dropped off a remarkable 600 meals and deservedly garnered a substantial amount of media attention.
Brennan's dedication to the welfare of children with disabilities is of a piece with aspiration of working in the field of medicine. He is already complementing his community activism with relevant research by working for Dr. Sarah N. Douglas in the RADD Lab (Research in Autism and Developmental Disabilities). In this capacity, Brennan has become ever more aware of gaps in services for children with disabilities and their families. As a physician, it is these deficiencies in the current system which he will seek to address.
Reflecting on his many achievements as a student, leader, and volunteer, Brennan speaks of the important of having a 'lot of grit'. 'We had a lot of successful things happen', he writes, 'but also had a lot of things not go our way in our journey - it takes a lot of persistence and learning from your mistakes, and being able to bounce back and recover after losses that occur.' What's apparent to everyone who knows him, is that Brennan has admirable levels of determination and resolve. Combined with an abundance generosity and empathy, Brennan is destined to become a powerful force for improving the well-being for children with disabilities and their families.
Excellence, generosity, and giving back: a new scholarship courtesy of Denise Williams and the late Avery Williams

Denise Williams with her scholarship recipient, Jilianne Kowalchuk, at the MSU Broad Museum in May 2023. 
This year we had the honor of bestowing upon one of our Scholars the new 'Avery K. and Oletha Denise Williams Innovate Detroit Scholarship'. The award was created by Denise Williams in honor and memory of her late husband, Avery, who was a highly accomplished Detroit attorney, a passionate believer in the importance of education and mentorship, and a dedicated Spartan. I had the pleasure of speaking with Denise, a Human Resources professional who is herself an MSU alumna, in early May 2023. What follows is a celebration of Avery's remarkable career and a heartfelt acknowledgement of Denise's generosity and vision.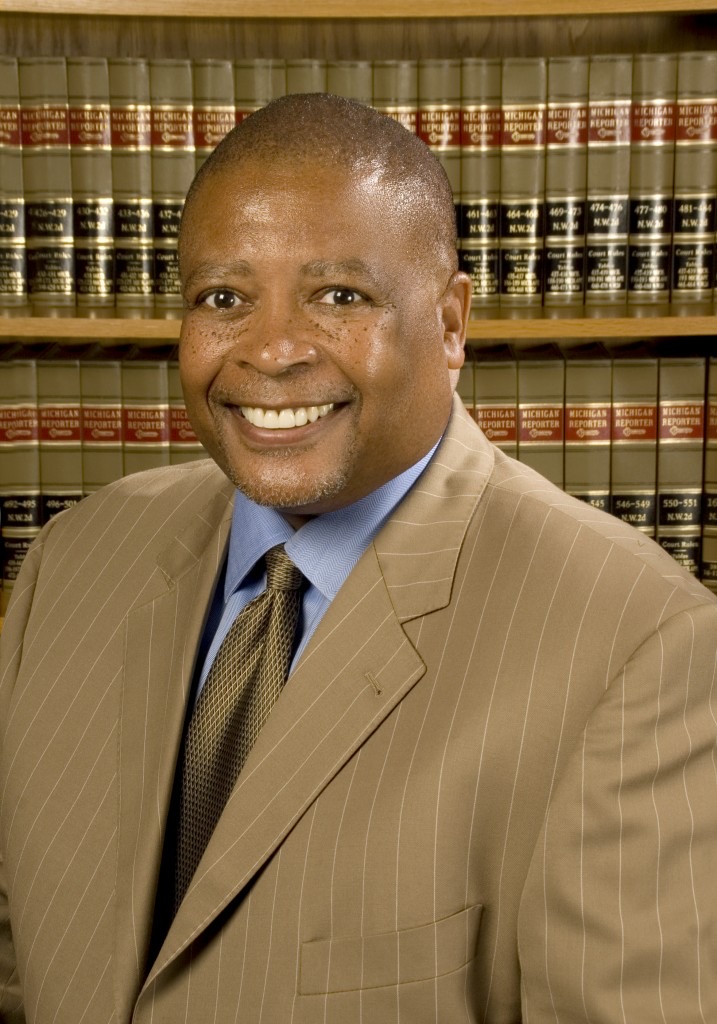 Avery Williams, accomplished attorney, Spartan, and co-creator of the 'Avery K. and Oletha Denise Williams Innovate Detroit Scholarship' 
In 1960, at the age of three, Avery K. Williams joined the Great Migration which saw about six million African Americans relocate from a South mired in racial violence, Jim Crow oppression, and economic discrimination, to Northern, Midwestern, and Western states. Looking back, Avery had only a vague memory of his years in Mississippi: the 'old-fashioned dark screen that surrounded the front porch of his grandmother's house'. But Cleveland was not the kind of place to inspire positive memories among Black residents who left for the North. In 1967, Robert F. Kennedy visited the town, alongside Marian Edelman, the famous African American attorney and activist for civil and children's rights, and Anzie Moore, a Mississippi-based campaigner and NAACP leader who – like so many others – endured repeated death threats following school desegregation. and a Mississippi-based activity and NAACP leader, Anzie Moore who – like so many others – endured repeated death threats following school desegregation. Kennedy declared the poverty he witnessed in Cleveland, a legacy of centuries of enslavement and decades of exploitative sharecropping, to be the worst he'd ever witnessed.
Not that life in the North offered a panacea for racial injustice. Avery's family ventured to Grand Rapids where he resided until eventually heading for Michigan State University. Like so many other towns, Grand Rapids practiced forms of segregation that were often just as harmful, if usually less overt, than those of the Jim Crow South. Most black families in Grand Rapids in the post-World War Two decades were denied access to well-paying jobs due to discriminatory hiring by white-owned firms. They were also prevented, by poverty, redlining, and white opposition, from moving into better housing in the expanding suburban neighborhoods which also had the best public schools. To escape the coils of injustice in such cities required an exceptional level of personal drive and determination. Avery called it a 'hunger' to succeed. And he had it in admirable abundance.
Speaking to The Detroiter in 2015, Avery spoke of both the difficulties in Grand Rapids of interacting with 'people from backgrounds starkly different from his own' and of his determination to attend college. When he stepped foot on MSU's campus, he became the first member of his immediate and extended family to enroll at college. Unfazed, in 1979, Avery graduated magna cum laude. And, having developed a keen interest in law, he was accepted into both Harvard and University of Michigan law schools. He elected to attend the latter. A few years later, in 1982, as a freshly-minted attorney Avery had to decide where to work. Conscious that Grand Rapids still offered fewer opportunities for a lawyer of color, he headed for the city that he came to love and in which he always believed: Detroit. For four years, Avery worked with the blue-chip firm Dykema Gossett PLLC in Detroit, before moving to what is now Zausmer, Kaufman, August & Caldwell PC.
Then, in 2002, Avery fulfilled a dream by teaming up with a close friend and colleague, Ruben Acosa, to form his own Detroit law firm: Williams Acosta PLLC. This was a firm that took diversity very seriously indeed. Ruben was Hispanic and three other partners, David Domzal, Alan Wasserman and Victor Torres, belonged to other minority groups 'It was essentially a leap of faith for us', Avery later recalled, but it worked, and the law firm won major clients. Avery worked prodigiously hard, recognizing that, in order to overcome prejudice, he and his team would have to 'set … standards for ourselves beyond anything that anybody could ever set for us'.
As Denise describes, Avery was also exceptional in another regard: his passion for providing mentorship for young people. He himself fondly recalled two teachers, a Mr. Lee and a Mr. Adams, who spotted his talent when a senior in high school and stressed to him how much he could achieve. Paying it forward in his career, Avery always made himself available to those who would benefit from additional encouragement, support, and insight. 'Avery had a huge heart', says Denise, and was devoted to the associates and interns in his office. 'No matter how busy he was' with legal cases, office management, personnel, or payroll, he would take the time to help those early on their path. He gave, adds Denise, generous amounts of his 'time, talent, and treasure'. I can attest to Avery's eagerness to do so having had the privilege of meeting him over Skype three years ago when I immediately felt his warmth and his seriousness about helping young people who would benefit from a high touch.
Avery Williams passed too soon, at the age of 64. But he is cherished by many, and his positive impact will continue, not least through the Avery K. and Oletha Denise Williams Innovate Detroit Scholarship. This award is for an MSU student, ideally a Political Science major, who comes from Detroit and has both financial need and the 'initiative to seek opportunities to further their progress'. As such, it encompasses several of the things that Avery most valued: young people who stand to benefit by the 'door' being opened 'just a crack'; the city of Detroit; and Michigan State University. It is also fitting that the award is in the name of both Avery and Denise because of the pride she rightly takes in Avery's legacy and the fact that she too is a Spartan, having completed MSU's Master of Science in Management, Strategy & Leadership, an experience she describes as 'awesome'.
It really is an honor to be able to make this award in the name of a Spartan who exemplifies the personal qualities and the professional accomplishments we seek to instill. The awardee is Jilianne Kowlachuk, a native of Detroit and a soon-to-be senior in Political Science who is spending this summer interning with Innovategov in Detroit. A fabulous student and person of enormous kindness, Jilianne is an ideal recipient for this scholarship.
Thank you, Denise. We will continue to honor Avery each year when we award the Avery K. and Oletha Denise Williams Innovate Detroit Scholarship.
There is no prouder feeling in the academic calendar than attending the University Undergraduate Research and Arts Forum (UURAF), when hundreds of studentspresent the fruits of their research to faculty, other students, and teams of judges. This year, a Scholars Program record of 24 Scholars (pictured below) presented on 20 different projects, whether via Zoom presentations or in the form of posters shown at the Breslin Center. Moreover, a remarkable 14 Scholars were recipients of First Place awards for their disciplinary sections; that's a stunning achievement. You'll see from the list of presentations below just how diverse their interests are (section winners are denoted with an asterisk).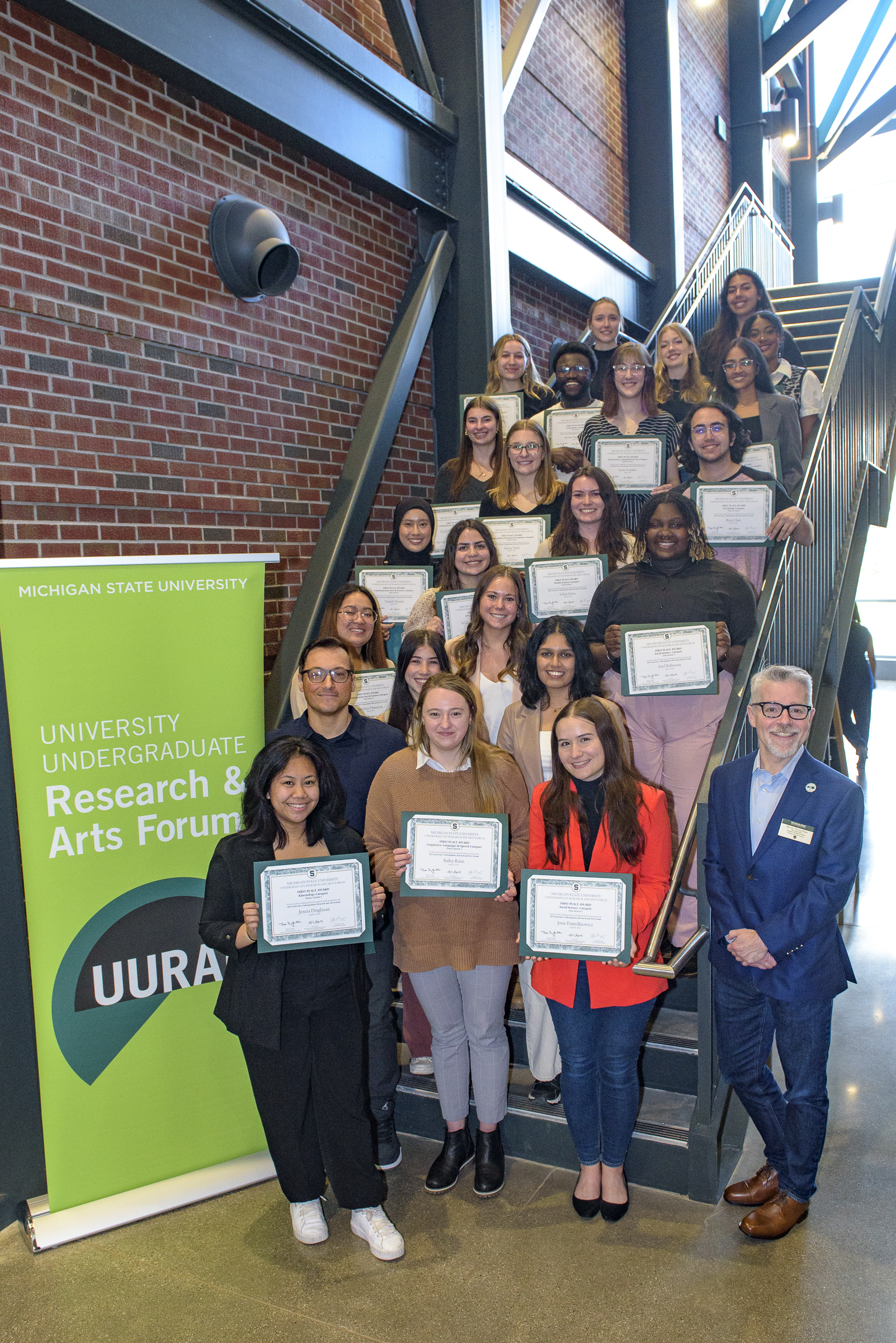 Jerome Hamilton Jr., 'Dump the Chunks: Recycling on MSU's Campus'
Sam Barans, 'Analyzing the Measurement of Awe'
David Koster, 'A Science-Accepting Message Increases Support for Climate Change Action among Self-Identified Conservatives'
Sasha Franklin & Shrishti Jalan, 'Women's and Gender Studies Trivia'*
Sasha Franklin, 'Following The Compass: Encouraging Community Engagement in Theater'
Shruti Elango, Denis Selyuzhitsky, & Kayla Tracey, 'The Cleaner Conscience Initiative: An attempt to reduce water usage at Michigan State University by lessening average time spent in the showers by undergraduates'*
Vivian Morales (and Shae Burnham), 'Connection Between the Location of Manufactured Homes and Climate Risk'
Mikayla Stokes, 'The Pediatric Respite Benefit in Michigan: A Vital, Yet Often Unmet Need'
Eli Duguid, 'The Importance of Alma Mater Prestige in Hiring: An Analysis of the Strength of Higher Educational Prestige in Influencing Perceptions of Employability Across Industries of Varying Status'
Emma LaBarre, 'Impact of the Covid-19 Pandemic school modality policies on adolescents'
Jairahel Price, 'Advancing Racial Equity Within US Politics'
Jade Elder, 'Comparing White Youth, Non-White Youth, & Black Youth: The Impacts of School Risk Factors'*
Bailey Griffin and Lorenzo Duran, 'Death in Fairfax County, Virginia, in the Mid-19th Century: Morbidity and Mortality Among Enslaved and Free Populations'*
Sharmila Suresh and Jonah Cummings, 'Television News and the (Mis)representation of Cocaine and Opioid Users: A Systematic Study of NBC Nightly News Reports'
Jerome Hamilton, Nel Robinson, Josie Danielkiewicz, 'Television News and the (Mis)representation of Cocaine and Opioid Users: A Systematic Study of NBC Nightly News Reports'*
Kierra Jursch, 'Mouse Estrous Acyclicity in Response to Shift-Work-Like Lighting'*
Sam Barans, 'Rethinking How to Measure Mood Using the Day Reconstruction Method'
Shubham Aggarwal, 'Promoting Sustainability Through Stock Investment: A Study of Sustainable Agriculture and Carbon Neutral Logistics'
Alayna Tisch, 'A Historical Analysis of Thanksgiving Turkey Prices: Insights from Newspaper Grocery Ads'*
Mikayla Stokes, 'Little Laboratories of Representation: Where do Women Candidates Run in Michigan's Local Elections and What Happens When They are on the Ballot? *
---
Thank you so much for reading and for your support of this unique academic program. Your contributions are making a profound difference to the lives of many students. We thank you deeply.