December 2022
Message from Director Dr. John Waller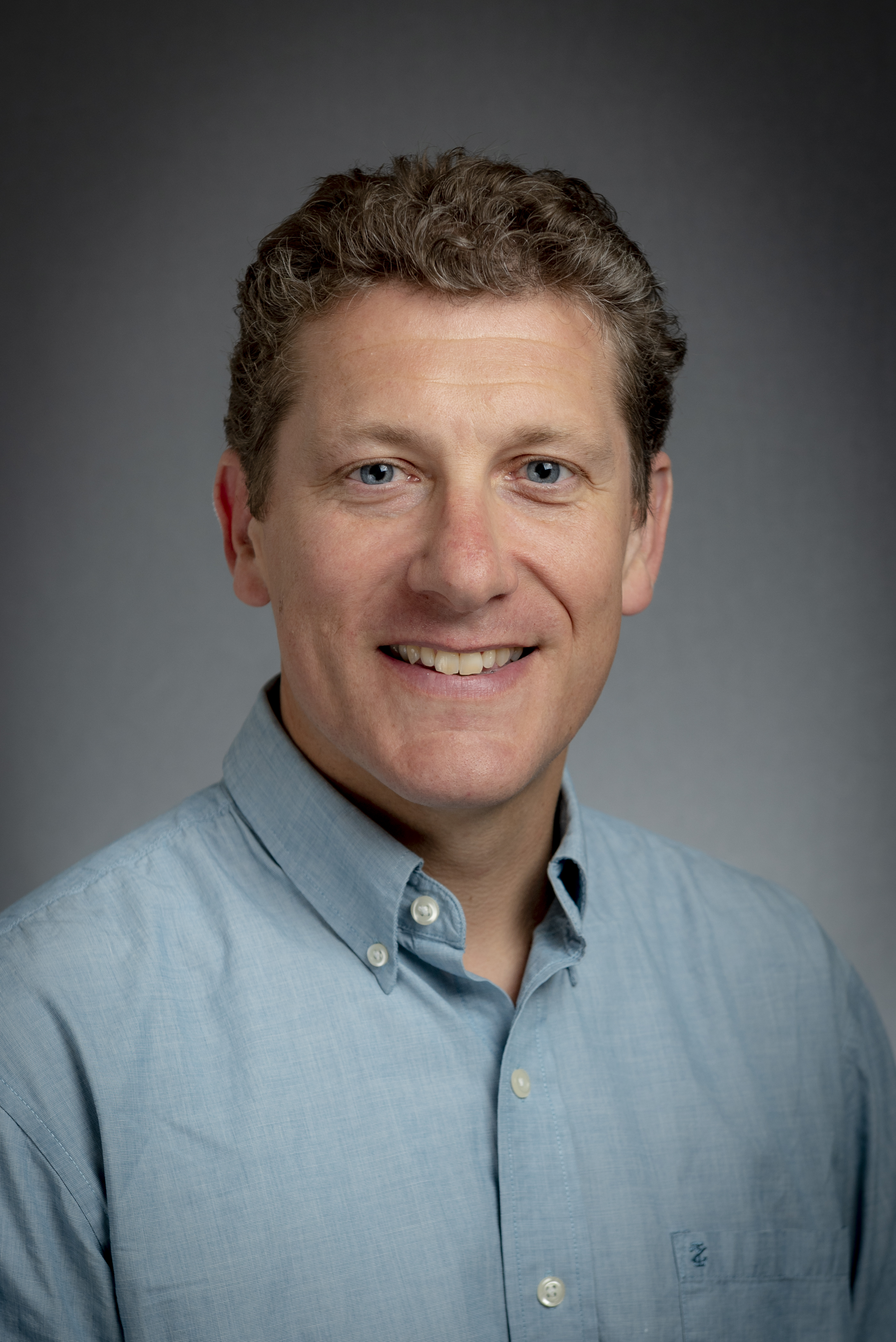 It's my great pleasure to welcome to campus our ninth cohort of Social Science Scholars. This year we have a bumper incoming cohort of 25 because the quality of applications was so high that we had to enlarge the class. Of our new Scholars, eleven are from Michigan, ten from other US states (California, North Carolina, Illinois, Wisconsin, Massachusetts), two from India, one from Colombia, and one from China. The Scholars Program has become truly national and global, providing a rare and special opportunity for students of diverse backgrounds to learn from one another and enjoy their common humanity.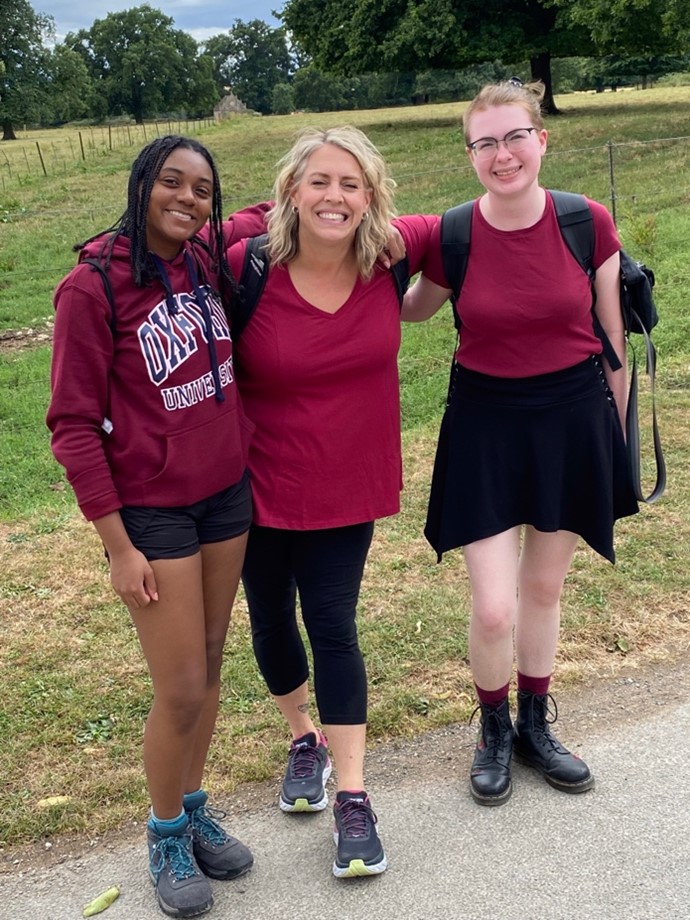 Dr. Melissa Fore with students on study abroad
Of course, the ability of students to thrive depends much on the alumni, faculty, and staff who contribute to the program. We said an emotional goodbye to Jenn Arbogast in May 2022 but have since received invaluable help from Lauren Munoz, an advisor in the Department of Interdisciplinary Studies. I am also delighted to announce that Dr. Melissa Fore has joined the program to manage our community outreach activities. Dr. Fore is an accomplished James Madison College professor who has been co-running Scholars study abroad trips since 2014. We will also welcome Samyuktha Iyer as the 'New Jenn' in January 2023. A former Scholar herself, Samyuktha has the administrative ability and the compassion to flourish in this role. Plus, as an environmental economist who recently graduated with a Masters from the University of Chicago, Samyuktha will be able to co-lead several of our ongoing Scholars research projects. I am thrilled that she'll be joining the team.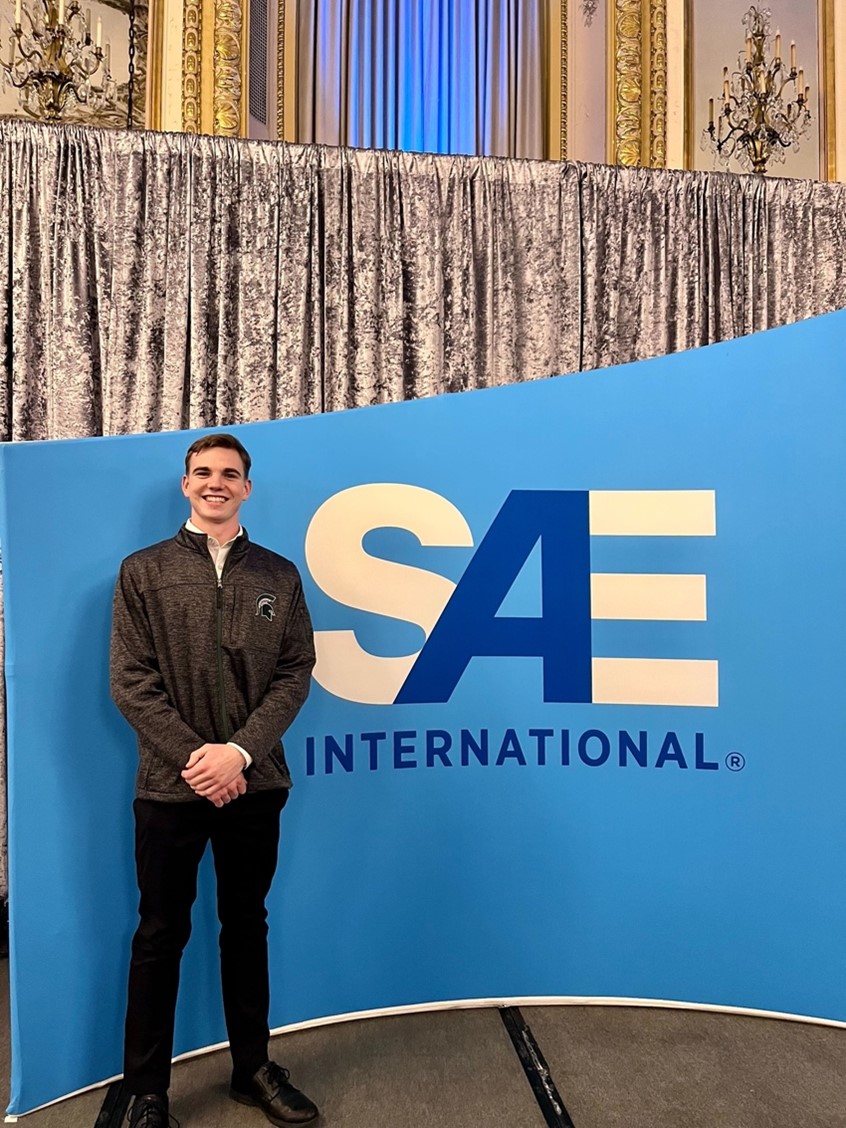 David Koster at debate
We also have a number of spectacular student achievements to announce. I've selected just a few from a long list. Macke Keefe (PLS) was selected in late November as a George C. Mitchell Scholar, one of just 12 awardees across the US who will be fully-funded to study in Ireland or Northern Ireland next year. More on his success below. Jasmine Jordan (PLS, 2020) was awarded a Gates Cambridge scholarship to study for her PhD at Cambridge University, one of only a handful of students in the world to be bestowed with such an honor. David Koster (PLS) capped a sensational year of competitive debating by winning outright an event staged at Wayne State University in October. Jade Elder was deservedly elected to this year's Homecoming Court. And Roxy Sprowl has been elected as co-chair of MSU's North American Indigenous Student Organization. Congratulations all – and to the many students whose achievements I do not have space here to recognize.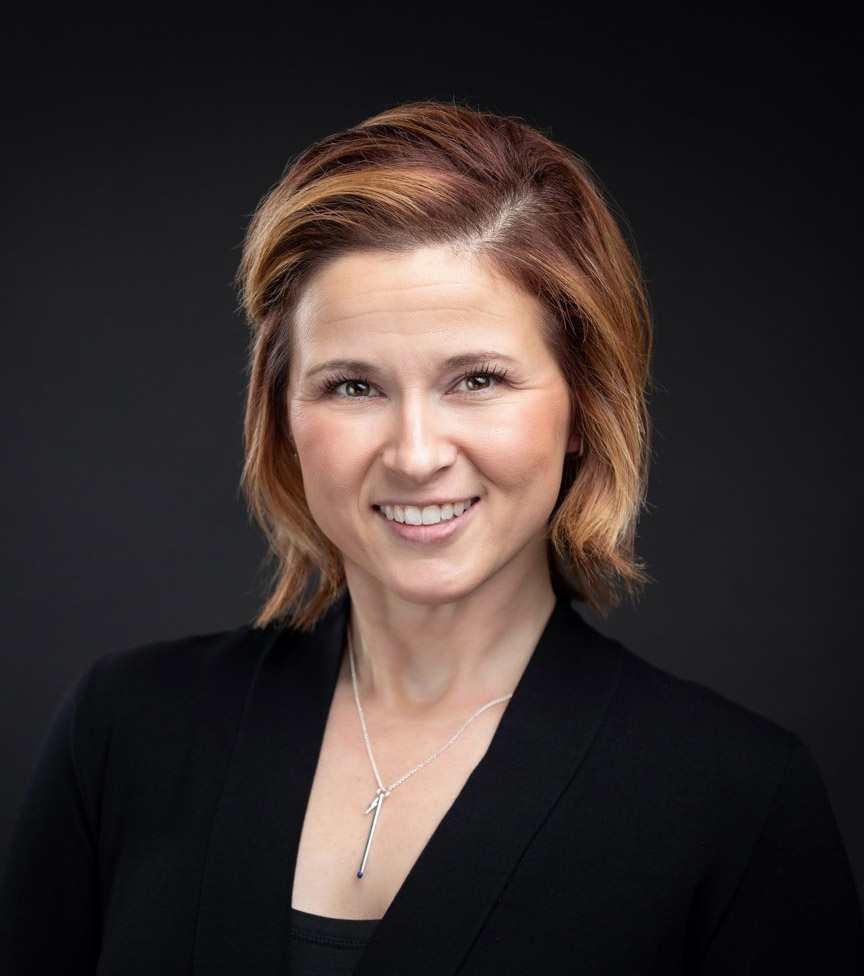 Dr. Heather McCauley
There have also been some notable successes for the faculty who teach our Scholars. Dr. Heather McCauley, who teaches the fall sophomore class, was the co-recipient in January of a $1.6 million grant from the Centers for Disease Control and Prevention to work with community partners on a program -  Spark4Change – to reduce sexual violence and harassment, teen dating violence, and bullying among middle and high school students.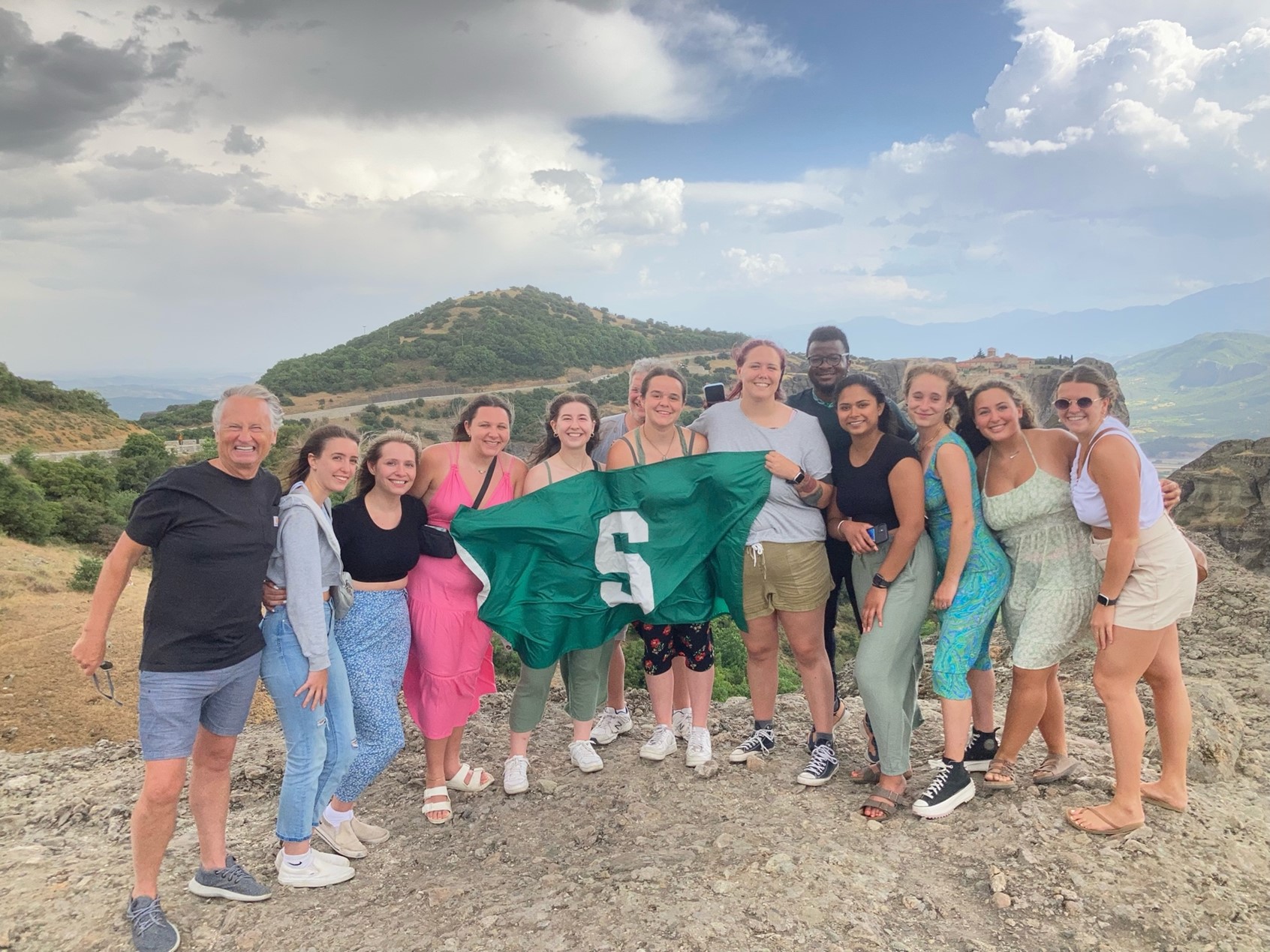 Dr. Mullen with MSU undergraduates participating in his celebrated study abroad program where students learn and lend assistance in the refugee camps of Lesvos, Greece
And Dr. Brendan Mullen returned this fall from several months spent in Greece as the recipient of a prestigious Fulbright Scholarship to study 'Demography, International Migration and Inequality in Greece'. Oh, and I was surprised and deeply touched to receive the President's Distinguished Teaching Award in February; it is by far the greatest honor of my career, and I am grateful to the colleagues and students who contributed to my nomination.
The remainder of this newsletter wishes farewell to Jenn Arbogast, acknowledges two of our outstanding college alumni, highlights a fabulous graduated Scholar who is currently studying at Cambridge University, and fills you in on the experiences of nearly 50 students who went on study abroad to the UK this summer. But, most importantly, I will tell you about a new fundraising initiative to honor the memory of Harris Bunker who tragically passed away in October 2021 from a rare illness. Please read below about Harris and why this endowment is a deeply fitting memorial to a fine student and cherished friend.
---
The Harris Bunker memorial endowment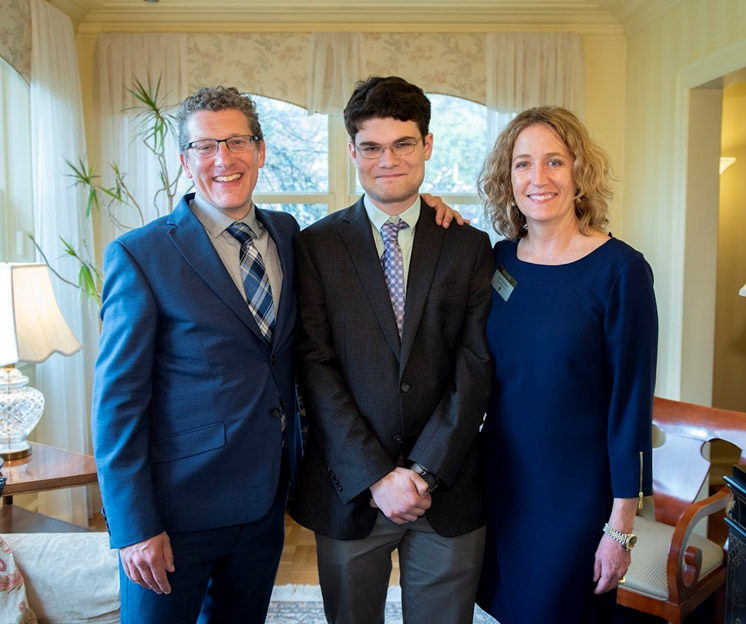 Harris Bunker at the annual Scholars graduation event in Cowles House in May 2019 with Dr. Waller and Jenn Arbogast
A member of the second cohort of Scholars, Harris Bunker leaves behind many close friends and admirers at Michigan State, where he excelled in Economics, and at the University of California San Diego, where he went to study for his PhD in the same discipline. Harris was intellectually superb, gentle and kind, deeply educated, loyal and generous. His passing elicited an outpouring of sadness, respect, and gratitude for a short life well lived. Former teachers at MSU described him as 'a brilliant student of economics and most importantly a great, great guy'; 'a bright and talented young man' with a 'good heart'; and someone who 'made a lasting impression' on the faculty he came to know. Harris' mentors at UCSD were quick to appreciate his dry humor, his 'witty and brilliant' insights, and the fact that he was not only a 'deep thinker' but a young man who exuded 'kindness and generosity.' The many devoted friends Harris made at MSU and UCSD and through Quiz Bowl at both institutions express the same admiration and sense of loss. Everyone agrees on his academic excellence and his insatiable appetite for knowledge, but they stress above all what most distinguished Harris: the kindness that made him a loyal friend and impelled him to help anyone, 'without a second thought', who was facing with an intellectual challenge.
We have all struggled with the tragedy of Harris' premature passing. Mike Morrow, who served as a Scholar's community mentor to Harris, concluded his lines of testimonial with the fitting words: 'I can only imagine the impact he would have had in his career, and I am blessed to have known him during his time with us.' It is because we all feel the same way that we are creating this endowment in Harris' name which we hope will provide financial assistance to MSU students who exemplify what is unforgettable about Harris: his passion for Economics and his generosity in helping others.
By being able to award the Harris Bunker scholarship each year we will also help to preserve the memory of Harris at MSU and in the Scholars Program. Especially when the young die, one of the greatest fears of their family members is that memories of their loved one will slowly fade. When Mike Morrow and I approached Harris' loving parents, Melissa and Frank Bunker, with the idea of an endowment, they responded warmly: 'with the anniversary approaching this provides us something to smile about …. thank you for making our day - and not forgetting our Harris.' I know from personal experience of losing a child that, although little comfort is truly available, there is succor in knowing that others still cherish your child and that their special qualities will be long remembered. Courtesy of the generosity of many people, including Mike Morrow and Jenn Arbogast, there is a Scholars Program endowment in the name of my late son, Charlie. Each year it brings me solace to be able to bestow it upon a Scholar of exceptional kindness. Mike and I wish for Harris' family to be able to feel the same pride and consolation every year when a new Harris Bunker Scholar is selected. It is our humble way of continuing to break bread with Harris.
If you would like to donate to the Harris Bunker memorial scholarship, please follow this link. We and the Bunker family are grateful for any amount, large or small. Thank you.
---
The Scholars Program says goodbye to 'program mom' Jenn Arbogast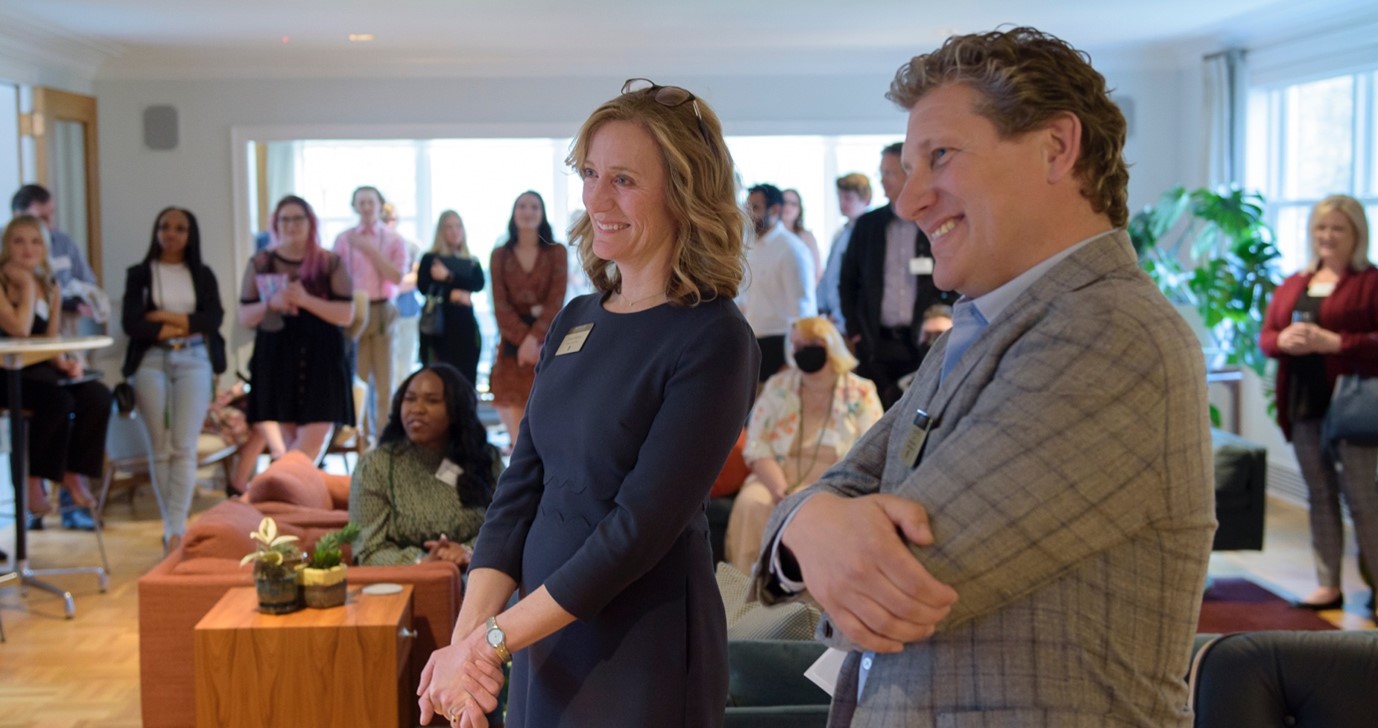 In early March of this year we wished Jenn all success in her new endeavor as a full-time clinical social worker in East Lansing. Jenn joined me back in early 2013 when the Scholars Program consisted of a half-designed website, some tentative ideas, the backing of several visionary alumni, and an empty suite on the third floor of Berkey Hall. It was enormously good fortune for me that Jenn was plucked from IDS to help me build what we then together created. I am grateful to her for many reasons: her good humor, her gentleness with students, her ability to tolerate my deficiencies (!), her generosity, her humble willingness to muck in, her sense of fun, her enthusiasm for tea and chocolate, her efficiency, her familiarity with Excel, her courage in advancing the interests of our students, her realism, and her authenticity. Everyone who has passed through the Scholars Program owes her an enormous debt of gratitude. And Jenn is quick to acknowledge how much the program has meant to her, not only because of the pleasure of working with our students, but because it allowed her to discover in herself a natural aptitude for the career in counseling which she is now pursuing.

We wished Jenn good luck at the annual celebration of our graduating Scholars. At the end of the traditional handing out of certificates, about 20 graduated Scholars surprised Jenn by Zooming in everywhere from Cambridge and Cornell to Maryland and New York. All expressed their gratitude to Jenn for the constant support she provided during their time at MSU. We then headed over to Beggars Banquet for a fantastically enjoyable surprise party of more than 50 current and former Scholars (see photos). Fortunately, Jenn has not gone far: her new office is just across Grand River in the Bailey neighborhood. And we look forward to her visits to 307 and a program which will always bear her imprint.
---
Where They Are Now: Spring 2022 Graduates

Emily Saxon
Graduated with BA in Psychology with Minors in Spanish, Global Public Health and Epidemiology. 
Now: Macro-MSW student at Case Western Reserve University
Evan Coberly 
Graduated with BA in History Education.
Now: History teacher
Sabrina Hall
Graduated with BA in Public Policy & Environment and a Minor in Health. 
Now: Living in Southern Florida, before beginning a Master's program in Environmental Protection. 
Michael Schiestel
Graduated with majors in History and Finance. 
Now: Financial Analyst at General Motors
Wisdom Henry
Graduated with BA in History and in Urban and Regional Planning. 
Now: Completing her Master's in Urban Planning at MSU and then going on to a PhD in History or Urban Planning as a Beinecke Scholar.
Alex Dean
Graduated with majors in Psychology and Criminal Justice and minors in History and Law, Justice, and Public Policy. 
Now: Studying Master's in Forensic Psychology at George Washington University.
Issi John
Graduated with BA in Psychology. 
Now: Working at neuro trauma ICU at Sparrow hospital and as a psychiatric technician at Cedar Creek Hospital before going to medical school in the fall.
Ren Muller
Graduated with a BS in Mathematics, a BA in Political Science and a minor in Quantitative Data Analytics. 
Now: Living in New Jersey, pursuing a PhD in Political Science at Princeton University.
Ahmed Tawakol
Graduated with a BA in Economics. 
Now: Collateral Operations Analyst at the Bank of New York Mellon in Orlando, Florida.
Kate Frieden
Graduated with a major in Psychology and minor in Cognitive Science. 
Now: HR executive in Wisconsin.
Chris Wentworth
Graduated with degrees in Economics and Biosystems Engineering and a minor in Quantitative Data Analytics. 
Now: A Project Engineer for the environmental consulting company, Point Blue. 
Tyler Hoguet
Graduated with a BA in Political Science and minors in Law, Justice, and Public Policy 
Now: Studying law at the University of Pennsylvania.
Gabby Kindig
Graduated with BAs in Psychology and Political Science and a minor in Women's and gender studies. 
Now: Working as the marketing and communications specialist for the East Lansing Public Library.
Tanner Thering
Graduated with a degree in Economics and minors in Mathematics, Social Science Data Analytics and Environmental Social Science.
Now: Living in Boston and working as an economic research assistant with the Federal Reserve.
Deandra White
Graduated with majors in Social Relations and Policy and Criminal Justice. 
Now: A neighborhood outreach coordinator for the City of Detroit Mayor's Office and law school in late 2023.
Nya Todd
Graduated with majors in Comparative Cultures and Politics and International Development. 
Now: Content Development Coordinator for Michigan Health Council.
Chloë Redeye
Graduated with majors in Psychology and Communications with a minor in Leadership of Organizations. 
Now: Working as an Administrative Coordinator for Blue Cross Blue Shield of Michigan.
Lockie Woods
Graduated with a degree in History. 
Now: Studying for a Masters of Public Administration at Kansas University.
---
Theda Skocpol: Distinguished Alumna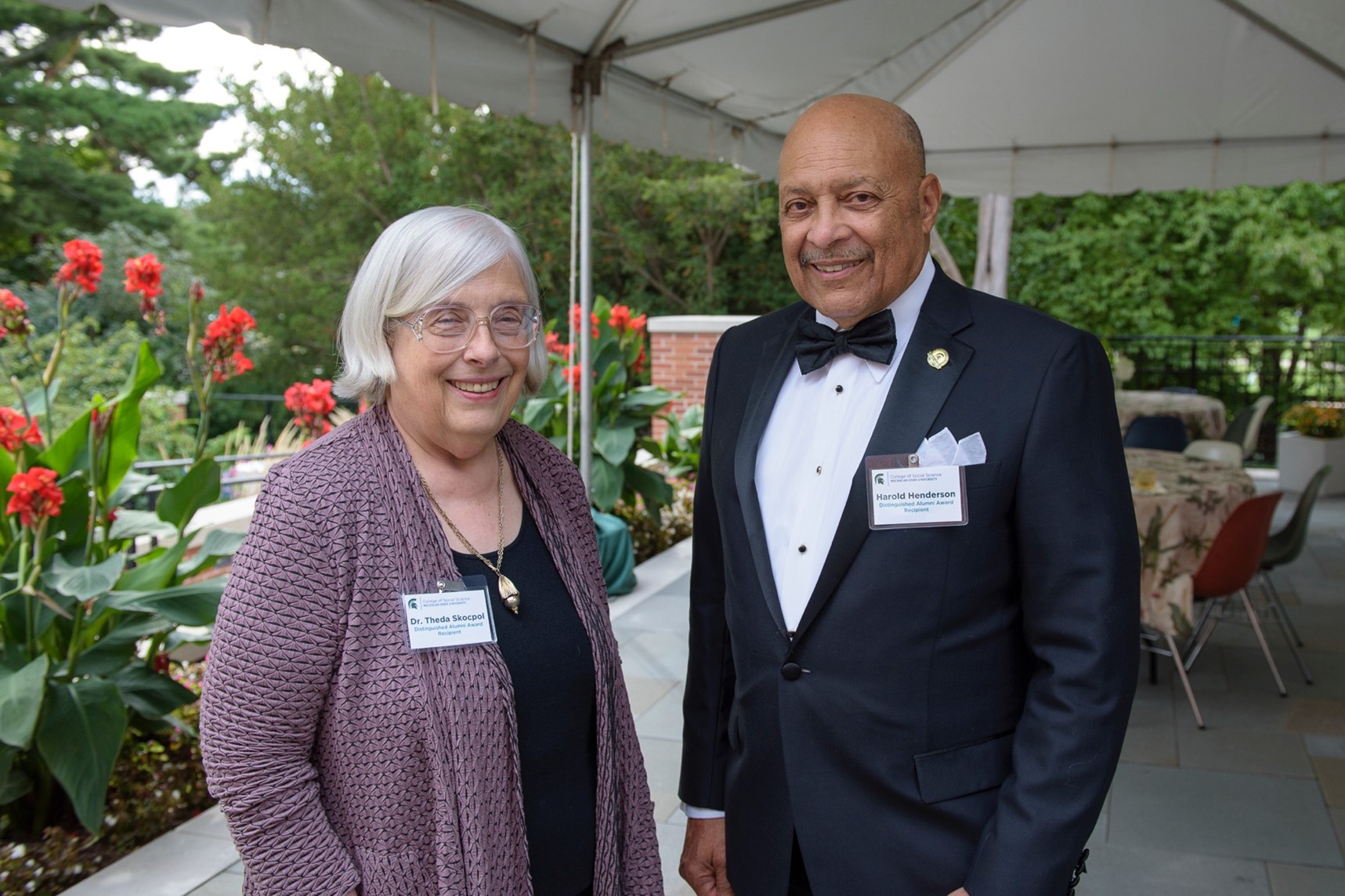 Theda Skocpol stands with Harold Henderson, another recipient of the Distinguished Alumni Award
In September the Scholars Program had the honor of co-hosting Professor Theda Skocpol, a recipient of the university's Distinguished Alumni Award. Theda studied Sociology at MSU before going on to complete a PhD at Harvard University where she is now Victor S. Thomas Professor of Government and Sociology. The Scholars, who crammed into Room 307 to hear her speak and answer their questions, were treated to an object lesson in the approach to academia that has made Theda one of America's most accomplished scholars. For decades, she has combined excellence as a researcher with a deep humanity and an unstinting commitment to making the fruits of the best academic inquiry available to a broad audience.
Few living scholars are as admired as Theda for the quality of their scholarship. Whether you are studying the nature of government, the rise of welfare, race in America, the causes of revolutions, political polarization, the history of US healthcare, the state of democracy, social class, child welfare, American conservatism, the passage of Obamacare, the future of social security … you are bound to find yourself reading one or several of her books. Theda's first, States and Social Revolutions (1979), has been cited by 10,500 authors and is one of a handful of texts which is a must-read for political scientists and historians and a staple of graduate programs in both fields. Several of her other works are also canonical, including Protecting Soldiers and Mothers (1995); Affordable Care Act, Health Care Reform and American Politics (2010); and The Tea Party and the Remaking of Republican Conservatism (2016). It's very rare for an academic to write on so many topics and in each case become an authority with whom others must engage. Unsurprisingly and deservedly, Theda has won the Woodrow Wilson Award of the American Political Science Association as well as the Johan Skytte Prize, one of the most prestigious in political science, for her 'visionary analysis of the significance of the state for revolutions, welfare, and political trust.'
While tackling subjects of pressing relevance, Theda is committed to the dissemination of scholarship. She writes often for newspapers and magazines and has been a driving force behind 'The Scholars Strategy Network', an online platform for first-rate academic work to be presented to journalists, politicians, and policy makers in order to improve the quality of political discourse.
For her brilliance as a scholar and her importance as a public intellectual, the Scholars Program co-nominated Theda for the MSU Distinguished Alumni Award. In September she received this award before an audience of several hundred alumni. What most sticks in my mind from Theda's visit is an extemporized acceptance speech during which she spoke movingly about her childhood and what MSU meant for her. Her grandparents had all been Michigan farmers and her parents were both teachers in the same state. Although there was never any doubt about Theda's brilliance – she has described herself as having a reputation for being 'a brain' in her large high school – her parents were wary of her pursuing education in a major, state university: Theda's mother preferred the idea of her daughter studying home economics at a small college and her father was anxious about meeting the costs. But Theda recalled a grandmother holding her by the wrist and beseeching her 'don't give up on your education'. 'I never have', Theda quipped.
Theda found intellectual inspiration and inspired mentorship at MSU and discovered passions for civil rights and for the kinds of social theory and political science that inform us about the present. In an interview in 2019, Theda also reflected on how much she gained from a childhood and early adulthood in the Midwest. Not only does it give her an advantage in having a better grasp than many scholars of the diversity of America's regions, outlooks, and cultures, but it remains a place of enjoyable familiarity – 'I never feel as comfortable as when I am in the Midwest', Theda explains.
We very much hope that graduates of the Scholars Program who go into academia or policy work will follow Theda's path of humane scholarly excellence. We congratulate her on her receipt of a Distinguished Alumni Award and we thank her for coming to 307 to inspire the Scholars and for kindly supporting the Scholars Program.
---
Scholars Study Abroad redux by Anna Lionas
After a two-year hiatus caused by the pandemic, the Scholars Program embarked once more on summer study abroad trips to the United Kingdom. So that students who were about to graduate were able to experience traveling overseas, three cohorts journeyed across the Atlantic between May and August 2022.
The first trip, led by Dr. Waller and Dr. McCauley, arrived in London on May 10th. They spent two weeks in London, studying the rise of British trade and industrialism, the growth and decline of empire, and race and class in modern England. They took in visits to the British Museum, Shakespeare's Globe Theater, the Imperial War Museum, and the Black Cultural Archives, and they received guest classes from experts like Dr. Ben Smith of Warwick University, who spoke on social class in modern Britain, and Dr. Jason Edwards of Birkbeck College, who addressed the causes and consequences of Brexit. They then set off for Wales to study medieval Britain and the conquest of Wales before returning to London for another week of exploration, learning, and immersion.
The students relished both London and the castles, countryside, and oceans of Wales.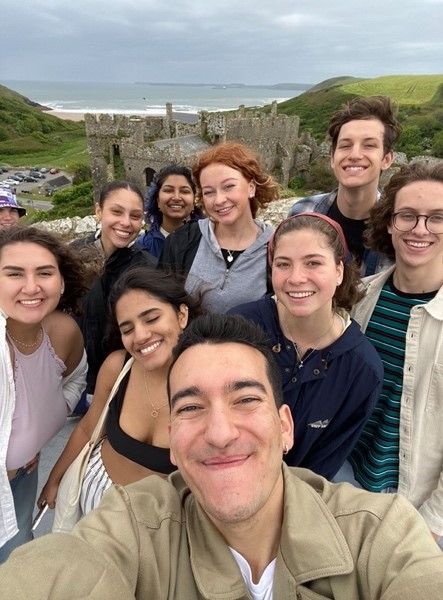 Ata Algan, an Economics major from Turkey, loved the cosmopolitanism of London in general, but especially enjoyed East London, which is fabulously "internationally diverse" and rich in cultural traditions. Ata was equally effusive about visiting Manorbier Castle in Wales. "We walked around the castle," he recalls, "and there was a beach next to it. So, we just changed our clothes and just jumped into the ocean. … it just felt so amazing even though it was so cold. It was beautiful to experience nature and feel the intense emotions it produces." To Dr. Waller, too, the high points were "the long hours of exhilarating swimming in frigid oceans following class." He also fondly recalls taking most of the students on their last day to experience the delights of a cricket match at the historic Oval ground, where the students learned the sport's arcane rules while bathing in the sun of a glorious summer evening. Emma LaBarre, a Social Work major, captured a general sentiment at the end of three weeks in the UK: "The scholars study abroad was one of my favorite parts of college so far!"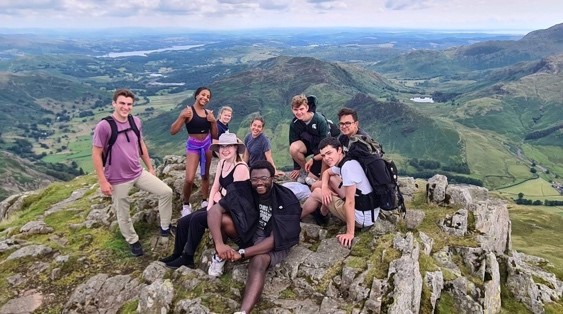 The second trip, led by Dr. Melissa Fore and a former Scholar, Nicole Jedding, arrived in London on June 15th. They spent time studying empire, race, and class in London, before heading to Oxford, and then the Lake District, in the country's far north, to study a range of topics, from environmental protection and rural life to climate change policy and the future of Artificial Intelligence. "I had a wonderful time while studying abroad in England", wrote Jerome Hamilton, a Political Science major from Maryland, "Walking through London, one of the world's most densely populated cities, to touring the historic town of Oxford, and then losing myself in the grandeur of the fells in the Lake District, all combined to provide an experience that enriched my view of the world outside of the United States."
Carrie Nielsen (Economics) fondly recalls her program leader, Dr. Melissa Fore: "She is just very adept socially and very friendly. And so she made connections with the people at the hotel" in the Lake District, "and encouraged students to talk to them as well. One night she requested that we have a bonfire. So, lots of the staff from the hotel and the students spent the evening sitting around a firepit in the back. A couple of students had bought guitars in Oxford and started playing some songs. We just sang campfire songs. I really loved it." 
The third group, led by Dr. Waller and the former Scholar, Jasmine Jordan, arrived in the UK on June 22nd, spent a week in London, a week in Oxford, and a further week in the Lake District. Katie Denzin, a History Major from California, recalls rushing to Shakespeare's Globe Theater where she and the other Scholars "filed into the pit", the traditional standing room area of the early modern "groundlings", "just inches from the stage and the actors". "After standing in that exact position for about 4 hours," Katie notes, "I stopped envying the theater enthusiasts of the 17th century, but I nonetheless appreciated the opportunity to experience Shakespeare in its true home." Taz Amin, a Social Work major from Michigan, shared Ata's appreciation for the diversity of London. "It was truly enriching," she writes, "to see different parts of my identity represented in the different places we visited, especially as I got to learn about the Bengali Diaspora in Britain."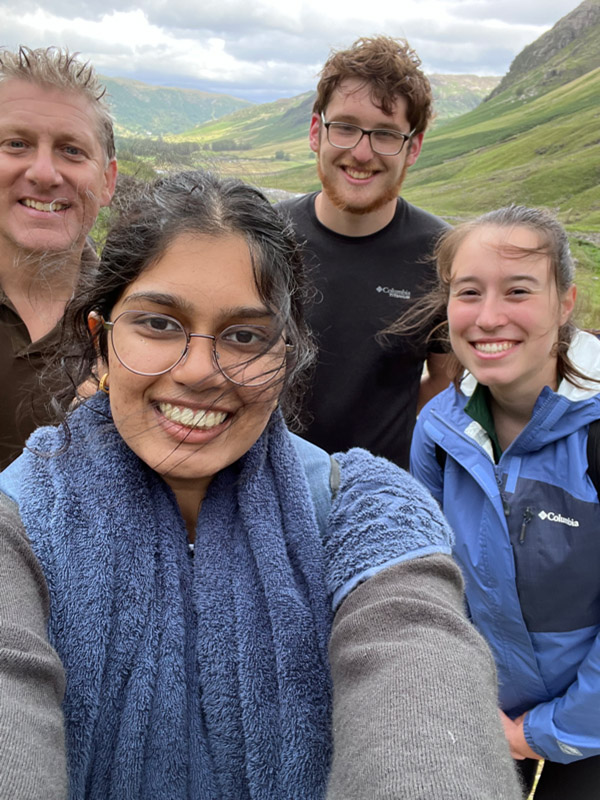 Dr. Waller especially treasures an afternoon spent in the Oxford backyard of a well-known British novelist, Jo Kavenna, who had the students perform plays written by AI machines. "The Scholars entered fully into the activity", says Dr. Waller, "producing genuinely funny performances. … My film of the event is shaky because of how much I was laughing!"
For most students in group three, as for the second group, it was the remote Lake District which brought most joy and adventure. Since 2015, the Scholars have been staying at the same beautiful, Victorian hotel, The Old Dungeon Ghyll Hotel, and are always warmly welcomed by the family which has run it for over 30 years. Taz Amin talks of the "pure bliss and happiness" she experienced amid green fields, sheer cliffs, mountain streams, and endless flocks of sheep. For Katie there was an especial thrill in seeing sheep for the first time and standing beneath the flow of a powerful, secluded waterfall to which she and a small group of other intrepid students clambered up through white water and over rocks slick with moss and algae.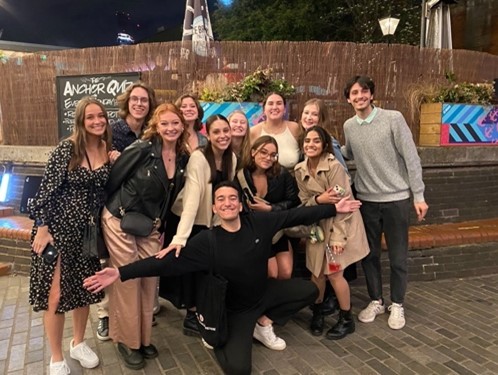 Three trips, nearly fifty students, and an abundance of rich experiences and lasting memories. As in previous years, students later reflected on their gains. Some speak of acquiring a higher-level understanding of cultural differences: "a deeper appreciation for lifestyles different than my own" and "unique perspectives on American life". Katie Heeder, a Human Development and Family Studies major, wrote more broadly about the benefits of the many social and intellectual interactions on the trip: "the conversations I was able to have with my peers, professor (Dr. Fore), and locals pushed me to think critically about why I believe what I do." Others spoke of friendships strengthened and forged. "It was a great way to form deeper relationships with my peers", writes Emma LaBarre.
At its best, study abroad provides the excitement and novelty of an adventurous vacation, the camaraderie of travelling with friends, and the mental growth of observing how other countries do things. We very much hope that all of the Scholars who traveled around the UK this summer felt this way about their experience, and that they shared Katie Heeder's description of her trip as "filled with a magical mix of joy, laughter, and the pursuit of knowledge."
---
Alumni Spotlight: Janet Ibarra by Anna Lionas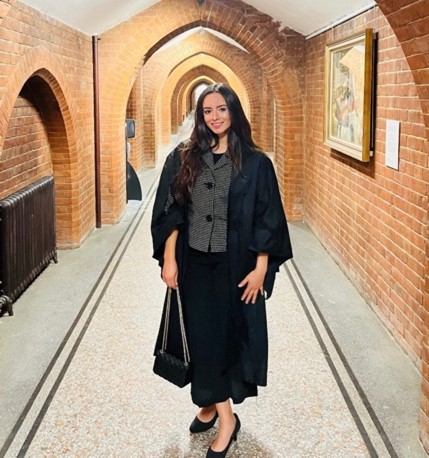 Janet Ibarra graduated from Michigan State in May 2021 with Bachelors degrees in Social Relations & Policy and Political Science (pre-law). In her years at MSU, her involvement in the Scholars Program helped her "create a home within the big college of Social Science" and the even larger MSU community.
What are you up to now?
Janet is currently attending the University of Cambridge, UK, where she is earning her Masters in Latin American Studies. After graduating MSU, she took some time to prepare for her LSAT and her upcoming studies at Cambridge, while working at a nonprofit called the Michigan Immigrant Rights Center. The latter role, Janet explained, strengthened her desire to deepen her education in preparation for a career in immigration law: "I came to realize", she says, "that I wanted to do more research into Latin America before I started law school." Now Janet is settling back into being a student, adapting to a new culture, a different time zone, and classes in one of the world's very oldest universities. Her decision to attend Cambridge before embarking on law school was also inspired by Jasmine Jordan's example. Jasmine, another former Scholar who is now in Cambridge as a Gates Cambridge Scholar, encouraged her to apply. "That's kind of why I'm here", noted Janet, illustrating how relationships made in the Scholars Program can carry on beyond the classroom and graduation.

Janet (right) and fellow graduated Scholar Jasmine ice-skate in Cambridge, UK
How does Cambridge compare to MSU?
"Surprisingly, there are a lot of similarities in the student culture and in the transportation – in both places I lived some distance from campus." But, Janet adds, her learning experience is now much different because "there are only nine people in my program".
What it means to be a Social Science Scholar:
"There are so many opportunities that that the Scholars Program provides, such as internships and funding for study abroad. Also, the research component was really, really important for me. A lot of Scholars who graduated from the program are able to say, like me, that they have research published, so it all contributes to making the MSU experience unique." Janet not only published her research but won the university's Martin Luther King Jr. Advancing Inclusion through Research Award for her research on "How the Trump Presidency Has Affected Latinx Undergraduates."
What are you interested in now?
"I'm studying Latin American history and culture. My goal is to do a thesis on life post-deportation from the US, specifically focusing on Mexico." This is an important topic for Janet who has spent the last year performing intakes for people who have fled from Latin America and are claiming asylum. Very little, Janet explains, is known about the fates of those who are sent back.
Core memory from the Scholar's program:
"Our study abroad trip was so much fun. I feel that it brought a lot of us closer together. Before going, we were just students in the classroom. And then when we came into this trip, and we were in another country, we all connected. I remember going to Spain for a weekend where one evening we sang karaoke. It was just so funny. Selecting a Nicki Minaj song, we sang before a Spanish speaking audience who had never heard the song and who stared at us as if to say, 'what are you singing?"
Advice for Scholars:
"If you're afraid of the real world, quote-unquote, just know that everything will fall into place and things happen for a reason. So even if you're not going in the direction that you thought that you would after graduating, that's okay."
Janet is an example of a student who has great passion for her future and who has found her way through the help of the Scholars Program and its resources. It's an honor to call her an alumnus. She has a very bright future. Best of luck in Cambridge Janet!
---
Scholars Presenters at UURAF 2022
By Katherine Denzin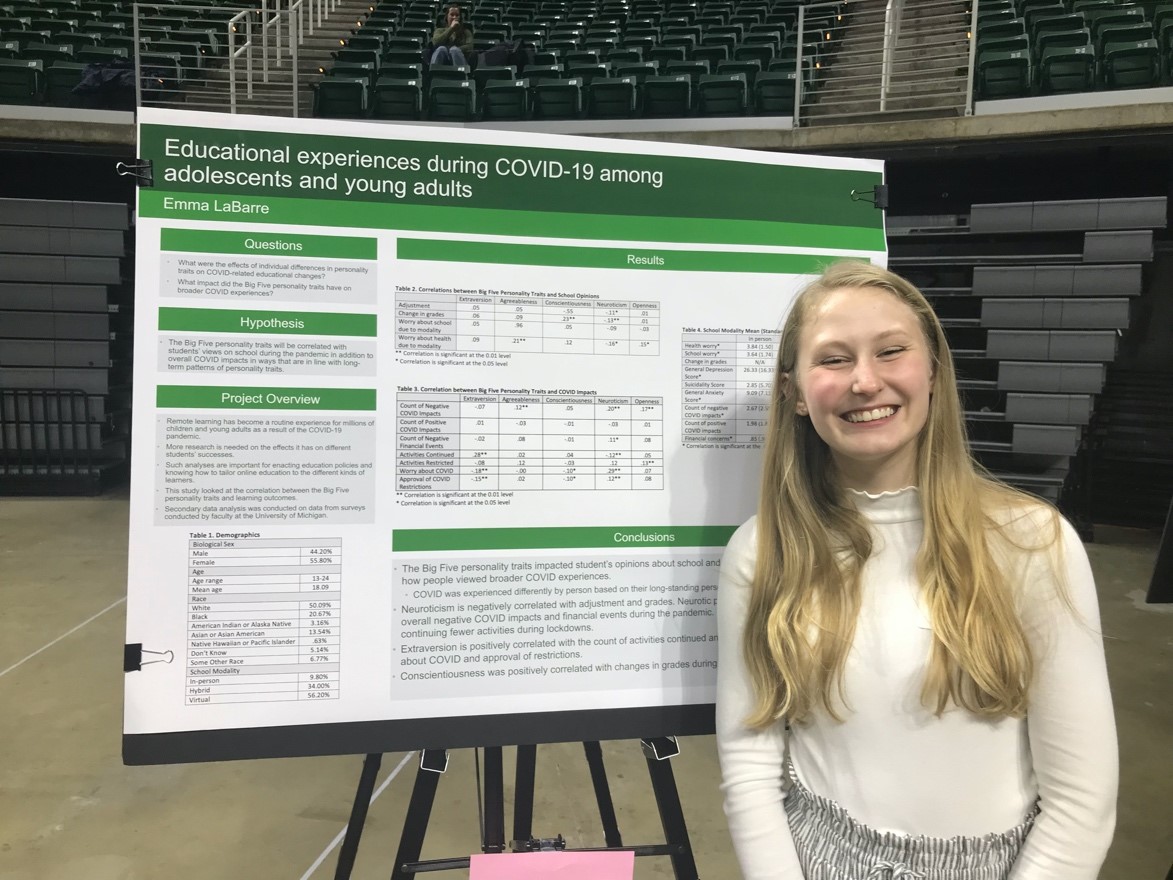 Emma LaBarre (Social Work) presents her study on the relationship between learning during Covid-19 and the Big Five personality traits
Research is a central aspect of the Social Science Scholars Program. The University Undergraduate Research and Arts Forum is a way for the Scholars to present their research at the University level and gain professional presentation experience.
In total, 22 of the current Scholars presented at UURAF 2022 this past April at the Breslin Student Events Center or in a virtual format. These presentations included work from Scholar research labs, independent projects, and faculty-led research, and the topics ranged from digital misinformation and the contents of history textbooks to research on COVID-19 and perceptions of climate change science.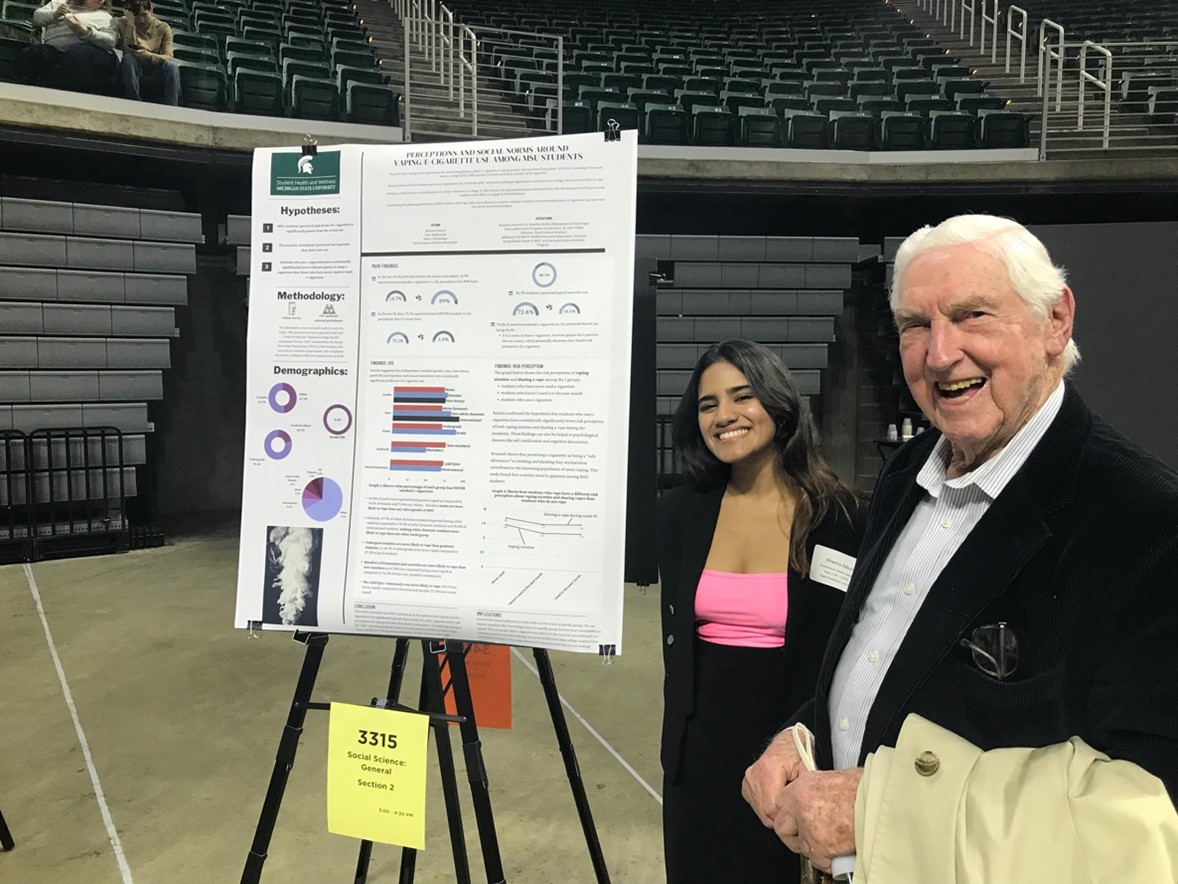 Junior Scholar, Shweta Adsul, presenting her poster while chatting with Irv Nichols, her Senior Ambassador host
"My UURAF presentation focuses on the mental health information needs of rural and migrant youth," said Tess Bond, a third-year Scholar and junior working with Dr. Joanne Riebschleger in the School of Social Work. "Through our qualitative data we identified four emerging themes, including rural communities having unique mental health needs, stigma and rural sub-cultural factors which are both protective and complicated, migrant youth facing specific mental health barriers, and social media as an asset and a complicating factor in terms of mental health."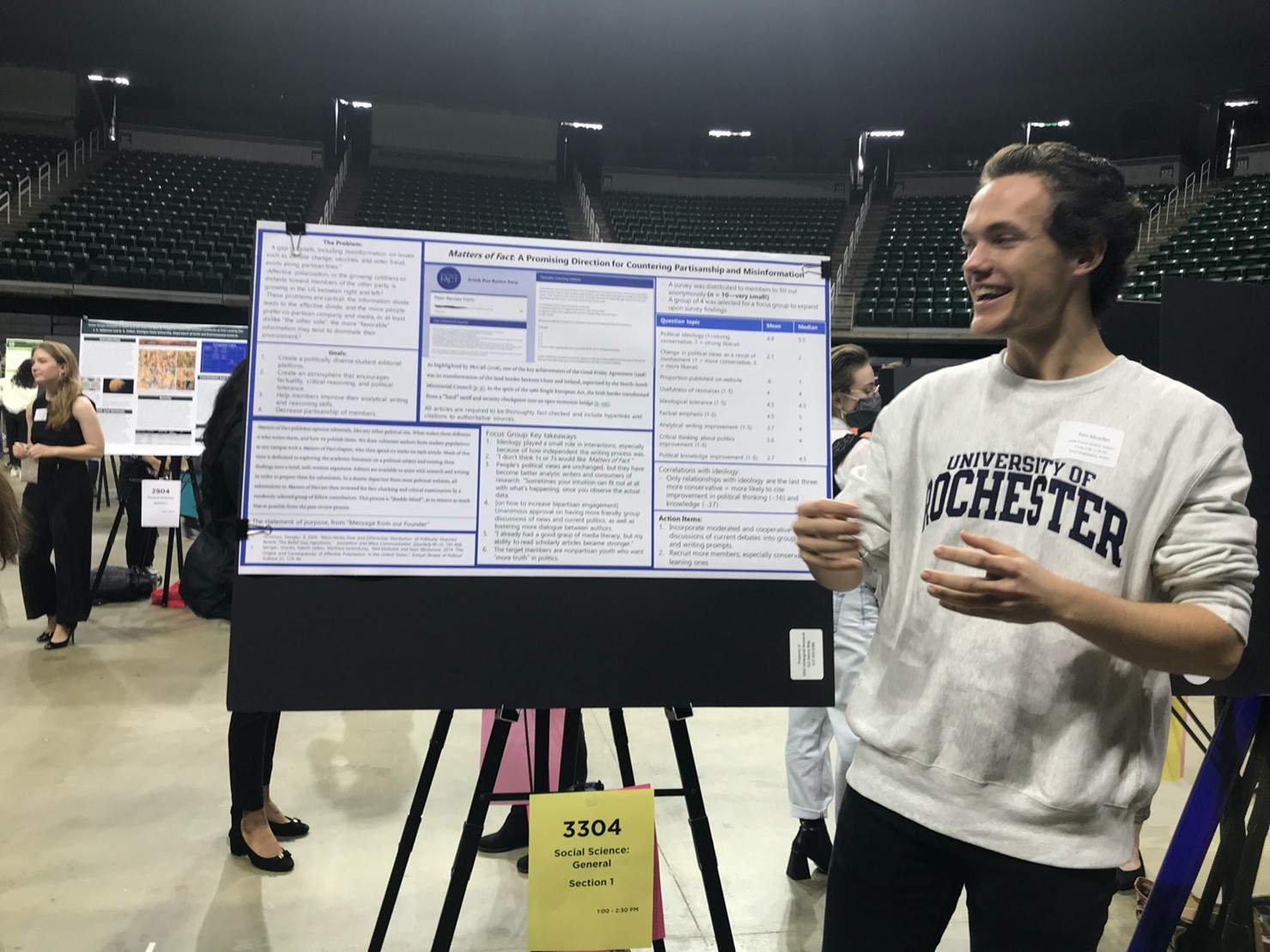 Ren Mueller (Political Science) presents his research on an experiment in encouraging non-partisan policy analysis by undergraduates. P.S. Ren ultimately opted for Princeton over Rochester for his PhD!
Other projects included an individual project about the intersection between politics and the environment. "I am reviewing and analyzing environmental campaigns from around the world in the past 50 years, and I am constructing a matrix to identify factors that correlated with either the success or failure of movements," said Sabrina Hall, a third-year Scholar. "This is a work in progress that will consist of many different case studies, and I hope to apply my findings to current environmental campaigns such as PFAS regulation and climate change."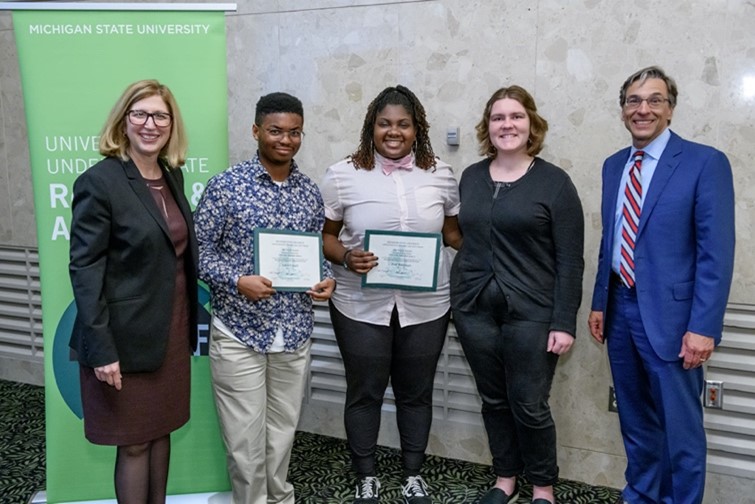 Justin Crouch, Nel Robinson and Katie Denzin with their first place award
Scholars' collaborative projects were also showcased. Ryan Weinberg and Sydney Wojczynski, a junior and sophomore respectively, and both second-year Scholars, presented on misinformation within social media. The History Textbook Lab, led by second-years Roxy Sprowl and Justin Crouch, presented two closely related projects on racial and ethnic representation in high school history textbooks. Their poster presentation won a First Place award in the Arts and Humanities section of the competition. The three presenters, Justin Crouch, Nel Robinson and Katie Denzin, were invited to the UURAF First Place awards ceremony in the Union Ballroom. This is a tremendous accolade. "As a freshman, I was really excited to win a first place prize," said Nel Robinson, a first-year scholar. "I was glad that my team members and I had something new to add to our portfolios of honor and achievement. I can't wait to participate in more research in the future! It was truly a fun experience."
The breadth of topics presented by the Scholars at UURAF was indeed impressive. A full list of Scholar researchers and their project titles is listed in the accordion below.
Scholar Researchers

Shweta Adsul
Social Norms Around E-cigarette Use on MSU's Campus     

Joey Allen
Going The Distance: Public Microtransit and Job Access in Low- Income Communities

Sam Barans
Do Reference Periods Change Interpretation of Emotion Frequency Questions?
&
Analyzing the Measurement of Awe

Tess Bond 
Qualitative Analysis of the Mental Health Literacy Needs of Rural and Migrant Youth

Justin Crouch, Katie Denzin & Nel Robinson
Sins of Commission and Omission: Do Images in High School History Textbooks Reflect the Historical Diversity of the American People?

Jade Elder, Ayden Ferris & Roxy Sprowl
(Mis)taken History: A Visual Analysis on the Presence of Racial Caricatures in U.S. History Textbooks

Chris Eyke
On the Edge of Empires: Historical Perceptions of the Nagorno - Karabakh Question

Faith Foster
A Study of QAnon Propaganda on Twitter as Information Warfare

Sabrina Hall 
Opportunities and Constraints in Environmental Movements

Shrishti Jalan 
Sparty and Spartina: A Closer Look Into the Women of Ancient Sparta

Macken Keefe 
Beyond the Pale: Understanding Intergroup Contact in Northern Ireland

David Koster 
Vaccine Hesitancy and Climate Denialism

Emma LaBarre 
Educational Impact of Covid-19

Ren Mueller
Matters of Fact: A Promising Direction for Counter-Partisan Media

Caitlin Patton
Tiger Parenting and Its Effects on the Mental Health of Children 

Sydney Wojczynski
Social and Physical Aggression as Predictors of Digital Aggression
&
Social Media & Politics

Ryan Weinberg
Social Media & Politics

Ovya Venkat 
How Does Local Ecological Knowledge Impact Biodiversity Conservation? An Investigation with a Meta-Analysis Approach
---
Email Interview with Mike Morrow, Valued Alumnus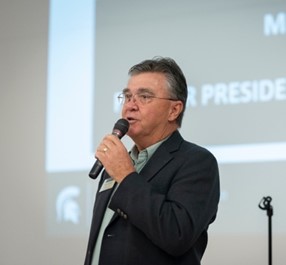 Mike Morrow, recipient of the Distinguished Alumni Award and a firm friend of the Scholars Program and its students
How was your experience as a social scientist different from what students experience today?  
I graduated in 1972 with a BS Degree in Labor and Industrial Relations.  That Undergrad program was dropped in favor of a Graduate Level program for many years afterwards and has now been brought back as HRLR (Human Resources & Labor Relations).  It has become one of the leading HRLR programs in the World.  I was originally in the College of Business but was faced with a variety of Math and Statistics courses in which I had no interest, so I transferred to the College of Social Science where I could fill my Senior Year with Labor Law, Political Science and Marketing courses that would ultimately serve me well in my Business Owner and Business Development Executive career as well as many Volunteer opportunities.  These required interpersonal human skills and the ability to identify and develop key target markets for the products of the companies with which I worked.  Today's students get all that and more from a breadth of courses that develop these interpersonal human skills that can lead them to many different interesting pathways in their careers.
How do you view the Scholars program as a part of the College of Social Science?
When it was created in 2013 it was going to offer a uniquely diverse program that would benefit high-achieving students with an opportunity to learn in small groups with camaraderie and collaboration to ultimately take on leadership roles upon graduation.  Under the direction of Dr. John Waller, it has far exceeded its origins and today many of its graduates have gone on to wonderful careers, to some of the best graduate and law schools, and received a number of prestigious world-wide graduate fellowships.   
What motivates your commitment to the College of Social Science today?
I was first asked to consider becoming involved with the old College of Social Science Alumni Board of Directors over 20 years ago. I remember attending my first meeting which was held in a downstairs conference room at Cowles House.  After joining the following year, I was asked if I could assist by taking on the role of Interim Secretary for a person who was unable to fulfill the remainder of their term.  I accepted, became Secretary and ultimately Chair in subsequent years.  As a result, I have become thoroughly involved in the College and its wide-ranging educational opportunities for students, leading to my current position on the Board of Visitors.  I have mentored a Scholar student in each of the first six cohorts, learning more from them than they from me.  As a result, when my student from the second cohort, Harris Bunker, passed away from a rare blood disease in October 2021, my wife and I are now celebrating him by creating an Endowment in his memory to be used for future Scholar students.  
What advice do you have for students who have not declared a major but are interested in the college of social science? 
Our college has 13 Degree Granting Units, more than 30 Degrees and more than 12 minors.  By coming to our college, a student will be exposed to many interesting careers such as Law, Medicine, Economics, Political Science, Criminal Justice, Psychology, History, Social Work and many more.  A study that was conducted by one of our Board of Visitors members some years ago shows that almost 80% of students coming out of High School will either choose a Major after they arrive here or will change their mind from their original choice of Major after they arrive here.  Our college offers the greatest exposure to many careers of any in the University and is a wonderful place for a student to assimilate all to which they are exposed in order to create a most interesting pathway to their post-Graduate careers.   
What advice do you have for graduating seniors? 
Remember that your first job is not your last job.  Whereas my parents and their generation often worked for one employer their entire career and then retired, today's students can expect to work for anywhere from 3-8 employers.  Do your best for your employer, gain knowledge, and continue seeking what interests you most.  Most importantly, NEVER BURN YOUR BRIDGES, because the friendships and working relationships you gain will often come back to you later in life.  Your colleagues also continue seeking what most interests them and they will remember the camaraderie and collaboration they enjoyed with you that could result in future opportunities for you.  Likewise, remember those friendships and relationships with whom you enjoyed camaraderie and collaboration because you could provide them with future opportunities.    
Note from the editor: We are enormously grateful to Mike's support over the years. He has been a model community mentor and he and his wife, Midge, have made donations to the program which have opened up otherwise unaffordable opportunities to several of our students. Thank you Mike!