February 2017
Exciting times for all three Scholars cohorts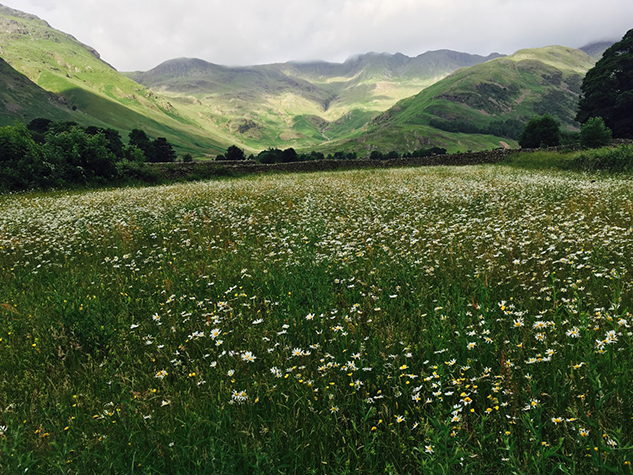 Amazingly we're now into our third year of the Scholars program and we're in the process of recruiting our fourth cohort. After an enjoyable study abroad in the UK (photos above and below) - which involved an ambitious trek from London to Manchester and from the remote Lake District to Liverpool and Oxford – in late August we welcomed 20 fabulous new Scholars. Most of our 2017 cohort is from Michigan but we also have four out-of-staters as well as students from both China and Zimbabwe. You can read more about all of our Scholars on the program's website and below you'll find brief essays by four of them. In the next couple of paragraphs I'll just highlight a few recent achievements from each cohort. This list is necessarily arbitrary, given how many Scholars are doing great things, but it will give you a sense of what an exceptional group of students are representing the program, college and university.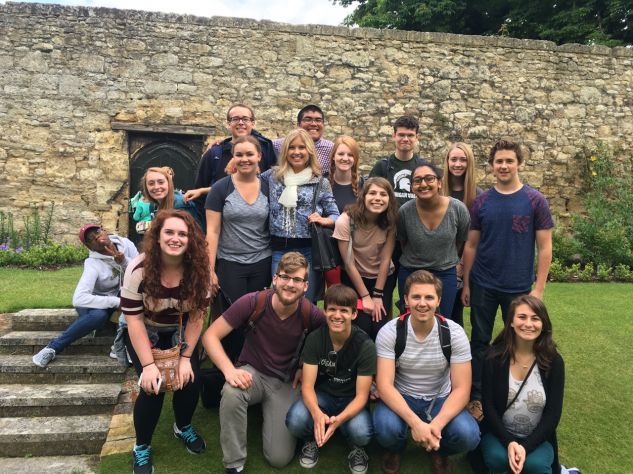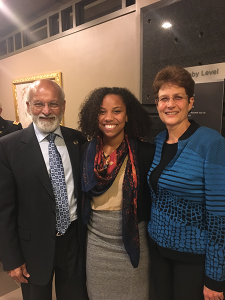 First, our third year students from the inaugural cohort. We're thrilled to have released in November the first of our annual books of Scholars Research – the chapter topics are impressively wide-ranging: for instance, Erik Rose provides a historical perspective on the health disparities between white Americans and African Americans; Manny Alalouf and Alex Federau discuss the funding of clinical research; and Emily Scheitz analyses what is known about the causes of eating disorders (see photo below of scholars with their book). In addition, several juniors won impressive university accolades. Grace Hough and Madge MacLean both secured Dean's Assistantships to do advanced research with faculty members; Madge was selected from a competitive pool of students and faculty to give a TED-talk at the Wharton Center later in the spring; Tristyn Walton became a Gupta Scholar, in recognition of her integrity, altruism, and respect for humanity (Tristyn with Shashi and Margaret Gupta, right); and Tristyn also won the university's nomination for the highly prestigious Truman Scholarship (this really is a tremendous accomplishment)! Moreover, the juniors completed an impressive array of internships: for example, Calla Michalak assisted physicians working in rural areas of Ecuador; Gabby Burchett learned about entrepreneurship in a travel start-up in Prague; Mark Zuccaro shadowed a judge in Detroit; and Elias Kokaly worked for Detroit Deputy Mayor Carol O'Cleireacain. We'll also miss our first graduating Scholars: Manny Alalouf, Rylee Brower, and Emily Scheitz, as well as Teresa Azzam from our second cohort.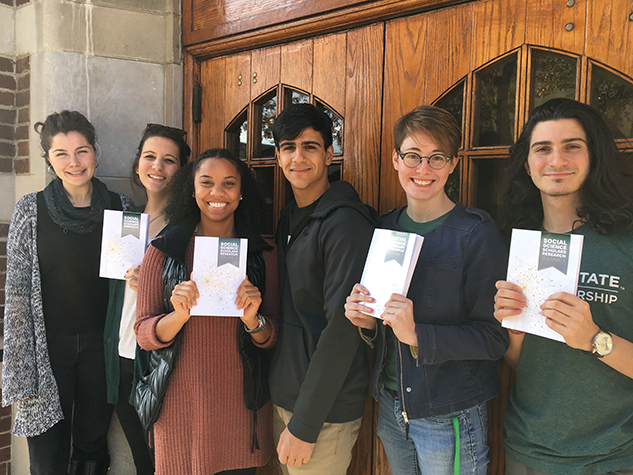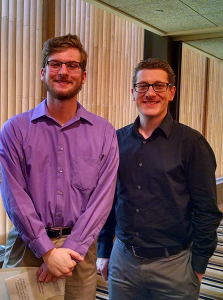 The sophomores have been every bit as dynamic. Not only did they walk remarkable distances in the UK (with only occasional complaints!), but they have scored a number of academic successes: Trent Koch (pictured to the right) and Elizabeth Schondelmayer both won awards from the History Department in honor of former faculty members; Annie Brandicourt joined Tristyn as a Gupta Scholar; Michael Marchiori secured a Provost Undergraduate Research Initiative grant to conduct research on how proximity to large bodies of water may improve mental health; Rachel McIlvaine co-published an article in a professional geography journal; as noted earlier, Teresa Azzam will soon be graduating and heading for law school; and we're about to receive the final research papers that will make up the second annual Scholars Book.
Finally, our current freshmen. They've all hit the deck running and have embarked on a fabulous range of research projects under faculty supervision: from Jane McGrew and Grant Burton who are using electroencephalograms (EEGs) to study the effects of stereotyping, to Margo Killey, Astley Siwela, Andrew Rocket, and Brett Binkowski, who are studying the effects of colonialism in various parts of Africa, and Qi Huang, Nicole Jedding, Kyle Jones and Yena Berhane who are researching the extent to which artificial intelligence technology can be used to screen for mental illnesses and intimate partner violence. The freshmen are also gearing up for their summer abroad, which includes acquiring a large backpack and strong leg muscles!
Thank you so much for supporting this unique program. Please enjoy the student reflections below and – above all else – let me know if you would like to get more involved as a community mentor or if you'd like one of our stellar students as an intern! In the meantime, we wish you all the very best for the year ahead.
---
Tristyn Walton, Interdisciplinary Studies, Inaugural Cohort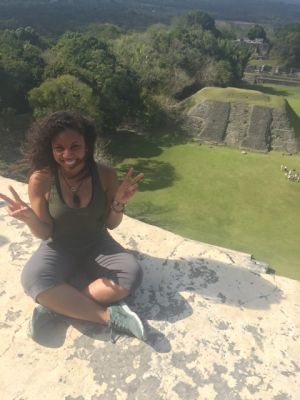 Before I jump into everything I've been able to accomplish at MSU so far, I really want to thank the Social Science Scholars Program. Whenever I am asked why I chose MSU over all of my other options, there has never been a time when the Scholars program was not my answer. I knew that the program would be an exceptional opportunity that I couldn't pass up. And an amazing opportunity the program has been, to say the least.  In fact, I consider it to be a program and an experience that nobody could expect to enjoy in any other college or university - not even an Ivy league. The program is unique not only because of the numerous opportunities afforded to us, but also due to the efforts of Dr. Waller and Mrs. Arbogast. It is rewarding and gratifying to know that two people who never knew that we existed until last year so purposefully invest in our success and spend countless hours making sure that as students we have everything we need in order to excel. They are fully invested in our future.
As part of this select group, we are all required to do an extensive research project in our freshmen year. Every scholar has the opportunity to work closely with a faculty member. I had the pleasure of working with Dr. Joe Darden in the Geography Department. My research partner, Julie Vernon (who is also a member of the first cohort) and I published in the annual Scholars Book our research article on 'Mass Incarceration' and how the judicial system disproportionately affects and targets the African American population. The paper was split into two parts. The first explains why there are high rates of crime and looks at how cultural marginalization and institutionalized racism keep African Americans trapped within the prison system. The second reviews some of the effects of incarceration, including the poor mental health of inmates and their families; the educational costs for youth who have had contact with the prison system; the harm done to the prospects of economic development in minority communities; the struggles experienced by ex-felons in finding employment and reintegrating into society; and the effects of the political disenfranchisement of young adults returning to their communities. To say that I have a publication as a junior in college has in itself opened up many doors for me.
This year I had the opportunity to intern at The Community Economic Development Association of Michigan (CEDAM). CEDAM is a small non-profit based in the downtown Lansing area with members throughout the Lower and Upper Michigan Peninsulas. CEDAM focuses on economic development in Michigan by creating vibrant, sustainable and resilient communities. As an intern at CEDAM, I work closely with the policy analyst specialist focusing more specifically on affordable housing policy. Learning more about housing policy analysis has been extremely useful to me, not least because I made the development of affordable housing policy the focus of my Harry S. Truman Scholarship application. Along with my parents, Dr. Waller encouraged me to apply for the national Truman scholarship, and to my surprise I was nominated by Michigan State University as a finalist. The Truman scholarship is a highly competitive national scholarship that awards students across the country who have made a commitment to public and community service.
This year has also been very rewarding as Dr. Waller nominated me for the Gupta Values Scholars Scholarship. The newly endowed scholarship provides $5,000 each year for 10-15 students who are committed to public service and academic excellence and exemplify integrity, human dignity and altruism. The Gupta scholarship is so much more than a renewable amount of money each year. It also introduces me to another group of people who are seriously invested in my future and career aspirations. I had the pleasure of meeting Dr. Shashi and Mrs. Margaret Gupta last semester, and they embody all of the values I admire the most. They are so humble, so willing to help and, most important of all, they have founded their company – Apex CoVantage - according to the same standards to which they hold the Gupta Scholars.
To say the least, this past semester alone has been amazing. It's been a semester full of so many opportunities, honors and even more accomplishments and I cannot thank the Social Science Scholars Program enough for opening these doors for me and being there to help me at every step along the way.
---
Elizabeth Schondelmayer, History/Communications, 2015 Cohort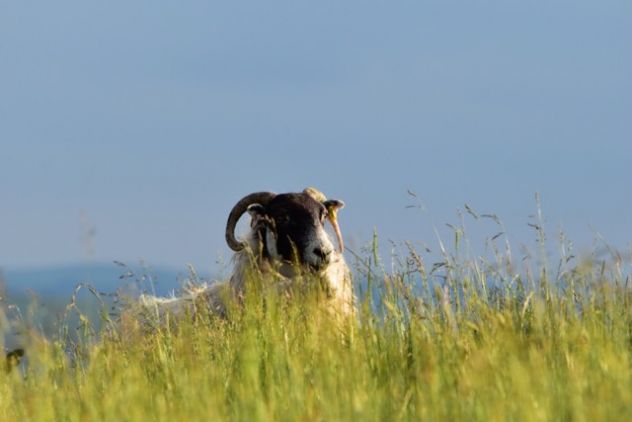 When you think of England, what comes to mind? Double-decker buses? Noel Gallagher? The Tower of London?
If you had asked me this question a year ago, my mind would have wandered in a similar direction (plus or minus a few Monty Python actors or aging rock musicians). Since visiting the country over the summer, however, my answer would be totally different. Now, I immediately think about the incredible street performers showing off their skills outside the London Art museum, the haunting grey skies hanging ominously over Stonehenge, and the feeling of joy and excitement I felt after seeing "A Midsummer Night's Dream" performed in Shakespeare's Globe theater by some of the most talented actors I've ever seen (see the photo below of our group with one of those actors, Ankur Bahl. That's me in the back, peeking over the top!). Though I've had great opportunities so far on campus, the best academic experience yet has been the Scholars Study Abroad trip.
During this excursion, I was able to do some soul-searching. And not the clichéd, meditating-on-a-beach soul-searching, but some real self-discovery. I found out, for example, that I have an unrelenting obsession with photographing sheep (like the photo I took above), I don't hate English meat pies as much as I thought I would, and I'm actually athletic enough to climb a mountain! Who knew? Joking aside, this trip was my first time leaving the continental United States, and so going in, I was pretty terrified. After suffering mild terror during takeoff, it was smooth going from there: the group was easy to travel with, and Dr. Waller and Dr. Fore made sure we were adequately prepared for everything the UK threw our way. Removing the stress from our travels made room for time to truly take in the sights and sounds and smells of England (mostly good, some bad) and really gave us the chance to unwind and absorb.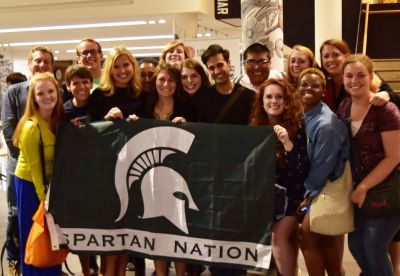 When you visit England with a group of Americans, you usually see the "tourist-y" stuff: the Tower of London, Big Ben, maybe a red double-decker bus or two… and then you go home. When you go with a Brit like Dr. Waller, however, you gain an understanding of the ins-and-outs of the country, including the good, the bad, the ugly, the comedy clubs, the Dr. Marten's store in Camden Town…you see everything. From the busy streets of London to the rolling hills of the Lake District to the rock monuments of Stonehenge, there's not a place you can't explore. You feel far from home, but at the same time, you feel at home. You're able to get up close and personal with the culture of England, and it feels welcoming and familiar rather than intimidating and foreign.
I need to make one thing clear, however: this trip is not a vacation. While it's fun, it's worth your time and effort academically. The scholars are there to learn, and Dr. Waller is there to teach. Although the traditional classroom will be nowhere in sight, there is a lesson in every day. By traveling on the River Thames on a variety of river boats, floating east and west, we studied the history and politics of Roman, medieval, Tudor and Victorian England; we tracked the course of the world's first industrial revolution from the remote cotton mills in the Peak District to the giant, now-derelict factories of Manchester, the 'shock-city' of the industrial age; we spent several days among the remote mountains of the Northwest coming to understand a landscape that has barely changed for millennia; we learned about the role of the slave trade in the growth of cities like Liverpool; and, in Oxford, we were taught about new technologies that are helping climate scientists combat the effects of global warming. All of these topics allowed us to put what we'd learned on campus in the previous two semesters into a broader, international perspective.
What's truly great about this trip and the Scholar's program in general is that it makes these opportunities not only available, but highly accessible. With the help of this program, I was able to obtain enough scholarships to cover the entire cost of this trip, save for food and personal expenses. And I'm not by any means an exception to the rule. In large part due to the kindness and generosity of our alumni supporters, all scholars receive subsidies for the trip, and Dr. Waller and Jenn Arbogast spend a lot of time helping us find resources and scholarships to help foot the bill. No scholar will be left behind. It's for these reasons that this trip remains one of my favorite experiences I've had through MSU and the Social Science Scholar's Program so far.
---
Annie Brandicourt, Social Work, 2015 Cohort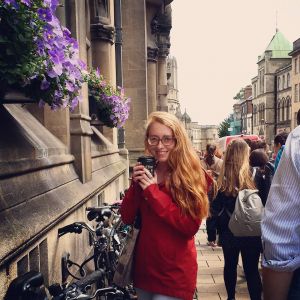 My name is Annie Brandicourt, and I am a 2ndyear Scholar. This semester, I have been spending my time conducting research with professors, volunteering at a homeless shelter, participating in Scholar events, and gaining new experiences. In my free time, I have been getting my artwork ready to hang up in a coffee shop near campus, heading the acroyoga club on campus, and working at a local bookstore.
As a second year Scholar, my class and I have been researching and learning about different notable developments and events in history, from the emergence of feminism, to South African Apartheid, to the modern 'war on drugs.' We have spent class time discussing competing ideas about human nature, global conflicts, and how and when social and ethnic tensions may be reduced or resolved. Additionally, fellow scholar Michael Marchiori and I have been finishing up our research paper, entitled 'Mental Health on Big Ten College Campuses.' This paper outlines the differences and similarities in the way that colleges deal with the rising problem of addressing mental health on campus. Its main purpose is to identify best practices among the Big Ten schools and to make recommendations for effective strategies that more universities should adopt.
Moreover, last year I was nominated through the Scholar's program for the Gupta Scholars Award, and I received it along with 9 other Michigan State students. The award is given to those who exhibit 'integrity, altruism, and respect for humanity' in all that they do. As a Gupta Scholar, I receive a monetary scholarship, funds for an unpaid internship, and a trip to Washington, D.C. in the spring with the rest of the Gupta Scholars! I also get to meet and interact with a truly spectacular group of students with inspirational stories and backgrounds.
While I am not doing work for my classes, I work for Professor Gary Anderson as a professorial assistant through the Honor's College. I do research, write policy, conduct studies, and follow up on meetings all related to child welfare and the social care workforce in the state of Michigan. This semester, in particular, I have been involved with responding to Michigan's Department of Health and Human Services about a report I helped to write last year, a study on attrition and retention in college programs, and research for a state bill that would give foster youth priority hiring in the professional world. Gary continues to be a valuable confidant and mentor in all of my scholarly endeavors.
As a break from school and research, I have volunteered at a homeless shelter in East Lansing called Haven House. Haven House is the only shelter in the area that keeps the entire family together in one place while providing a program that works on enabling each family to move into housing as soon as possible. At Haven House, I worked as the front desk volunteer, doing intake forms, assisting the residents with various tasks, answering the phones, and organizing donations. I plan on continuing this next semester but working in the playroom rather than as a front desk volunteer.
After I graduate from MSU next spring, I plan on attending an advanced standing master's program to earn my masters in social work. My goal is to work for the social welfare system before advocating for change within it. Right after I graduate, I'd like to become a caseworker for the foster system. After gaining valuable experience working within this system, I plan on becoming a social policy writer either for the state or the federal government. One day, I'd like to run for mayor or city council, depending on where I end up living. I believe that there needs to be more female representation in politics, and even if I don't become a legislator or senator, I plan on effecting change at any level. 
---
Charlie Booher, Public Policy/Fisheries and Wildlife Conservation, 2016 Cohort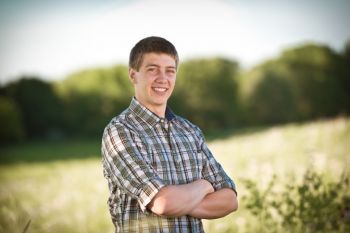 My name is Charlie Booher, and I am a first year Social Science Scholar, double majoring in Public Policy and Fisheries & Wildlife Conservation.
In recent years I have developed the conviction that the conservation of natural resources requires people who understand political processes if they are to accomplish their goals. I elected to join Michigan State University's Social Science Scholars Program for this reason. MSU, as 'The Pioneer Land-Grant University,' has a primary mission of deriving practical solutions from advances in science and technology. A university with this ethos is an ideal place to study how to formulate feasible conservation initiatives.
Over the course of my first semester at MSU, after an introduction from the director of the Social Science Scholars Program, Dr. John Waller, I have served as an Undergraduate Researcher in the Research on the Ecology of Carnivores and their Prey (RECaP) Laboratory. This work, under the supervision of Dr. Robert Montgomery and Ph.D. candidate Steven Gray, has entailed conducting research on how to develop public policy to promote wildlife conservation. My efforts have a focus on areas experiencing a severe decline in 'charismatic megafauna' (e.g. lions, elephants, etc.), specifically the Massai Steppe region of Northern Tanzania and Southern Kenya. I am currently examining how the framework of 'Actionable Science,' a research protocol produced by the U.S. Geological Survey, can be applied to human-carnivore conflict studies. In this process, we have recruited an internationally representative team of scientists from multiple disciplines to assist in our analysis. This project is currently underway and will lead to a publication in an accredited scientific journal. It is also being conducted as a part of a larger project in conjunction with the Tanzanian Partnership Project of the African Studies Center here at MSU. This is an excellent video that RECaP has produced to explain our objectives.
I truly believe that the sheer number of connections that I have been able to make in the last four months has benefited me enormously and will provide a strong foundation for my future career. The adage 'It is not just what you know, it's also who you know' rings true as I watch my teachers and mentors utilize their professional networks every day. This leads to numerous accolades and publications, but these are less important than the personal relationships that they are able to develop. The connections with people that I experience daily make MSU feel like I am at home. Being restricted to a dorm, without a vehicle or a house nearby can be difficult, and I can no longer do many of the things I took for granted last year. So these connections with accomplished faculty and other students offer an escape from the hustle and bustle of one of the nation's largest university campuses. The best example of this was my opportunity to go duck hunting with one of my professors! You could imagine how difficult this could be without a car, decoys, a boat, or land access around East Lansing, but Dr. Hayes, of the Department of Fisheries & Wildlife, was able to help me with this. While we were not successful on the morning we went out, we were able to have a conversation about current events in natural resources. If nothing else, it was an excellent chance to connect with a professor who has been one of my best mentors in the last semester, while also doing something that I love to do.
None of this would have been possible if it wasn't for the support of the Social Science Scholars program and the skills that it seeks to teach the students who are involved. I am very grateful to have the chance to be a part of this group into the future and I look forward to utilizing the many opportunities that it will provide.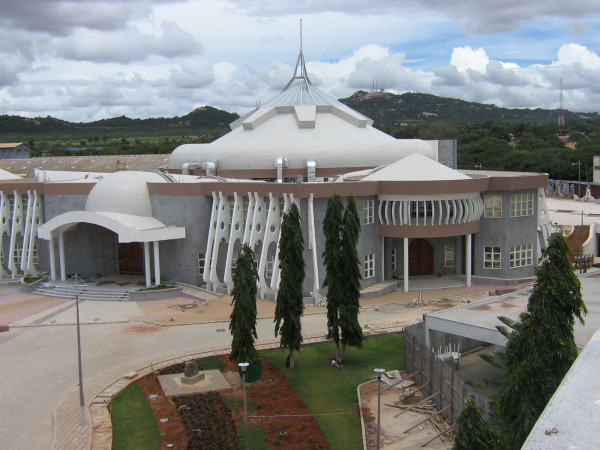 The Tanzanian National Assembly: my research is all about how what conservationists learn can be translated into policy changes in countries like Tanzania.
---
Dr. Waller receives award from the Honors College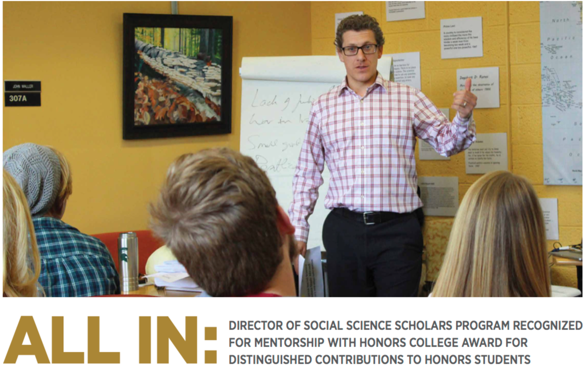 In the fall, Dr. John Waller, director of the Social Science Scholars Program, received the 2016 Distinguished Services to Honors College award. This accolade is conferred in recognition of a long record of commitment to the education of MSU's Honors College students. You can read more about the award on page 8 and 9 of the Honors College magazine. Congratulations, Dr. Waller!