January 2019
Director John Waller: Supporting the Scholars from Across the Pond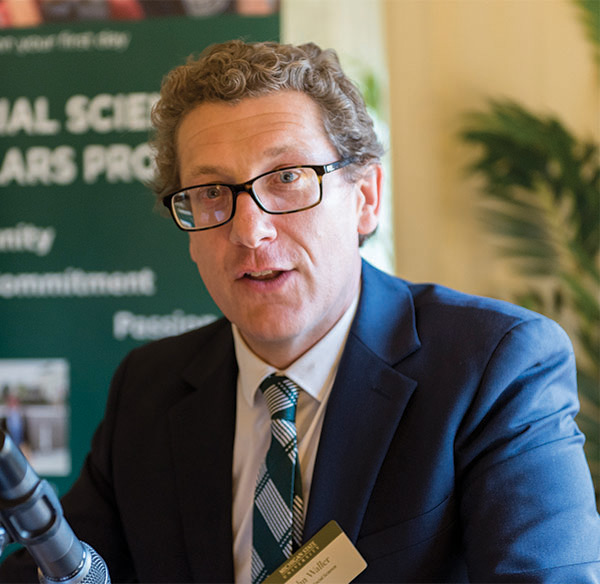 I am thrilled that our first cohorts of Scholars have graduated or will graduate at the end of this semester. It is such a delight – and honor - to see them arrive on campus as freshmen, ambitious but anxious, and develop into first-rate scholars and citizens over their years at MSU. There is no greater reward for an academic than being able to contribute to the success of such personable, intelligent and dynamic students. I hope our graduating students appreciate how tremendously proud we are of their achievements. The idea has always been that the members of the different cohorts will bond, stay in touch with one another, and come back to room 307 whenever they can. I'm delighted to say that this vision is becoming a reality.
Last fall the Scholars Program invited its fifth cohort of fabulous students to campus. I have not yet had the pleasure to get to know them because I am on sabbatical in Oxford until the fall, completing a book which I put on hold while co-creating the Scholars Program but which it is about time I finished! It's a great relief to be able to step back temporarily from the program knowing that the model of education it provides is working and that it is under the excellent leadership of Dr. Michael Stamm and, of course, Jenn Arbogast. Dr Stamm is a distinguished historian of the American media whose most recent book, Dead Tree Media, is a superb - and timely - study of the rise and fall of the mass circulation printed newspaper. I am very grateful to him for stepping into the director role and for taking such excellent care of the program and its students!
I am currently writing in the new human rights center at Mansfield College, Oxford. The United States is never far from my mind, however, not least because every morning I walk past the beautiful new statue celebrating Eleanor Roosevelt's pivotal role in establishing the Universal Declaration of Human Rights. I am very much looking forward to meeting our new cohort for the UK study abroad in July and returning to 307 in the fall to welcome our sixth cohort!
In closing, I would like to say a few words about one of the program's most important friends and sources of inspiration. Dr. Steve Kautz passed away - far too soon - in November of 2018. A fine intellectual and recipient of a much-coveted Truman Scholarship, Steve was a graduate of MSU and returned here to teach for most of his career. I came to know, like and admire him because he was the college's Associate Dean for Academic and Student Affairs when Jenn and I were setting up the Scholars Program. Steve was absolutely devoted to student success, including that of the Scholars, and to the mission of this great university. Very smart, scrupulously fair, and unfailingly professional, Steve was the ideal colleague. In fact, it would be hard to imagine a person of higher ethical standards in both his scholarly work and his role as a senior administrator. Steve was deeply respected and will be just as profoundly missed.
---
Professor Michael Stamm: Teaching (and Learning from) the Scholars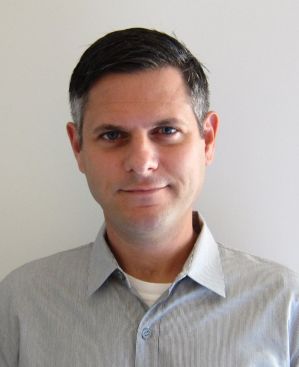 It has been a true pleasure this year to work with the Social Science Scholars Program while Dr. Waller is on sabbatical.  The people involved in the program have been wonderful.  Dr. Waller has put together an amazing curriculum and structured experience, and Jenn Arbogast has been instrumental in working with the students in all phases of their work.  I have the privilege of just coming to work every day, opening the door, and interacting with the exceptionally talented and engaged students who come in.  It is always nice to see and talk to the third and fourth year students who hang around in 307.  The second year students have just turned in the revisions of their research papers, and I'll look forward to seeing these in a future Scholars book.  I learned a tremendous amount about a variety of subjects in helping them finish their papers last semester.  The first year seminar meetings were real highlights of my fall semester.  We include some brief statements from these students in this newsletter, and I'll simply add that these are among the best students who I've taught in now fifteen years of university teaching.  Spending time talking to them makes for good days. 
---
Freshman Scholars: Getting Started, Getting Going
With each semester comes a wave of change as our Scholars prepare for their next adventures. Last semester, our freshman cohort excelled in their coursework, engaged with the Scholars experience, and found exciting opportunities outside of the classroom to get involved at MSU.
At this time in their first year as Scholars, we asked some of our freshman Scholars to reflect on their favorite part of the program so far and what they are looking forward to in the future. Here's what they had to say: 
Erykah Benson, Social Science Education
My favorite part about the Scholars program is the fact that twice a week I can look forward to meeting with a group of bright students who are excited about whatever topic we're covering. I feel like oftentimes I find myself in courses where people are apathetic about the class content. But the people in the Scholars program are anything but apathetic. Whether we're discussing politics, history, science or psychology, everyone contributes a unique and insightful perspective and we all bring something valuable to the table.
On top of working on my own research, I'm also looking forward to learning about other people's research. I think because everyone comes from such different backgrounds and have such unique perspectives, our research will be equally diverse and insightful; so I look forward to seeing the final product of everyone's research.
Gracie Gonzalez, Political Science & History
My favorite part of the Scholars program so far has been the weekly papers. I actually really enjoy writing about them, especially when we're asked to write about historical articles or books. The regular papers provide me with an outlet to improve my writing on a weekly basis.
Looking forward, I'm excited for everyone to finish their research papers at the end of the semester and learn about what everyone is researching. I'm also excited to share the topic I'm researching to raise awareness and increase the general knowledge of the subject.
Tyler Hoguet, Political Science & History
My favorite part of the scholars program so far has been forging relationships and bonds with the other scholars, both in my cohort and in previous cohorts. It's such a refreshing experience to take classes and get to know other smart, motivated students both in our classroom discussions and hanging out outside the classroom.
I'm most looking forward to really diving into my research project this coming summer. I'm doing an in-depth analysis of the state parks systems in Missouri and Illinois, and I plan on making several trips to some of the larger state parks in both states to improve my analysis and understand the practical implications of the defunding of state parks. I'm basically going to go camping in the name of research. Also, I'm pretty excited to sleep in a Yurt in England on the study abroad trip.
Isabel John, Psychology/Pre-Med
My favorite part of scholars is getting to learn about all different topics in the social science area. Most of the classes I take are focused on my major, but the classes I take with the Scholars program gives me a chance to study other topics that I am interested in. 
I am most looking forward to getting to explore London during the study abroad. I have always thought London was an interesting place, full of history and things to do. I am very excited and I think it will be a great experience.
Mary Laituri, Interdisciplinary Studies and Community Governance and Advocacy
My favorite part of scholars is the way in which it fosters academic rigor. I'm very grateful to have a program that challenges me intellectually and that increases my holistic awareness of a greater society.
Going forward in the program, I am most excited to create a relationship with a faculty research mentor and to further my knowledge and understanding of the academic process and my research topic.
Renold Mueller, Undecided
My favorite part of scholars is having a tight-knit group of friends and faculty, and exposure to interesting topics.
While I am looking forward to the study abroad, I think that I am most excited to nurture the friendships and mentorships I've been developing through the program, well after the classroom part of the program is over and likely into my career. It's those connections that I've made that mean the most to me, and I look forward to strengthening them as I progress through the world.
Ben Raab, Political Theory & Constitutional Democracy and History
I have developed close friendships with the other members of my cohort. I enjoy spending time with everyone both in and outside of the classroom. I especially like having in-depth conversations where we discuss, analyze, and debate a topic.
Looking forward, I am really excited to conduct my own research and about the prospect of being published.
Michael Schiestel, History 
My favorite part of the Scholars program is having the opportunity to befriend a small group of intelligent and driven individuals.
I am looking forward to completing the research paper as I may be interested in pursuing a PhD and this opportunity will allow me to get an idea of what academic research is like.
Jobi Schultz, Social Work
My favorite part of Scholars (so far!) is the opportunities it makes me aware of. Between events we're invited to see at the Wharton center and information about unique courses and seminars that might otherwise go overlooked, Scholars has offered me many chances beyond the class to expand my knowledge.
I'm most excited to begin working on my guided research, because it will be a new experience that hopefully will teach me how to look into the questions I have in a more thorough way, as well as further expose me to the academic world.
Alex Surkov, Pre-med via Economics
The people that I've met in the Scholar's program are amongst the favorite people I've met so far on campus. We often have dinner together after class, meet up for fun events, and generally share a great fraternity with each other.
I look forward to getting to know my classmates better over the next few semesters, and hopefully making friends that will last me at least until the end of college. 
Deandrea White, Social Relations & Policy and Criminal Justice
My favorite part of the Social Science Scholars Program has been the top to bottom exchanges that we have and discussions about humans and the world. I have learned things that I would never have known from being in this program.
I'm looking forward to advancing my research paper which will be centered around the factors and determinants for students of color studying abroad, which really makes me excited about our study abroad trip this Summer! Amid our trip, I will be able to make associations between the material we cover in class and what we cover in the UK. Additionally, I will utilize this trek as an asset to strengthen my research paper. I am certain this will be an incredible year for the Scholars Program.
---
Graduating Scholars: Goodbyes and New Beginnings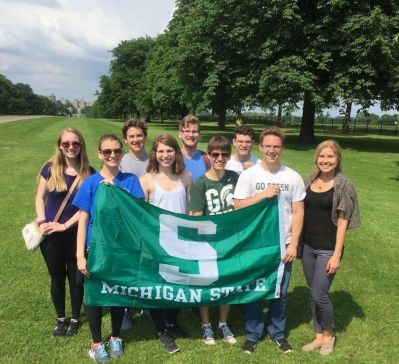 For many of our senior Scholars, this semester will be their last as an undergrad at MSU. These seniors have put tremendous amounts of time, energy, and effort into earning their degrees, and will go on to accomplish incredible things and have a positive impact on the world around them. While it is always difficult to say goodbye, we are so excited to see where our students go after graduating! 
As some of seniors look back on their time with the program, see what they're moving on to in May and after:
Zach Brown, Criminal Justice & Arabic
During my time in the Social Science Scholars Program, I enjoyed discussing a wide-variety of topics in great detail with experts in their respective fields during class periods, and since finishing my Scholars' courses, I have come to love the friends I have made through the program.
After graduation in May, I hope to find a job involving public policy, social issues, and data work before eventually heading to graduate school to study economic influences on violence.
Harris Bunker, Economics & Mathematics
The most rewarding aspect of the Scholars program were the discussions on the readings and the research project.
After graduating, I plan to pursue a PhD program in Economics or garner a Research Assistant position in Economic research.
Qi Huang, Psychology
 What I like the most about the Social Science Scholars Program is that this program offers so many different opportunities for students and scholars in the College of Social Science. Students have an opportunity to study abroad in the UK, to do research projects under the guidance of MSU's finest Social Science faculty, and to be mentored by high successful MSU alumni. Students in this program could enrich both their research experiences and professional experiences.
I am planning to go to a Ph.D. Counseling Psychology program after I graduate from MSU.
Megan Jursch, Psychology & Women's Studies
My favorite part of Scholars right now is being a part of the Social Science Scholars Leadership Council. As the internship chair, I really enjoy assisting other students with their summer internship placement, perfecting their resumes, and utilizing other career exploration methods to further their professional development.
Next year I will be attending Michigan State University's School of Human Resources and Labor Relations as a graduate student. I have accepted a research position within the school and I also plan to continue my work at Coetic, a local Industrial/Organizational Psychology consulting firm.
Rachel McIlvaine, Urban & Regional Planning and Interdisciplinary Studies in Social Science
Exploring England with our cohort on study abroad was by far my favorite part of being a Scholar, but I also love that we have our own on-campus home and family in 307 Berkey.
After graduation, I plan to pursue a career in community development, hopefully working both within and outside of the US. I'd like to earn a Masters degree in either public or business administration.
Suhana Posani, Anthropology & Physiology
My favorite aspect of the Scholars program was the trip to England. It was a great way to learn about a topic of interest while being able to explore another country!
My future plans are to take a gap year and then apply to medical school.
 Iris Robare, Public Policy
The best part of the Scholars program has been being connected to so many high achieving students and mentors (Dr. Waller, Jenn, faculty mentors, etc.) that truly care about each individual Scholar, their academic success, and their future.
 After I graduate, I am planning to attend law school. I plan to pursue a joint MPP/JD. The schools I am currently pursuing and plan to tour in the summer/fall of 2019 are: University of Chicago, University of Virginia, and Georgetown. I am currently interning at the Chicago Council on Global Affairs and hope to work there as an employee until I begin law school in the fall of 2020. I am interested in health policy and have a newfound interest and developing passion for national security, migrant protection, and global health. 
Liz Schondelmayer, Political Science and Media & Information
My favorite aspects of the Scholars program have been the mentorship and the internship programs, which have set me up for so many amazing experiences during my time as an undergraduate at MSU. I have been able to complete 5 internships and 3 experiential learning programs, all of which the Scholars program has helped me to attain.
After graduating, I am looking forward to going into the world and gaining work experience in my field. Law school or graduate school may be in my future, but I want some real-life practical experience first!
---
Scholar Spotlight: Qi Huang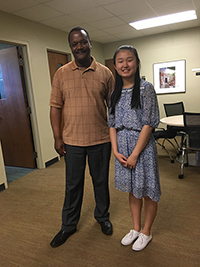 My name is Qi Huang. I am an international student from China pursuing a Bachelor's degree in psychology at Michigan State University. I came to the United States in 2014 and have been here for more than four years. I decided to apply for Michigan State University, after one year's study at Rockford High School, because I developed a deep appreciation for the diversity MSU's student body. I joined the Social Science Scholars Program at the end of my freshman year after I found that this program offers so many great opportunities to help students succeed.
I have just finished my second year in the Social Science Scholars Program. During the year of 2017-2018, I have acquired invaluable experiences through research work and internships which have better prepared me for professional service as an undergraduate. For instance, I collaborated with Dr. Andrea Wittenborn and Dr. Heather McCauley in the Department of Human Development and Family Studies to conduct a literature review on the relative advantages of artificial intelligence and human clinical judgment. This research paper will be published in the 2019 Social Science Scholar Research volume.
I also explored the field of Industrial and Organizational Psychology in my junior year. I worked on a team led by Dr. Ann Marie Ryan and Dr. Dia Chatterjee in the Department of Psychology on a research project on the identity management of police officers in the face of professional stigmatization. I was fascinated by the idea of how individuals use their self-regulation strategies such as avoiding, accepting or denying to cope with the stigmas associated with their identity. I was honored to be selected as the recipient of the Provost Undergraduate Research Initiative (PURI) Award for this project. In April 2018, I presented our research findings at UURAF where the poster presentation received exemplary comments from judges and professors. Our presentation has also been accepted by the national conference of the Society of Industrial and Organizational Psychology (SIOP) 2019.
In Spring 2018, I finished making a short documentary focusing on autonomous vehicles. It has been completely new and exciting experience for me. I would recommend each new cohort to make a documentary film if they have never had this kind of experience. You will not only learn filming and video editing skills, but also have opportunities to connect with faculty and staff members in this enjoyable process.
Moreover, I was offered an internship at the Office for International Students and Scholars (OISS) in April 2018. Under the supervision of Andrew Roberts and Dr. Isaac Kalumbu, I have assisted with communication and interpreting in Mandarin and I have participated in case work involving advising international students in connection with unusual and urgent circumstances. I have gained some real-world work experience through meeting parents and helping students who are in the most stressful, difficult and unfamiliar situations.
Lastly, I am now working on my research project about how stereotypes regarding Asian American minority groups may affect their opportunities for advancement. I was grateful to be awarded the Dean's Assistantship for my capstone project. This assistantship will be of great value in helping me to learn how to conduct research independently
This has been a wonderful two years for me during which I have learned so much both academically and personally. I appreciate all the support I have received from the College of Social Science, and especially the Social Science Scholars Program.